Platform-adventure game 'Stick it to the Man' sticks out on Xbox One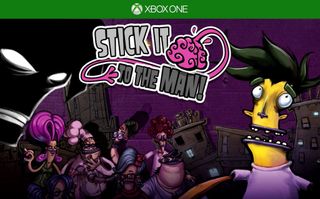 After enduring a small release drought over the last couple of months, the floodgates of new Xbox One games have finally opened back up. Last week we got Diablo III: Ultimate Evil Edition at retail and two indie games: The Golf Club and surprise hit Fibbage to download. This week, Metro Redux Bundle hits retail while another ID@Xbox game makes its downloadable debut: Stick it to the Man from Swedish developer Zoink! Games and Ripstone Publishing (Pure Pool).
Stick it to the Man is a 2.5D platformer with clever visuals that often appear to be made out of paper. A surprisingly witty and story heavy game, players take on the role of a hapless guy who gets infested with an alien parasite. The parasite causes a giant stretchy arm to grow from his head, which can be used to swing from objects and read other characters' minds. Can your Xbox One handle such a weird and creative little game? Let our impressions and hands-on video help you decide!
It's raining little green men
While Stick it to the Man is technically a puzzle platformer, it also qualifies as an adventure game thanks to a heavy helping of story.
One day "average Joe" Ray Doewood is walking home from his job as a hard hat tester when a mysterious canister falls from the sky and knocks him into a coma. The canister unleashes a parasite that quickly makes its home in Ray, giving him strange and fantastic powers. Meanwhile, the shadowy governmental organization that lost the parasite (run by THE MAN) will stop at nothing to get it back.
The whole thing is fully voiced and endearingly silly. Characters often reference how their world is made of paper, and Ray even respawns from color copy machines when he dies. The game would have worked even without the paper world setting, but that flourish makes the game so much more vibrant and unique.
Stretch Armstrong
Now that Ray has a funky glowing arm stretching out of his head (which nobody else can see), he'll have to learn to use it. At its most basic, the arm can grapple onto pushpins and pull our hero up onto new platforms. Soon Ray learns to use the arm to pull on tears in the background, revealing new areas behind them. And naturally the arm can pick up objects and use them on other objects.
The arm's most unique power, though, has to be reading people's minds. Ray can attach his new appendage to the brains of anyone he meets (even dead people!), hearing their innermost thoughts and desires. These exchanges are often quite funny, but they also serve a purpose. Many of the game's puzzles revolve around helping people based on the contents of their noggins. Ray can even make enemies see things that aren't there so that he can sneak past them.
The arm mechanics remind me a little of fellow Xbox One platformer Max: The Curse of Brotherhood. Both games involve remotely interacting with different parts of the environment. That said, aiming the arm in Stick it to the Man doesn't seem as intuitive as the aiming in Max. When you have multiple objects close together, it's tough to pick just the one you want. Hopefully it becomes easier with practice.
The Achievements should be pretty easy, by the way. They all involve reading minds or avoiding specific dangers. Don't worry about missing those dangers. The game is broken up into ten chapters, which you can replay at will.
Sticking it to You-know-who
Stick it to the Man is a relatively short game (5-6 hours), not unlike fellow artistic platformer Contrast. But this one rings up at ten bucks, making the brevity much easier to swallow. For that price you'll get to experience a striking cartoon world, a strange and silly story, and plenty of platforming and puzzle solving. Plus you get to stick it to the man. That guy pretty much has it coming.
Get the Windows Central Newsletter
All the latest news, reviews, and guides for Windows and Xbox diehards.
Paul Acevedo is the Games Editor at Windows Central. A lifelong gamer, he has written about videogames for over 15 years and reviewed over 350 games for our site. Follow him on Twitter @PaulRAcevedo. Don't hate. Appreciate!