Diablo III: Ultimate Evil Edition and The Golf Club arrive on Xbox consoles today – Our impressions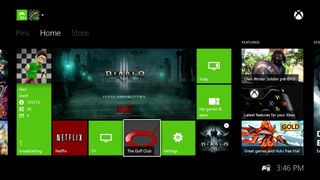 July and August have been slow months for Xbox One releases. We got Guacamelee and Sniper Elite III (both excellent, both also available on Xbox 360) but the well dried up for a bit after that.
Luckily, today sees two new and very different titles released: Diablo III: Ultimate Evil Edition from Blizzard Entertainment launches both at retail and for download on Xbox One and retail-only on 360. Meanwhile, the Xbox One gets its second golf game: The Golf Club from Nova Scotia, Canada-based HB Studios. The Golf Club is an ID@Xbox release and can be downloaded for $34.99.
Should you join the fight against an eternal evil, or grab your bag and hit the links? Let our impressions and gameplay footage help you decide!
Diablo III Ultimate Evil Edition
First announced back in May, Diablo III: Ultimate Evil Edition contains both the full original Diablo III game as well as its expansion pack, "Reaper of Souls." Ultimate Evil Edition marks Diablo III's debut on the Xbox One, while the original Diablo III arrived on Xbox 360 last year. Although 360 owners can't buy "Reaper of Souls" by itself, the Ultimate Evil Edition for 360 sells for the same price as the expansion does by itself on PC. On either console, we're getting a good value!
After creating a new character from the six available classes – or importing your character from the Xbox 360 or Playstation 3 version of the game (just be sure to export the last-gen character before trading the game in!), you're in for a world of loot hunting.
Ultimate Evil Edition consists of the four acts from Diablo III and fifth act from "Reaper of Souls." Act V ties up a lot of story threads from the main game, including those of the companions and shopkeepers like Covetous Shen. Each of those NPCs gets his or her own unique area and side mission for players to complete.
After beating Act V, the new Adventure Mode will unlock. Adventure Mode lets players freely revisit any area in the game. It also adds loads of new content, including Bounties (random optional missions) and Nephalim Rifts (randomized dungeons that can only be opened with items gained from Bounties). Adventure Mode is focused on keeping players busy in the long-term.
I haven't completed Act V yet, so I don't have Adventure Mode experiences to share. But I am really impressed with the Xbox One version of the Ultimate Evil Edition so far. The process of importing characters from other platforms is totally painless. Setting up a local co-op game is just as easy, with the game properly recognizing everyone's profile (an area where The Golf Club falters) and quickly loading their characters.
Xbox One enhancements
Diablo III already looked very nice on the Xbox 360, but it really looks fantastic on Xbox One. I played the game prior to today's Day-One Patch, so the game was running at 900p resolution. But even then, the silky-smooth 60FPS frame-rate really brought the game to life. Today's patch bumps the resolution up to 1080p, which should provide even more detail to an already beautiful game.
My favorite Xbox One enhancement, though, has to be the improved loading times. Again, these weren't bad on Xbox 360. But I've just never enjoyed the wait while games load. On Xbox One, Diablo III transitions from scene to scene and area to area almost instantaneously.
There are sometimes brief loads such as just before a boss, but those are an infrequent occurrence. Considering that Xbox One games often suffer from lengthy loading times (somewhat alleviated by the use of an external hard drive), Diablo III's speedy loads on the default internal hard drive are quite impressive.
Join the fight against Diablo and the Reaper
I still have a lot more playing to do before I can give Diablo III Ultimate Evil Edition a full review. But action-RPG fans who enjoy loot hunting need not wait before buying. With five huge acts, multiple difficulty levels that you'll actually want to progress through, a new Adventure Mode, and four-player local and online co-op, the new version of Diablo III will keep adventurers busy for months to come.
The Golf Club
Launching on Xbox One ahead of the Playstation 4 version (and already available on Steam), The Golf Club is the second downloadable golf game for Xbox One. This ID@Xbox release comes from HB Studios, which has developed numerous sports games over the years.
Whereas Powerstar Golf is an arcade-style golf game, The Golf Club is very much a realistic golf sim. Instead of stopping meters to adjust the strength of your stroke, you'll swing with the right- or left-analog stick. Pull the stick down to wind up, and then push it up to whack the ball. The straighter your motion, the more accurate your shot will fly.
It's a fun way to swing for sure, but judging how far the ball will go when you swing at less than full strength is difficult. Even putting can be a challenge, as I often overshoot the hole. HB Studios should implement some aids for those of us who aren't golf game veterans.
Custom courses
The game includes a variety of studio-created "official" courses as well as user-created courses! That's the big draw here, making your own courses and playing other people's courses as well. The course creator lets you select from several terrain types, adjust water level, tree density, overall difficulty, and the number of holes.
I couldn't get the game to actually save my courses; it always displayed an error during that step of the process. But the game hadn't launched yet, and other people have successfully shared courses. Hopefully the feature will work when I try it again.
Multiplayer
The Golf Club supports 4-person local multiplayer and well as asynchronous online multiplayer. The local multiplayer is fun, but unfortunately the game doesn't allow players 2-4 to use their own profiles. That's a big disappointment in this day and age. Customizing the appearance of guest players is also quite difficult, as our customizations kept affecting the main player instead of the guests. Hopefully HB Studios will tighten up the local multiplayer features in the future.
On the other hand, The Golf Club does asynchronous multiplayer really well! The in-game friend feed constantly updates with your friends' actions. At any time, you can jump in and challenge the other player on a course that he or she played. You just go through the course like normal, but you'll also see your friend's actions alongside you. It feels like real-time multiplayer, except that you can't chat with each other unless you're in a party. There are large-scale asynchronous tournaments, too.
Flawed but fun
Having established that I hate loading times, The Golf Club really tries my patience. The start-up loading time is excessive, as are other loads throughout the game. When you adjust a setting in the course creator, the game takes forever to update the screen. It looks like everything has frozen, because there is no loading or processing indicator during that time. I haven't tried playing from an external hard drive yet; hopefully that helps.
Despite the aforementioned rough edges (and an erratic frame rate), the Golf Club is a very fun golf game. Few games in this genre can compete with the quantity of courses on offer, nor do they tend to let players make their own. The great asynchronous multiplayer features add a lot to the experience as well. If you're a fan of serious golf simulations and don't mind some performance issues and rough edges, The Golf Club is a great buy.
Get the Windows Central Newsletter
All the latest news, reviews, and guides for Windows and Xbox diehards.
Paul Acevedo is the Games Editor at Windows Central. A lifelong gamer, he has written about videogames for over 15 years and reviewed over 350 games for our site. Follow him on Twitter @PaulRAcevedo. Don't hate. Appreciate!