Valiant Hearts, Pure Pool, and Never Alone coming to Xbox One this year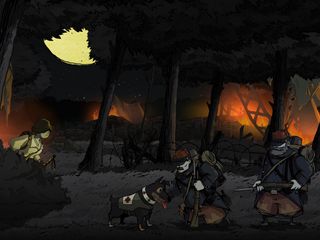 We usually try to spread our console coverage out a bit since we know some of our readers don't play console games. But a batch of exciting Xbox One games have been announced within the last day, and that doesn't fit in the same article as an Elder Scrolls Online delay. So let's turn those MMO frowns upside down by concentrating on these games that will arrive on Xbox One within the next few months!
First up, Ubisoft will be bringing a striking adventure game called Valiant Hearts: the Great War to Xbox One and 360 on June 25th. Shortly thereafter, VooFoo Studios and Ripstone will release Pure Pool – the first pool game on Xbox One. Jumping forward to Fall, Alaska-based Upper One Games and E-Line Media have a puzzle platformer called Never Alone in store for Xbox One. Details and trailers after the break!
Valiant Hearts: The Great War
Ubisoft has produced some terrific and beautiful titles for Xbox One already. At launch they gave us Assassin's Creed IV and Just Dance 2014, but this year's games have been the most exciting. I speak of Rayman Legends and the recently released Child of Light, two of the most artistic games around. Both use the UbiArt Framework which brings 2D games to life like no other engine. Valiant Hearts is the latest UbiArt game.
If you like games like Machinarium, you'll love Valiant Hearts. Yes, Ubisoft is actually publishing an adventure game on consoles. It looks like this one will have an even more melancholy tone than Machinarium, as it tells the story of a broken love in "a world torn apart" by the Great War. We'll meet four different characters affected by the war (as either participants or bystanders), as well as heir brave and loyal dog. Ubisoft promises themes of friendship, love, sacrifice, and tragedy – and not everyone will survive the War, either.
It's difficult to tell just how Valiant Hearts will play by looking at screenshots and today's trailer. Will there be any real action sequences, or will the gameplay consist entirely of performing context-sensitive interactions like older adventure games? But we can see the game has lovely cartoon-style art and a wide palette of colors that will bring its emotional tale to life. I can't wait!
Valiant Hearts: The Great War will cost $14.99 when it comes to Xbox One, Xbox 360, Playstation 3 and 4, and PC on June 25.
Pure Pool
Developer VooFoo Studios is no stranger to the game of pool; they previously released a pool title called Hustle Kings for Playstation 3 and Vita. They also released a game called Pure Chess on pretty much everything but Microsoft platforms, and see Pure Pool as a continuation of that series. Hey, good to see them working on an Xbox game at last!
Besides the obvious graphical improvements that new-gen consoles make possible, Pure Pool will also tout even better pool physics than its predecessor. Still, it does look nice! The developers claim the game environment creates a living, breathing pool hall. The lived-in atmosphere should appeal to genuine pool fans – many pool games come across as far too sterile in nature.
Pure Pool will also bring some innovative multiplayer features to the pool table. Not only does it feature the online multiplayer you'd expect from a console pool game, it also offers asynchronous multiplayer. The game builds an AI profile based on your play style, and friends can match up against it when you're not around. And if an opponent drops out during a real-time game, the game will automatically substitute that player's AI profile in order to keep the game going.
Never Alone
The Xbox One already has a fantastic downloadable puzzle platformer known as Max: The Curse of Brotherhood. Never Alone falls in the same genre and should play quite similarly, although the subject matter of the two games couldn't be farther apart. Instead of a colorful fantasy world, this one takes place in the snowy wastes of Alaska and stars a young Native Alaskan girl named Nuna and her dog Fox.
Players will take Nuna through 8 sprawling chapters set within the Arctic tundra, ice caves, boreal forests, and cliff-built coastal villages of Alaska. Inspired by the folklore of the Iñupiaq people, the story involves traditional Alaska Native folklore characters such as Manslayer, Blizzard Man, Sky People, the Little People, and the Rolling Heads. The unusual setting and characters should make for a refreshing change of pace compared to mainstream games.
Never Alone will also have one of my favorite gaming features: 2-player co-op! When playing on your own, you'll switch between Nuna and Fox to overcome various obstacles and puzzles. But bring a friend in and each of you can work together to save the tiny pair of heroes. The co-op mode is local-only – pretty much the standard for indie games like this. Will having a local friend along make things easier or harder? We'll find out when Never Alone arrives on Xbox One, PC, and Playstation 4 sometime this fall!
Are you excited for any of these downloadable games, Xbox One owners?
Get the Windows Central Newsletter
All the latest news, reviews, and guides for Windows and Xbox diehards.
Paul Acevedo is the Games Editor at Windows Central. A lifelong gamer, he has written about videogames for over 15 years and reviewed over 350 games for our site. Follow him on Twitter @PaulRAcevedo. Don't hate. Appreciate!
Valiant Hearts looks soo good! Games made with the UbiArt Framework all look so fun.

This looks Like some great games.

Thought it said "never coming to Xbox One l" I was like wat

Ugh...the "charming art" stuff is going mainstream, to the point that the major publishers are doing it. Give me The Division for $60 over The Great War at any price point (even free) any day. The pool game, I'll look forward to. It shoudl fit well with Poewrstar Golf in my library, and it'll probably be at a price I can get with Bing Rewards money. Pass on the other atrsy platformer. Those things flood Steam to the point I don't even have to look around to find them.

Funny, I was saying the same thing about hyper-realistic games and shooters. I like that they're switching it up a bit.

Yeah! By no means are artistically stylish games the norm over realistic graphics. I'm kind of amazed that anyone could actually be turned off by artistic visuals like that.

If you're on Steam, this isn't changing it up. This stuff has been painted all over PC gaming for a while now, and it is getting old.

And again, the reverse is true for console games. Hyper-realism is getting really old. I rather like it if there could be a nice mix of both.

I suppose it depends on what you play. We have Sunset Overdrive coming, and I have Powerstar Golf and Kinect Sports Rivals for sports. PvZ: Garden Warfare has the third-person shooter market for now. NFS: Rivals has racing, and Trials sort of dies as well. I actually feel like there is a solid mix as it is, though the platformers are lacking.

Anyone who's seen the new Sunset Overdrive trailer/walkthrough that was released today? Looks really nice:)

Yup. Posting that shortly! Looking forward to any of the above games?

I'm playing Child of Light, that is using the same game engine than Valiant Hearts (UbiArt), it looks great.

Hehe... Ok, I'll keep to your topic. I don't have room for a Pool table at home, so I might have to get this one instead. I'm still waiting for the official release in Sweden though. :)

STAHP PAUL.JUST STAHP! :'(

Next up: four more Xbox One previews! Mwa ha ha! Heh, maybe not. I'm all tired out. :)

Lol,I'm going to sleep myself. :p Btw Valiant Hearts definitely looks the best of the lot,I have always liked Ubisoft's games,loved South Park:The Stick of Truth :D

I'm all in for Pure Pool!!

Why are there so many Xbone articles?

Keep the Xbox One articles coming.