Here is the story behind the Xbox One Elite Controller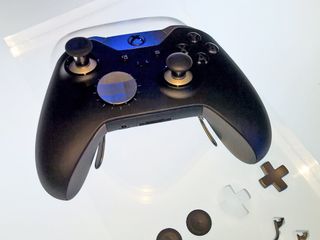 Yesterday, Microsoft unveiled their Xbox One Elite Wireless Controller. The $150 accessory is a high-end, modular control pad for gamers who want that extra edge. Everything from removable parts to customize the look and feel is included, giving the user a new level of control not previously seen on consoles.
So how was it? Watch our video interview with Microsoft Project Manager to get an idea of why they made this and how they developed it.
Studying elite gamers for hours on end and then making this hardware was no trivial task. Microsoft and Xbox team though are no amateurs when it comes to making hardware.
Admittedly, the quality of the controller is top notch, and it feels worth every dollar they are charging for it. Whether or not you 'need' it is another question, but if we were given a choice, we'd grab this thing in a jiffy.
Want in on the action? You can now pre-order your Elite controller, which is due in October right here from Microsoft. (opens in new tab)
Windows Central Newsletter
Get the best of Windows Central in your inbox, every day!
Daniel Rubino is the Editor-in-chief of Windows Central, head reviewer, podcast co-host, and analyst. He has been covering Microsoft since 2007 when this site was called WMExperts (and later Windows Phone Central). His interests include Windows, laptops, next-gen computing, and for some reason, watches. Before all this tech stuff, he worked on a Ph.D. in linguistics, watched people sleep (for medical purposes!), and ran the projectors at movie theaters because it was fun.
So who are those Elite gamers. Do I fall in that category?.. Lol

If you have the money you are one of them.

Bet the levers work well in car games. Very nice!

Looks nice, but out of my price range, and I mostly PC game now. Whoever gets it I'm sure you'll have a great time with it! :-)

If you're a PC gamer, you don't have the option of having a price range.

Of course I do. Not buying the top of the line parts, waiting for a deal on a game I want, using a normal keyboard instead of a "gaming" one.

Yep, definitely a lot more options when you go PC. With a console you get what you get. There is no making it better after the fact unless the manufacturer does a redesign. Even then you would have to repurchase tho take advantage of any added upgrades.......if there are any and it just wasn't a facelift. Posted via the Windows Central App for Android

What? What kind of statement is that? I chose the price range for my rig, chose how much I wanted to spend on the keyboard/mouse, etc.

Wait, most of the PC Gamers I know purchase $650 GPUs, $100 mice and $70 mouse pads. This should be in your range, oh, and you can use it for PC games too.

980's, razer sirens, and some other razer mouse? Nah. Too expensive Sloths fight leopards. You can't open a bag of chips. Clearly humans are the weaker species.

Way to steal that saying and -10 for a failed attempt at injecting that randomly

Clearly none of you caught the sarcasm lol

looks like a high quality item from the video. Will check it out in-store when they have it.

Still no word on Windows 7 compatibility?

Upgrade to Windows 10, last I heard the upgrade is free.

Go to Microsoft's website, you will have your answer.

It is compatible with Win7, however the separate app only works with Win10 & XB1 so you loose quite a lot of the cool functionality. Which is a pity as i'm not upgrading to Win10 straight away.

Too expensive... 99$ would be good enough. I can buy a new XBOX One with the price of 2 controllers and every XBox comes with a controller ...

If you think its too expensive, it's not for you.

Looks like we have an iPhone user here :)

He's right though, compairable harware can be bought for $50+ more, the price Microsoft went for this actually isn't that extreme for what you get. Sure, $99 would be nice, but $150 is still a sweet spot for the quality and adjustments that you can make with this controller. So, if you think $150 is too expencive, it's not for you. :)

Yep $150 is a sweet spot for this. Doesn't mean I'm going to get it for that price though.

This is a PRO controller, Scuf controllers start at $150. Microsoft's price is in line with the market, and they have more features versus third party modders.

I agree that it's a bit overpriced but they are either targeting the super hardcore gamer that will actually benefit from a pad likes this or the "I just have to have it because it's shiny crowd". Posted via.........deez nutz!!!!!!

It's priced right where it should be for what you are getting.

Can you find out if this is the controller that is included in the Occulus or is it a standard XBox One controller?

Definitely the standard one. This elite one is pretty niche.

I'm waiting for a review that will take this controller apart and see the difference between regular and elite xbox one inside the controller.

The elite one has hamsters inside to provde rumble effects.

It's what is on the outside that matters with this controller.

This definitely fits in the category of if you have to ask how " expensive is it?" it's not for you. That said I "Neeeeeed one!"

Not a fan of the price, but I'll probably buy one at some point. Posted via the Windows Central App for Android

I guess you've never met one. It's not a hobby for them, it's a life style.

yeah bruh I love NiP, how about you?

What exactly do you mean by NiP? Please explain

however much u try, xbox controller is not a bit suitable for arcade games like street fighter and king of fighters.

It's just as good for those types of games as the PS4 or Wii U controllers. But this controller is not designed to be an arcade stick.

does it have some of them goodies coming for Holo lens and PC Games?

I am glad i waited on getting a Scuf, this looked like a win. I'll wait to see it in hand though, i am not a fan of the silver shoulder and trigger buttons.

I will buy it at launch, The Elite controller looks much better built with better materials and quality and the new triggers and mods should help in games like Forza and Killer Instinct.

Im surprised it doesn't come with a arcade shell

This is one sexy controller... looks so high end. I'll buy at least 1.

Is not for me, I play games like Ori and Guacamelee and when I play shooters I do it only on campaign or horde mode... that said, I think the price is right. "If you think its too expensive, it's not for you." I agree, I think is too expensive for what I do with my xbox. Is not for me, but I'm sure that people who takes gaming seriously will certainly enjoy this controller and find the pricetag fair.