Styx: Master of Shadows now available for Xbox One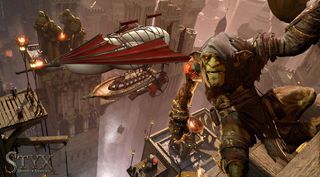 Styx: Master of Shadows is now available on Xbox One for $29.99. In the game you play as Styx a goblin who is determined to infiltrate the Tower of Akenash in order to steal the heart of the World Tree relying on combat. Styx: Master of Shadows offers about 15 hours of pure stealth game play such as hiding in shadows, sneaking up on enemies, and causing distractions.
The game takes gamers back to the roots of the stealth genre by forcing players to be clever instead of constantly relying on combat. Since Styx is so small and nimble he can easily hide underneath tables and inside pots. Styx also has the ability to clone himself in order to use it as a decoy against enemies.
So far, Styx: Master of Shadows looks to be a breath of fresh air for players who love stealth games. However, I can't help but feel as if the price point is a little too steep to be contending against indies and the bigger titles coming out during this period. Time will tell!
Windows Central Newsletter
Get the best of Windows Central in your inbox, every day!
I thought this was going to be a full $60. Glad to see it is only $30.

Playing it now on PC. It's a great game, the humans look terrible though. Voice acting is good for Styx himself but everyone else is just ok. Good for that price though, it's only 23,99 euros on steam atm

Another rip-off. No thank you very much!

Waiting for the Loverboy game to come out.

Prequel "Of Orcs and Men." I hear you have to save. ALOT. Cause it's hard.

What does ALOT stand for?

Seriously? "A lot." If you want an anagram, I suppose it could be "A Lot Of Times". ;P

Got Mr. Roboto stuck in my head now. Thanks.