Subway Surfers picks up new Seoul theme in latest update for Windows Phone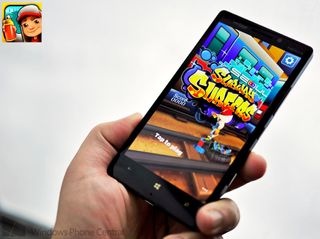 Subway Surfers. The endless runner to end all endless runners. At least, that's how we think of it. The popular themed game is continuing its world tour today by leaving warm, sunny Miami and heading to Seoul, South Korea.
And no, there is still no 512 MB support, so if that's what you're curious about, you can stop reading now.
Trading in pink flamingos for little robots, the game has an all new South Korean theme, with rivers, paper lights, spritely colors and new missions. Sure, it's just a theme, but we like the gimmick of 'world tour' for the game as it certainly keeps it looking fresh, as opposed to other endless runners which are the same, day in, day out.
Like other past world tours, this one will span three weeks. Each week, you can try to collect a certain amount of robots and if you do so, you can grab yourself some secret prizes. It's a fun, little side project to work on.
Unfortunately, this is still limited to devices with 1 GB or more of RAM.
Pick up Subway Surfers: Seoul, here in the Store or scan the QR code below. Thanks, Guy Kh., for the tip
Windows Central Newsletter
Get the best of Windows Central in in your inbox, every day!
Daniel Rubino is the Editor-in-chief of Windows Central, head reviewer, podcast co-host, and analyst. He has been covering Microsoft since 2007 when this site was called WMExperts (and later Windows Phone Central). His interests include Windows, laptops, next-gen computing, and for some reason, watches. Before all this tech stuff, he worked on a Ph.D. in linguistics, watched people sleep (for medical purposes!), and ran the projectors at movie theaters because it was fun.
These subwaysurfers devs really need to take coaching from gameloft devs hw to optimize games.. Nd thn get back to work :|

Gameloft is even worst in optimizing games for WP. Almost every game is lazily ported from iOS or Android.
Optimization is the main problem with WP8 games and apps like in WP7.x was the porting!
Also it's MS faults and not only devs because they need to provide better SDK and tools that make the optimization more easy and fast!
Most of the ported games run on 256mb ram devices in other platforms and here they run on at least 1gb ram and are so buggy that cause overheating and overworkin of the GPU,CPU

Hey GearDoGi !! Have you downloaded Asphalt 8 on 512MB devices ? My Android users are getting jealous due to supper smooth game play on my Lumia 720 !!! I can even select other running app's while Asphalt 8 is running in background mode without any hiccups !!

Yeah abdal agreee with dat mine 720 even runs asphalt 8 so smoothly :)

Graphics on 720 are not at all upto the mark and many effects are missing. Once see how good iPhone 4S handles the game and see the effects. Its a poor port made by lazy developers imo

I'll never see this game on my phone... :(

Plz give support for 512 mb ram devices as soon as possible!!

The Unity engine is the problem.

We know but still its disgusting they told after 1 month and now its 3 months. Y they cant give us a fix date??

They don't even know they can "fix" this! I'm pretty sure they are trying, but is not easy.

Wow I still didn't get the new update on my ipad but got this new theme on my 920. ;)

Didn't get it on my work phone (Iphone5) either, but is enjoying ut om my Lumia1020 ;)

Strange still no update on App Store :p

Dammit.
No love for 512mb ram devices? :(

In the headline... Did you mean Seoul Them'e'...if yes its missing the 'e'

Oh no... You did it again. Now you will be beat for being the grammar/spelling police.

Never apologize to professional journalists when you are doing their paid work for them- for free. Never apologize for this. They should be thanking you, profusely.

I opened the wpc app to tip you on this. And there it was, already in the news. You guys are awesome!

... and we got it the same day as Android and iOS.

I still didn't get the update on my ipad (India ) but got on my lumia 920. And strange part lumia 920 can handle the game lot more smoother when compared to my ipad 3 which does have a quad core graphics and slow jerky ios 7

U will see many bugs in rainforest,which are lesser than ios 7 bugs

He meant real bugs (crawling creatures with 6 or more legs) and that its found in the rainforest... Basically he made fun of you.

Should I cry or call a cop :3 I don't care

Don't know if Ios got it yet, my work/Iphone didn't get it yet :)

Not yet. But I am happy windows phone get this update , leaving ios behind ;)

You can't expect all of the apps on low-end phones than there would be NO fucking reason to buy a good phone, fucking dumbasses.

Screen quality, size. Faster performance. Better graphics on high end phone.

not for my Lumia 820.. screen resolution is so yucks..

It's because of those crybabies who expect everything on those shitty phones. If you want everything you need to deal with costs not cry for everything you can't have because you just bought phone who can barely run software itself.

Most fucking cheap droids can handle this shit..then why not a Windows phone...go shout at devs ..not the low end owners...

Have u played asphalt 8 ??it works smoothly on LOW END DEVICES

Good going,with attitude like this WP soon will be dead

All 512 MB & 7x WP will be dead

That would be great if we want Windows Phone to be a quality phone.

How to clean the damn OTHER storage.. 3.4 GB. :/

There are apps available. E.g. The Storage Cleaner. If used correctly, works great.

Hard reset should do the job for you. It will get it back to what it was when you bought your phone, that would be a few hundered MB's

Yeah but hard reset is a pain on some phones, e.g. on 920. It gets stuck in gears on every hard reset and then takes forever to recover.

Ohh ok I didn't know about the L920. I had tried it out with my L520 and L1320 and the processe was quick.

Nokia and Microsoft disappointed for 512mb the don't care about 512mb ram they are f**k it irate me

how it is related to nokia and microsoft ??...you should say this to developers of the game.....

No...the devs are the only ones responsible

OS design also has a role to play.

Yeah which Asphalt 8 has already proved that Windows 8 on low end devices is the most capable one (contrary to Android or iOS, which can't handle much with lesser RAM). Remember, "low-memory scenario" is where Microsoft technologies mostly shine and are very carefully optimized for.

Agreed. There is nothing more infuriating than reading reviews of apps and the people are complaining about Microsoft not doing the app right. Makes me want to bang my head against the wall.

Good to see the update. Thanks Kiloo ! Waiting for Temple Run 2 to get a bug fix for the graphics issue with L525 and L1320.

Will take time , due to xbox certification process. There is another bug on my 920 , I am not getting any new daily chalanges.

I get new challenges. I think you have to beat the challenge in order for it to change.

I am on level 9 I have completed daily chalanges since I downloaded to , now when I go to challenges section it just says will be avalibale in 11::00:00 (11 hours or so depending on when I click it ) I know it refreshed everyday at 12AM. But there are no daily chalanges it again says avaliable in 23:50:40. And when I visit weekly challenges it says no challenges this week. I am getting all chalanges on my ipad. This started last week I guess. Please don't say reinstall it. I can no collect 208861 coins again.

This is enough now ! I have lost all the interest in the game ,, :(

Wtf is wrong with the developers :\

At first i loved this , but now i hate it . F*** ya

I'm guessing they're not rushing to optimize for 512 MB RAM devices since they probably make more money from people with high end phones than the low end, even though the market share isn't nearly as large.

When the nokia got Microsoft they are doing like this

Its not their fault. Its the devs

For all those people complaining about 512mb then get a better spec phone if you want to play games.

2 months 3 updates but still no support for 512 MB RAM

How to side load this game on 512 Mb Ram devices anyone can tell me please. Im not able to understand the video on u tube

U have to download windows phone 8 sdk to play games on low memory devices.

How please can u explain me? Do i have to pay for the sdk?

Download sdk for Windows 8(for Windows 7 modified sdk is available).connect ur Lumia to pc.open the app then follow the instructions.it will check ur Lumia nd convert xap file and will be installed on ur lumia

https://www.windowscentral.com/e?link=https2F%2Fclick.linksynergy.co...
No u dont have to pay. This is the link. For further help my email id is akhil.guptasoft@hotmail.com

Better switch to low end device android.

just coz of subway surfers u will switch to android. U have lost it

Motorola Moto G is priced for the Indian market at Rs 12,499 (8 GB) and Rs 13,999 (16 GB

Useless they don't have its proper service centre branches. When talking about after sales services i prefer nokia. That's the second reason i bought Nokia

I agree with you but Motorola given their best in that price it very worthy u should think that also

The company's last piece. Where will find its service centre. Any piece may have or get a defect afterwards.

What the Hell !!!!!!!!!!!!!!

Developers cheating customers

Just replaced your developers and hire some gameloft employees kilos.

Kiloo should start learning & stop making any game or app

Microsoft and the Game developers have faith that their customers will sell off or get rid of their 512MB RAM phones and buy 1GB ones. So they will keep tempting you with such games. That's their ultimate goal you see. ;)

Block subway surfer kiloo:(

512 ram support possible, but mind you even on my 925 it lags sometimes. Guess wp is lagless interface but gaming is poor with almost all my games lags on both 1gb and 512 ram.

Joe Belfiore and Daniel Rubino both stated that 512 mb ram support is coming , trust them , they are not liars...http://forums.wpcentral.com/attachments/nokia-lumia-720/54394d1389631010-1509007_663438023700097_1286748582_n.jpg

I literally lol'd hard reading your reply. :P

"Unfortunately we cant gurantee u that it is possible" but kiloo is arlessr working hard. Imangi is shittttttttttt bastards. Still no update for tr1 and i dont care about tr2. How does miniclip make their games perfect. Hardly a bug is found in their games.

agreed...imangi studios is the worst among all.

No 512 ram support .. :'(

One guy submitted sideloaded ss for 512 MB to store,bt kiloo blocked his app only bcoz they themself cant port it for 512 MB..:D

It's already happening, developers no longer give a rats ass about low end devices, even asphalt 8 runs pretty well on 512mb ram devices, but that was the end, 520s are obsolete already

There has been times this game has crashed upon picking up powerups, and times the world just doesn't fully load. But this game owns Temple Run 2 in terms of bugs. Holy hell, look at you, Imangi Studios... releasing a game... XBOX-CONNECTED NEVERTHELESS... and the leaderboards are not in order, the daily incentives start to bug out if you miss it for only ONE day... I got all of its achievements anyway, so *boop!* uninstalled it. Subway Surfers, on the other hand, is a keeper. It only needs profile backup!

However, with all the whining about not supporting 512MB... is there any other game that runs on UNITY capable of being on 512MB? Because that's SubSurf's engine.

Space Heads it's made by Unity Studios...it has almost the same graphics as SS and it runs with NO LAG on Lumia 520 :|

Wow We Had The Update First Than iOS ? I Don't Have It Yet On My iPhone. ! :)

fuck subway surfers... not available for my l720, a mid range and i cannot play this shitty game that i played in my old iphone 4 from 2008 ... just ridiculous

Wtf I feel dumb being Lumia 520 user

Please release it for WP devices with 512MB RAM

Does anyone else have the issue of when they open the game, the screen goes black? I have to press the power button twice to bring the game screen back up. This has never happened before until I downloaded the Seoul version. :-/

A new theme every few weeks. That is pretty cool.

http://www.apkattack.com/2014/02/17/subway-surfers-seoul/

Get it for 512 mb ram devices
Windows Central Newsletter
Thank you for signing up to Windows Central. You will receive a verification email shortly.
There was a problem. Please refresh the page and try again.