Surface Book 2 and Surface Laptop launch in India, and they're just as costly as you'd expect
The top-tier variant of the Surface Book 2 with 1TB SSD, 16GB of RAM, and GTX 1060 costs over $4,300 in India.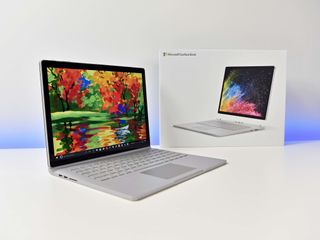 (Image credit: Windows Central)
At an event in New Delhi, Microsoft has launched its latest Surface devices in the country. Unveiled at the end of last year, the Surface Book 2 offers hardware upgrades from its predecessor, including NVIDIA's GeForce GTX 1060 and eighth-gen Intel Core i7 chipsets. The Surface Laptop, meanwhile,
While it's great that the Surface devices have finally made their way to India, potential customers looking to pick up either notebook won't be as enthused when they look at the prices. The base variant of the 13.5-inch Surface Book 2 — with a 256GB SSD and 8GB of RAM — retails for the equivalent of $2,010, or $700 more (opens in new tab) than what the same model costs in the U.S.
The fully decked-out model with a 15-inch screen, Core i7, 1TB SSD, 16GB RAM, and GTX 1060 costs ₹295,999 ($4,310), roughly $1,300 more than the U.S. — you can pick up another Surface Book 2 in the U.S. for the price you'll shell out for the high-end model in India.
Things aren't any different for the Surface Laptop either, as the difference from the U.S. store is around $500 to $1,000. Here's the full breakdown of what the Surface Book 2 and Surface Laptop cost in India.
Surface Book 2 pricing in India
13.5-inch/Core i5/256GB SSD/8GB RAM/Intel HD Graphics 620 - ₹137,999 ($2,010)
13.5-inch/Core i7/256GB SSD/8GB RAM/NVIDIA GeForce GTX 1050 - ₹185,999 ($2,710)
13.5-inch/Core i7/512GB SSD/16GB RAM/NVIDIA GeForce GTX 1050 - ₹222,999 ($3,245)
13.5-inch/Core i7/1TB SSD/16GB RAM/NVIDIA GeForce GTX 1050 - ₹257,999 ($3,755)
15-inch/Core i7/256GB SSD/16GB RAM/NVIDIA GeForce GTX 1060 - ₹222,999 ($3,245)
15-inch/Core i7/512GB SSD/16GB RAM/NVIDIA GeForce GTX 1060 - ₹258,999 ($3,770)
15-inch/Core i7/1TB SSD/16GB RAM/NVIDIA GeForce GTX 1060 - ₹295,999 ($4,310)
Surface Laptop pricing in India
Core i5/128GB SSD/8GB RAM/Intel HD Graphics 620 - ₹86,999 ($1,265)
Core i5/256GB SSD/8GB RAM/Intel HD Graphics 620 - ₹114,999 ($1,675)
Core i7/256GB SSD/8GB RAM/Intel Iris Plus Graphics 640 - ₹144,999 ($2,110)
Core i7/512GB SSD/16GB RAM/Intel Iris Plus Graphics 640 - ₹196,999 ($2,870)
Core i7/1TB SSD/16GB RAM/Intel Iris Plus Graphics 640 - ₹233,999 ($3,405)
Both devices will go up for sale on Amazon and Flipkart as well as chain stores like Croma, Reliance, and Vijay Sales.
I can't help but wonder if Microsoft India has a long-term strategy for Surface devices, because aside from a few enthusiast users, no one will be willing to shell out $2,000 for a base variant of the Surface Book 2. If anything, you're better off buying the laptop directly from the U.S. and paying the $300 customs duty.
What are your thoughts on the latest Surface devices? Share your thoughts in the comments below.
Get the Windows Central Newsletter
All the latest news, reviews, and guides for Windows and Xbox diehards.
Harish Jonnalagadda is a Senior Editor overseeing Asia for Android Central, Windows Central's sister site. When not reviewing phones, he's testing PC hardware, including video cards, motherboards, gaming accessories, and keyboards.
the pricing is a no for me... not advisable for anyone to buy them in India. shouldn't have launched there in the first place. taxes are big problem for vendors not assembling or manufacturing in India. the India Govt policies need to change

Or you know, they could manufacture them in India like just about everyone else

You guys know why It's costlier in India. Why don't you put it in the article?

do tell. i'm intrigued. I was asking the same question to be honest

While it's normal to see a $300 differential, Microsoft is asking for twice as much, and that doesn't make much sense.

The cheapest Surface Laptop is actually much cheaper than the cheapest MacBook Pro, no?

Surface Book 2 cu i7 is the only version worth it. The i5 version and the Surface Laptop are completely not worth it at this time.

They should have priced each variant one step lower. Then it would be good enough price for surface devices. Surface Laptop with mere 128 GB variant costs ₹87k. Thats too much. It would be good if it was 256GB variant for the same cost.

But, I have to say one thing they are taunting Apple and telling them they are cheap. At least here in india Apple almost priced their macbooks 1.5 times than their previous macbook versions juat to make the statement that they are premium laptops because dell, hp, lenovo all were priced on par with MacBooks with same or less specs. I have to say MS literally pushing them to make their next refresh of MacBook even more expensive.

Market analyst: India is a budget conscious market. People prefer budget friendly things. Its a newly industrialized economy where value for money is very high.
Microsoft: Good. Lets make our products wayyyyy more costly than they are in the US.
Lol. Another thing they fail to realize is if someone is gonna spend this much to buy a laptop, he/she is pretty much upper middle class or upper class. Most of those people already have connections in the US/Canada/UK lol. They'd much rather get it from their connections. Fail.

It doesn't matter in india. I get that from the sales perspective it is definetly costly. As I said significanty costly than Macbook with the same specs.
Have you been with those people who buys Macs or iphones especially iphone X?
These people are not buying that Mac or that iPhone X because they need it. They are just buying that to show off that they are using APPLE product. If people buy that Macbook Air 128GB, 8 GB variant that costs about 55-60k on amazon they think they are so superior they are using an APPLE product. Reality is quite different. Let me give you a hint choose any windows laptop brand match the same specs as they are giving on their MacBook Air you would notice you would have to pay upto 30% more price for a windows laptop that is actually in plastic body. On that contrast I think Apple devices are lot cheaper in indian market than the way Apple wants you to believe. That's why they actually jacked the price of their refresh MacBook with touch bars in India as well as in the US(because of release of surface studio. Cheapest surface studio was costlier than the highest spec'd iMac). Apple always does this, for Apple its higher price is the reason people buy its product. If iphones were available for $300 they would not have the image as a brand as they have now. MS doesn't benefit from that if they price their product on par with apple, it is considered as cons in the reviews.

whoa! You got serious lol. You didn't have to type that much. I already know it. But, there are definitely a lot of people who just buy apple products to show off, at the same time there is a substantial non-vocal group that still would like to buy product for what it is. Comparison of windows laptop and Macbook Air doesn't hold ground. Macbook Air comes with 5th gen CPU while most windows laptops are 7th or 8th gen CPUs, hence macbook is still very costly for what it is. Apple's India strategy is also trash. Lets not compare MS's strategy with apple's here.
But premium market in India is all screwed up. Premium consumers pay way more than what they have to pay in west. Quite a paradox. India in general is a budget friendly market. Companies do not sell their premium models as well as they sell their mid-tier models in India.
As for MS jacking up their price, its just bad strategy, they don't want to sell as simple as that. Jacking up the price will not put them in the league of apple. Apple is a fashion brand, more so in Indian context. The show-off value apple has, MS doesn't. So MS's strategy is a fail for this segment which buys product to show-off. Second, by jacking up the price, or not being cautious with price, they are losing on other segments as well which would like to buy product for what it is.

And as for you saying it doesn't matter in India. lol it does matter in India. A LOT. Just look at phone market. Budget friendly companies have killed the players that do so well in west. OnePlus is a fine example in premium budget category. It sells like hot cakes in India. So obviously pricing matters in India.

Does anyone know if MS provides international warranty for Surface devices purchased outside India?

I came to know in the morning of Aug 6th that there's this press briefing the next day. Was expecting a word on the surface go! 🙁

Surface book is useless without a kickstand, stupid wobbly thing, you can't enjoy a touchscreen or make a note if it bounces around like an old bus. They are also hideously overpriced in Australia.

Hahaha 😂 🤣 man what you smoking 🚬 on. That's funny.