Surface devices finally have Thunderbolt, and that's a big deal
We've been asking for it for years, and Microsoft finally granted our wish.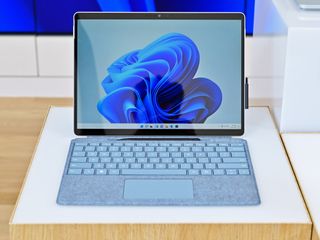 (Image credit: Daniel Rubino / Windows Central)
For years, fans of Microsoft's Surface line — including us — have been frustrated by the fact that Microsoft continuously chose not to outfit its devices with Thunderbolt ports. While manufacturers like Dell, Lenovo, and HP were putting Thunderbolt on several of their laptops, Microsoft stubbornly stuck with standard USB-C. However, that has finally changed, as both the Surface Pro 8 and the Surface Laptop Studio feature not one, but two Thunderbolt ports.
But is the addition of Thunderbolt really that big of a deal? Ultimately, while it's true that Thunderbolt isn't the flashiest feature out there, we do think it's a very valuable and important one. Here's why the addition of Thunderbolt 4 on Surface devices is a significant step forward.
Support for dual-monitor setups
One of the biggest reasons the addition of Thunderbolt 4 on the Surface Pro 8 and Laptop Studio is significant is because Thunderbolt 4 is capable of supporting the use of not one, but two external 4K external monitors. This is a big deal, as it means that you'll now be able to use dual-monitor setups by using a single Thunderbolt 4 port.
Since the Surface Pro 8 and Laptop Studio have two Thunderbolt 4 ports, this gives you the freedom to utilize the other one for other accessories like hard drives or USB hubs. This will save you a lot of money that you may have otherwise needed to spend on a docking station (though getting one of the best laptop docking stations is still a good idea if you can afford one).
Using a pair of the best computer monitors is one of the best ways to enhance your ability to multitask while working in the office or at your home workstation. Therefore, the fact that the Surface Pro 8 and Laptop Studio are equipped with Thunderbolt 4 ports makes them very flexible, as putting together a dual-monitor setup is easier than ever before with them.
Top-notch transfer speeds
Another reason the inclusion of Thunderbolt 4 ports on new Surface devices is valuable is because they utilize 40Gbps bandwidth. This allows users to transfer files to and from the best external hard drives, such as the CalDigit Tuff nano, much faster than they could with traditional USB-A or USB-C ports that only support lower speeds.
While you probably won't take advantage of this much if you don't often work with large files, it's a big deal for people who do a lot of photo or video editing. Since high-quality images and videos tend to take up a lot of space, many editors will load them onto external drives when they're finished and then retrieve them later when they're needed. Being able to do this quickly will save them a ton of time.
Since Surface devices haven't had Thunderbolt until now, they've generally been considered a sub-par option for media editing. However, now that Microsoft has embraced Thunderbolt, something like the Surface Laptop Studio is perfect for editing photos and video. Not only does the Surface Laptop Studio have beefy specs and a relatively compact design, but it also comes with the high-speed Thunderbolt connectivity that most editors look for in a laptop.
Compatibility with eGPUs
The addition of Thunderbolt 4 ports also means that you can use the best eGPUs for gaming with the Surface Pro 8 and the Surface Laptop Studio, which is something that will benefit the Surface Pro 8 especially. The Surface Pro 8's powerful 11th Gen Intel CPUs, all-day battery life, and thin and light chassis make it perfect for workday productivity. But when it's time to unwind, the fact that you can hook it up to an eGPU means that it can also be transformed into a great gaming machine, too — especially since the device's display looks fantastic and has a refresh rate of 120Hz.
In his Surface Pro 8 review, my colleague Daniel Rubino was able to easily achieve 120 FPS in Dying Light 2 while playing at resolutions at and above 2K by using a Razer eGPU equipped with an NVIDIA RTX 2080. This performance easily rivals many of the best gaming laptops out there, and it's all thanks to the flexibility of Thunderbolt.
Final thoughts
While Thunderbolt may not seem like a big deal on the surface (har har), it's one of the most valuable features that modern laptops have. Between its compatibility with multiple displays, its high-speed data transfers, and its support for eGPUs, Thunderbolt 4 is a big deal — and the fact that Microsoft has finally embraced it with the Surface Pro 8 and Surface Laptop Studio means that these devices will be significantly more competitive than their predecessors.
Back and better than ever
(opens in new tab)
A perfect portable PC

The Surface Pro 8 features top-notch specs and support for Thunderbolt 4, making it Microsoft's best Surface Pro yet.
This thing can do it all
(opens in new tab)
The definition of versatile

The Surface Laptop Studio's powerful specs, flexible form factor, and Thunderbolt 4 ports make it one of the most versatile laptops ever made.
Windows Central Newsletter
Get the best of Windows Central in in your inbox, every day!
Brendan Lowry is a Windows Central writer and Oakland University graduate with a burning passion for video games, of which he's been an avid fan since childhood. You'll find him doing reviews, editorials, and general coverage on everything Xbox and PC. Follow him on Twitter.
For me, it's mainly the support for eGPUs. It enables me to buy a lightweight device without an external GPU so I can use it for work on the go without added bulk or weight.
Then go home, connect to an eGPU and, BANG, I have a full gaming PC.

Couldn't agree more. Since I look at eGPU, custom gaming rigs and also gaming laptops are no longer on my radar. The fact that I can enjoy travelling light with my notebook or tablet while having the flexibility of using an external GPU when I need some GPU power is a complete no brainer.

Microsoft did a great job with most everything, but I am very disappointed that the Surface is now a quarter pound heavier and no LTE option at launch. Also disappointed that there is no microsd with LTE.

I always find it slightly funny when people complain about some option not being available at launch. Things take as long as they take so the alternative would be to hold back the launch until that option is ready. That doesn't get you the option you want any sooner and it also means that everyone else who doesn't want it also has to wait. I'm not suggesting that that disappointment isn't simply part of human nature - I may well have felt and even expressed it myself at times - but it's still amusing.

I definitely love the new 1TB storage offering. Not even Dell offers such an option for the Latitude 7320 Detachable. However, Lenovo seems to offer better value with the ThinkPad X12 Detachable. At the time of this writing, the ThinkPad X12 with i7-1180G7 vPro, 16GB RAM, 1TB storage, and Windows 10 Pro alongside included pen and keyboard and also 3-year Premier Onsite Support cost $1,849. That's $350 cheaper than the new Surface Pro with the same RAM and storage configuration.

I might end up migrating back over to Surface in a couple of years, provided they keep offering the Pro design (detachable keyboard) as I have my eGPU now and I will continue to maintain a high res touch screen device with removable keyboard as it is the most flexible for my use (I can occasionally be using my device as a tablet for a couple of hours, I don't want the extra weight of the keyboard adding strain on my arm). It's just a shame that so few companies have really done many devices in that style, it's mostly all 360 hinges (which I hate).

"Support for dual-monitor setups: One of the biggest reasons the addition of Thunderbolt 4 on the Surface Pro 8 and Laptop Studio is significant is because Thunderbolt 4 is capable of supporting the use of not one, but two external 4K external monitors." That's completely wrong. You can do this (dual 4K) with the Surface Dock and the SP7. In fact you can do that with the USB-C port through daisy-chaining or USB-C docks. This is mentioned in WC's own coverage: Can Surface Pro 7 power dual 4K external displays?
CALE HUNT
10 Jul 2021
Best answer: Yes, the Surface Pro 7 and Pro 7 Plus support dual 4K external displays with up to a 60Hz refresh rate.
Windows Central Newsletter
Thank you for signing up to Windows Central. You will receive a verification email shortly.
There was a problem. Please refresh the page and try again.