Surface Duo gets $400 off at Best Buy, Microsoft Store later this week
If you want a Surface Duo, February is the time to get one in the U.S.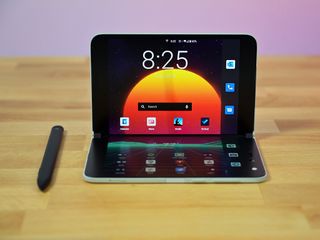 (Image credit: Daniel Rubino / Windows Central)
What you need to know
The Surface Duo is currently $400 off at Best Buy.
Microsoft is also temporarily discounting Surface Duo starting Friday.
You can pick up Surface Duo starting at $999

(opens in new tab)

at Best Buy now.
Microsoft is running some significant temporary discounts on its products for February, including $200 off Surface Pro X, $300 off Surface Laptop 3, and $100 savings on Surface Laptop Go.
But perhaps one of the more intriguing ones is $400 off Surface Duo.
The deal does not begin until Friday, February 12th, but Best Buy is already offering the savings on both models (unlocked or with activation).
Such a discount brings Surface Duo's price down to $999 (128GB) or $1,100 (256GB). If activating a new line or contract renewal, Best Buy adds in an extra $50 discount. Toss in a trade-in for an existing smartphone, and some may be looking at a few hundred dollars for Microsoft's first dual-screen Android device.
Of course, we should caution that we are expecting Surface Duo v2 later this year, even as Microsoft is prepping the current Surface Duo for a launch in four new markets (UK, Canada, France, and Germany) later this month.
While Surface Duo has been a fun device to explore (it is still my primary phone), we recently pointed out how Microsoft could do a better job on transparency regarding updates, Android 11, and new features.
See our Surface Duo re-review three months on for current status and context.
Either way, if you were on the fence about buying Surface Duo, this new temporary price-drop could push you to try one. At least buying from Best Buy gets you easy store returns if you're unhappy with the experience.
The discounts are not expected to be permanent. Microsoft is only offering the $400 between February 12th through the 28th, and Best Buy likely has a similar schedule.
Now available (in the U.S.)
(opens in new tab)
Two screens are better than one.

Microsoft delves into the future of foldables with an ambitious dual-screen device, featuring two ultra-thin 5.6-inch AMOLED displays bound by a 360-degree hinge. This pocketable inking-enabled Android smartphone marks the latest in the Surface lineup, geared for mobile productivity.
Main
Daniel Rubino is the Editor-in-chief of Windows Central, head reviewer, podcast co-host, and analyst. He has been here covering Microsoft since 2007 when this site was called WMExperts (and later Windows Phone Central). His interests include Windows, Microsoft Surface, laptops, next-gen computing, and for some reason, watches. Before all this tech stuff, he worked on a Ph.D. in linguistics and ran the projectors at movie theaters, which has done absolutely nothing for his career.
Every little bit helps. I believe I got mine during the Holidays at AT&T, which included their trade in discount offer. I'm still waiting for that discount to show up on my bill.

Nooooooooo! All my extra money is wrapped up in car repairs. Darn.

Life is telling you to wait for Duo v2.0!

Love my Duo. I know Zac criticized its swipe performance, but I can report that on my Duo, it's by far the best typing experience on any Android phone, due to the perfect responsiveness and wider screen (even in portrait mode). No other phone in portrait mode even comes close. Then, in the laptop form factor, the keyboard is large enough for reliable thumb typing (or you can swipe there too). Unlike Zac, almost of all my issues with Duo now are down to the things we knew about at launch -- poor camera, no Qi charging, no water resistance, giant (wasteful) bezels. I originally had other issues that I was certain were software problems for MS to fix, but MS Support suggested they send me a replacement Duo. Skeptically, I accepted. To my very pleasant surprise, all the problems went away. I wonder if Zac's problems that seem like software issues are also due to him having a lemon of a Duo. My only Duo issue that probably is software based is the goofy way it tries to figure out if you're taking a selfie or a distant shot with the solo camera. It seems to often think I'm trying to take a selfie when I'm not, and the display facing me is blank so I can't see what I'm trying to photograph. I wish I could just turn off selfie-mode altogether; I almost never want to use it.

I think the January update really improved the camera behavior, just flip the phone over swiftly and the viewfinder/display should switch screens pretty quickly. Another tip: pin the Camera app to both of your screens. If you're working in phone mode and you're on the left screen, the camera app will launch as rear facing. If you're on the right screen, the camera app will launch as a selfie cam.

6 months in, only launched in one country, and they're already offering 30% discounts. This can only mean one of two things: A) It's tanked and they want/need to get rid of a warehouse full of them before questions are asked....or.... B) Version 2 is coming and it's time to clear the decks Personally, I think (hope) it's B 😊

30% after 6 months doesn't seem out the ordinary at all. In fact, I think anyone would assume a $1400 android phone would hit the $1000 mark after half a year.

Yeah, a lot of carriers do B1G1 at a phones launch. Heck, when I got my G8, it was at an MRSP of $800 and sold for $580 through AT&T on the day it came out. That's almost a 30% discount on release, no other purchase necessary (just a single AT&T line upgrade).

Yeah but some of those Android phones have bad update support (almost always worse or slower than the manufacturer promises), which makes those deals less interesting if you only still get like a meager 1-2 years of updates. With the Duo it is still a bit unknown but I think it safe to say that at least it will get security updates for a long time (considering even WP 10 got >4 years of security updates).

The most absurd criticism I hear about the Duo is that it doesn't have an external screen. It has the best external screen. Just flip the phone around so the screen is on the outside and now you have a perfect phone display. It's Gorilla glass and tough. You can always close it so the screens are on the outside and stick it in your pocket like that if you prefer with no more concern about damaging it than any other phone. I love that I can do that or close it with screens on the side for greater privacy and fewer distractions. A working Glance mode would sure be nice though for when it is closed with screen on the outside.

It's not a great external screen though. It's pretty wide, with large bezels, and it's unwieldy for it (relative to other smartphones, or even a folded Z Fold 2). What's more, when it's open in that fashion, the second screen is the back of your phone, meaning it's exposed to breaking. It's not some kind of great help to productivity to have that aspect ratio in single-screen mode, when talking about phone usage.

You can always add screen protectors so it is not the big deal you are making it out to be. Also concerning the aspect ratio; that is just your opinion. I for one dislike the long banana like aspect ratio of my Android phone and would prefer a wide ratio because one side is now always cramped when reading.

I'm talking about the risk of dropping, not the pockets. It's much better protected when closed than opened 360 degrees.

Screen protectors do also protect against that though (on the screen sides that is). In any case with screen protectors it is not any different compared to a normal smartphone.

All the nay-saying comes from people who don't own one. I use my Duo folded all the way open in "phone mode" most of the time, whether it's on my desk or in my pocket. I remember reading that the gorilla glass is the same all the way around the device so it's the same wear and tear regardless of how you use it. You know when you get a phone call in a meeting and you turn your phone upside down on your desk to hide the display? Same difference. No one should be any more worried about the glassy Duo than any other phone. Unless you carry sandpaper in your pocket or work in very rugged environments, the Duo will hold up just fine. But also, it's a $1,000+ device so treat it like one.

Honestly, it's too late. If it were this price at Black Friday, I'd have bought it. At launch, I would have jumped at it gladly. Now, we're too far in and the thing's got ANOTHER generation of Android flagships making its specs look dated. That they haven't fixed a lot of the bugs only adds to the lack of desirability on this deal. I really wish they'd just announce that a second-gen device will come soon, as they did with the pre-announcement of the Duo in 2019. I'm currently between waiting for an unknown release date or looking at something like the new Xperia line.

Been patiently waiting for the UK launch (been mentioned it may be next week on the 18th) but really on the fence of whether to jump in or wait for V2 if it's expected by the end of the year.
At the moment I'm probably going to get it but will be hoping MS do a generous trade in, assuming V2 is launched at the same time everywhere and they don't delay UK and other markets to next year.

Nooo I just bought the surface pro 7

I will wait for Duo 2, no 5G was the dealbreaker, hopefully they will correct that in the future.

$1300 is a ton of money for a phone. Dropping the price does several things. First and foremost, it provides a measurement of price elasticity. This will give some indication of the market's appetite for the device/form factor. Do sales double? Stay the same? Fall? This is hard to exactly measure because technology tends to evolve quickly especially when you are introducing a new form factor. If V2 is "so much better" and will be introduced in 6 months, then small price reductions will entice few people to buy V1. Dropping the price by 30% will give you an indication of price elasticity.

I'd be surprised if it made much difference, but we're unlikely to find out anyway. Microsoft usually keep that kind of information to themselves. Price-wise it's still some way off the point where I'd be inclined to dip my toes. For that kind of money I'd want something which had premium performance, a high-quality camera and minimal bugs.

"For that kind of money I'd want something which had premium performance, a high-quality camera and minimal bugs.", so the 2nd screen (one of the most expensive parts in a smartphone) should be free than? That seems a bit unfair imo. I think the 1000 bucks now seems kind of fair, not a great deal but fair. Compared to other phones you get much more screen area at expense of a flagship camera (and instead get a midrange one) and a slight performance loss. Otoh you do get a OS skin / features made for 2 screens which is also costly to make while still getting good update support (for Android that is).
Windows Central Newsletter
Thank you for signing up to Windows Central. You will receive a verification email shortly.
There was a problem. Please refresh the page and try again.