Earlier this week, some isolated stories of Surface Duo owners suffering cracks in the chassis near the Type-C charger began to appear. Reports that Microsoft is taking care of those afflicted with the apparent design flaw are reassuring and the hallmark of a new form factor device meeting the real world.
While our review unit is still holding up with no such issues, it does raise the question: is there a more effortless and safer way to charge? This is usually where Qi wireless charging fans step in, but since Surface Duo does not have that, it is a moot point. But there is one option that many people already use daily: magnetic connectors for your charger.
For $20, I picked up a pack from A.S. on Amazon. Even if you don't own a Surface Duo, these little gizmos can make your daily charging life easier. Here's what you need to know.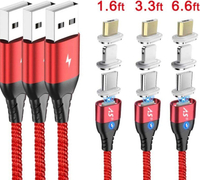 (opens in new tab)
A.S. 3 in 1 Magnetic USB Cable (opens in new tab)

$20 at Amazon Bottom line: Adding a magnetic charger adapter to your Surface Duo cuts down on the wear-n-tear of inserting a Type-C cable daily for recharging. While this solution is not perfect, it's a smart idea for many of you rechargeable phones and gadgets thanks to the all-in-one starter kit.
A.S. 3 in 1 Magnetic USB Cable What you get
There are myriad companies – mostly Chinese knockoffs – that all make similar magnetic charger heads. The concept is simple: on your device, insert the magnetic charger head and then use the matching magnetic charging cable to complete the connection.
Once installed, you are no longer inserting a Type-C connector into your device multiple times a day; there is much less wear and tear on Surface Duo (or your iPhone). It's also super convenient and safer. Were you to trip on the cable, it separates from Surface Duo preventing the device from falling to the ground - just like all Surface PCs.
The A.S. 3 in 1 Magnetic USB Cable is particularly neat. Here is what you get for $20:
3 braided cables: 1.6 feet, 3.3 feet, and 6.6 feet. USB-C 3.0A Quick Charge compliant (with a QC 3.0 charger). Blue LED light. Data sync speeds up to 480Mbps.
Adapters: 3x micro USB, 3x Type-C, 1x iPhone
Magnetic adapter removal tool
The cables are of good quality, and I like the red because it makes finding the lines that much easier (plus it matches my Surface Duo bumper). The bright blue LED is also helpful here. Of course, there is also plain black if you are more lowkey.
Insert one of the magnetic tips into your preferred device, and that's it. You can now magnetically attach one of the three cables, and off you go. To remove the adapter, if you want to revert to a regular charger, you can pry it out. Here you want to be a bit careful with Surface Duo, and the included yellow pry tool helps a lot.
A.S. 3 in 1 Magnetic USB Cable How it works
For Surface Duo, insert one of the three Type-C magnetic heads. The tip does stick out a bit, and it is a shame the adapter head is not a millimeter shorter to be flush with the Surface Duo's chassis. It is thin enough, however.
The adapter is also a pinch lopsided on my Surface Duo, but that's not the adapter's fault. Instead, the Type-C port seems to be uneven internally, resulting in the adapter tilting a smidge to the left.
If you are using a bumper, you notice the protruding adapter even less, and it doesn't feel like it is going to break. However, in theory, leaving this mini adapter in all the time could be a point of failure if you're not careful.
Any of the included magnetic cables connect and charge instantly. The link is secure, but as expected, the cable will separate with a little tension, which is the whole point.
A.S. 3 in 1 Magnetic USB Cable Should you buy?
If you are worried about Surface Duo and the chassis cracking around the Type-C port, these magnetic connectors and cables seem to solve the problem.
While I do wish the adapter was more flush, the good news is these are also very generic. That means you can buy other similar cables and they work just as well. Likewise, you could purchase magnetic adapters for your cables if you want to use the Surface Duo charger. While that extra head is a little shakier, it is also cheaper. These $12 NetDot Gen10 magnetic adapters (opens in new tab) do the same thing, but you bring your own cables and charger.
The real solution here is for Microsoft to rethink that Type-C charger port on Surface Duo. Either it should be reinforced with something more robust, or Microsoft could go down the controversial route of a proprietary magnetic charger like Surface Connect, or they could add Qi wireless in the next version.
For now, I'll be sticking with these magnetic adapters. They are more fun to use, the cables are good quality, and there's less wear and tear on my Surface Duo. And if you need more ideas, check our growing best Surface Duo accessories for other things we recommend.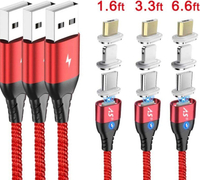 (opens in new tab)
A.S. 3 in 1 Magnetic USB Cable (opens in new tab)

Adding a magnetic charger adapter to your Surface Duo cuts down on the wear-n-tear of inserting a Type-C cable daily for recharging. While this solution is not perfect, it's a brilliant idea for many of you rechargeable phones and gadgets thanks to the all-in-one starter kit.
Main
Daniel Rubino is the Editor-in-chief of Windows Central, head reviewer, podcast co-host, and analyst. He has been here covering Microsoft since 2007 when this site was called WMExperts (and later Windows Phone Central). His interests include Windows, Microsoft Surface, laptops, next-gen computing, and for some reason, watches. Before all this tech stuff, he worked on a Ph.D. in linguistics and ran the projectors at movie theaters, which has done absolutely nothing for his career.
The other option is to get an inexpensive wireless charger adapter but that would cause a slight bump on the surface (no pun intended).

Yeah, I actually have one of those and there's a reason I haven't done an article on it. While you can get it to work the bump is significant and it severely restricts posture motions e.g. flipping it back is a no-go. If there was a way to route it towards the fingerprint reader instead of the hinge that'd help, but right now it's really a messy/ugly solution. There is potential for a third-party to engineer something, but not sure we'll see enough volume to warrant it before a v2, which may add it natively.

I bought one for a budget phone but I didn't use it either. If there was a thinner solution that would provide a flat surface under a case, that could work.

Hey Daniel, that is exactly why you should do an article on it. Good or bad, you're just writing an article on the product. I would be very interested in reading about 3rd party support for the Duo.

I have had magnetic chargers for a while now I am glad Microsoft is taking what they do from the surface and implementing that on to the duo. I wish Verizon had this phone

Yes, magnetic chargers are a game changer, especially on micro-USB devices. No more worrying about plugging in the right way. Saves wear on the device too, and even keeps dirt out.

I love that red bumper... Let me know when they're discounted 😁

If you go for magnetic cables, go for the free-orientation circular design, rather than those featured in the article. The circular ones are literally fidget-free and you can let the magnet snap them into place and they attach correctly 99 times out of 100 attempts. Of course, I'm referring to the 2nd gen design that supports data as well as charging.

While I agree the swivel circular ones are super neat and probably better - in theory - those have very round designs for the adapter (vs the slim oval of what I have here). If you go with those circles it's going to be wider than the Duo's single display - it'd be weird. As is, that oval of the ones here are the width and could not be any thicker.

That's true. The circular ones definitely have a broader profile, and I do concede that most Surface Duo use-cases will not require a pseudo no-look attaching of the USB cable (where the circular design excels.)

May just have to get these, lol better to be safe than sorry, especially as my Duo is all the way Downunder!

Those adapters you linked are complete garbage, just got my refund today for those. It took 4 hours to get 30 percent charge... ordered the cables you reviewed prior to even reading this article, we shall see how those fair tomorrow.

I was thinking Surface Connect would have been nice but then we are back to proprietary cables for a mobile device which would suck. Considering I have a few wireless chargers, it's unfortunate the SD didn't come with it. I grabbed a different pair of magnetic chargers that arrived today so I'll be seeing how well they work soon. So far a nice snug fit inside and with the bumper, doesn't seem to annoying yet. If I was bumper less then that nub would get annoying real quick.

There are many generations of these magnetic cables. The ones reviewed here look to be Gen X (10). That's currently the best option for the Surface Duo -- slimmest (a must for the Duo), highest amperage charging, fastest data. Gen 7 is closest. Gen 12 is newer and would be great if not for the thickness -- they're round and stick out way past the edges of the Duo.