Surface Duo on sale for $200 off from Microsoft Store
The Surface Duo is down to its lowest price yet.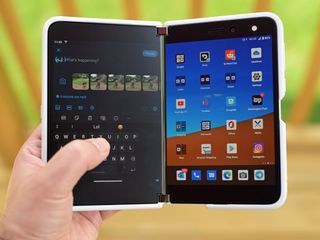 (Image credit: Daniel Rubino / Windows Central)
What you need to know
Microsoft's Surface Duo is currently $200 off at the Microsoft Store.
Both the 128GB and 256GB variants are on sale for $200 off.
The deal appears to only be available through the Microsoft Store for unlocked devices.
Microsoft's Surface Duo only launched a few weeks ago, but it's already on sale through the Microsoft Store. If you check out the Surface Duo on the Microsoft Store right now, both the 128GB and 256GB variants of the device are on sale for $200 off. It's not known how long this sale will last. It could last until Black Friday, it could end sooner. If you're on the fence, it might be worth taking advantage of now.
The Surface Duo is Microsoft's first mobile device in some time. It's a foldable device with cellular capabilities, allowing it to act as a phone or a tablet, though it isn't exactly the same as any other device on the market.
The Surface Duo is the culmination of years of effort from Microsoft to bring its apps and services to Android. It pairs those apps and services with the entire Google Play Store and impressive hardware from the Surface team.
"With ground-breaking hardware design and the right apps, it's game-changing. But some early jankiness with the OS, performance issues, and the lack of modern hardware holds it back," said our executive editor Daniel Rubino in his review.
If you grab a Surface Duo for $200, you may want to take some of those saved dollars to protect it. There are a growing number of Surface Duo cases available, including holsters, bumpers, and pouches.
The promo reportedly ends on October 29th.
Note: You may not see the discounted priced until you configure and add to cart.
Thanks for the tip Frank!
Order today
(opens in new tab)
Two screens are better than one

Microsoft delves into the future of foldables with an ambitious dual-screen device, featuring two ultra-thin 5.6-inch AMOLED displays bound by a 360-degree hinge. This pocketable inking-enabled Android smartphone marks the latest in the Surface lineup, geared for mobile productivity.
Main
News Writer and apps editor
Sean Endicott brings nearly a decade of experience covering Microsoft and Windows news to Windows Central. He joined our team in 2017 as an app reviewer and now heads up our day-to-day news coverage. If you have a news tip or an app to review, hit him up at sean.endicott@futurenet.com (opens in new tab).
Am really keen to see this device come to the UK, the more I have looked at it the more I am interested, I am looking forwards to getting proper hands on with it.

Tempting MS but I'm gonna wait for the next model still... I am hoping for a little better camera before I replace my s20. But man this is tempting, the Duo is so beautiful and nice to hold... that is until BestBuy fastened it to the counter, now you can't pick it up... oh well.

The perverbial question with regards to investing in this devise will continue to be, "can it replace my current daily driver devie?" That answer will depend on a couple factors that have been outlined before on this site. I will provide my experience with the Surface Duo as a daily driver.
As a consumber of MSFT products througout the past six years the Surface Duo was in my opinion the closest thing to a Windows phone so instead of getting a replacement for my OnePlus 6, I decided to hold off until the official release of the Duo. From a specifications perspective I didn't see much of a difference considering my daily driver was at least three years old. As a cyber analyst instructor, I have my reservations on features like wireless charging and NFC, so those features not being available on the Duo were definitley not show stoppers for me as I don't use them anyway. The 5Gless feature is a little bit of a different story especially being on the T-mobile network. I will admit that I've noticed slower data rates and a hight frequency of dropped calls and data blind spots.
LIke many have already stated, getting used to two screens on a phone will take a little time, however not much. I use two screens at work so the orientation was already familiar. I can't tell you how much of a convenience it has been from a multitasking standpoint. For example, I use a workout app to track my activities. In addition a have my Spotify app to play music during the workout. If I want to change playlists and don't have a certain smart watch, I need to access Spotify to do that. On a traditional single screen phone, I would have to shift apps, and that could cause timing issues with the workout. With the Duo I have both apps linked together so they open at the same time and I can access each of them independently . If II need to reset a password of an account, I can open my email and stay on the webpage as well. The multitasking element is unparellel and is the real selling point of this device.
Now I'm sure you've read about the issues with the software and the camera. In my opinion it's not as bad as you may think. All basic functionality is there. As for bugs and lags...the updates have remedied most of that. Keep in mind that with two screens, this device is doing twice the work. The camera is the one real element that shows the disparity of a spec gap. Still not as bad as some of mentioned but definitely room for improvement. The screen shot feature is a little tricky, and I'm still trying to figure out the best way to capture a traditional screen shot without taking a shot of the other screen as well. I've spanned the picture across both screens and that has worked.
All in all if your daily driver is from a high end device from 2019-2020 you'll definitely find issues with the Duo, and probably not see the value or logic in replacing. If your daily driver is from 2017 or older, and you've been saving, I would strongly recommend at least looking at the Duo. Most people won't see the value, and that's okay. Like many have already stated, MSFT's intent was to establish a new form factor with this version. The second generation will be to capitolize on that foundation.

I have the Samsung Galaxy S8, S9 (no longer have), S10+ and S20. All flagships for their time. And the Surface Duo has replaced all of them as my daily driver.

Ruh-roh. Sales must not be so hot if they are already having to discount their relatively limited production.

I know you like being snarky, but if you follow the smartphone biz, you may realize this is not unusual. Samsung discounted the new Note 20 and Note 20 Ultra by $200 in late September on "eBay (via Microsoft), Amazon, Walmart, and Best Buy". That's exactly one month after its release. And like that Samsung discount, this one is evidently temporary, ending on Oct 29th. I'm sure we'll see a sale again on/after Black Friday. The only smartphones that typically don't go on sale are iPhones. Everything else, this is standard fare.

FIRE SALE FIRE SALE !!!!!!!!!!!!!!!!

May be the deal is gone? I dont see it anymore.

You need to click through and configure it before you start to see the price; the initial price listing still has the old price.

@Daniel do you think we will see this version released in the UK or do you think MS will hold out on a wider, international release until version 2?

Last we heard was UK launch sometime in early 2021, but I'm sure those plans are fluid based on level of sales, device returns, and roadmap/release for v2. We're in the "wait and see" period, which is why MS would not commit to additional markets/dates publicly.

How about Two for the Price of One...?!

Yes, they'll give you two screens for the price of one device.

It's been $100 off at Best Buy this past week.

Best Buy has it for $300 off. Sales must be really bad. Not surprising because the Surface Duo is a purposeless device.

Ordered! Can't wait to get it. It's the first phone I've been really excited about in years. I knew my patience with the pricing would be rewarded.

It's brilliant. Don't belive all these negative idiots that haven't even used it. Had it for a month now and would not go back to singls screen.

Just my luck, bought one less than a month at full price so no returns. Price of being an early adopter it seems

Did you buy it from MS? They had a 60 day return policy and I know several that have gotten the price match by contacting them. Best Buy Return/Exchange is 14 days on phones, but will honor the price match if within that time.
Windows Central Newsletter
Thank you for signing up to Windows Central. You will receive a verification email shortly.
There was a problem. Please refresh the page and try again.