Take your Windows 8 tablet gaming to the next level with an Xbox controller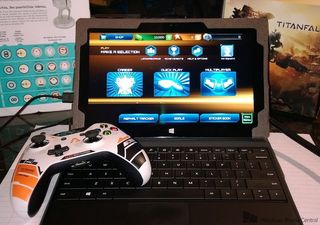 For those looking for a portable tablet gaming experience, Windows tablets can sure hit the mark like no other platform. Whether you are looking at the fully equipped Razer Edge with an Nvidia GeForce GPU and dual joysticks, or you are looking at a Surface 2 – experiences are ready to be had.
The power of a full Windows 8 tablet allows gamers to experience their favorite titles like Counter Strike: GO, Team Fortress 2, World of Warcraft, Call of Duty, and Titanfall anywhere they go. If you are using a Windows RT based tablet, the fun does not end just because you are limited to the Windows Store - not if you have an Xbox 360 controller.
As Microsoft likes to tout, the Surface and Surface 2 tablets both include full USB ports, which allow you to attach a collection of peripherals – including their own Xbox 360 controller. Using the Xbox 360 controller, you can turn simple Windows Store games into a more immersive and kick-back experience. If you have a Windows 8 machine, you can even make use of the Xbox One controller using a hack included at the end of this article.
Over in our Microsoft Surface forum for Windows 8 Pro, psurob55 wanted to know what games are compatible with the Xbox 360 controller. While the conversation did originate in a forum for the Surface Pro, the Xbox 360 controller can be connected to Windows RT devices and the majority of the apps within the app store do run on the ARM architecture.
To make it easy, we went ahead and compiled a list of compatible games that some of our readers, including psurob55, Himanshu Chowdhary, Ed Boland, and jhoff80, pointed out. These titles include:
Mobile games for platforms like Android, iOS, and Windows RT had very humble beginnings, but have evolved into quite impressive experiences with storylines and graphics to back them up. What was once a store of different solitaire games, Sudoku, and Angry Birds, has evolved into titles such as Halo: Spartan Assault, Cold Alley, Soulcraft, and Dungeon Hunter 4.
If interested, you can pick up (opens in new tab) the wired controller from Amazon for around $33 and the wireless controller with receiver for around $42 (prices are from Amazon US). Let us know if you know any other games, besides the ones listed above, that include support for Microsoft's Xbox 360 controller. If you already have an Xbox 360 wireless controller, you can find generic wireless receivers available for sale in the $10-15 range.
If you are a huge Xbox One fan and can not imagine going back and using the Xbox 360 controller, you can take a look at our unofficial guide to using an Xbox One controller with your Windows 8 PC (not Windows RT).
To participate in the chat, feel free to head over to our Windows 8 forums by clicking here. While, the original title of the thread called for just "Xbox" games compatible with the Xbox 360 controller, it has seemed to evolve into any good quality game that can take advantage.
Have you tried gaming on your Windows tablet using the Xbox 360 controller – what do you think of the experience?
Please remember there is a Nokia Lumia 2520 tablet out there as well :-)

Never try playing Cs go on a computer server with an Xbox controller

The wireless receiver I got didn't work with my RT...

Did you connect the controller to the receiver BEFORE you started the game? Although not on a tablet, had this problem with Assassin's Creed and I figured out that I had to connect them before starting it.

Reminder, you can't connect with the charging cable. No info passes through that. Wireless controllers need the dongle adapter to work on PCs.

When will be the Xbox One controller driver available?! By 2015?

Maybe after the steam controller is out, sadly.

I hope Microsoft releases official drivers soon, to add X1 controller support!

at first i thought this article was about those official x1 drivers release. my happiness turned once again in sadness. ms better bring those drivers quick. funny thing is, ps4 controllers do work out of the box on windows 8 devices......

This was one of the cool things I did when I first got my surface 2. Reckless Racing Ultimate also supports the 360 controller and is real fun.

I want this on my phone!!!! Android can do it! Of course it will be rare, but still nice.

ilomili with an Xbox controller rocks... and takes the game to a new level with my Asus 2-in-1

Six-Guns is also compatible with a 360 controller, which makes the game much more playable. Really though I don't do much gaming with the Windows 8 apps on my laptop, I have steam for that.

The games on RT kinda suck though, if I get a Windows tablet its going to be full Windows so that I can play at least a few of my steam games even if it means just the older ones.

Minion Rush is also compatible with the controller. It actually makes the game fun.

Oh my God, thanks for pointing that out! I love the game with the controller. And my kids will go nuts when they see this tomorrow.

I would like to connect a Xbox controller to my Dell Venue 8 Pro Tablet.

You can just need Micro-USB to USB connector.

You should choose your pictures more accurate. The whole article is about XBOX 360 controllers but in the first picture there's a XBOne controller. Can be confusing for some.

Except for the end of the article that deals with Xbox One controllers.

The Xbox controller works fine with SNES8x on the Surface RT. Tested myself :)

How do you use the xnes emu on Windows rt?

I use a Logitech Gamepad F710 wireless controller with my Surface RT, and it works flawlessly. This was sent to me free by Samsung for beta testing their cloud gaming on Smart TV.

How did you get the Logitech F710 to work with your surface RT? I've got the exact same setup and can't get the RT to even recognise the controller and all the forums and support pages say that the F710 isn'r supported in RT.

I like how some PC games recognize the Xbox controller specifically and update on screen menus with the button colors and everything.

How about a PS3 controller? :)

Could you use the play and charge kit instead of the wireless reciever?

No, the cable only provides power, not data.

I always thought the ability to use an Xbox controller with the surface was a huge selling point for the surface that MS hasn't really marketed....sure iPad works with some generic BT controller but Xbox controller are more comfortable IMO and most people have them as Xbox 360 is very popular in the US. And you would think developer would take more advantage of this they can just program all their games to work with 1 standard controller and not worry about drivers and compatibility.

Been doing this for a while with the virtual game boy emulator app. Works great.

I've been using my 360 controller with a wireless receiver on my original RT for a while now.

Is the Logitech F710 wireless gamepad compatible with the surface 2

Just picked up a wired 360 controller for PC games so now I have a bit more to play with.

I can't get my controller to work with Halo Spartan Lite (on my Surface 2). Has anyone gotten it to work? Soulcraft works with the conroller. And thanks for pointing out Minion Rush! It took me a while to figure out that you need to enable the controller in the settings. I just got my Minion Rush high score thanks to the finer control using my controller. Gaming with the controller rocks.

Seems like the controller only works with the full version of Halo. Sweet game. Worth the $5.

Sweet! I got tha 2520 it should w work on that

wAITING FOR SUPPORT ON WINDOWS PHONE PLEASE!

Free windows 8 games for xbox 360 controller Halo Spartan Assault Asphalt 8 Minion Rush Project Spark Soulcraft Dungeon Hunter 4 Six-Guns SNES8x Pinball FX2 Paid windows 8 games for xbox 360 controller GTA San Andreas Hydro Thunder Asphalt 7 Dragon's Lair Ilomilo plus Rocket Riot 3D Cold Alley Crash Course Go
Windows Central Newsletter
Get the best of Windows Central in in your inbox, every day!
Thank you for signing up to Windows Central. You will receive a verification email shortly.
There was a problem. Please refresh the page and try again.