Microsoft's Surface Laptop 4 CPU specs leak online
It looks like we won't have to wait long to find out if these leaked Surface Laptop 4 specs are accurate.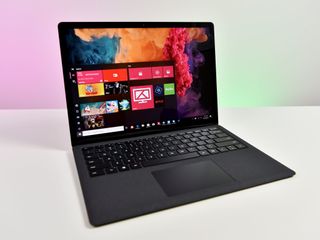 (Image credit: Windows Central)
What you need to know
Alleged specs of the Surface Laptop 4 have leaked online.
It appears that both the 13.5-inch and 15-inch versions of the device will have options for Intel or AMD CPUs.
The device will reportedly launch sometime in April 2021.
Rumors continue to swirl about an upcoming Surface Laptop 4 from Microsoft. WinFuture recently shared alleged leaked specs of the Surface Laptop 4. Based on the report, the Surface Laptop 4 will have options for either AMD or Intel processors regardless of which size that you choose.
It seems that we won't have to wait long to see if the Surface Laptop 4 is one of the best Windows laptops. The report states that the Surface Laptop 4 will launch sometime in April.
It's unsurprising that the Surface Laptop 4 will have 13.5-inch and 15-inch options. This has been the case for the Surface Laptop line for years. What is different is that it appears that people will have a choice for AMD or Intel processors for each of the sizes.
Specifically, the Surface Laptop 4 will reportedly have options for the AMD Ryzen 5 4680U or AMD Ryzen 7 4980U. WinFuture notes that each of these will likely be "Surface Edition" chips. Some will be disappointed if these leaks turn out to be true, as AMD has newer chips in its 5000 Series.
On the Intel side of things, the Surface Laptop 4 will allegedly have options for the 11th Gen Intel Core i5-1145G7 or the Intel Core i7-1185G7.
The use of Iris Plus Graphics (64 EUs) is suspect as the Intel datasheet on those processors lists Iris Xe (96EUs) as the preferred GPU.
These are the alleged specs, as reported by WinFuture. These may not line up with what Microsoft ships.
Swipe to scroll horizontally
Category
13.5-inch
15-inch
Display
13.5 inch, 2256 x 1504 pixels, 3:2 format, 10-point multitouch, pixel sense display, 201 ppi
15 inch, 2496 x 1664 pixels, 3:2 format, 10-point multitouch, pixelsense display, 201 ppi
CPU
Intel Core i5-1145G7
Intel Core i7-1185G7
AMD Ryzen 5 4680U
AMD Ryzen 7 4980U
Intel Core i5-1145G7
Intel Core i7-1185G7
AMD Ryzen 5 4680U
AMD Ryzen 7 4980U
Graphics
Iris Plus Graphics 950
Iris Plus Graphics 950
AMD
Radeon Graphics
Radeon Graphics
RAM
8, 16, (32 GB Intel only)
8, 16, (32 GB Intel only)
Storage
128GB, 256GB, 512GB, or 1TB (1TB Intel only)
128GB, 256GB, 512GB, or 1TB (1TB Intel only)
Connectivity
Surface Connect, USB A, USB C, WI-Fi AX, Bluetooth
Surface Connect, USB A, USB C, WI-Fi AX, Bluetooth
Battery
6513 mAh, 49 Wh
6513 mAh, 49 Wh
As with all leaks, we need to take these with a grain of salt. Luckily, it appears that we won't have to wait long to find out if they're accurate.
Surface Laptop 3, which came out in late 2019, is currently discounted and starts at $769 (save $250).
Old but good
(opens in new tab)
A premium, straightforward laptop

It's not a 2-in-1, so it has no form factor tricks up its sleeve. But it is a tremendous, premium looking 2-in-1 with a great display and specs to boot.
Windows Central Newsletter
Get the best of Windows Central in in your inbox, every day!
News Writer and apps editor
Sean Endicott brings nearly a decade of experience covering Microsoft and Windows news to Windows Central. He joined our team in 2017 as an app reviewer and now heads up our day-to-day news coverage. If you have a news tip or an app to review, hit him up at sean.endicott@futurenet.com (opens in new tab).
Give us a Surface Laptop Pro with some beefier specs, Microsoft!

Yes please! Or ATLEAST give us an actual gpu worth a crap, like the Iris XE.

Not specs, but I'd like to see some new hardware.
All laptops are same old, same old, while phones and tablets are pushing camera, display, speakers, sensors, haptics, etc to the maximum. IMO Windows laptops desperately need a good, practical hardware revision if they want to stay relevant with MacBooks that has better display, speakers, touchpad, build quality, battery life than 90% of other laptops, which will only get better as Apple actually invests in quality hardware. OEMs need to rethink more versatile way laptops can be practically used in mobile space, whether that is home assistant integration, better 2-in-1 capability than an iPad, or a completely new form-factor like dual, triple-screen. Otherwise, x86 laptops are doomed for the future.

Giving Intel the highest Ram and SSD option is disappointing, the AMD 8 core CPUs performan much better in multi-threading tasks so 32gb of RAM would fit AMD's CPUs so well. It's also disappointing to see them using last gen AMD's CPUs, but at least the 5000 series isn't that much better and it's a good start.

The AMD last gen specs are likely a result of AMD's biggest disadvantage compared to Intel: their smaller size. Intel has an entire department that works with manufacturers to design the devices before the chips are finalized. AMD has no such ability to my knowledge so theres a much longer lead time to get the newest chips into devices.

The AMD chips have already been in laptops since January of this year when they were announced. The Surface Laptop has no excuse, being that it's coming out 4 months later.

The 5000 Mobile series is really only launching right now. They're not really on sale yet e.g. ROG Zephyrus Duo 15 (GX551) is just now trickling out to some markets (not in the US yet either).

These AMD SKUs exclusive to Microsoft tell the opposite.

You can replace/upgrade the SSD on the laptop 4 so that does not really matter all that much (heck its usually even cheaper that way). The ram I can understand, at the same time 16 gb of ram in an ultrabook is nothing to scoff at and most likely not a constant bottleneck (if rarely someone needs more than 16 gb ram a fast SSD for page files should suffice).

Yeah the SSD isn't a problem. And while 16gb is alot for an ultra book, AMD's U-Series CPUs perform like Intel's H-Series, so while it's still an ultra book, it performs like a bigger Laptop.

If true these specs are a HUGE disappointment. To being using Iris Plus graphics or limited to older gen AMD is seriously ridiculous. If Intel it should be Intel Iris Xe at least. Come on. I REALLY want to get a surface laptop, but not with crappy or outdated hardware compared to others. They know when new hardware is coming out, there's no excuse for using AMD 4000 series on a laptop released 4 months after 5000 has been announced (and supported by older laptops at this point).

Yup. I've been waiting for news of Surface Laptop 4. Really thought this would be the one, but this is a bit disappointing. I'd get the AMD despite last gen, but only being 16GB there is a non starter.

I think the Iris Plus graphics is a mistake as Intel ARK states that the chipset ships with Iris Xe. Guess we'll wait and see. (Also weird as Surface Pro 7+ uses Iris Xe)

If that's the case then I'd be happier. :)

Iris Plus is an error in the leak, it should/will be Iris Xe. "not with crappy or outdated hardware compared to others" , Ryzen is 4000 series is not really outdated, practically (in laptops) its a half year old or such and it was the big jump while the 5000 series is a smaller jump. I also suspect that MS has optimized the chip well for the Laptop 4, so it might perform slightly better than you would expect from that series.

It's 420+ days old. That not a half year old. That's greater than one year.

That number is useless. You should compare it to other (touchscreen) laptops that have Ryzen 4000 series. E.g. HP Envy x360 was released in April 2020 I believe and HP is usually quite soon with AMD cpu's in their laptops.

What about the Ryzen 3000-packing SL3 suggests to you that Microsoft would have taken the Ryzen 4000 family and magically found extra power beyond the slight spec bump over its siblings? They allegedly aren't even bother configuring the AMD versions to max RAM and storage specs, so what are the odds they've engineered extra performance no other OEM found?

I do not really understand what you wrote at the beginning here. Ryzen 4000 series is a big leap forwards compared to 3000 series, no way some optimization is going to reach that performance. However, 5000 series is a lot closer to 4000 series. I am not saying optimizations will be as big as the jump from 4000 to 5000 series, but it will most likely decrease the gap a bit or improve battery life or such.
A good example what optimization can do is the Surface Duo; its SD 855 is faster than some phones with a SD 855+ cpu's even though the Duo is a really thin device and battery life is better than people were expecting beforehand.

Wouldn't it be a Ryzen 9 if it's 4900? There isn't a Ryzen 7 4900.

Did they bring forward the cool cracked screen tech? I've had to replace my wife's SL3 3 sperate times.

It's improved as it cracks 2 ways now.

Sweet! But in all seriousness... I really hope they were able to fix it in the Surface Laptop 4. I hope to be able to trade in the Surface Laptop 3 for a Laptop 4.

You probably had the SL3 with the metal deck right?

Man, there are so many whiners in the comments section today. I have big hopes for the Ryzen version of this Surface Laptop. I trust Microsoft to implement the thermals on the excellent Ryzen 4000U series far better than HP can (at least on their Envy x360, which is disappointing on their 13-inch model). And 11th Gen Intel is also great to see, choice is good and Microsoft gives you it in the high-end (unless Dell, HP, etc., who to date just offer Intel on the premium end).

They're releasing Ryzen 4000 when the rest of the market is moving on to Ryzen 5000. Also, my Envy is thermally fine, though it's the 15" variant. The "whiners" don't like watching Microsoft release their devices at the end of a product's life cycle and charge a premium for the dated hardware. That's not whining, that's asking your "premium" device maker to not trail in the market, which I'd say is pretty reasonable.

The Surface Laptop 4 has probably been in development for a year, meaning that when they started making it, the Ryzen 5000 was most likely not yet available (that's the reality of product releases), so they went with what WAS available (Ryzen 4000. I, too, would have loved to see a 5000 series, but a Ryzen 4000 series (and this is a custom version for Microsoft, so it could be even better) is also excellent, unlike the Ryzen 3000 series they used. Also, "premium" is not just having the latest CPU. Microsoft's product support for Surface products is arguably better than that of many other OEMs. It's 2021 and Microsoft still releases updates to the original Surface Go's firmware, whereas my 2017 HP Envy x360 only saw like 1 and a half years of official support at best.

The 15.6" variant is bigger than the 13.5" Surface Laptop however, so sure the thermals are fine since there is more space to let the laptop 'breath'. 🙄
What you saying is not completely unreasonable but it is also not that big of a deal. While with the SL 3 it was a big deal since the difference between 3000 and 4000 series is huge.

Only Ryzen 4000 series? WTF why no 5000 series?

This is the same Microsoft that released a Surface Duo in September 2020 with a Snapdragon chip from early-2019. Odds are, Microsoft's fall release schedule got pushed back to this spring/summer with COVID. Since Microsoft likes to live behind the competition by releasing 6 months late, having their products delayed just makes them look even more behind. I wish they'd just skip the 2020 attempts and go to Ryzen 5000 in the fall, but they probably need to recoup that R&D, so Ryzen customers are going to be shafted by MS for a year or two.

I think it's still Microsoft leery about what happened when they went bleeding edge and released a surface with the then bleeding edge 6th Gen Skylake processors from Intel, which had a mountain of issues across the board. To them, they just care about a more reliable architecture rather than having the latest processor out of the gate, unless that architecture brings something that to the table that innovate on the Surface. In the case of Ryzen 5000 vs these chipsets....it doesn't.

I think it's more likely that the Ryzen 5000U chipsets simply weren't available when they began developing the Surface Laptop 4. Remember, we're also experiencing a global chip shortage..the 4000U series were already in scant supply.

The Duo is actually a good example of how a SD 855 can perform better than a newer SD 855+. Specs does not say everything all the time, wait for the benchmarks and tests. These days thermals/cooling are just as important if not more important.

Hopefully MS has better luck w/ stock on the AMD laptops than other manufacturers last year. I remember the 16Gb/512Gb Envy x360 was out of stock for awhile last year.

It's great there's an AMD option for consumers for the 13". Intel both needs and deserves some fire under their butts. I hope (and also expect) they won't change much in terms of the design language, though. The Surface Laptop is one of the most beautiful laptops ever.

So, the Surface Laptop is not a premium device, then. Using last-gen processors automatically makes it last-gen. Given Xbox helped keep AMD in business during the Jaguar years, AMD should be willing to give them some preferential treatment when it comes to the 5000 series chips. I'm in the market and immediately not interested. I'll be looking to get a Zephyrus G15.

I need a laptop and the MacBook air for 899$ is looking better and better everyday. Come on Microsoft, you need to wake up. At least make it powerful enough to compete with Apple at this point.
You're releasing a laptop that will be less powerful, with less battery life and also more expensive. Do something.

"Do something." that's literally the perfect statement.

Apple's M1 isn't beating Ryzen mobile, and really only competed against Intel in a few cases. IDK why you're suggesting Apple's got some massive advantage in x86 computing that isn't there...unless you're commenting on an x86-powered laptop article complaining about a Windows 10 on ARM-powered tablet (Surface Pro X).

I'm commenting on a x86 laptop being less powerful than an ARM laptop that can do everything that Microsoft failed to do,while also being (shocking!) cheaper.
You just need to watch any reviews out there on YouTube and you will see that almost no windows laptop can beat the new MacBook Air that costs only $899.
I'm not telling Microsoft to go ARM if Windows is clearly not good enough for it, I'm telling Microsoft to do something about it. Make the laptops more powerful, give them at least 15h of battery life and price it below 999 and then it becomes something worth considering.

For now, they have to make do with whatever CPUs they can get on the x86 end. I'm sure they are working on a new custom ARM CPU with Qualcomm to respond to the M1 Macbook air, because while I would never switch to Mac, it's really hard to ignore how game-changing that value proposition is.

And especially considering how cheap the new MacBook Air is when comaored to premium Windows Laptops

Until you want a bigger SSD or more ram. With recent Surface devices you just buy the one with enough ram and upgrade the SSD yourself a lot cheaper if you are a bit handy with computers (there are plenty of guides for it too).

You cannot replace/upgrade/repair the SSD on the MacBooks with a M1, that alone would be enough for me to not buy them. While you can do this with recent Surface products which do have SSD hatches (since SL 3 / 4, Pro 7+, Pro X).

Disappointing that Microsoft is playing these "save the best for Intel" games like other OEMs. I'm not interested in the Surface Laptop myself, but I wish they'd not go openly favoring Intel with the highest configs. It's annoying to see it, since AMD's generally got better chips, but given they're also releasing 4000-series laptops with 5000-series stuff rolling out from OEMs, I can't be too surprised that Microsoft appears to be half-trying with AMD-powered offerings. I just hope they go with AMD for the Surface Pro 8.

Truth is, regardless of outdated specs or how good MS hardware may be, not having easy 3rd party reparability and user-serviceability is what keeps many people from buying the Surface Laptop. If I have to pay the manufacturer $700 for lid replacement when I can get $70 screen replacement + service fee from a local repair shop, the drawback becomes hard to ignore. Also lack of 3 components - 2280 PCIe 4.0 SSD, SODIMMs, and replaceable battery - are still deal-breakers for a lot of people, and for a very good reason: because they fail, degrade, and perform subpar out of the box most often. No Right to Repair = No Buy.

Wow, still no Thunderbolt. As usual, no Surface is compatible with pretty much every docking station you will find in your travels.

They had mentioned that Thunderbolt presented some security concerns, which was once excuse for leaving it out. https://www.theverge.com/2020/4/28/21239517/microsoft-surface-laptops-ta...

Since they aren't including TB4 on 11th Gen designs, I think it's safe to say that was an excuse. The real reason is wanting to sell overpriced proprietary docking stations.

Depends on which usb version they are using. If its finally 4 than it will hardly matter anymore, otherwise yeah that might be a downside for some.

According to the latest leaks, Microsoft is saving the AMD 5000 series for the fundamentally redesigned Surface Book Pro next month. This could be Microsoft's first flagship Surface. I can't wait!

That'll be interesting. If a "Surface Book Pro" was any thicker or heavier though, it wouldn't be worth it. Might as well get a desktop at that point. The Surface Book is already a really beefy thick laptop.

What about surface pro 8 specs???

I don't get it. Why would anyone want this over surface pro?

Way bigger screen options, way better lapability, way better typing experience... there's plenty of reason.

Anyone who wants a Surface but does not want the tablet form factor basically but does still want the option have a touchscreen/digitizer. This years version is quite interesting since it contains a very fast cpu too (AMD 4000 series is really nice, the just released 5000 series would have been even better but that one is only a small jump). Iirc Surface Pro's are more popular though and personally for me the Surface Laptop lacks a 360/Yoga-style hinge.
Windows Central Newsletter
Thank you for signing up to Windows Central. You will receive a verification email shortly.
There was a problem. Please refresh the page and try again.