Microsoft unveils $249 Surface Laptop SE with Windows 11 SE for the K-8 classroom
Microsoft's low-end education PC is official!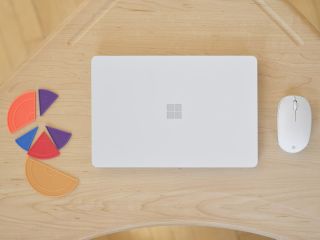 (Image credit: Microsoft)
What you need to know
Microsoft is adding a new laptop to its Surface hardware portfolio.
It's called Surface Laptop SE and is the most affordable Surface yet at $249.
It's built specifically for K-8 education markets for deployment in classrooms.
The laptop ships with Windows 11 SE designed for K-8 markets and low-cost hardware.
Microsoft has unveiled a new addition to its ever growing Surface PC line-up today with a $249 laptop designed specifically for the K-8 education sector. Dubbed the "Surface Laptop SE," this new laptop marks the beginning of a new education strategy for Microsoft, launching with Windows 11 SE pre-loaded which was built for education-focused PCs in mind.
Surface Laptop SE is a big departure for the Surface line, being the first that isn't primarily designed as a "premium" product. Instead, Surface Laptop SE aims to be the best available in the very low-end segment of the market, in an area where premium fit, finish, and performance isn't sought after.
Education PCs such as Surface Laptop SE are designed to be handed out to students, thrown around, and then returned to schools at the end of the year. All they need to do is allow students to get work done in class or at home, so the specs and design don't need to be flashy. To maintain a low starting price of $249, Microsoft has opted to keep things as basic as possible, just like other PCs designed for the education sector.
Swipe to scroll horizontally
Category
Surface Laptop SE
Operating System
Windows 11 SE
Display
11.6 inches, 16:9 aspect ratio
1366x768 (135 ppi) resolution
TFT
Processor
Intel Celeron N4020
Intel Celeron N4120
Graphics
Intel UHD Graphics 600
Memory
4GB DDR4
8GB DDR4
Storage
64GB eMMC
128GB eMMC
Expandable Storage
None
Front Camera
1MP
Bio authentication
None
Connectivity
Wi-Fi 802.11ac (2x2), Bluetooth 5.0 LE
Ports
1x USB-A
1x USB-C
3.5mm headphone jack
Barrel-type DC port
Audio
2W stereo speakers
Single digital microphone
Battery
Up to 16 hours
Dimensions
11.17 x 7.6 x 0.70 inches
Weight
2.45 lbs (1112.4g)
Colors
Glacier
Surface Laptop SE features a 16:9 11.6-inch 1366x768 TFT display, an Intel Celeron N4020 and N4120, 4GB or 8GB RAM, and 64GB or 128GB eMMC storage, all housed in a plastic exterior chassis. The laptop is lightweight too, coming in at just 2.45 lbs. It has a 1MP front facing camera, capable of 720p video at 30fps. Regarding ports, it has one USB-A, one USB-C, one headphone jack, and one barrel-style DC connector.
Microsoft highlights Surface Laptop SE's excellent keyboard and trackpad as stand-out editions over the competition in this area of the market, as well as its 720p video camera and mic making it a great choice for remote students. Overall, the Surface Laptop SE is very different for the "Surface" line, but it falls right in line with other low-cost PCs that are built for this sector. (opens in new tab)
Another prominent feature of Surface Laptop SE is repairability. The laptop uses regular screws exposed on the bottom (not hidden under rubber feet) for ease of access for RAM, storage, battery, and more. No special tools are needed, and most work can be done without sending the laptop out for repairs.
Who is the Surface Laptop SE for?
Microsoft has built Surface Laptop SE for schools buying laptops in bulk to hand out to students in classrooms and to take home. This is a PC for kids in kindergarten all the way up to grade 8, which explains the low-end specs and plastic design. This laptop is more than equipped enough for student work in this age range.
It's important to stress that Surface Laptop SE does not compete with "consumer facing" laptops on the market. You can get way more capable and "nicer" laptops for more money which have been built with more general audiences in mind such as the Surface Go or Surface Laptop Go.
But with a starting price of $249, the Surface Laptop SE is the most affordable Surface yet. Microsoft says it's only available to buy through education channels, meaning normal consumers won't be able to grab one of these anyway. This laptop is designed to be bought in bulk by education establishments for deployment to classrooms and students with OS configurations specific to their school.
What is Windows 11 SE?
Surface Laptop SE ships with Windows 11 SE out of the box, which is a new edition of Windows 11 designed specifically for the education market. It was built with feedback from teachers and IT admins managing student PCs, and Microsoft says it's easier to deploy and manage, being more configurable and better optimized for low-end hardware with small displays.
For example, Windows 11 SE has its snapping assist mode limited to just side-by-side layouts, which makes sense on PCs with small screens and low RAM. Additionally, access to common areas of the system such as "This PC" in File Explorer and the Microsoft Store have been removed, as student rarely need to access those areas when working.
Indeed, in a demo of the new optimized OS on the new hardware, it was evident how much zippier the experience is compared to traditional Windows 11 on similar silicon. With reduced overhead, fewer background processes, and smaller OS install, Microsoft says the experience is more similar to a $500 laptop versus a $250 one. Even the 720P webcam is tricked out with a premium lens and dual mics, which made it hard to differentiate from a higher-end PC in a live demo.
Microsoft notes that, unlike Chromebooks, Windows 11 SE can function offline with the student's lessons downloaded to the device for use at home or wherever there is no internet connectivity. This ability solves a big problem for teachers and students where internet access at home oses a problem for some lower-income families. With Windows 11 SE, students can still follow the homework and class lessons in Microsoft Teams and complete the assignment without relying on connectivity.
Windows 11 SE is not a new "Windows 11 in S mode" type thing. Windows 11 SE can still run apps from outside the Microsoft Store; it's rather an edition of Windows 11 designed only for low-end education PCs. It's essentially Microsoft's answer to the education market now that Windows 10X has been canceled.
And when combined with Microsoft Intune for Education, IT can deploy software and manage the devices remotely. IT can even send a new laptop to a student at home, and during the out-of-box experience, the OS can pre-install software and configure the device remotely according to that school's desires.
Unfortunately, Windows 11 SE is very much based on classic Windows and not the more modern, lightweight Windows 10X codebase, which means it's still missing vital education sector functionality such as fast user wiping and provisioning as well as faster, unintrusive Windows Updates. Perhaps this will be added in the future.
Microsoft does say Windows 11 SE updates silently in the background during out of class hours as set by group policy, but it's still the same old Windows Update system as found on Windows 11, so it'll still be a much slower process compared to something like Chrome OS.
When does it launch?
Microsoft says education customers can begin ordering the Surface Laptop SE through the appropriate channels later this year and into 2022. Pricing starts at $249 for the model with 4GB RAM, an Intel Celeron N4020, and 64GB storage.
EDU PC
(opens in new tab)
Low-cost hardware for schools.

Surface Laptop SE is the first Surface designed to be as affordable as possible for students in the K-8 education sector. Featuring an all-plastic exterior, Intel Celeron on the inside, up to 8GB RAM, and up to 128GB eMMC storage, this is a PC schools will want to buy in bulk to hand out in classrooms.
Windows Central Newsletter
Get the best of Windows Central in in your inbox, every day!
Zac Bowden is a Senior Editor at Windows Central. Bringing you exclusive coverage into the world of Windows on PCs, tablets, phones, and more. Also an avid collector of rare Microsoft prototype devices! Keep in touch on Twitter: @zacbowden.
"Unfortunately, Windows 11 SE is very much based on classic Windows and not the more modern, lightweight Windows 10X codebase, which means it's still missing vital education sector functionality such as fast user wiping and provisioning as well as faster, unintrusive Windows Updates. Perhaps this will be added in the future." the smart thing was simply rename Windows 10 X that will make more sense for the education sector. I wonder what the new CEO will be like of Microsoft will be like.

Imagine saying this thing runs like a $500 pc and that is a good thing.

I wonder why Microsoft would use the "Surface" name for something like this.

They already use it for a $399 Surface Go and $550 Laptop Go. Doesn't seem like much of a stretch. It's also an iteration of Laptop Go (similar keyboard, trackpad) sharing a lot of the same DNA.

I've always associated the Surface name with touch and pen input capable screens. And those other devices, although more budget, still have touch screens. This device doesn't, right? So that's where it misses the "Surface" link (for me).

What about Surface Keyboard, Surface Mouse, Surface Dock and the like?

Those are accessories for surface products?

So you can't use them on non-Surface computers?

Two out of three of those, no. Surface Keyboard has a proprietary connection to Surface Pros. The dock use the Surface Connector. The make a USB C hub, but that's not a Surface Dock.

@SvenJ - incorrect. Microsoft makes standalone Surface keyboard for Windows PC's/Mac's/Android: https://www.windowscentral.com/e?link=https2F%2Fclick.linksynergy.co...

Well the "Surface" unique form factor already lost since Surface Laptop, which is just a plain touchscreen laptop like any other in the market. Though it would be nicer if this had touchscreen for added interaction with the students, but understandable not having having it due to cost. For me, the ideal student device is something of a Surface Pro, something a device that students can actually write on like a digital notebook. But well it is still not cheap enough to make it so, too expensive on Windows. Though somehow I think Chrome books can have touchscreen on similar price.

Probably because that name carries a lot of weight, and may get more people to give it a chance.

I know this is for the "education market", but that spec sheet is concerning. The base specs are barely on par with the OG base Surface Go, which was painfully slow with even just a few tabs of edge open. God forbid you wanted to have Edge and Word open at once. I'm not gonna act like kids need a top-of-the-line Ryzen 9 paired with 64 GB of RAM and an RTX 30-Series... but they deserve better than this...

Fully agree with you. They deserve our actual lightweight based on pwa's and uwps. Not this really strict down version of Windows 11 home.

You cannot avoid those specs at low prices like these, just like how chromebooks suck from that perspective but it does not matter much for education purposes.

Have you ever used a Chromebook? The difference in performance with these specs is night and day. The Surface Go is a barely functional device on a good day (and it starts with slightly better specs than these) because windows still needs over 2GB of ram to run leaving you with less than 2GB for everything else, and processor that can't keep up. Because Chromebooks just runs in a browser, specs like this work just fine.

Windows 11 uses less ram then W10 and the laptop comes either with 4 or 8 gb ram. I have used several windows tablets with 4 gb ram and for edge browser, watching videos / music and Word it was fine.

Unless Microsoft pulls a rabbit out of their hat I see this as another future failure.
With the processors, ram, and eMMC drive this thing looks like it will be remarkably similar to my Surface Go. My Surface Go is so slow it borders on unusable and half the time I want to throw it through the window.
I've turned off every single process I can, uninstalled everything (even most of the "included" apps with Windows) and its still barely a tolerable experience. All while my daughters cheap $250 touchscreen Chromebook runs for her like a champ.

I use my OG go1 only to read PDF and Netflix and Is a tad slow but usable. When my daughter tried to use It for school she cannot do nothing, we had to buy her a real laptop.

Sadly it is a full fat Windows underneath. Well let's see how this Windows 11 SE really is optimised. Because if it still bogged down after a while, this may become attractive to some schools who don't rely only with Microsoft services. Well Idk what is the US education system works. Since I wonder if kids already taught how tk use full fat versions of Office suite for example, but considering how Chromebooks became popular, I think that's not part of the curriculum. Means heavy applications like Office is not needed, so likely students will just have to use the Web app versions,or at least that what's Microsoft just wanted for schools to use with this laptop.

I think MS will soon discover there is a wide gulf between the computing needs of someone in Kindergarten vs someone in Middle School (8th Grade/Grade 8). Also they should've made the screen touch-capable even if it means selling at a loss. If the point of MS's never-ending obsession with the educ market is to secure future customers from the aggressive advances of Google, it makes no sense not to get them familiar with touchscreen Windows from an warly age.

Have you ever seen kids' hands. You really want their grubby fingerprints all over the screen?

Given that MS is (1) pushing Linux and Android apps on Windows and (2) selling an Android phone, why not put Chrome OS on this? It is guaranteed to fail in the K-8 sector while running Windows. "this is a PC schools will want to buy in bulk to hand out in classrooms." No, it is not. Schools do not have the resources - neither money nor people - to have an IT staff to maintain/manage a bunch of Windows PCs.

It seems like this is optimized for the education market. I think this is actually going to replace Windows 11 home.

"It is guaranteed to fail in the K-8 sector while running Windows." Windows absolutely dominates the education market worldwide. So this makes absolute sense. And schools don't manage the computers of students, much less buy them and hand them over as the article suggests.
These things are normally bought by the students directly and its up to them to manage the device.

In the US they do. They will send a Chromebook home with a student.

Probably not as many of those as you might think. Most don't even supply pencils and paper. many require parents to buy or rent books.

As an educator of preschool students, I have zero desire for a pc without a touch screen. Our district relies heavily on Nearpod to fascilitate blended learning. I love the ability that my kids have to drag and drop items or draw on the screen. With that being said, they should targeted a cheaper version of the Go... I would kill for a cheaper tablet that is in the 9 inch range with the use of a pen and touch screen. I was sierously considering writing a grant for Lenovos Chrome OS powered tablets. They were perfect for my needs.

Yeah I know it would just make no sense to actually have a lightweight OS based on uwp and PWA.

The newest iPad is like $300 with fantastic pen input and all the apps. What is stopping you?

iPadOS is what's stopping people from using it.

It is true if you talk about some other market and some professional software. But for the education market Chromebook is basically just Chrome in a cheap and secure package, and Safari on iPadOS is no worse, actually on that hardware it is likely much better than Chrome on low-end Chromebook hardware.

Ipad would probably be better in terms of performance (and certain luxury features probably not important in classes) but not in terms of ruggedness and utility (no keyboard/touchpad build in). Lacking ports might also be a no deal (not sure about that one for the education market).

All this is is a strict down version of Windows 11 home. I don't think this is a real good comparison to Chromebooks. All they actually have to do to kill it in this education market it's just rename Windows 10x. Once again I think Microsoft is going to have a new CEO in 2022.

MS continues exceed revenue expectations and recently became the most valuable company in the world, but yeah, they're going to replace the CEO, because you don't like some of their decisions.

Best thing I've read today!!! LOL!!!

What has he done.
One 2018 data erase disaster he was the CEO.
2 the ebooks disaster the browser failure.
3 the game streaming service that had problems and he didn't try to fix it.
4 Skype was what everybody used to use now everybody uses zoom.
5 the windows 10x disaster.
6: Windows phone I really don't blame him this but.
7 the company is not making much money anymore. Insanebowling out of the wild bites competition.

MS Teams has ~150 million daily active users (many of them business users which pay for some kind of subscription) I do not think they care much about Skype being less popular than Zoom. (https://www.theverge.com/2021/4/27/22406472/microsoft-teams-145-million-...) "5 the windows 10x disaster.", I wonder if the general public really cares about stuff like this, especially since it was not even released yet and MS partly embedded 10X stuff in W11. "3 the game streaming service that had problems and he didn't try to fix it.", that was a failure yeah but I think their Xcloud service is much more important for them and that one is doing well I believe. "7 the company is not making much money anymore.", they make more money than ever lol.

It's an interesting proposition -despite Windows 11 - but that I have to question if it's a good investment, specially for older students. Considering the technical limitations of the processor and RAM, for the older students the Surface Go might be a better choice.

Surface Go is still slow and very expensive for schools to buy and especially to manage. They can barely afford teachers let alone IT. That is why Chromebooks have blown up.

You're correct for once 😂😂

It's for K-8. "Older" is only about 14. And many other companies are doing their own SE devices. Presumably, some will be more powerful, for those who need it.

Microsoft should see Lenovo chrome tablet ideapad duet. Under 300$ tablet with built in kickstand keyboard cover, full hd ips lcd screen, 4 gb ram with 128 gb storage. That's what we expect from surface brand not another run of the mill laptop. IMO for kids who are accustomed to touch screen from early age due to smartphones, it doesn't make sense to provide touch less, non versatile laptop that's bound to one orientation and only one kind of input method. Although surface laptop se is not bad. It will most likely provide simple & streamlined experience but as a surface product that's aimed at school kids it's probably most boring surface made by Microsoft along with original surface laptop range. Wish Microsoft can somehow make laptop studio style hinge or even traditional 360 degree hinge accessible to cheap devices at adequate durability then devices like surface laptop se can offer so much more to users & drive touch ecosystem of windows forward.

I wouldn't recommend a regular consumer to buy this or any device like it, but like the article said, that isn't their target audience.

They did their homework in finding out what school district IT admins and managers want. Well done there. However, they seemingly failed to speak to a single student. Just look at that picture of that disappointed kid above. You cannot cut out a touch screen or fold over into tablet mode for a k-8 computer. They tend to prefer touch input for a lot. You are just going to annoy kids by leaving this stuff out. My 10 year old cares about, in a laptop: 1. battery life and battery charging speed;
2. touch screen and foldover into tablet capabilites;
3. split screen multitasking; and
4. a decent trackpad
5. a headphone jack The rest she's agnostic on, including fast performance.
Windows Central Newsletter
Thank you for signing up to Windows Central. You will receive a verification email shortly.
There was a problem. Please refresh the page and try again.