Microsoft unveils $249 Surface Laptop SE with Windows 11 SE for the K-8 classroom
Microsoft's low-end education PC is official!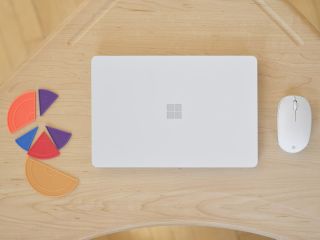 (Image credit: Microsoft)
What you need to know
Microsoft is adding a new laptop to its Surface hardware portfolio.
It's called Surface Laptop SE and is the most affordable Surface yet at $249.
It's built specifically for K-8 education markets for deployment in classrooms.
The laptop ships with Windows 11 SE designed for K-8 markets and low-cost hardware.
Microsoft has unveiled a new addition to its ever growing Surface PC line-up today with a $249 laptop designed specifically for the K-8 education sector. Dubbed the "Surface Laptop SE," this new laptop marks the beginning of a new education strategy for Microsoft, launching with Windows 11 SE pre-loaded which was built for education-focused PCs in mind.
Surface Laptop SE is a big departure for the Surface line, being the first that isn't primarily designed as a "premium" product. Instead, Surface Laptop SE aims to be the best available in the very low-end segment of the market, in an area where premium fit, finish, and performance isn't sought after.
Education PCs such as Surface Laptop SE are designed to be handed out to students, thrown around, and then returned to schools at the end of the year. All they need to do is allow students to get work done in class or at home, so the specs and design don't need to be flashy. To maintain a low starting price of $249, Microsoft has opted to keep things as basic as possible, just like other PCs designed for the education sector.
Swipe to scroll horizontally
Category
Surface Laptop SE
Operating System
Windows 11 SE
Display
11.6 inches, 16:9 aspect ratio
1366x768 (135 ppi) resolution
TFT
Processor
Intel Celeron N4020
Intel Celeron N4120
Graphics
Intel UHD Graphics 600
Memory
4GB DDR4
8GB DDR4
Storage
64GB eMMC
128GB eMMC
Expandable Storage
None
Front Camera
1MP
Bio authentication
None
Connectivity
Wi-Fi 802.11ac (2x2), Bluetooth 5.0 LE
Ports
1x USB-A
1x USB-C
3.5mm headphone jack
Barrel-type DC port
Audio
2W stereo speakers
Single digital microphone
Battery
Up to 16 hours
Dimensions
11.17 x 7.6 x 0.70 inches
Weight
2.45 lbs (1112.4g)
Colors
Glacier
Surface Laptop SE features a 16:9 11.6-inch 1366x768 TFT display, an Intel Celeron N4020 and N4120, 4GB or 8GB RAM, and 64GB or 128GB eMMC storage, all housed in a plastic exterior chassis. The laptop is lightweight too, coming in at just 2.45 lbs. It has a 1MP front facing camera, capable of 720p video at 30fps. Regarding ports, it has one USB-A, one USB-C, one headphone jack, and one barrel-style DC connector.
Microsoft highlights Surface Laptop SE's excellent keyboard and trackpad as stand-out editions over the competition in this area of the market, as well as its 720p video camera and mic making it a great choice for remote students. Overall, the Surface Laptop SE is very different for the "Surface" line, but it falls right in line with other low-cost PCs that are built for this sector.
Another prominent feature of Surface Laptop SE is repairability. The laptop uses regular screws exposed on the bottom (not hidden under rubber feet) for ease of access for RAM, storage, battery, and more. No special tools are needed, and most work can be done without sending the laptop out for repairs.
Who is the Surface Laptop SE for?
Microsoft has built Surface Laptop SE for schools buying laptops in bulk to hand out to students in classrooms and to take home. This is a PC for kids in kindergarten all the way up to grade 8, which explains the low-end specs and plastic design. This laptop is more than equipped enough for student work in this age range.
It's important to stress that Surface Laptop SE does not compete with "consumer facing" laptops on the market. You can get way more capable and "nicer" laptops for more money which have been built with more general audiences in mind such as the Surface Go or Surface Laptop Go.
But with a starting price of $249, the Surface Laptop SE is the most affordable Surface yet. Microsoft says it's only available to buy through education channels, meaning normal consumers won't be able to grab one of these anyway. This laptop is designed to be bought in bulk by education establishments for deployment to classrooms and students with OS configurations specific to their school.
What is Windows 11 SE?
Surface Laptop SE ships with Windows 11 SE out of the box, which is a new edition of Windows 11 designed specifically for the education market. It was built with feedback from teachers and IT admins managing student PCs, and Microsoft says it's easier to deploy and manage, being more configurable and better optimized for low-end hardware with small displays.
For example, Windows 11 SE has its snapping assist mode limited to just side-by-side layouts, which makes sense on PCs with small screens and low RAM. Additionally, access to common areas of the system such as "This PC" in File Explorer and the Microsoft Store have been removed, as student rarely need to access those areas when working.
Indeed, in a demo of the new optimized OS on the new hardware, it was evident how much zippier the experience is compared to traditional Windows 11 on similar silicon. With reduced overhead, fewer background processes, and smaller OS install, Microsoft says the experience is more similar to a $500 laptop versus a $250 one. Even the 720P webcam is tricked out with a premium lens and dual mics, which made it hard to differentiate from a higher-end PC in a live demo.
Microsoft notes that, unlike Chromebooks, Windows 11 SE can function offline with the student's lessons downloaded to the device for use at home or wherever there is no internet connectivity. This ability solves a big problem for teachers and students where internet access at home oses a problem for some lower-income families. With Windows 11 SE, students can still follow the homework and class lessons in Microsoft Teams and complete the assignment without relying on connectivity.
Windows 11 SE is not a new "Windows 11 in S mode" type thing. Windows 11 SE can still run apps from outside the Microsoft Store; it's rather an edition of Windows 11 designed only for low-end education PCs. It's essentially Microsoft's answer to the education market now that Windows 10X has been canceled.
And when combined with Microsoft Intune for Education, IT can deploy software and manage the devices remotely. IT can even send a new laptop to a student at home, and during the out-of-box experience, the OS can pre-install software and configure the device remotely according to that school's desires.
Unfortunately, Windows 11 SE is very much based on classic Windows and not the more modern, lightweight Windows 10X codebase, which means it's still missing vital education sector functionality such as fast user wiping and provisioning as well as faster, unintrusive Windows Updates. Perhaps this will be added in the future.
Microsoft does say Windows 11 SE updates silently in the background during out of class hours as set by group policy, but it's still the same old Windows Update system as found on Windows 11, so it'll still be a much slower process compared to something like Chrome OS.
When does it launch?
Microsoft says education customers can begin ordering the Surface Laptop SE through the appropriate channels later this year and into 2022. Pricing starts at $249 for the model with 4GB RAM, an Intel Celeron N4020, and 64GB storage.
EDU PC
Low-cost hardware for schools.

Surface Laptop SE is the first Surface designed to be as affordable as possible for students in the K-8 education sector. Featuring an all-plastic exterior, Intel Celeron on the inside, up to 8GB RAM, and up to 128GB eMMC storage, this is a PC schools will want to buy in bulk to hand out in classrooms.
Get the Windows Central Newsletter
All the latest news, reviews, and guides for Windows and Xbox diehards.