Surface Pro 3 Docking Station now available from Microsoft, Best Buy, and Staples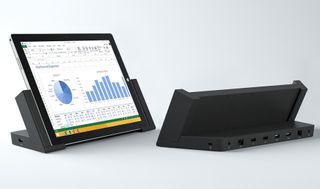 This is just a quick reminder that the Surface Pro 3 Docking Station is available today for those in the US and Canada to purchase. The Docking Station is the big kahuna of accessories for the new Surface Pro 3 as it allows you to make a full desktop PC out of the hybrid laptop and tablet. The new Docking Station greatly improves upon the previous generation by giving users more of what they want, and I have to admit it is very enticing.
The Docking Station is found online or in stores from Microsoft (opens in new tab), Best Buy (opens in new tab), Staples (opens in new tab), Tiger Direct, and other locations. A cursory check of my Staples showed it as online only; Best Buy does not have any in local stock, though they will ship it to their store for free to pick up. If I had to bet, Microsoft Stores should have them for walk-in purchases (I will try to find out later).
So, what do you get with the Surface Pro 3 Docking Station?
Gigabit Ethernet port for up to 1 Gbps wired network speeds
Mini DisplayPort for HD video of up to 4096x2304 resolution
Five USB ports (four USB 3.0); the Surface's 3.0 USB port is also exposed for six in total
48W charging system for charging and usage at the same time
The Surface Pro 3 Docking Station comes at a price though at $199.
However, if you plan on picking up a Surface Pro 3 to replace your laptop and tablet, for an extra $200 clams you can have it replace your desktop too, which could make your Surface the most valuable piece of tech that you own. Users can also attach multiple monitors to the setup, which is detailed on the Surface Blog for new users.
I am going to try and pick one up for my Core i7 Surface Pro 3, which is so far running like a champ, and I'll share my thoughts hopefully over the weekend (if I can find room on my desk).
Is anyone else looking to pick this up for home or office? Share your thoughts in comments if you have experience with the previous Surface docking station.
Windows Central Newsletter
Get the best of Windows Central in your inbox, every day!
Daniel Rubino is the Editor-in-chief of Windows Central, head reviewer, podcast co-host, and analyst. He has been covering Microsoft since 2007 when this site was called WMExperts (and later Windows Phone Central). His interests include Windows, laptops, next-gen computing, and for some reason, watches. Before all this tech stuff, he worked on a Ph.D. in linguistics, watched people sleep (for medical purposes!), and ran the projectors at movie theaters because it was fun.
First Time You can pre-order one in Europe. SP2 was left out.

Great to hear that... Love to see the device available across the world... India is waiting...

India is waiting for surface mini. Sp3 is real costly though I love it but it wont sell here like pcs and laptops. If possible surface Mini with a kick stand and they keyboard. It should be priced like 35000 initially

India is waiting ?! Did you see it on television ?

Keeping up with the Rubino's is making me broke.

Just remind yourself that he gets a lot of the stuff he reviews for free...and you don't. Hopefully that'll make you a bit more depressed but a little less broke.

This. Wish I had his job, haha!

And his women. He's a chick magnet.

Get a 10 port usb hub off amazon and a display port adapter. Docking station limits use of the digitizer. And second screen.

I agree, generally, that getting a USB hub makes a lot more financial sense, but why would you think it limits use of the digitizer and a second screen? It's pretty clear from the description that you can use this with multiple monitors, and the Surface Pro 3 screen remains fully exposed, besides.

I use my docking station for my SP2 all the time. Completely replaced my desktop, laptop, and tablet. Thought about buying another one to easily hook up my SP2 to my tv to watch movies, but it sounds like with the new Xbox One update that is no longer necessary! :)

This is too expensive. I got my SP1 for $130 dollars :(

How? Did it fall off the back of a truck? :P

Definitely gonna get one for my core i5

Don't forget to use your didn't or veteran discount!

Wow especially the 3.0 USB ports

All ready been delivered today for the wifes i5 surface pro 3 and she loves it along with the extra dell 24" monitor hooked up by the display port.

That's what I call an early adopter. Awesome.

Yep, received both here at work today and our CEO and National sales manager love them! Really a nice piece of hardware.

Yup ... got mine an hour ago. I have a 23" Dell plugged into the display port; two USB 3.0 2 TB drives in two of the USB's; a USB hub with my keyboard, Touch mouse receiver, and Fitbit receiver plugged into another USB port; and my headset plugged into the audio -- all works well. Well worth the money.

This has my old mans Christmas written all over it if released in the uk. Sp3 and docking station! Looks like some genuine quality products to me.

I was in an the MS Store at Westfarms in Connecticut earlier today and they were actually pricing a bunch in a cart and putting them out on the shelves...looked to be about 20 or so of them at least. They are stocked!

What's the point of a mega expensive dock if I still have to plug in multiple monitor cables, just get USB hub to plug in :/

As much as I'm impressed with my i5 SP3, I'm not willing to spend another 200€ for the docking station. Specially not when I already have to buy the type cover separately for 140€. In any case, it would never replace my desktop PC. It simply doesn't have the muscle for it.

SP 3 pro has not arrived down under yet. Coming soon.

I just received my SP3 Docking Station. It is amazing; just as the SP2 Docking Station was. It has an awesome magnet built in to hold the pen and more ports than I have stuff to plug into them. It is also nice to have the SP3's ports available as well.

Received SP3 Docking Station today...now I can finally move off of my old hardware to my SP3 i7. It's not cheap but if you can afford it the Docking Station will be well worth it especially if your SP3 is your laptop replacement.

Definitely picking this up with my i7 next week!

Daniel, 5 USB ports on docking station, 3 USB 3.0, not 4. Just FYI.

Still only one monitor outout?

http://microsoft-news.com/surface-pro-3-multiple-monitor-support-detailed/

Mine was delivered today!

Does the security lock prevent the tablet from being removed from the dock?

Yes, it comes with a security lock slot.

No, it only secures the dock, not the Surface.

Walked into a MS Store located in So Cal this afternoon. Picked up the LAST unit on hand! They claimed to have had "a bunch" but, as of my purchase... SOLD OUT. Really?!

They don't just sell them to customers.

So,you get a docking station,then you get a keyboard,and so you've made a "laptop" now why the hell do you have to buy all these pieces,? Buy a laptop and you'll save money !

Actually the docking station technically makes it a desktop. ;) But seriously, the purpose of this Surface is to have laptop performance in a tablet form factor. There's a reason Microsoft changed the advertising scheme to comparing this to a MacBook Air and the fact you can have one device replace two (laptop and iPad).

Having a need for docking doesn't automatically mean that one would never again have use for the features that make the Surface Pro 3 what it is.

Yes, the just as the original Surface Pro made me forget my laptop (I moved recently and quite literally forgot where it was until I pulled it out of one of my tech boxes), the original Surface Pro docking station ended up replacing my desktop as well (which ironically didn't get lost but stayed under my desk turned off ever since I plugged in the docking station and said to myself "Yeah, that's what I was hoping it would be"). Worth every bit of what I paid... Just like the Surface Pro itself.

oh, SP3...if only you had Verizon LTE....

Preordered mine, and got it yesterday. Love it! It is a fantastic accessory.