Surface Pro 3 gets small firmware update to improve sleep mode battery life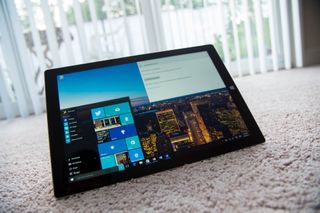 Microsoft is now rolling out a small, but no less useful, firmware update for the Surface Pro 3. This update only contains two changes, but the most notable is a bump in battery life while the Surface Pro 3 is in sleep mode.
Here's a look at what's new (opens in new tab) in the latest firmware for the Surface Pro 3:
Surface Pro Embedded Controller Firmware: 38.13.50.0 improves battery life during sleep.
Surface Pro UEFI: 3.11.2150.0 improves PXE performance on IPv6.
There aren't any security-related updates involved here, but any boost to battery life is a good thing — particularly for a device that has had its share of battery woes. If you're using a Surface Pro 3, you should be able to grab these firmware updates now via Windows Update.
Dan Thorp-Lancaster is the Editor in Chief for Windows Central. He began working with Windows Central as a news writer in 2014 and is obsessed with tech of all sorts. You can follow Dan on Twitter @DthorpL and Instagram @heyitsdtl. Got a hot tip? Send it to daniel.thorp-lancaster@futurenet.com.
Never have had any battery life problems with my SP3.

I have nothing but problems with my SP3. Battery life ranges anywhere from 2-4 hours. If OneDrive goes crazy, battery life can dip below 2 hours. And I've wiped my machine several times, formatted all drives, done a clean install, reinstalled all firmware, etc. Still...

Maybe your battery is faulty?

I've had mine since 2014 and can still get over 4 hours battery life while using it for web browsing and more basic tasks, will still last at least 2 while gaming. Sleep on the other hand, if I don't shut it down it dies in 48 to 72 hours while my Atom based 2 in 1 can go over a week easily.

Same exact thing here... Terrible battery life! I've had nothing but problems from my launch day SP3. I turned it on the other day and noticed a large yellow splotch going down the left side of the screen. Apparently this was a common problem early on mine just decided now was the time for it to happen. le sigh..

This is a welcome update if it helps with the Sleep Mode battery drain I experience all the damn time. I've taken to shutting down completely to avoid issues.

Yea, both my SP4 and SP3 have the same issue. I have to manually put them into sleep just so that when i take it out of my backpack it still has battery. The settings are set to put it to sleep, but it never seems to do it automatically.

Any background apps processes that might be causing it? I had sim prob with barcode sw that was keeping hook on my camera preventing sleep.

I just checked and nothing is coming through the Update yet.

Maybe they are already installed? Check Windows Update install history in Settings. On my SP3 they were installed automatically during the night. I found out because the screen was on this morning. Entries in the eventlog gave me the impression that the device had rebooted twice to install the updates, and yet all my programs I had left open the day before were still running! Very strange.

I'm not seeing it either. I suppose I'll just wait awhile.

Nice of Microsoft to still bother about us here two generations back! Although my SP3 has had no real issue with battery, it's nice to see improvements.

I think a battery on my Surface Pro 3 is Almost dead.. it has only about 744 cycles (2 years) and battery life is about 3-4 hours. (it was 9-11 when it was new). And they said, when they released it "after 4 years it will has still 80% of capacity". So they are liars. Also Fan is making very odd buzzing noise, its very annoing, and there is not any solution avalaible. Im dissapointed with SP3. SP2 or SP4 is better choice :/ Battery life in pen (for bluetooth button) is also very poor. just about 3 months. And it is hard to buy new batteries. On other side, my friend has i7/8GB/512GB SP3, and he has not any problems.

Batteries deplete in capacity over the number of charge cycles, not how long you've had it. A battery can already be down to 80% of it's original capacity after 500 cycles.

I've had mine for over two years, and powercfg says it has undergone 698 cycle counts, and still has 41,671mWh left of its capacity (i.e. it has lost 1.2% of its original capacity of 42,157mWh). What does powercfg report for you in terms of capacity? Because if it's not around 15,000mWh, which would equate to around 4 hours by your comparison, then you have something bad running on your device eating up battery. Although I gotta be honest, I have no idea how you've ever managed 11 hours with that SP3. Not even under the most conservative moments with very light usage on flights have I been able to reach more than 8 hours (complete idling not withstanding), and it's been with everything non-essential off and screen brightness set to minimum. Are you sure your memory isn't lying to you?

please bring this for Surface Book!

What is the name of this update? Mine sees nothing new, latest firmware updates were 4/28 and 4/27. The version numbers on those two match the two in the article so perhaps this is a combined update for people who didn't get those.

Me too. Not sure what to do. For now, I'll wait.

Nifty, although my SP is booked up to power 90% of the time.

No update here yet...... Strange
Windows Central Newsletter
Get the best of Windows Central in in your inbox, every day!
Thank you for signing up to Windows Central. You will receive a verification email shortly.
There was a problem. Please refresh the page and try again.