Surface Pro 3 price drops on Amazon India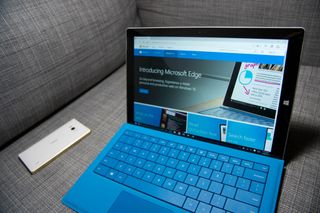 While Surface Pro 3 and Surface Pro 4 got rave reviews in India, the consumer response has been lukewarm owing to the high price of the devices. Microsoft launched the Surface lineup in India in January this year and brought few configurations of Surface Pro 3 and Surface Pro 4 to the market.
The Surface Pro 3 was launched at a price of ₹73,990 ($1,107) and is available exclusively on Amazon India. The Intel Core i3 variant packs in 128GB storage with 4GB RAM.
The price for Surface Pro 3 was dropped today, and you can pick one up for only ₹58,999. The significant discount randomly appeared as part of an Amazon promotion on Windows 2-in-1 devices, so I'm assuming it is for a limited period only. There is no discount on any variant of the Surface Pro 4 though.
If you've been looking to buy a Surface Pro 3, this is a good deal. Also, look around if you're looking for a Windows hybrid device since several other offers are available too, and maybe share what you dig in the comments below.
See at Amazon (opens in new tab)
As much as I'd love to own this, my pockets just are unfortunately not deep enough. :(

I know that feel! ;_; Posted from Windows Central for Windows 10 Mobile

Vijay and Muhammad, nobody should buy Surface devices. Horribly Overpriced junk from elitst economies. Windows 2 in 1s are dime a dozen in India and a few cost 180 bucks or less. Great Windows tabs cost less than 150 USD. Stop drooling over junk !

Or... And this might a particularly revolutionarybit of thinking from me... we could all stick to just stating our opinions and stop trying to force those opinions down others' throats. Works for me. Does it work for you?

Both SP3 and SP4 are overpriced, and according to my sources, the duo is struggling in the country and even Microsoft has no plans to bring Surface Book in India. More: http://www.inferse.com/40236/microsoft-surface-book-not-coming-india-any... Posted from Windows Central for Windows 10

There was no plan to bring Surface Book anytime soon, anyway.

Hay bro, what is that Golden NOKIA phone besides the surface?

Its a special edition Lumia 930....if I'm not wrong.
Regards,
Soham Avasthi.
Posted from Windows Central for Windows 10

"according to my sources" - your Apple loving buddies hardly count as "sources."

No, they are expensive... They are not overpriced. There's a difference there you know. Posted from Windows Central for XL

I agree. That's an important distinction. I'd love to own one of these but, like I mentioned a few comments ago, I just can't afford it right now. The hardware itself provides more value for money when compared directly to some of the competitions' offerings.

Spot on! I think people just think things they can't afford "overpriced". Posted from Windows Central for XL

I don't think it's over priced, I'm over broke This comment was posted on Windows Central for Windows 10 UWP.

same thing as "mehengai" vs inflation

They are expensive all right but they are also overpriced ! Horribly too

No, they are not for what you get.

India is not the place for Surface devices I think.. May be some cheaper 2 in 1 devices can survive there... ____________________________________
Twitter : @YashHarf
Instagram : @YashHarf

Ring this in the Philippines and advertise it... It will sell like popcorn...

Well, the price is high, but i love my sp4. I like what MS is doing with surface line. It's building a premium device, and those cost money. The advantage thowards apple is that other vendors can make cheaper variants, so everybody can use windows on a device regarsless of the depth of their pockets. Something apple doesnt have

I have to do it... When in America? This comment was posted on Windows Central for Windows 10 UWP.

Already in America. Posted via the Windows Central App for Android

I am with all those here who truly would love to own a surface device: Surface Pro 3 or 4 or even a surface book. However, the pricing is way too steep. Even with this price reduction, it still comes close to $880 for Pro-3. I believe this will be among the highest prices anywhere in the world. And this is being offered in a country which is amongst the most price sensitive. I tried the Pro-4 at a microsoft store and badly wanted to buy it. However, I just cannnot afford a device in the range of INR 100,000. There are proper laptops with high-end specs coming in much cheaper. Normally for MS to have some sales, the Surface Book shoudl have been lauched at Pro 4 prices. Pro 4 at Pro 3 prices and Pro 3 at a price bracket of 30 - 40 Ks. even then it would not have set the sales charts on fire, but atleast there would have been some sales to report back. With current pricing, MS is just not going have any success. As it is right now, most MS stores wear a deserted look as there are just 3 phones to show (which don't sell either) and two tablets. You can display these many devices at a small booth in any industry event.

58k, and then additional money for the pen and type cover, rite ? That'll bring it back up to the INR 70k range. Then it is stil expensive, i guess

It is not overpriced, it is just out of reach for most of the Indian Pockets. Specifications are Good for 60,000₹. Posted from EARTH-2, where Windows 10 Mobile is a great Success in Year 2024

No, they are not good if you compare with other touchschreen laptops. Either other laptops have similar or better specs at lower price point or there are a plethora of detachables which may not have as much processing power but are priced at almost one-fourth the price. Another yardstick is the global pricing. Same Surface 3 is available from about $500 whereas in India it is retailing at over $800 without the keyboard or pen.

I bought a Surface Pro 4 off Amazon about a month ago and I don't regret that decision one bit. I definitely don't think it is overprice and I have seen over the ears that the Indian psyche has always been "When I am the buyer, everything is overpriced and when I am the seller, everything is undervalued". Go figure :)

Pardon the spelling - read "overprice" as "overpriced" and "ears" as "years" :D

Acer a10 detatchable available at RS 15000 at AMAZON INDIA Posted via the Windows Central App for Android

When will India receive Fingerprint Keyboard for SP3... Also how to buy Surface Pro 4 Pen for SP3...Amazon does not have it...
Windows Central Newsletter
Thank you for signing up to Windows Central. You will receive a verification email shortly.
There was a problem. Please refresh the page and try again.