Surface Pro 6 now up for preorder starting at $899
Preorders for the new Surface Pro 6 are now live, starting at $899 and shipping October 16.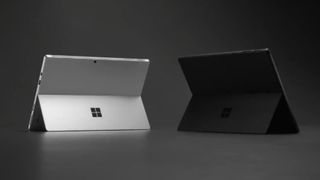 If you're interested in grabbing yourself the new Surface Pro 6, you might want to think about preordering one now. Preorders for the new Surface Pro have just opened up on Microsoft's own Store, and prices start at $899 for the entry-level model.
Featuring Intel 8th Gen core i5 or i7 processors, and 8GB or 16GB of RAM, the new Surface Pro 6 delivers more power and performance than it's predecessor. What's more, the new Surface Pro 6 comes in black in addition to grey!
You can preorder the new Surface Pro 6 directly from Microsoft now, with shipments expected to begin on October 16.
Everything Microsoft announced at its October 2 Surface event
Windows Central Newsletter
Get the best of Windows Central in your inbox, every day!
Zac Bowden is a Senior Editor at Windows Central. Bringing you exclusive coverage into the world of Windows on PCs, tablets, phones, and more. Also an avid collector of rare Microsoft prototype devices! Keep in touch on Twitter: @zacbowden.
I have preordered 150 of them for the kids in my school. I am gonna give it to them free.

Can I get in this as a recipient?

buy me one please. ill be your student. lmao

Looks like the $900 entry level model is the i5/8GB/128. Not bad actually, especially if you already have the keyboard and pen. Of course that price will come down eventually. Who needs that m3 anyway? And the i5 probably runs as fast as the old 7th-gen i7 ... So I think the story today is how great Intel is doing with their 8th-gen chips.

Best Buy actually lists a $750 m3 SP6 on their site, and you can pre-order it. I'm not sure the reason we see BB list it, but the MS Store doesn't and reports have the device starting at an i5 for $900. Kind of strange.

I knew they would ditch the 4gb M3 version because of the Surface Go

But they didn't. For some reason, it's not on the MS Store site, not mentioned here either. However, Best Buy has a listing for it: https://www.windowscentral.com/e?link=https2F2Flink...

They dropped the i5/8/128 model from last year from $1,000 to $900. I was pretty miffed that they removed the Surface Pen, raised it to $100, and raised the device's base price last generation. Glad to see them come back to a reasonable price point, even if it's still a bit more than the tiered pricing we saw with Surface Pro 4 (where that price would get you the device AND the Surface Pen). However, the $900 model seems to be the start and end of reason. It's $300 to go from i5/8/128 to i5/8/256. THREE HUNDRED DOLLARS to get an extra 128 GB of storage. Buying a 970 Pro 512 is under $200 right now, and that's a top-tier SSD twice the size of the 256. $200 to buy 512 GB of top-tier SSD storage, but MS wants $300 for 128 GB? That's unbelievably ridiculous. I saw the "Starts at $900" and had hope. Seeing that they made it such a monstrous increase to go to 256 GB of storage, I'm out again. I was really intrigued to get the i5/8/256 in black, but $1,200...you have to be kidding me. I don't even get the Surface Pen or Type Cover. Throw on the $150 for the Type Cover and I'm at $1,350. I might as well pay the extra $150 for a Surface Book 2 with Type-C and other ports. I would rather take a hit on the display quality, add a little bit of bulk, and head to Best Buy. They've got a Dell Inspiron with the same i5/8/256 setup for $850, so why would I throw almost $1,400 at Microsoft for a bit of slimness? I almost got tricked into recommending the Surface Pro to people again because of that starting price. I should have realized that at an event Microsoft his from the masses, while introducing their $350 Surface Beats, that this company has completely given up on being a product line with any real value for consumers. At least $1,300+ gets you an 8th-gen CPU as the 9th-gen stuff is around the corner...and you still don't get Type-C.

I believe so. Surface Pro 2017 (don't call it "5") had a fanless i5. The SP4 only had a fanless m3.

Using the Pro 3. Really disappointed with Pro 6. No e GPU compatibility, no buy.

zizu101 But what about detachables from Dell, HP, Asus, Lenovo, Acer ... Don't they have Thunderbolt 3? The HP ones are particularly nice in my opinion.

+ surface pro 6 has less powerful Graphics chip, than Surface pro 5 (2017)
Surface pro 6 has not iris graphics, while pro 2017 had 640 iris

I've not seen specific mention of it either way yet but the images look like there's still a mDP port and no USB-C. That seems a bizarre choice, given that the high-end Surface Book and the low-end Surface Go both have it. I can't think of a good reason the Laptop and Pro in between should not. I was OK with no USB-C on my 2017 Surface Pro at the time but, if I was buying a new one now, I would expect a USB-C port. Definitely a disappointing decision.

Any LTE option? What about the pen, any changes there? The move to quad core is definitely welcome, but earlier in the year there were stories of a significant change in this form factor. I bought my SP3 back in 2014 and am looking to upgrade. Without USB-C (and LTE) I'm wondering how this will fare in 3 years time if I buy one now.

What would you need USB-C for? Personally I don't have any use for it on a laptop (my Surface Pro 2017 don't-call-it-5), since I have the Surface Dock and there's a USB-A port. For just data, you can always get an adapter or the right cable.

The thing is not having usb-c. People are more pissed off because they are choosing mini display port over usb-c. They don't need thunderbolt 3 but they need usb-c to connect their peripherals. With usb-c you can attach 2 similar devices at once.

God that logo really needs to shrink and move to the side. It actually makes the device look dated

This simply isn't enough of an improvement to warrant upgrading from my wife's SP4 or my SP2017.

No iris graphics in i7 model. Its downgrade from Pro 2017.
Surface pro 6 has way slower graphics performance :-\ I wont buy this.

Are the new SP's finally fan-less or are the higher end ones still have fans?

The i5 256 is roughly the same price as what I paid for my 5th generation.. Prices unfortunately still excluding the typecover or other peripherals. I would assume by now Microsoft would start announcing attractive package deals. The device without including a type cover included in the base price, is a bit misleading, in my view