Surface Pro with LTE Advanced now on sale for business customers
Microsoft's Surface Pro with LTE Advanced is finally available – if you're a business customer, that is.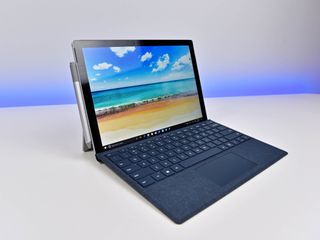 Just as promised, Microsoft's LTE-equipped Surface Pro is now available for business customers. While Microsoft hasn't yet listed the always-connected tablet for sale on its own store just yet, it's already available in 4GB RAM and 8GB RAM models from Microsoft partner Insight (via Neowin).
Both versions of the LTE Surface Pro run on an Intel Core i5 processor. And aside from the RAM differences, the tablets also differ in terms of storage, with the base model coming in at 128GB, and the top-end model coming in at 256GB. Each model is equipped with Qualcomm's Snapdragon X16 LTE modem, which is packed into the space where the fan would sit on the Core i7 Surface Pro. In an engineering overview released earlier this year, Microsoft stated that the device's fanless design allowed the company to develop the LTE Surface Pro without impacting its size or weight.
The launch comes after Microsoft announced an LTE model was in the works at the initial Surface Pro unveiling in May. This marks the first Surface Pro model that has been equipped with LTE, but it's not the first Surface to do so. That honor belongs to the Surface 3.
Corporate customers can currently get their hands on the base Surface Pro with LTE Advanced for $1,149.99, while the top-end model can be picked up for $1,449.99. Presumably, the LTE models will make their way to the hands of general consumers at some point in the near future.
Windows Central Newsletter
Get the best of Windows Central in your inbox, every day!
Dan Thorp-Lancaster is the former Editor-in-Chief of Windows Central. He began working with Windows Central, Android Central, and iMore as a news writer in 2014 and is obsessed with tech of all sorts. You can follow Dan on Twitter @DthorpL and Instagram @heyitsdtl.
Seriously Microsoft needs to stop making 4GB Surfaces. Phones even have bigger RAMs than that. Bought 4GB SP3 and I deeply regret it.

For many people 4GB of ram is enough. Using the Arguement that phones have more is pointless because they don't need that much either. Why would MS stop providing an option which for some people will be more than enough?

I completely agree. To say it's to try to make it more affordable would be complete non-sense. Their 4GB version is already a hefty price. You're just making people buy into a bad experience. And I don't know about the rest of the world but if I'm spending more than $600 on a mobile PC I'm going to make the thing last quite a few years.

My laptop has 4GB of RAM, and it works just fine. I have games like Halo Wars and StarCraft 2 on it and it's great for multimedia.

Wow, i want one to replace my surface 3 LTE.

Why do they insist on taking one step forward and two steps back? I was holding out for the LTE model, until it became obvious they were only releasing i5 models. Seriously, what is stopping them from making a no-compromises SKU with i7, 1TB storage, 16GB RAM AND LTE. Would have bought that in a heartbeat, but instead went with the wifi version. I can get by using a hotspot, but not without the horsepower. SMH

The i7 still requires a fan as it produces more heat than the i5. The article states that the LTE modem replaced the fan in the surface design. Therefore, if they wanted an i7 with LTE, they would have to redesign the surface to be larger and heavier.

This comment doesn't apply to you but the clamor over thickness and weight is asinine to me. I can understand different people fatigue differently but we argue over ounces and millimeters now

I was answering his question as regards to why an i7 can't have LTE as well, I wasn't trying to argue. The hardest part about the i7 is managing the heat. The simplest/cheapest solution MS found was to limit LTE to the i5.

That's a fair point, but, be as that may, they aren't only limiting us with the CPU. We are also limited on storage and RAM options. This is essentially round two of the Surface 3 LTE debacle. Yeah, you get LTE, but your device is gonna be so slow that you won't be able to do much with that connectivity anyway.

They should have atleast made an i5 with 16 GB RAM.

The article fails to mention which carriers these models will work on. For instance I would only be interested if this worked on Verizon.

in the video, the man explains that the LTE module will be unlocked, and can work globally.

Just to be clear, ANYONE, not just business users, can buy this. I ordered mine from Provantage. (Arrives Monday.) It works on all the major carriers, including Verizon. It's going to make for a great replacement of my Surface 3 LTE. I guess I understand people who want an i7 CPU, more RAM, more storage, etc., but for me it is a secondary device so the specs are perfect. I'm looking forward to the fanless i5 combined with the LTE connectivity.

I wish Microsoft would sell this new Surface Pro with LTE like they did with the Surface 3...through the carriers. AT&T would be preferred so I can do a Next program on it.

I have seem nothing to imply that this won't be available through US carriers once it is available to "average" consumers in a few months.

Not selling this device to consumers through US Mobile carriers is just stupid. They should have sold this device just as they did the Surface 3 LTE. Microsoft frustrates me.

is it possible to see the next surface pro with 8th generation intel cpu soon?

Bought one to replace a Surface Pro 4 here in Australia. Had it for over a week now. Excellent so far. Battery life is massive compared top the 4. Much faster than my old one (also an i5). Screen seems to display colours better. LTE connection is instantanous and very handy. I'm in Melbourne and hotspots here are not reliable. Being able to just open it up on the train and go is fantastic. The Surface Pro 4 was excellent. This one's brilliant.