Surface Pro X in platinum with new SQ2 processor arrives October 13th for $1,499
Refreshed with a faster processor, graphics, longer battery, new color, and more keyboard options, Surface Pro X looks 🔥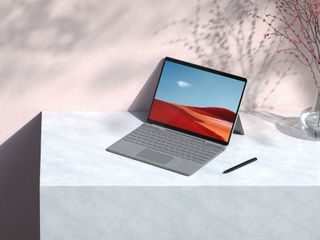 (Image credit: Microsoft)
What you need to know
Microsoft is refreshing Surface Pro X with its new SQ2 processor, faster GPU.
Surface Pro X SQ2 comes in a new platinum color option.
3 new color options for Surface Pro X Signature Keyboard with Slim Pen.
Surface Pro X SQ2 comes out on Tuesday, October 13th. Preorders are now live.
Microsoft's Surface Pro X powered by a custom Qualcomm Snapdragon processor named SQ1, is getting a slight refresh for 2020. The new Surface Pro X gets a small bump in processing speed thanks to the SQ2 processor – a likely riff on the recently announced Snapdragon 8cx Gen 2 – and a new, more traditional Surface colorway with platinum.
To add some confusion to the mix, Microsoft is not discontinuing the SQ1 models in matte black. Indeed, both will be sold together with the SQ2 models taking the place of the higher-priced SKUs, while the SQ1 models are more entry-level pricing.
Surface Pro X (2020) what's new
Like the SQ1, the SQ2 is a "custom processor developed in coordination with Qualcomm Technologies" and is typically clocked higher and is more performant than the standard Snapdragon 8cx. From Qualcomm's press announcement on the chip:
The GPU for the new SQ2 model is also getting an upgrade from the previous Adreno 685 to a beefier Adreno 690.
Besides the new platinum color for the chassis, Microsoft is also expanding the Surface Pro X Signature Type Cover with three new hues with Platinum, Ice Blue, and Poppy Red matching the Surface Pro 7 line. Each of those keyboards also has the Surface Slim Pen dock built-in for quick and easy access.
Swipe to scroll horizontally
Category
Surface Pro X
Operating System
Windows 10 Home on ARM (Consumer)
Microsoft 365 Family 30-day trial
Display
13-inch PixelSense
3:2 aspect ratio
2880x1920 (267 PPI)
Processor
Microsoft SQ1
Microsoft SQ2
GPU
Adreno 685
Adreno 690
Memory
8GB or 16GB LPDDR4x
Storage
128GB, 256GB, or 512GB SSD (removable)
Rear Camera
10MP autofocus (1080p and 4K video)
Front Camera
5MP (1080p)
Security
Windows Hello face authentication camera
Connectivity
Wi-Fi 5 802.11ac
Qualcomm Snapdragon X24 LTE
Bluetooth 5.0
Ports
2x USB 3.2 Gen 2 Type-C, 1x nano SIM, 1x Surface Connect, Surface Keyboard connector
Battery
Up to 15 hours typical use
Dimensions
11.3 x 8.2 x 0.28 inches
(287mm x 208mm x 7.3mm)
Weight
1.7 lbs (774g)
Colors
Matte black
Platinum
Availability
Oct 13th and beyond
Pricing
Starts at $999

(opens in new tab)

($1,499 for SQ2)
All of that is in addition to Surface Pro X already being the "thinnest and most connected 2:1" Microsoft has shipped – thanks to the Qualcomm-powered processor with built-in 4G LTE Gigabit internet.
Interestingly, while the processor is updated to SQ2, there is no support for 5G, which likely requires more significant reengineering due to the antenna requirements. The new Pro X still does not have Wi-Fi 6 and instead ships with the older Wi-Fi 5 despite Qualcomm bringing Wi-Fi 6 support to its Windows Compute Platform.
Image 1 of 10
One other small change is battery life. Microsoft is now rating battery life for Surface Pro X – for all SKUs, including the older model – at 15 hours instead of the previous 13. This improvement was gained through "software improvements."
Windows on ARM momentum
Microsoft has been busy these last few weeks with a lot of news around Windows 10 on ARM-powered by Qualcomm Snapdragon processors.
At Ignite, Redmond announced its App Assure Program, which supports companies and developers, is now compatible with ARM. That free program goes a long way in working with companies to port their apps to ARM64, including solving roadblocks and development issues.
Microsoft Teams is also getting an ARM-optimized version in the coming weeks. While Microsoft Teams currently runs on Surface Pro X devices, it is not optimized for ARM64, causing some performance issues.
The biggest news is Microsoft has announced support for x64 app emulation arriving in November (Windows Insider Program). Current Windows on ARM devices can emulate 32-bit Windows apps but fail for x64 apps crucial to businesses and professionals. Once enabled, x64 app emulation should solve many of the incompatible app problems between traditional x86 laptops and ARM-based ones.
Next week, Microsoft is giving a keynote at DevSummit (formerly Arm TechCon) focusing on "Building for an ARM Ecosystem." The overview is as follows:
Surface Pro X (2020) pricing and availability
Surface Pro X is available on October 13th in the United States, Canada, Mexico, Australia, New Zealand, Japan, India, Malaysia, and Singapore.
Additionally, Surface Pro X will be available on October 27th in the following countries:
Austria
Germany
UK
Ireland
Netherlands
Switzerland
Luxembourg
Belgium
Denmark
Finland
Norway
Sweden
Poland
Italy
Portugal
Spain
France
Bahrain
Kuwait
Oman
Qatar
Saudi Arabia
UAE
China, Hong Kong, and Taiwan are slated to receive Surface Pro X on November 1st.
Pricing and configuration are as follows. The entry-level tier starts at $999 for the SQ1 model, while SQ2 starts at $1,499 with 16GB of RAM and 256GB of storage. The only difference between the consumer and commercial SKUs is the former ships with Windows 10 Home, while the latter is Windows 10 Pro (+$99 license) with additional enterprise support.
Surface Pro X Consumer
Swipe to scroll horizontally
| CPU | RAM/Storage | Price |
| --- | --- | --- |
| SQ1 | 8GB/128GB | $999 |
| SQ1 | 8GB/256GB | $1,299 |
| SQ2 | 16GB/256GB | $1,499 |
| SQ2 | 16GB/512GB | $1,799 |
Surface Pro X Commercial
Swipe to scroll horizontally
| CPU | RAM/Storage | Price |
| --- | --- | --- |
| SQ1 | 8GB/128GB | $1,099 |
| SQ1 | 8GB/256GB | $1,399 |
| SQ2 | 16GB/256GB | $1,599 |
| SQ2 | 16GB/512GB | $1,899 |
Like other Surface products, when bought through Microsoft, customers get a 60-day return policy with their purchase (undamaged, original packaging) via the Microsoft Store Promise for Surface (opens in new tab). Eligible students, parents, teachers, and the military may qualify for a 10 percent discount through Microsoft.
Preorder
(opens in new tab)
Microsoft Surface Pro X SQ2
The thinnest and lightest Surface Pro available – now better

Refreshed for late 2020 is the new Surface Pro X with the SQ2 processor. A faster CPU, more powerful GPU, improved battery life, x64 app emulation in November (Insiders), and now in platinum, there is a lot to like here. You can even now pick multiple colors for the Signature Keyboard with Slim Pen Bundle. Preorder now; get it for October 13th.
New toys
(opens in new tab)
Surface Pro X Signature Keyboard with Slim Pen Bundle
This bundle includes the Surface Pro X Signature Keyboard that features Alcantara and the Surface Slim Pen that charges wirelessly within the keyboard. Previously only in Black, you can now get newer colors like Platinum, Ice Blue, and Poppy Red.
Windows Central Newsletter
Get the best of Windows Central in in your inbox, every day!
Daniel Rubino is the Editor-in-chief of Windows Central, head reviewer, podcast co-host, and analyst. He has been covering Microsoft since 2007 when this site was called WMExperts (and later Windows Phone Central). His interests include Windows, laptops, next-gen computing, and for some reason, watches. Before all this tech stuff, he worked on a Ph.D. in linguistics, watched people sleep (for medical purposes!), and ran the projectors at movie theaters because it was fun.
Well my spx will had battery improvement based on this article. I'll looking forward to it.

Still dont see a valid use case for this thing considering the cost.
I dont find it inconvenient at all to hotspot from my phone and get the full power and compatibility with a traditional surface with a lower cost.

The use-case is nuanced, but sometimes nuances make the biggest impact at the end of the day.
1. LTE connects faster than wi-fi even when both are available. So connecting to a hotspot takes exponentially more time. If you are a fan of 'it just works', then LTE is for you.
2. The pen being avail on keyboard means I use the pen now, whereas I never used it before because I couldn't be bothered to go look for it.
3. Instant-on is great.
4. It's thinner, so feels better to hold. Is that worth replacing a functional SP6/7? Definitely not. But my SP4's battery was dying so was in the market and I chose the SPX over the SP7. Glad I did. The workflow on the SPX is great. All those nuances just enhance your ability to log on and do stuff without thinking about technology. It just works.

Kros, that's a great summary of benefits. Thanks!

None of those nuances seem to make up for the lack of 64 bit support, even with a 'any day now, guys' promise from MS that 'help is on the way'. Those nuances seem like post facto rationalizations of a unit you bought, and now are defending because YOU bought it.

"I dont find it inconvenient at all to hotspot from my phone"

But are you not capable of seeing how others

would

find value in it? Because that's at issue here, not whether everyone needs it, but can someone benefit from it. The answer is yes. And sales were good enough to expand the line with new color and keyboard options plus CPU/GPU bump. Not to mention all the other ARM news that has come out in the last few weeks.

Hi Daniel, could you do (if you haven't already) an article or video about what the X is capable of in terms of applications when switching from a traditional Surface Pro? I have an ageing SP4, and unsure whether to upgrade to the X or to the 8. I'm worried I won't be able to use some of the apps I currently use. I use SPSS Statistics, Mendeley and EndNote citation software, and others that are now available in the Windows Store as UWP. Thank you.

Not familiar with those apps, but some advice: See if the apps are 32-bit or 64-bit as that matters a bit (x64 emulation though is coming, so ...) I really recommend just buying a Pro X from Microsoft. You have 60 days to try it out so long as you don't break it or lose the packaging. Honestly, that is going to give a much better idea of how it runs, what it runs, and if it's acceptable for what you need vs. what I tell you

Oh that's great, I'll give it a 60 day trial. I think the apps I'm running are 32bit. Thanks!

Frenec Toth If you're using datasets that are anything larger than a few thousand observations of a couple hundred variables, or if you're doing any simulations, I don't see why you'd opt for a relatively low-powered mobile-first LTE device. Get the Surface Pro 7, or better yet, if you don't need a tablet, get any more powerful device. This is not a data science machine. It's a mobile light-computing machine with LTE and no fan. To be honest, my data-crunching needs are at best moderate, and I find my SP7 i7/16GB too slow. I have regrets. Should have gotten the Surface Book. I would never consider the SPX - especially with the lingering emulation issues.

I realize that if you do all your processing server-side (I don't know anyone who does that personally, but I know it's possible) that might be a different story. In that case the power of your own device isn't all that important. Still, you can avoid all the emulation headaches by just getting an SP7/8. Why waste any of your valuable time?

I much rather use my Pro X LTE than hotspot to my phone.

Cknobmhan, Like you I use my cell phone hot spot feature to connect my Surface Pro 7 to the internet when I am not at home, or can't get a connection while at a restaurant or pub. But I am not in a situation where my PCs needs to have ubiquitous connectivity. People that do, think of a sales rep or a field technician, find having a dedicated connection that is always available as important as having a cell phone. If I could justify the cost for my needs, I would be signed up for one in an instant. No, less than an instant. As for the use case I point you to the same people that find an always connected PC. If you are one of those people having a well-made device that is thin, light, and reliable essential. This is no different than a chef wanting than a knife that holds an edge, a machinist that values a topflight micrometer, or a skilled guitarist that can exploit a vintage Martin guitar. When you are using a tool daily for your profession or passion the last thing you want are partial solutions; your tools simply need to work and work transparently. The Surface Pro X is such a device, and it is brilliant. The only reason I am passing on the Surface Pro X currently is I use Photoshop, and it hasn't quite to reached the point where it runs that as well as an x86 device. When it does, I am going to have a tough time not owning one. I might even find reasons to justify the cost of a cell connection.

What material is the chasis composed of? Aluminum?

it's INCREDIBLY OVERPRICED. i have an spx. it's not worth the cost by any metric.

The price is worth it to me. It does everything I need it to do, isn't sluggish, and is a joy to use. To each his own.

Then you should have returned it and bought the other super thin, fanless, Windows 10 tablet/convertible PC with 4G LTE, instant on, stowaway pen, and 7-10 hours of battery life 🤷‍♂️ (Spoiler: that device doesn't exist)

Ah, I forgot about the fanless part, yet another nuanced benefit of the SPX. The fan blasting away drove me crazy on my SP but I'm a little neurotic about mechanical noises. I wish I could banish all gas powered leaf blowers into outer space.

The Surface Pro 7 with the 10th gen Core i5 is fanless too. That detail changes everything about using both devices.

Yeah, real helpful. We don't live in a world of MS freebies, and need news not broadcast to support those freebies.

Yeah, cuz no one ever paid $1400 for a thin and light light-productivity laptop before, amirite?

Productivity and ARM? If you are looking for productivity, you should probably go for the full Windows device. You never know when these ARM machines will not work for a new task you are working on.

Light productivity = Office and browser. Zero issues there. You could even do it on an iPad (though it wouldn't be nearly as comfortable or efficient).

Lack of Wi-Fi 6 is a bit of a bummer but no real noticeable big deal for the consumer. Looking forward to the SQ1 vs. SQ2 benchmarks and x64 emulation coming ASAP just so we can hear less whining from hipster tech blogs about how it doesn't run Photoshop well.

Yea, definitely not work upgrading a SPX1 but glad to see MS is still committed to WoA.

I get wanting all the new shiny, but day to day this need is meh. LTE will be superior on the go, especially if you are in hotels a bunch. Garbage wifi one and all

Daniel do you buy their claims about improved battery life retroactively? It's hard to believe you can improve it that much like they claimed! Also, is this a change that will impact all ARM PC's? I have an HP Envy X2 and I'm curious.

I think the benefit comes from improvements in Edge on ARM and other core apps/parts of the OS. It could also just be chip tunning done with Qualcomm via firmware and driver updates. That said, I expect to learn more in the coming weeks as to what exactly they mean/how they achieved that.

I believed MS when they said they'd get my SP3 and 4 back to expected battery life, and also when they said they'd end SB BSOD 'any day now'. Jumped back to a MacBook Pro while waiting on the SB, and never got the life on the SPs.

Interesting that Microsoft will continue to sell the SQ1 version. Or, at least, continue to sell it at the starting price of $999. In a dream world, it would have been nice if the SQ1 dropped to like $799 and the SQ2 started at $999. I guess production costs on these is still pretty high. Unfortunately, this is still not for me. Aside from the fact that I don't have a spare $1499 to spend :p my ideal ARM device is a Surface Go ARM.

I was surprised by this too. Best guesses are Microsoft is still amortizing the development costs for the SP X and this is an inexpensive way to create a differentiated SP X line (think Core i5 vs i7).

In the words of Flossy Carter..."This thing is TO G.D HIGH!" Especially, with all the compromises with the emulations and all!

You can literally write that (and everyone has) about every single other Surface product ever released in the last 8 years. We heard it for Surface Go up to Surface Studio and everything in between. It's the same with Apple. None of it matters though. People buy these and are, in general, happy with the experience 🤷‍♂️ Luckily, there are plenty of other compromised PCs/laptops with 4G LTE that you can buy today that may suit your budget more easily.

Shout out to White Shoes!

I don't get it. The market is full of premium light-computing devices. Flossy Carter owns like eight of them at any given time. None of them are as versatile as the SPX.

People buy 'Sexy', an Microsoft knows it. The SPX is a great way to promote WoA development. The average PC user will buy the device and never notice its running on an ARM processor. I'm very happy to see a second gen. It bodes well for windows long term survival. And my wife loves hers.

Why they don't make pen in other colors? For example, in same colors as type cover. And for this price they need to start selling complete package, with type cover and pen included.

If somebody is in the market to buy this device, you think it comes down to the pen matching the keyboard is the deal breaker? It'd be a nice touch, sure.

No, I don't think it's a deal breaker, but it would be nice to have options. A deal breaker for me is that they sell incomplete devices for premium price. For this price they should sell type cover and pen included. They still can sell it separately, if someone needs replacing. Same goes for Duo. It should come with earbuds and pen for that price.

That thing is super beautiful. And the red keyboard? Oh man ...

The SQ1 seems to be priced the same as it was when the pro x 1 was released while it is a year old now?

Way too expensive for ARM and no headphone jack.

This new Surface Pro X release is pretty excellent news given this version is mostly a silicon refresh and a product fit/finish expansion plus the x64 emulation which is on the way. Microsoft is tossing real resources at the ARM space and this box is a clear indication they are serious. Microsoft is on a roll like I have never experienced before. This is a company that is well into a top to bottom transformation and I am thoroughly enjoying the ride. I am betting in 5 years or so we are going to be amazed; we are in a golden age of computing and the Surface Pro X is one of the nuggets.

These days, behind every Snapdragon SoC lies licensed processor cores from ARM. I want to address the broader question of what might be coming next rather than the details of the SQ2. We now know that beyond the ARM Cortex-A78 and X1 cores which will appear in smartphones early next year there are a few more generations of ARM Cortex-A and X cores on the consumer SoC roadmap - Matterhorn and Makalu. A question of some import is: how does this future ARM processor tech compare in performance and energy efficiency terms to the Apple A14 that is due to appear very soon? Now, nothing that ARM has said suggests that performance parity with Apple's A series SoCs is on the cards, any time soon. On the contrary, using ARM's published performance projections, (near) parity with the A14 (in single threaded integer performance) will only be attained with the Makalu SoC generation (due in products in 2023). I should hasten to add that information like that shouldn't necessarily be seen as bad news for ARM. ARM is on a different trajectory. Licensed ARM cores (including the X1 core) are more energy efficient that Apple's A series cores. (Note: There isn't any definitive news on the Perf/W of the A14 core, at this point, but if Apple continues on its current path that core will offer higher performance than rival ARM cores but at the cost of a hit to energy efficiency.) The notable thing about Apple processor tech as we find it, today, in mobile device silicon, is the way the performance of those chips must be kept in check and trimmed down, in order to keep the power budget and thermal envelope on target, so that those chips make sense as a choice to power small form factor devices. So, the peak performance advantage of an Apple SoC won't be fully reflected in sustained performance numbers. If there isn't a great difference in sustained performance (only a lot of careful benchmarking will prove where things stand in that regard) some smartphone or computer users might actually prefer a SoC, from Qualcomm or Samsung or whoever, because, for those users, the energy efficiency/extended battery life of silicon based on ARM tech might be the thing that was most sought after. To be clear, though, if next year a superseding chip to the Snapdragon 8cx were to ship with four X1 cores it still wouldn't have single threaded peak performance in the same bracket as the A14. Apple is still well ahead on that score
Windows Central Newsletter
Thank you for signing up to Windows Central. You will receive a verification email shortly.
There was a problem. Please refresh the page and try again.