All the new Surface hardware we're expecting to see in spring 2021
A new Surface Laptop, Surface Headphones, and accessories too!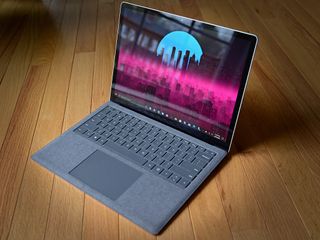 (Image credit: Daniel Rubino/Windows Central)
It's that time of year again! Microsoft is rumored to be gearing up to release new Surface hardware, so I've rounded up everything we're expecting to see get announced this spring. It sounds like this spring will be a minor refresh for existing product lines, with no new form factor products or major hardware redesigns expected.
This spring, word on the rumor mill is that Microsoft will unveil updates to its Surface Laptop and Surface Headphones product lines. These updates will feature minor spec bumps, with no significant changes to the external hardware design or feature set. Microsoft is also set to announce a handful of new accessories, most of which will be aimed at commercial customers.
So, here's everything we know:
Surface Laptop 4
Microsoft is expected to unveil the next iteration of its Surface Laptop, featuring Intel 11th-Gen or AMD Ryzen 4000 processors on the inside. For the first time, Microsoft will offer AMD chips in the 13.5-inch model, and the line-up will start at $999 for the 13.5-inch variant with AMD Ryzen 5, 8GB RAM, and 256GB storage.
We understand that Microsoft will be replacing the Cobalt Blue color option found on the Surface Laptop 3 with the new Ice Blue color scheme that was first introduced with the Surface Laptop Go. Alcantara will still be an option for those who want it on the 13.5-inch model, but the 15-inch remains metal-only.
Users will be able to configure the Surface Laptop 4 with up to 32GB RAM as well. The overall design and feature set of the Surface Laptop 4 is expected to remain the same as its predecessor, however. Will the new Surface Laptop replace the Laptop 3 as our pick for best Surface PC? We'll have to wait and see.
Surface Headphones 2+
In addition to a new Surface Laptop, we know that Microsoft is also planning to unveil a minor update to the Surface Headphones 2, likely dubbed "Surface Headphones 2+." This release will be aimed at commercial customers only just like the Surface Pro 7+, and are said to be "Teams Certified" unlike previous models.
According to Brad Sams, the Teams certification comes in the form of a dongle accessory that allows the headset to connect to a PC without Bluetooth. Additionally, word on the rumor mill also suggests that Microsoft will begin selling the earmuffs separately for customers who need to buy replacements.
I do know not to expect any major changes to the hardware. Overall audio quality, design, and feature set is expected to remain the same, though I'm told the Surface Headphones 2+ will only be offered in black.
Accessories
Petri has reported that Microsoft is planning to unveil a new webcam this spring, and I'm hearing this will show up alongside the Surface Laptop 4 and Surface Headphones 2+. In addition, I'm told that the Microsoft Classroom Pen 2 will start shipping to commercial customers this month.
Release date
When will Microsoft unveil this new hardware? It's hard to say, but I've been told to expect an announcement to take place in mid-April, with hardware starting to ship to customers a week or two thereafter.
So that's everything we know about Microsoft's spring Surface hardware refresh. Of course, Microsoft can cancel or change its plans at any time. For now, what are your thoughts? Let us know in the comments.
To see what else we expect this year, make sure to check out our 2021 Surface predictions list for things coming later this fall.
Windows Central Newsletter
Get the best of Windows Central in in your inbox, every day!
Zac Bowden is a Senior Editor at Windows Central. Bringing you exclusive coverage into the world of Windows on PCs, tablets, phones, and more. Also an avid collector of rare Microsoft prototype devices! Keep in touch on Twitter: @zacbowden.
So has the Surface Pro 8 fallen off the spring expectation? I'm on the fence if I want to snag a Pro 7 to replace my stalwart Pro 4 or wait for the 8...

Pro 8 was never in our coverage as a spring launch; we've been saying fall every since Pro 7+ was revealed. See our previous podcasts.

Oh goodness, I must have crossed my brain streams on yalls Pro 8 coverage and Spring launch coverage. Thanks for the clarification Dan!

Autumn means a 2 year release for the Surface Pro 7. Has there been any inkling why? It would be a double hit if we wait longer and it's not the super overdue redesign. How long can Microsoft keep reusing a design from the Surface Pro 4 from 2015. I'm very happy with my Surface Pro X but there's a need for a modern Surface Pro running ARM and a need for a modern Surface Pro running x86. Thanks.

Hopefully they will finally add Thunderbolt 4 to the Surface lineup. Lack of docking compatibility makes the entire Surface line unusable for business. And before anyone comments about Surface Laptop also coming in AMD version or some other silly arguments, some AMD mother boards do have Thunderbolt 4. Apple has Thunderbolt 4 on their own silicon that isn't Intel based. There is simply zero excuse for not having it.

Sure. there is. TB is a DoA technology, due to USB 3 doing nearly everything, which covers 99.9% of people needs. And USB doesn't suffer from the massive security flaws that TB has and Intel not caring in fixing it (probably due to low usage and being DoA). Also, you have the Surface dock.

This might be the worst take I've read on the subject. Thunderbolt is not DoA, not even close. It's widely supported in that nearly all OEMs have integrated the technology, and the security holes were largely resolved in 2019, and the surface dock sucks (it has limited ports, low bandwidth, and the surface connect is unreliable). Furthermore, USB4 is set to include Thunderbolt as part of its standard.

Thunderbolt is DoA? Just because it not as popular as USB which is given, doesn't mean it DoA. We have Thunderbolt 3 for a while now and were only providing several features until USB released new spec for 3.1 and Type C port. Even then, there are still that Thunderbolt has that USB-C does not like the higher bandwidth to allow more faster storage, higher 10 Gbs networking, docking station that able to handle more ports and higher resolution displays and external PCIE components like External GPU.

@MBytes: USB4 not USB3. The Surface dock is a really a Hub, not a Dock. Poor branding.

Given Surface is popular in business what you say doesn't bear out in reality. Loads of business laptops don't have a dock. It's just an expensive hub in reality. A USB-C Hub does just the same. Apple are using USB4 not TB4 on their M1 Macs. Which is basically the same so I expect you'd be just as happy with USB4. But agreed TB3, TB4 or USB4 is overdue. At least on their Surface Laptops and Surface Studios. I expect it's trickier to implement on the Surface Pros.

I just bought a surface laptop 3 I'm very happy with it. But, I do wish the 13 inch had the AMD tech annnd now it will. But, I'm still happy with my 3.

The AMD chip used in the Surface Laptop 3 15" is slower than the "business only" Surface Laptop 3 15" with Intel.

What about new Surface dualscreen phone!? This time with nfc for payments, Qi wireless charging and 5G connectivity!

Not expected until the fall.

Surface Duo only launched in selected markets outside of the USA in February. It's barely been out globally. Microsoft will want to have given more countries a chance to buy one first. Microsoft may want to bring Microsoft Pay to Android before adding NFC. Just a guess. Besides it's biggest problems aren't hardware but software.

I've been using the Surface Headphones 2 all years teaching remotely and the students have liked the quality.

Yawn. Just minor stuff.
No wide release of the wired Surface keyboard (or whatever the name of that one was), no Surface Display, no improved Surface pen...meh.

The SL4 is likely a big performance jump though, either Iris Xe igpu in Intel model or a hexa-core in AMD model.

But can they compete with the new M1 chips? They are going to release the same outdated design for the 4th time in a row. They could at least get rid of the borders

Well, that's on Intel and even for AMD, not on Surface or Microsoft in general. At best, they can just included the latest chipset architecture in the market, regardless it can head-to-head with M1 chips or not. Safe to say the design might remain the same, but I hope they will eventually update the design of Surface Laptop. But I doubt for this one since it already sounds like a pretty minor release.

But can you replace or upgrade the SSD in the M1 Macbooks? Does the M1 Macbook have a touchscreen & digitizer? 🤔

Those things don't matter to the vast majority of consumers at all.

They do not need to be. Not everyone finds an incremental increase in cpu efficiency all that important either (which it is if you compare it to Ryzen 7nm cpu's).

@bleached: But Surfaces aren't first and foremost intended for consumers. They do to the intended market Surfaces are designed for. Upgradeability was a major plus for IT Pros and Pen support has always been a selling point for Surfaces. You're a consumer, you're coming at it from the wrong angle.

Microsoft don't need to compete with what Apple are doing with Macs. Microsoft and Apple don't compete in the same markets and they're bought by very different people. If you want a Mac you won't be looking at Surfaces and businesses who want Windows and the reliability Surface brings will never consider M1 Macs no matter what Apple do. It's a techie/fanboy discussion that doesn't exist in the real world. Besides you already know the answer, no.

What are Surface Keyboard and Surface Display?

I kinda don't get why they bring the Surface Laptop 4 AMD Version with an old CPU Generation. I mean.. the 4000er series is 1.5 years old at this point. Same with the rumour of don't offer 32 GB on the AMD Version.

I think it has to do that they designed this laptop with 4000 series and finalised it way before the new AMD architecture does. We just never know how the Surface product development really works, but maybe they are still relatively small team and already planning the next device way ahead and stick to that design until it ships. Tbh not sure as to why they stuck with previous architecture, I guess with smaller team to work on with newer architecture, they just don't have time to redesign and fine tune with it. Surface team seem have been rather co servative since that infamous 6th gen Intel I think when Surface did adapt the newest architecture swiftly and used its newer features, but was backfired due to issues with Intel that point, affecting that generation of Surface devices that era. Considering that time they don't even have a normal form factor machine like the Surface Laptop and Surface were pretty much making rather unusual hardware like Surface Book, that even make the issue even worst.

Probably supply chain issues and MS always takes longer to optimize the chips (/to prevent Skylake Surface Pro 4 disasters). 1.5 year should be 1 year or shorter, its not about when the chips were released by AMD its about when they first appeared in laptops. It does not matter much anyway, the big jump was towards the 4xxx series and people will have that.

Surfaces are first and foremost intended for business and business wants reliability first and foremost. The longer something is out the more you can be sure it's reliable.

Earmuffs?! Thank you! Love my og Surface headphones but the soft material used split after a year. At this point it's mostly underlying foam, but I am not ready to give them up. Great news.

I wish Microsoft would stop only shipping Surface Pros with fabric keyboards. It's basically impossible to keep them clean. I look after mine but they always end up with marks. Just give me a metal or even plastic keyboard (metal please).

Interesting ask, as I find that my keyboards with metal/plastic components get much dirtier than the ones with the alcantara on them that come with my Surfaces.

Crossing my fingers that maybe, just maybe, one day, I will get a tidbit of information about a Surface Studio 3. My wife's gen 1 Studio desperately needs an upgrade, so I can stop hearing her complain about its performance with Creative Cloud/Photoshop/Lightroom and the fact that our touchscreen on it has fizzled out after all these years and we can't use the pen any longer. Studio 2 doesn't make sense at this point; I really need Studio 3!
Windows Central Newsletter
Thank you for signing up to Windows Central. You will receive a verification email shortly.
There was a problem. Please refresh the page and try again.