Synology has a range of network-attached storage (NAS) enclosures that cater to different segments, and while the two-bay DS218+ is a great way to get started if you're looking for an affordable home media server, the DS918+ has plenty more to offer. For example, the DS918+ has four bays that can accommodate a total of 48TB of storage, and the NAS can transcode two 4K streams simultaneously. It also offers extensibility that makes it a great NAS enclosure for SMBs.
$539 at AmazonBottom Line: The four-bay DS918+ is ideal if you're looking for a powerful media server or are in the market for a NAS enclosure aimed at a small office environment. Its ability to transcode two 4K streams at 30 frames per second (FPS) allows it to stand out, and DiskStation Manager (DSM) is endlessly customizable.
For
Excellent performance
Dual 4K transcode
DSM is in a league of its own
24/7 reliability
What you'll love about the DS918+
The DS918+ is the latest offering in Synology's four-bay Plus series, with the model featuring several upgrades from the DS916+ that debuted two years ago. First up is an Intel Celeron J3455 processor clocked at 1.5GHz (up to 2.3GHz boost), and the NAS also comes with 4GB of DDR3L RAM as standard. There's a secondary SO-DIMM slot available that allows you to bump the memory to 8GB.
What's particularly interesting is the transcoding engine, which now lets you transcode two H.264, H.265, MPEG2 and VC-1 4K streams at 30 FPS simultaneously. Head to Synology's knowledge base to see how transcoding works with target devices.
When it comes to the design, the DS918+ features individual drive bay doors instead of the single front plate that featured prominently on the DS916+. The exposed drives have locks at the bottom, and there are five LED status indicators to the right — one for each drive and an overall status. Down at the bottom, you have a single USB 3.0 port and power button.
Image 1 of 5
Around the back, there are two Gigabit Ethernet ports, another USB 3.0 port, Kensington lock, and an eSATA port. Cooling is provided by two 92 mm fans that spin at 1900 RPM. They're fairly quiet at 23 dBA, and they don't kick in when the NAS is idling.
You can slot up to 12TB HDDs in the DS918+, with the four-bay unit providing 48TB of storage in total. As with all Synology enclosures, you can extend the storage space by attaching a five-bay Synology DX517 expansion unit, which increases the available storage to 108TB. The DS918+ also has two slots at the bottom for M.2 NVMe solid-state drives (SSDs), and these can be used solely for caching duties.
Swipe to scroll horizontally
| Category | Specs |
| --- | --- |
| Processor | Intel Celeron J3455 (2.3GHz). |
| RAM | 4GB DDR3L (8GB max). |
| Transcoding | H.264 (AVC), H.265 (HEVC), MPEG-2 and VC-1 at 4K30. |
| Drive bays | Four (3.5/2.5), two NVMe SSD. |
| Max storage | 48TB (12TB*4). |
| Cooling | Two 92mm fans. |
| Ports | Two Gigabit Ethernet, two USB 3.0, and one eSATA. |
| Power Consumption | 28.8W. |
| Weight | 5 lbs (2.28 kg). |
| Dimensions | 166 mm x 199 mm x 223 mm. |
Installation of the 3.5-inch drives is tool-free, but you do need to install screws to affix 2.5-inch drives to the bays. Synology includes the requisite screws as well as two Ethernet ports in the box. You can use link aggregation to bridge the dual Gigabit Ethernet ports, and the DS918+ also includes an AES-NI hardware encryption engine. The NAS supports RAID 0, 1, 5, 6, and 10, and you can always use the custom Synology Hybrid RAID if you haven't set up a NAS previously.
Setting up the NAS is about as easy as it gets. Install the drives in the bays, hook up the power cable, connect the Ethernet ports to your router or switch, and head to the Synology Web Assistant to find the NAS on your network. You'll need to set up a name for your server and provide a password, and then install DSM, Synology's web-based OS. Installation takes anywhere between 10 minutes and 15 minutes, after which you can get started.
I've been using DSM for more than five years, and Synology has continually added new features to what was already the best NAS OS around. DSM offers a vast array of utilities, including a media server, mail server, built-in chat service, Office suite with real-time collaboration that works with Excel, Word, and PowerPoint, a robust photo management service, and seamless integration with public cloud services like OneDrive and Google Drive.
The DS918+ doubles up as a pretty reliable streaming service. Synology offers an array of apps for Android that let you stream music and videos directly from your NAS anywhere in the world. That's made possible with a service called QuickConnect.
You'll be able to set up QuickConnect by heading into the DSM Control Panel. All you need to do is set up a Synology account, give your NAS a unique name, and select what applications have access to the service. When you're outside your home network, the service leverages Synology's relay server to give you access to your NAS. It's a nifty solution that works seamlessly.
My home network setup includes an ASUS RT-AC5300 hooked up to a Netgear GS110TP managed switch, which is what the DS918+ plugs into. My main PC is also connected to the switch via a Cat 6 cable. I started off by sending over a single 32GB file to and from the DS918+, and the NAS registered read speeds of 114MB/s and write speeds of 108MB/s.
What you'll not love about the DS918+
It would have been nice to see 10 GbE ports on the NAS. Currently, Synology is offering 10 GbE ports on most of its five-bay enclosures, but considering the DS918+ is also aimed at an SMB environment, it would've turned the NAS into a more well-rounded product.
The DS918+ retails for $539, and that's before you add any drives. You can easily cross $1,900 if you're interested in filling up the storage with 12TB IronWolf drives, but you're essentially paying for a product that will run 24/7 without any issues for at least five years.
Should you buy the Synology DS918+?
If you're looking for a powerful media server to stream 4K videos, or are in the market for a robust NAS for a small office, the DS918+ will not disappoint. The switch to the Celeron J3455 provides a significant uptick in performance, and the ability to slot in two NVMe SSDs for data caching will come in handy for office environments.
The $539 price tag isn't exactly affordable, but the hardware on offer makes the DS918+ a worthwhile investment.
The four-bay DS918+ has enough storage for most home or office needs, and you can always expand it with the Synology DX517. The feature-set and extensibility of DSM make the NAS an even more compelling option.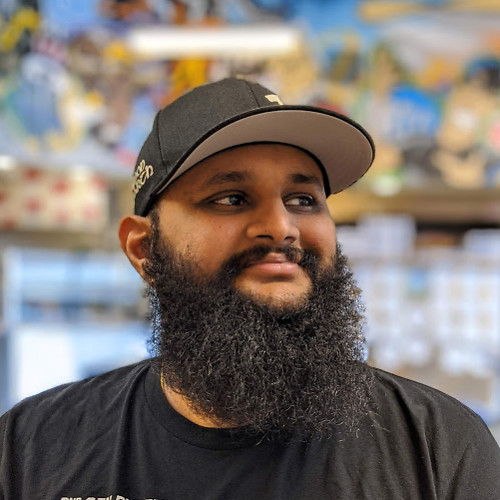 Harish Jonnalagadda is a Senior Editor overseeing Asia for Android Central, Windows Central's sister site. When not reviewing phones, he's testing PC hardware, including video cards, motherboards, gaming accessories, and keyboards.