T-Mobile US is reportedly in early merger talks with Dish Network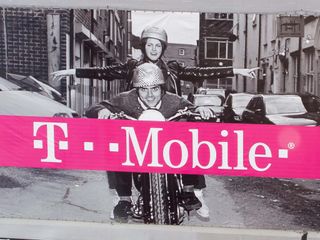 T-Mobile US could be trying once again to merge with another large company. A new report from The Wall Street Journal claims that talks have begun with the satellite TV company Dish Network. The story's sources claim that if a merger is approved, Dish Network's CEO Charlie Ergen would be the chairman of the combined company, with T-Mobile CEO John Legere getting the same title for the merged corporation. It added:
Dish has been amassing wireless spectrum through private sales and spectrum auctions — even going so far as to get FCC approval to make a network — but at this point doesn't actually have a wireless network to put that spectrum to use with. The satellite TV provider also previously attempted to buy Sprint before SoftBank ultimately purchased the carrier.
This certainly isn't the first time that T-Mobile has been associated with a merger or acquisition either, with the most memorable up to this point being the attempted buyout by AT&T in 2011. In 2014, Sprint halted talks of a merger with T-Mobile during its own sale to SoftBank, while French telecom Iliad tried and failed to acquire T-Mobile as well due to a lack of funding.
Source: WSJ
Windows Central Newsletter
Get the best of Windows Central in your inbox, every day!
YaSsSsS Sling TV on mobile!!!

It's about the mobile industry, windows phone users are effected. Why do you even care? This isn't your site.

"Still trying to figure out why this story is on this site" Do you ever think anything without posting it?

There is a chance that this story affects or is important to some of the readers of this site in some way. You know, people with CELL PHONES that follow the goings-on in the CELLULAR industry, as it concerns their MOBILE OS of choice? Things that cellular providers do, affect us. One day, Dish might have purchased TMobile and decided that they didn't want to sell phones at all. Should we be in the dark when that happens as well? What if I planned on purchasing my next Windows phone from there? What reason would there be for that news to be here? Filter it out by scrolling past it. As it stands this site is a part of MOBILE Nations. It focuses on Windows news, but that doesn't change the fact that MOBILE news is also relevant. If you don't get it now, I'm afraid I can't help you.

T-Mobile sell Windows phone. So we Windows phone lovers might be interested in knowing just wtf is going on with our money grabbing carriers out there.

Who cares about sling?! MS needs to buy so they can control device promotion AND so they can add features to their network/phones that no one else has. I believe there is a great opportunity for a company which controls phone production and a network (especially if they purchased or partnered with a network equipment manufacturer) to increase network effectiveness (speed, reduce power consumption) dramatically though the use of adaptive antenna systems, increased spatial diversity and other technologies.... The resulting patents would prevent others from copying and WP would have its own network with functionality no one could match... Plus service bundling would be possible in entirely new ways.

MS buying T-Mobile in my opinion would be disasterous for WP there would be zero incentive for AT&T, Verizon or Sprint to offer any WP handsets when it would benefit a competitor, I'm quite sure that none of them are particulary fond of either John Legere's Uncarrier initiatives or his boisterous antics

Please no... Just stop telling to sell yourself. You're not some whore T-Mobile. Just focus yourself. Please..

They don't have much of a choice.
Their owner, Deutsche Telekom, has been trying to sell them for years. Posted via the Windows Central App for Android

Mainly because they haven't made a profit in years.

That's not really true. They want to move their investment dollars out of the US and back into Europe. T-Mobile COULD be profitable if properly invested in. The problem is, they need ownership that wants to make those investments. Something many people haven't considered is this. DT wants to sell. They have been trying to sell T-Mo for at least 5 years now. Even with T-Mobile making a profit, it's a small profit. DT even if they take their full share of those profits isn't seeing much. If many more deals keep falling through, at some point DT will likely consider just shutting down T-Mo and selling off the pieces to recoup whatever money they can.

T-Mobile is doing very well.

They are doing ok, not very well. T-Mobile has only been profitable the past 2 or 3 quarters and then only around the $100 million per quarter mark while Verizon makes over $3 BILLION per quarter. $100 million may be a lot of money to an individual, but when you are talking about a national cell carrier that needs to keep maintaining and improving their infrastructure, that amount isn't nearly enough to allow them to keep up. The fact that T-Mobile also is doing as well as they are is almost totally due to the fact that AT&T essentially donated over $5 billion to T-Mo in the form of a breakup fee from their disallowed merger. That was unprecedented and allowed T-Mo to do massive upgrades to their existing network as well as purchase spectrum from Verizon. That isn't something that happens every day. Reality is that T-Mobile has ownership right now that doesn't care about them. That fact in and of itself poses huge problems for them as bad ownership would cause problems for any business. It's why T-Mo needs to be bought by someone good, so that company can invest in T-Mo to allow them to keep competing and increase their profitability.

Hmm I am not sure how I feel about this. I like Tmobile at their current size and structure. But on the other hand that spectrum that dish owns might be a nice addition.

Every time u turn around, T-mobile is trying to merge with some company. Why?

Because they have to. T-Mobile is owned by Deutsche Telekom out of Germany who has wanted to sell T-Mo off for years. Without good ownership they won't have the capital to really grow much in the future. They aren't some independent company just looking to be bought out.

For those who say no but claim to like T-Mobile, you need to stop and realize that T-Mobile needs some new ownership to be competitive for the next several years. Their current owners Deutshe Telekom WANTS to sell them and has wanted to sell them for several years now. As a result they invest NOTHING into T-Mobile. The reason T-Mobile was able to do so much upgrading and buy that A block of 700MHz spectrum from Verizon was because of the $5 billion breakup fee they got from AT&T which was unprecedented. That money is gone now and while yes, T-Mobile has started making a profit, that profit is only about $100 million a quarter which is petty cash when it comes to a nationwide cell carrier and not nearly what they need to keep the upgrades going to truly compete with AT&T and Verizon. T-Mobile may be number 3 now, but Sprint which is owned by Softbank as had Softbank investing billions into their network which is starting to be seen in some areas and likely in a year will really be noticeable nationwide. Unless T-Mo can get good ownership and soon, they will end up being left behind because they just don't have the capital needed to compete long term. As long as Legere is kept on and has at the very least a massive amount of input on how T-Mo is run, and I don't think he would stay unless he did, then this could very well be a great thing for T-Mo.

Im not so sure a dying cable company is the best buyer to buy and invest in a company. Cable TV is rapidly declining and i predict dish, direct tv, and "local cable" companies will all be dead and bankrupt in about 10 years

Not sure why you think that. Cable cutting is not the big deal some try to make it out to be. As long as you have sports being popular in the US you will have cable and sattelite TV. A lot of articles have been written lately basically describing that if someone cuts the cord and goes out and gets Netflix, Hulu Plus, CBS All Access and about 3 or 4 more similar services to keep up with popular programming, they will end up spending as much as they already would on a basic cable subscription. And if a network like ESPN were to go "a la carte" it would likely cost as much as $35 to $40 a month just for that one channel.

Not true. You can get ESPN and ESPN2 along with 21 other popular cable channels on slingtv for a flat $20 a month with no contracts or cable equipment. Thats less then $1 per channel.

Sling TV is not an independent company. They are owned and subsidized by Dish. If they were an independent provider, they could not afford to offer those services at $20 a month. So guess what, if cable and sattelite does die, so does Sling.

That's not really true. Look at how well other online streaming services like that are doing. They might end up making sling their primary focus. Kids today don't watch cable anymore. By the time I'm old it will probably be long gone. I'm 19 and I've never once owned any sort of cable. I grew up with mail in movies and netflix. No commercials and way better than cable.

You do realize by itself ESPN has over a $6 carriage fee per customer to the cable/sattleite providers? http://www.fool.com/investing/general/2014/12/06/why-consumers-may-not-want-a-la-carte-cable-pricin.aspx http://www.wsj.com/articles/prices-add-up-with-a-la-carte-tv-1413501679 A company like Sling TV could not start up by itself and offer the most popular channels at a $20 a month fee.

This guy is correct regarding Sprint. A friend of mine works for Nokia (infrastructure side) and said Sprint has been investing tons of money into their network and that in a few years they will be among the strongest in the US. Tmo needs to pick up their game a little, they are making progress, just very slowly.

T-Mobile capex guidance for 2015 is about 5 BILLIONS $.

Glad I switched to ATT, you can really feel the infrastructure investment. Maybe Microsoft could buy T-Mobile, maybe then the carrier would actually see a relevant Windows Phone.

Exactly, and t-mobile is a great company to invest in since they have so much momentum now.

This seems like it would be a great idea that would be beaten to death by the FTC if it ever started to materialize.

On what grounds? The FTC only really beats up on monopolistic practices which is not what we are talking about here. Microsft doesn't provide cellular services so there is no reason for the FTC to bat an eye. It would be very interesting to see microosft buy Both TMO and Dish: Added Spectrum for TMO from dish Spectrum buying power All MS Phones on TMO Xbox platform integration with Dish Replace DVR with Xbox for premium subscribers Optional internet delivery of service rather than satelite Azure based DVR instead of local HDD (record all shows 1 time @Azure and allow all users to stream whatever they want)

Holy Cow! I would LOVE if MS bought T-Mobile!

If Microsoft were to buy you most likely would not see any new WPs on AT&T when selling one would directly help a competitor. Sure T-Mobile may see all the new Lumias but no other carrier would touch them. As side note T-Mobile does currently have a relevant WP (HTC One M8) though you wouldn't know it by visiting one of thier stores

And then all the other Carriers would lose them. This wouldn't be the best idea. I'd have to switch to T-Mobile (which doesn't have a good reception) just to own the device I want. Not cool.

Microsoft needs to buy!!!!

T-Mobile could use the spectrum dish has. Their network is beyond terrible in many places still.

Wish they could have sold out to AT&T. At the time I didn't want that to happen. Now I can see the benefits of more money coming into T-Mobile. I'm not a fan of Dish as a former customer, yet this whole thing may serve both sides well.

No, the AT&T merger didn't need to happen. What needed to happen was Sprint buying T-Mo. People are under the illusion that there are 4 major carriers in the US. The reality is there are 2 major carriers, Verizon and AT&T and 2 'mid-major' carriers in Sprint and T-Mo. With Softbank's purcahse of Sprint, they are investing heavily into Sprint with what Softbank's CEO says is a goal of being as widespread as Verizon's network. Could you imagine what combined Sprint and T-Mobile could do with Legere heading it up with Softbank's financial backing? They would have quickly become a serious competitor nationwide to Verizon and AT&T and we would have a true 3rd option.

People are under the illusion that Legere's strategy will maintain momentum. When he came on the scene, I laughed at what he did, thinking he couldn't dupe the American people into buying phones at do retail price. Boom! He did. And it caught, helping end that steady leak of contract-breakers thanks to unsubsidizing.... Problem is, subsidizing is good for customers, and some customers know it. Verizon, AT&T and Sprint all still offer subsidizing. I hope he loses momentum.

Subsidizing isn't good for customers. It's good for the carriers. Unless things have changed on the other carriers, the average person will continue paying 1/24th the total price of the phone after the 24th month. TMo was the first I heard who stopped charging their customers for phones once they were fully paid for. A large number of customers don't upgrade their phones every two years, which translates into free money for the carriers.

Subsidizing is horrible for customers. You wind up paying more for the phone than if you just bought it outright and some companies have gotten so sheisty about it (Verizon) that they don't even begin to prorate the cost of canceling a contract until many months after you are locked in. That's just bad. The only benefit is the illusion people have of getting the latest and greatest phone for $99-$199.

EIP > Subsidizing and functionally the same at the monthly billing level until you pay off the phone. Then the cost of the phone completely disapears because you own it.

I was of the same mentality, so I desisted from using a contract... Until I finally did :) once I realized it's all numbers.
Example: Sprint offers a plan called Unlimited My Way ( contract plan $80/ month unlmtd data). The plan was upgrade eligible every 20 months. Pending the discounted phone (which can vary from $0-$200, so let's assume an average of $100), that means $80x20months=$1600+$100(device cost)= $1700 TOTAL and the process begins anew. In the meantime, T-Mobile is $80/mon unlmtd, and...HTC One M8 was $680, and pay it now or in installments, the cost is the same. That means $80x24months=$2020+$680(device cost)=$2700 TOTAL.
As a matter of fact, canceling early while on contract is also cheaper, maxing at an average of $350 exit costs no matter the device, while on payments it can be up to $950 (i.e. IPhone 6+ 128gb).
The ONLY time contracts were inferior is when purchasing budget/entry smartphones. And folks wanting the "next big thing" every year vs. every 2 years. The

Carrier NEVER loses while selling phones at Suggested Retail Price, while a contract customer has a greater amount of leverage and stipulations protecting them.Yes, times have changed. Sprint's Unlimited My Way has been superceded by Simply Unlimited at $85/mon, but the Unlimited My Way is still accessible via sprint.com/everythingplus
Contracts were too consumer-friendly, prompting carriers to move away from that model and offer incentives to customers, doing away with contracts little by little, until the day comes when they can pull the plug on contracts like T-mobile did (dangerously genius tactic by Legere, unfortunately).

This argument makes some sense in one combination of circumstances: First, for whatever reason, you absolutely positively have to have latest and greatest hardware AND, secondly, you can't afford to pay cash. In the first instance, if your old Nexus 5 is still doing right by you, buying a newer phone and paying, EIP or otherwise, makes little sense. Or if you could be perfectly happy with an LG Stylo instead of an LG G4 (and seriously, put it in a case and who would know?), it makes little sense to stretch out the pain. In the second, thinking of an EIP as an interest free loan, no problem, presupposes you can see into the future. I would bet you can't, and if Forever 21 decides to lay you off for the summer, that EIP could quickly start looking like a nose around your neck. And finally, one thing people never consider: If you don't by your phone from your carrier, you are free to shop for the best deal. For example, my current phone was a $600 phone when it came out 2 years ago. When I bought it a little over a year on sale, I got it for less then half that. So... If, for whatever reason, you absolutely positively have to have latest and greatest hardware AND you can't afford to pay cash, then sure, go EIP or contract. I said it made some sense, I never said it made GOOD sense.

Sort of like just getting a new phone on contract when it is time to renew? Still own the old phone. Financially, both options are nearly identical. T-Mobile did NOTHING "revolutionary" except for launch a brilliant ad campaign that convinced morons into thinking this was some grand new way of doing business that put the customer first. Trust me, if anything was truly in the best interests of the customer first, a company wouldn't be doing it. Fool to think otherwise.

What if you are not ready to buy a new phone at the end of 24 months? Prior to TMO's EIP system you kept paying... We have roughly 60 lines and with windows phones sometimes there is no reason to upgrade employee phones.

Sprint was in no way,shape or form able to BUY Tmobile. Not only would it NOT benefit them, it would cost loads more than just buying TMobile. The cellular signals are different. So you'd have 2 different set of towers under them. The phones would have to be rebuilt for their signals. It just wouldn't be beneficial in any way. It would be great if it was as simple as buying them out, but it's not.

Many carriers have bought other carriers with different network technology. Sotbank, Sprint's owners, are essentially swimming in cash and were willing to make the investment to get everything working out. What they wanted was Legere running a merged Sprint/T-Mo and T-Mo's existing right of way to help increase their network footprint a lot faster.

more money wouldn't come to T-mobile in an ATT merger. Tmobile's network would be merged in with ATT's and Tmobile would disappear leaving 3 cell providers.

You, sir, gave one of the most sensible replies to my reply earlier. Thank you.

And it will keep happening until T-Mobile is bought. Deutshe Telekom has never taken off the 'For Sale' sign from T-Mobile. They have been for sale for going on five years, so not sure how this is surprising.

Someone works for T-mobile.....

Someone works for Verizon or AT&T....

Might actually happen for once.

Imagine this… The UPS guy comes up to your door and brings you your new Dish SlingTV set top box. It's part Tivo, part Roku, part Sling Box, and it's enclosure is a fractal HDTV antenna. You get out the quick set up guide. STEP 1. Plug power cord into wall outlet. STEP 2. Connect the HDMI cable to your TV. STEP 3. Press power button on front of set top box. Nothing unusual so far. Finally… STEP 4. Tap your T-Mobile cell phone to the NFC area on top of set top box. Deep inside the SlingTV box, the NFC connection with your T-Mobile phone (or Hotspot) has configured the box to reach out to the internet through your phone. It has also, through your phone, verified you as the purchaser, and has begun configuring your services, using information entered at the SlingTV web portal. It configures your subscriptions services and accounts. Netflix (et al) info, email accounts, cloud storage, etc. No entering passwords through cludgy remotes. Utilizing your phone GPS data, it has determined which local broadcasters are in your area, tested the signal strength and downloaded guide data. It also determines which local stations maybe available with an upgraded external antenna, and makes the appropriate recommendations. A few moments go by, and you're ready to go. You're ready to watch over the air television and schedule recordings. You can click on over to Netflix for a movie, or Amazon for something else. You can view pictures or videos on One Drive. And yes, click over to SlingTV and watch premium cable and sports. Further, you could use Sling boxes/apps on your other TV/devices to share content. One could also imagine this info as being portable, with your T-Mobile phone as your passport. Imagine you're at a someone's home and you wish to show them pictures or movies form your Drop Box, or share a movie you rented from the Play Store. Just tap your T-Mobile phone to their SlingTV box, and it's temporarily yours. Watch the movie, and when you're done, tap you're phone to disconnect, or just walk out of range. The SlingTV box loses all your info. Welcome to the world of Cord Cutting Deluxe!!! Of course, there is still a virtual cord, but the truth is there always was. It becomes the service you never have to cancel when you move. There's no more cable guy, or satellite guy for that matter, cause there's no more cables. Simple account management. Inexpensive, off the shelf hardware after the main box (if done right). All the peices are out there today, just no one has suceeded in bringing the mix of Hardware AND Services AND Infrastructure together. Dish has hardware and services. T-Mobile has infrastructure. Here's to hoping!