This is a worthy competitor to Wacom with its 24-inch drawing surface that produces a great color gamut with 4K clarity. It offers 8,192 pressure levels to accurately depict strokes and there are a number of useful items included in the box such as an amazing Keydial Mini for better control while drawing, an artist glove, multiple pen nibs, a pen holder, and more. Altogether, this is an awesome drawing tablet for both beginners and veteran artists.
Pros
+

Large 4K display

+

Great color and clarity

+

Mini Keydial adds lots of convenience

+

Comfortable, batteryless pen

+

Standard and felt nibs included

+

Plenty of ports
Cons
-

Heavy and requires a lot of desk space

-

Stand isn't adjustable
Why you can trust Windows Central Our expert reviewers spend hours testing and comparing products and services so you can choose the best for you. Find out more about how we test.
I've been using drawing tablets since 2009 to create everything from graphic design projects to cartoony illustrations in my own freelance work. The best graphics tablets make drawing feel intuitive and also make it easier to interact with the programs you're using.
One quick glance online will show you that there are tons of drawing tablet brands to choose from but some honestly aren't worth your time. Wacom has long been the king in this space but Huion is an excellent alternative that also happens to be a lot easier on your wallet. As such, I was excited when I got the chance to check out its large 24-inch 4K display tablet.
Over the last week, I've spent dozens of hours with the Huion Kamvas Pro 24 (4K) working in various Adobe programs — both vector and raster-based. In that time, I've come to love this drawing tablet for the gorgeous display and convenient drawing sessions it provides me with.
Disclaimer: This review was made possible thanks to a review unit provided by Huion. The company did not see the contents of this review before publishing.
Huion Kamvas Pro 24 (4K): Price and specs
Pricing & specifications highlights
It's costly with an MSRP of $1,299.00, however, it is cheaper than a similar product from Wacom which is the biggest brand in the drawing tablet industry.
Plenty of extras are in the box including a Keydial Mini, replacement pen nibs, cables, and more.
Value rating: 4/5
Huion Kamvas Pro 24 (4K) specs
Price: $1,299.00
Panel: 23.8 inch IPS with anti-glare etched glass
Resolution: 3840 x 2190 (16:9)
PPI: 185
Response Time: 10ms
Pressure Levels: 8,192
Tilt recognition: ±60°
Dimensions: 589.2 x 364 x 22.7mm
Weight: 6.3kg
Any drawing tablet with a large 4K display is going to cost a pretty penny, but Huion makes the cost a little more affordable than its competitor, Wacom. The Kamvas Pro 24 (4K) has an MSRP of $1,299.00 (about $900 less than the Wacom Cintiq 24 Pro) and can be purchased from the Huion website or Amazon. It's also possible for either location to offer Huion drawing tablets at a discount, so you might be able to grab one for less during a sales event.
You're getting more than just the drawing tablet when you make this purchase. In the box, you'll find a batteryless pen, a pen holder, an artist glove, a Keydial Mini accessory, an HDMI cable, a USB-C to USB-C cable, a USB-A to USB-C cable, a power adapter, a cleaning cloth, 10 replacement nibs (five standard and five felt), and a nib clip for easier nib replacement.
It's definitely a good value given everything that comes included. You'll be able to get the graphics tablet set up without having to supply any additional cables.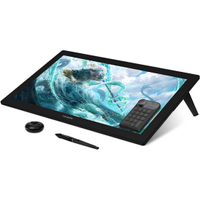 Huion Kamvas Pro 24 (4K) | See at Amazon
This awesome drawing tablet comes with a batteryless pen, a pen holder, an artist glove, all the cables you need to use it, replacement nibs, and a handy Keydial Mini. With 8,192 pressure levels, it can pick up on your various strokes and display imagery with a beautiful color gamut and 4K clarity.
Huion Kamvas Pro 24 (4K): Set up and design
Image 1 of 4
Set up & design highlights
There is no assembly required, but you will need to plug in three of the included cables before the tablet can be used.
The kickstands have rubber feet to prevent sliding but only offer one incline angle.
Plenty of ports means more connection possibilities.
Value rating: 4/5
Huion Kamvas Pro 24 (4K) specs
Panel size: 23.8 inches
Resolution: 3840 x 2190 (16:9)
PPI: 185
Response Time: 10ms
Pressure Levels: 8,192
Tilt recognition: ±60°
Dimensions: 589.2 x 364 x 22.7mm
Weight: 6.3kg
There is no assembly required with the Huion drawing tablet aside from needing to pull out the built-in kickstands and plug all of the necessary cables in. This is easy enough to do since the Kamvas Pro comes with all of the cables you need, including the previously mentioned HDMI cable, USB-C to USB-C cable, USB-A to USB-C cable, and power cable.
As is usually the case with these kinds of devices, I had to connect one of the USB cables between my PC and the drawing tablet to give the Kamvas Pro's ports power. The included USB-C cable is rather short at roughly three feet long and thus limited the placement of the tablet on my desk, so I opted to use the USB-A to USB-C cable instead since it is about a foot longer for some reason.
Port-wise, there is both an HDMI port and a DisplayPort on the back of the drawing tablet. An additional two USB-A ports can also be found on the right side next to a 3.5mm headphone jack. This allows for plenty of connection options to meet a variety of needs. Along the top right of the graphics tablet is a power button to turn the tablet off when not in use, which is something you'll want to take advantage of to prevent screen burn-in.
The Kamvas Pro looks impressive wherever it is placed, but you'll have to make sure you have the room to fit both it and your monitor or laptop as the drawing tablet is 23.19 inches wide and 14.33 inches tall. A built-in kickstand can be found on either side of the display. These are sturdy and both offer rubber feet that keep the Kamvas Pro from sliding around. However, they only offer one incline angle, so if you prefer to draw at a different slant, you'll need to jimmy rig something to prop it up or purchase a stand separately.
Huion Kamvas Pro 24 (4K): Display
Display highlights
The Kamvas Pro 24 (4K) produced a great color gamut in my colorimeter testing.
Details also come through nice and clear thanks to the 3840 x 2190 resolution.
The panel is wide enough to multitask between two windows.
It has a narrow viewing angle, but that makes sense for something you'll be hovering over.
Value rating: 4.5/5
To get a feel for the Kamvas Pro's picture quality, I worked in both Illustrator and Photoshop on various projects. I even surfed the net using the screen to see how well YouTube videos and various visuals were displayed. In each case, the imagery looked good with plenty of vibrance and crisp detail
I further checked the Kamvas Pro by running it through a couple of colorimeter tests. In the color gamut test, it produced 96% of sRGB, 89% of Adobe RGB, and 80% of P3. These are very good results and show just how color-accurate the display is. I also ran a brightness and contrast test. These results were where I'd expect a drawing tablet to be, not getting too bright so as not to induce headaches for close-quarters users, but also providing decent contrast overall.
Swipe to scroll horizontally
| Setting | Brightness | Black | Contrast | White Point |
| --- | --- | --- | --- | --- |
| 0% | 13.1 | 0.02 | 530 : 1 | 3800 |
| 25% | 71.3 | 0.14 | 490 : 1 | 3800 |
| 50% | 128.0 | 0.26 | 490 : 1 | 3800 |
| 75% | 151.1 | 0.34 | 450 : 1 | 3800 |
| 100% | 173.9 | 0.38 | 450 : 1 | 3800 |
Throughout my time with the Kamvas Pro, I spent the vast majority with the screen taken up by the drawing program I was using. However, I occasionally split the 23.8-inch screen between Photoshop on one side and reference imagery on the other side. That way, I didn't have to dart my eyes all the way up to my monitor and back when drawing certain places or objects from life.
While using the tablet, I did notice that the IPS display's viewing angle felt a little narrow. But then again, I spent the majority of my time hovering over it to draw and never experienced any obstruction issues while actually using it.
Huion Kamvas Pro 24 (4K): Drawing experience and software
Drawing experience highlights
The necessary drivers were easy enough to install.
The felt nibs give a really good paper and pencil feel to drawing.
There are 8,192 pressure sensitivity levels to pick up various strokes.
I absolutely love the Keydial Mini as it makes drawing programs a whole lot easier to work with.
Controls and settings for the pen, display, and Keydial Mini can be adjusted on the included HuionTablet app.
Value rating: 5/5
Before I could really start using the Kamvas Pro, I had to go to the Huion website and download the latest necessary Huion drivers for the drawing tablet. At first, after doing this, the tablet was not working properly then I realized that I also had Wacom drivers on my computer that were fighting with the Huion ones. Once I deleted these competitor drivers, the Kamvas Pro worked beautifully to pick up my strokes and navigate exactly where I pointed on the screen. So if you have other drawing tablet drivers on your computer, you should probably delete them to have the best experience.
In addition to the Standard nib that comes inside the pen, there are also five additional Standard nibs along with five felt nibs inside the pen holder. I've never worked with felt nibs, so I installed one and almost immediately fell in love with it. When pressed down onto the tablet's etched glass, these felt nibs produce a sensation more akin to drawing with pencil and paper, which I really appreciate.
More drawing tablets
- Best drawing tablets
- Wacom One review
- Best Surface Pen alternatives
- Best drawing apps for Windows
- Best Procreate alternatives
I've spent a lot of time lately, drawing on regular tablets (like Surface Pro 9) via Adobe Fresco rather than specific drawing tablets. As such, it took me some time to adjust back to not having a touchscreen. This proved to be an easier adjustment than I initially expected it to be thanks to the included Keydial Mini — a truly amazing accessory.
This small keypad comes pre-mapped with 18 common drawing software shortcut keys like Ctrl, Shift, Alt, Space, Z, C, L, B, E, G, I, and more. If you're already familiar with drawing programs, you know just how frequently these keys are used. Whenever I made a mistaken stroke, I just pressed the corresponding keys for Ctrl + Z to quickly undo an action without having to awkwardly use the pen to go into settings or reach for my full keyboard. It made the whole experience incredibly intuitive and more convenient.
Meanwhile, the dial on the top left alternates between controlling brush size, zooming in and out, or scrolling up and down depending on what mode I've selected by tapping the button in its center. Each time I press this button, a box appears on my computer monitor showing what option is currently selected so I know what mode the dial is on without having to test it. I use this dial very often when drawing since it helps me stay intuitively focused on my drawing projects rather than reaching elsewhere for settings or my mouse.
Image 1 of 3
It admittedly took me a little time to figure out where each key was on the Keydial Mini, but it felt pretty intuitive after a little while. The learning process was helped along by the fact that pressing the top left button brings up a legend on my computer monitor to let me know what each key does.
I'm not stuck with these specific controls either, as opening the free HuionTablet app lets me change controls on the pen and Keydial. It's also here that I can change the brightness of the tablet display or rotate the display orientation (0, 90, 180, or 270 degrees) to fit my drawing needs.
Huion Kamvas Pro 24 (4K): Competition
Far and away, the biggest name in the drawing tablet space is Wacom and the Wacom tablet that most closely competes with the Kamvas Pro 24 (4K) is the popular Cintiq 24 Pro which supports 4K. The Wacom Pro Pen 2 that comes with it looks relatively similar in shape to Huion's and it also supports 8,192 levels of pressure sensitivity. Much like the Keydial Mini, this Wacom comes with an ExpressKey Remote to help give you more control over your projects. Being the bigger brand, the Cintiq 24 Pro does cost significantly more at a $2,199.95 MSRP. There is also a more expensive touchscreen version with an MSRP of $2,699.99. However, both versions can sometimes be found on sale at the Wacom website, Best Buy, or Amazon.
If you want a good drawing tablet but want to save money, you'll want to go with a smaller one. As you can see in our own Cole Martin's Wacom One review, this 13.3-inch display drawing tablet costs around $400, but can often be found on sale at both Amazon and the Wacom website. It's marketed more toward beginner artists with fewer pressure sensitivity levels at just 4,096, but it still works very well with a wide range of programs.
Huion Kamvas Pro 24 (4K): Scorecard
Swipe to scroll horizontally
| Attribute | Rating & Notes |
| --- | --- |
| Value | 4/5 — A 4K graphics tablet will always be expensive, but Huion's is more affordable than some others on the market. Plus, it comes with tons of extras to improve your drawing experience. |
| Design | 4/5 — The display is basically ready to go right out of the box once you plug the included cables in. There are plenty of ports, but the kickstand isn't adjustable. |
| Display | 4.5/5 — With a great color gamut and 4K crispness, your projects are displayed very well on the screen. There's even enough screen space to multitask between two windows if you want. |
| Drawing experience | 5/5 — Felt nibs and etched glass of the display create a sensation similar to working with pencil and paper. High pressure sensitiviy levels allow for more dynamic strokes while the Keydial Mini makes it easier to enter common hotkeys in drawing programs. |
Huion Kamvas Pro 24 (4K): Should you buy it?
You should buy this if...
✅ You want a large graphics tablet that can display crisp imagery
Having the Kamvas Pro 24 (4K)'s large 23.8-inch drawing space makes it so you can display your imagery in crisp 4K and makes it a lot easier to take in the details of your entire project at once.
✅ You're specifically looking for a Wacom Cintiq 24 Pro alternative
Wacom is the big brand in the graphics tablet space, but the company's products are very expensive. The Kamvas Pro 24 (4K) is one of the most direct competitors to the Cintiq 24 Pro and works great without costing as much.
✅ You need a drawing tablet that makes it easier to enter hotkeys in creative programs
The 18-key Keydial Mini makes it very easy to enter common commands into various drawing programs without having to awkwardly reach over to your full keyboard. Plus, the dial allows for easy zooming, brush size adjustment, and scrolling so you can work on your projects more conveniently.
You should not buy this if...
❌ You want a touchscreen drawing tablet
If you'd prefer to use your fingers to pinch zoom or tap to undo then a touchscreen graphics tablet might be what you actually want. These tend to cost a whole lot more, especially if you want one with a large screen, but they do exist.
❌ You don't have the space for this large of a graphics tablet

You will need a surface space of at least 24 inches wide by 15 inches tall to accommodate this large drawing tablet. It's got a large footprint, but that's necessary if you want a huge display.
❌ You're looking for something that doesn't cost as much
The Kamvas Pro is very well priced given its size, drawing capabilities, and all of the extras it comes with. However, there's no denying that it's still costly. If you want to save money and still get a drawing tablet then you'll likely need to go with a smaller option or perhaps one without a screen.
I absolutely love the Huion Kamvas Pro 24 (4K). The combined effect of the etched glass screen with the included felt nibs in the pen helps create a sensation very similar to drawing with paper and pencil for a fantastic feel. Each touch of the pen I made reflected accurately with dynamic brush strokes thanks to the 8,921 pressure sensitivity levels. What's more, everything looks crisp and comes through with great color so I can trust that my work looks the way I intend it to. It would have been nice if it had an adjustable kickstand to prop the tablet up at different angles, but that can be remedied by purchasing separate accessories or finding other ways to prop the display up.
Now, spending over $1,000 on anything is going to put a dent in your wallet, but the Kamvas Pro is well-price compared to competitors and comes with plenty of extras to make the purchase worth it. I specifically love the Keydial Mini, which makes it a whole lot easier for me to enter quick hotkeys or zoom in and out of my projects without having to laboriously reach over for my keyboard.
Whether you're a digital beginner or a veteran artist, this tablet is an excellent choice for making the whole digital drawing experience more convenient and accurate to your vision.
This awesome drawing tablet comes with a batteryless pen, a pen holder, an artist glove, all the cables you need to use it, replacement nibs, and a handy Keydial Mini. With 8,192 pressure levels, it can pick up on your various strokes and display imagery with a beautiful color gamut and 4K clarity.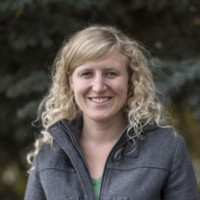 Self-professed gaming geek, Rebecca Spear, is one of Windows Central's gaming editors with a focus on Xbox and PC gaming. When she isn't checking out the latest games on Xbox Game Pass, PC, or Steam Deck; she can be found digital drawing with a Wacom tablet. She's written thousands of game guides, previews, features, and hardware reviews over the last few years. If you need information about anything gaming related, her articles can help you out. She also loves testing game accessories and any new tech on the market.
"It's costly with an MSRP of $1,299.00, however, it is cheaper than a similar product from Wacom which is the biggest brand in the drawing tablet industry."

This a terrible way to look at it. "It's cheaper than the really expensive tablets..." Yay? The question should be 'is it better enough than cheaper tablets in its market to warrant the higher price?'

Wacom can command higher prices because it is the brand leader. That doesn't mean that their products are inherently better or more innovative - in fact, because they are the brand leader, they're more likely to be conservative and target for their known audience.

Reply