Tablo Dual just might be the next big thing in cord cutting
Announced today, Tablo Dual is a connected two-tuner DVR for over-the-air (OTA) TV that also boasts internal storage.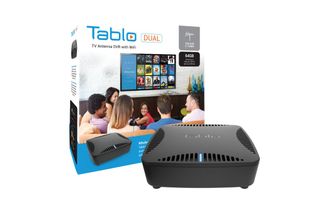 That internal storage is one of the most interesting additions to this new product from Tablo, because it overcomes one of the less consumer-friendly parts of getting rid of your cable box. While 64GB isn't a lot of storage, it's enough to start recording live TV shows without having to resort to your PC.
From a related press release:
The convenience of your old box
We've covered a number of products recently in this same vein, such as the HDHomeRun Connect (opens in new tab) and software services like Plex and Emby. Where the Tablo Dual out guns all of these options is allowing you to do everything you want on one box, in one app. If you need more storage to record your shows, just hook a USB hard drive up directly to the Tablo Dual. There's no PC required.
The dual tuners allow you to watch and record two different channels at once, all while streaming that TV content over your local network. By using the Tablo apps available on Windows 10 and Xbox One, you can watch TV in any room in your house with minimal fuss.
Included too with the Tablo Dual is a 30-day free trial of its optional TV guide data service and advanced features, including one-touch series recording and out-of-home streaming via Tablo Connect. After the 30-day trial, all this costs $4.99 a month, $49.99 yearly, or $149.99 for a lifetime subscription.
The Tablo Dual will be available from June 4 in the U.S. for $249.99 or via Tablo direct in Canada for CAD$329.99. Those of us who are not in North America we can't use it, unfortunately. That's a shame, but if you're in an area with good OTA TV coverage this might be one of the best things you can buy for your home.
Richard Devine is an Editor at Windows Central. A former Project Manager and long-term tech addict, he joined Mobile Nations in 2011 and has been found on Android Central and iMore as well as Windows Central. Currently you'll find him covering all manner of PC hardware and gaming, and you can follow him on Twitter and Instagram.
$400 for hardware & lifetime. Those are tivo prices.

I'm not that familiar with the U.S. systems of doing, well, anything when it comes to TV, but something like this would easily be better than the TiVo based box I currently have in the UK from my provider.

Well, I'd say watch out. I spotted the phrase 'The first networked OTA DVR to include onboard storage' in that article which came from the company I believe. My response is 'What toot!' as I sit here with my Humax box that is a lovely networked OTA DVR with 1TB of onboard storage. 64gig? They are having a laff, right? How many HD TV series are they going to be able to record on that? Series Link will absolutely kill that box (if it even supports such standard features). My Humax has no subscription, can act as a media client or server over the network, can record HD and SD TV internally with full 5.1 surround AND HAS THE SPACE TO DO SO and has been around for many years. If this company is prepared to go the Apple route of claiming to have invented everything despite the obvious, then I'll lose interest very swiftly.

Tivo Bolt (for OTA) and a lifetime sub is $750. Not really the same.

An important difference with the Tablo is that the lifetime subscription is per account, not per device like Tivo. So if your existing Tablo dies and you replace it, you don't have to buy the lifetime sub again. Also, you can have multiple Tablo devices all running off a single lifetime sub.

The Tablo also allows you to connect to any tv set that that is connected to your network via a "smart" box like Roku. Big savings when you don't have to buy multiple devices.

This. And my buddy at work just showed me streaming of live TV on his iPhone through the Tablo app. You can watch live TV and your own recordings from anywhere as long as you have connectivity. You can get the Bolt or some other TiVo box with a lifetime subscription, but if you want to watch TV in any other location you need another TiVo box. With Tablo, you just need other device to run the app, which most people probably already have.

So, you would just need one of these boxes per household and all the devices can access it?

Correct. With the subscription, which is also required for the guide data service, any device that you can get an app for can then access the content on your Tablo DVR or stream live TV from it. I know there are free apps for Android, iOS, Xbox One, Windows 10, Roku, and Amazon Fire TV's and Kindles. There does not appear to be a Windows UWP app for use with phones, however. I will say that 64GB is not a lot of space for HD recordings, but you can set it to record at lower quality such as 480 or 720 in addition to full 1080. You will most likely want to purchase an external HDD to use with this. If that's the case, you could probably get one of the previous two or four tuner models a little bit cheaper. That appears to be the only difference between this and previous models, the out of the box DVR capability.

Sure, that's great if you actually have over the air TV.

That would be needed. If you're in a poor reception area, how about sticking up a cheap satellite dish? I'll bet you can get most of the stuff from OTA via sat instead, as the broadcasters know about difficult spots like yours and satellite channel space is not expensive for them (not compared to UHF space anyway).

How far away are the nearest towers to you? I'm picking up channels from 60 miles away reliably with an outdoor antenna and preamp with a less than optimal placement. It's possible to pick up even farther away, but it depends on antenna design and placement, broadcast strength, and topography between you and the broadcast towers. Have you plugged your location into a site like tvfool.com to see what it predicts for your location?
Windows Central Newsletter
Thank you for signing up to Windows Central. You will receive a verification email shortly.
There was a problem. Please refresh the page and try again.