Take an exclusive look at MonstaFish, coming to Xbox Live on Windows Phone for May 30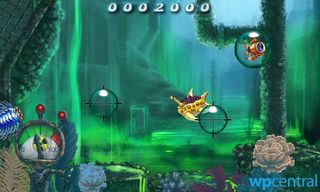 Where do mobile gamers go for first looks and details of upcoming Xbox Live titles? Why, Windows Phone Central of course! Today we're pleased to bring you the first screens and trailer for MonstaFish, the final Xbox Live release of the month. It comes from UK developer IronSun Studios, makers of IonBallEX and Battlewagon.
In MonstaFish, too much toxic waste has been dumped into the water, resulting in gnarly mutations known as MonstaFish. As you can imagine, these toxic fish aren't good to eat and must be removed from the environment for the good of all. That's where the player comes in…
Head past the break for pictures and details of each game mode!
Like Battlewagon before it, MonstaFish combines a variety of play styles into a single game. This time, each style has its own distinct game mode:
MonstaFish: In the main game type, a friendly super-Octopus (which seems to be a mutant too) spits out a constant stream of bubbles which players can use to damage the unfriendly MonstaFish. Bubbles can be combined into Mega and Hyper Bubbles to deal more damage. Each level's pollution meter constantly rises, so you'll need to work quickly in order to avoid a Game Over.
Fish Hook: Not all of the fish in the ocean have turned into Monstas. In this mode, you'll drop a hook into the water to rescue the untainted goldfish. Dodge the MonstaFish, toxic barrels, and other obstacles as you reel in the number of fish needed to move on to the next level.
Fish Hunt: Fishing and hunting go hand in hand, right? In this mode, the player's submarine is equipped with a couple of wobbly scopes. Wait until one or more MonstaFish swim through and blast them! Earn multipliers to boost your score. Each miss adds to the pollution meter – once it fills up, the game ends.
Time Attack: In this mode, simply tap MonstaFish to defeat them. The aquatic menaces come from both sides at once in larger and larger numbers. Defeat as many of them as possible as you chase high scores in the allotted three minutes.
Fish Tank: Take a break from frantic fish fighting in this relaxing mode. Your tank starts with a single fish to tend. Keep the tank clean and fish well fed and you'll attract new fish to keep.
All five game modes have their own Xbox Live Achievements (adding up to 14 in total), so you'll need to play them all if you want the full 200 GamerScore.
MonstaFish boasts some distinctive 'comic book-style' graphics and a fully-commissioned soundtrack. IronSun Studios is particularly proud of the theme song, which is also available as a free ringtone in the full version of the game.
IronSun's IonBallEX was among the first batch of Xbox Live titles to drop to the 99 cent price point last month; Battlewagon quickly followed suit. That pattern might lead one to wonder whether the developer's next game would cost the same amount. Well, good news! MonstaFish will cost 99 cents as well when it debuts on May 30.
IronSun Studios is quickly becoming a prolific developer of Windows Phone-exclusive Xbox Live games. We'll discuss their past and future projects in an upcoming Xbox Live developer interview.
Paul Acevedo is the Games Editor at Windows Central. A lifelong gamer, he has written about videogames for over 15 years and reviewed over 350 games for our site. Follow him on Twitter @PaulRAcevedo. Don't hate. Appreciate!
Looks interesting. Can't wait to try it.

I really hope that other developers notice the $0.99 price strategy. Its really the key to not only selling the game but to attract now people to the OS. I was iffy about the OS for price of some of the apps and I am sure I am not alone. Its hard to convince someone to change OS and tell them most windows apps cost not than iOS or android.

Games should definitely cost the same on both platforms whenever possible. But many iOS games cost more than a dollar too.

I agree Paul. They should cost the same on all platforms. I also feel that WP updates for games should be released the same time ios and android get them. Fruit ninja, angry birds, and others have not had an update like the other OS's.
Regardless, at .99 cents I am buying this title. If it releases at .99 I won't bother to wait for DOTW since that would only save me like .33 cents, lol. :)
I like to see more exclusives for WP too! As always thank you EAst!

I hope it's more IonBall and much, much less Battlewagon.
While IonBall stood to the basic gameplay with its own personality - the steampunkish theme worked pretty well - Battlewagon went all fancy and a chore to play. Pretty graphics won't take far, it might impress ones looking for the free game to "play" for 10 minutes, but that shouldn't be the goal. Not trying to patronise here, it is what it is.

..am I the only one who read that and still has no idea what this game is (no offense to paul)? sounds and looks (screenshot) confusing, but as we're talking WPs here, I know I'll get to try it out and see for myself once it launches

Some of the game modes are certainly tough to pin down. I'm sure it'll be easier to describe after we get to play it.
Windows Central Newsletter
Thank you for signing up to Windows Central. You will receive a verification email shortly.
There was a problem. Please refresh the page and try again.