TerraMaster F4-220 review: A solid NAS for the home let down by sub-par software
Looking for a sleek-looking NAS for your home? Take a look at this slab of metal.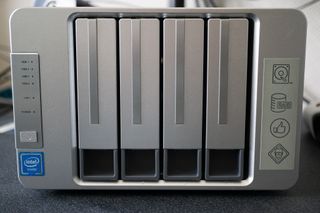 (Image credit: Rich Edmonds / Windows Central)
The Network Attached Storage market is heating up as more consumers hop aboard and start storing data locally on the home network. TerraMaster has an affordable, yet powerful option available called the F4-220, which sports four drive bays, an Intel processor, and a metal chassis. All sounds good so far, but does the software part meet expectation after unboxing, and is setting up a painless experience?
Strong value
(opens in new tab)
Starts at around $290 (opens in new tab)Bottom line: The F4-220 is an excellent option for newcomers to the NAS game, sporting solid build quality, apps ready for download
Pros:
Solid aluminum construct.Has everything you need to get started.Fairly quiet operation.Access to apps and services.
Cons:
Fans can shoot up to high speeds randomly.OS needs further polish, as does the installation process.Not toolless.
What you will like about the F4-220
TerraMaster has done an excellent job with the design and build quality of the F4-220, which sports a hefty amount of aluminum. This makes it sturdy feeling and durable enough to take a knock or two through general use. It's also shiny silver, which makes a change from the usual black slabs we've come to know.
The company has attempted to do everything it can to make sure beginners can get started without hassle when they unpackage their F4-220. It's not perfect, but you can see the amount of effort that has been poured into the initial OS installation. And once you're all set to go, it's easy to forget it even exists and enjoy the NAS experience.
Third-party apps and services, including Plex, are available for TerraMaster NAS products. And as a one up on Synology, you don't need to install and update the package manually, it's all handled by the built-in app manager. A nice touch for those who do not wish to get their hands dirty at all.
There are ample amounts of performance here too with 2GB of RAM and an Intel Celeron dual-core processor clocked at 2.4GHz. You can do a lot with this NAS. The four drive bays can allow up to 12TB of storage capacity with various RAID configurations. Both 3.5 and 2.5-inch drives are supported. It's an all-around quality NAS.
Image 1 of 2
What you may dislike about the F4-220
The main gripe I have with the TerraMaster F4-220 isn't the NAS itself, but the initial setup process, which - if you use the quick start guide - will take you to an incorrectly translated section of the official website. It's far easier to follow my guide to getting the F4-220 (as well as other TerraMaster NAS models) up and running.
Then there's the case of the OS, which isn't as polished as Synology's solution, but it does get the job done and allows you access to manage the NAS. There are even third-party apps and hooks that make up for this, be sure to do a little learning when you first boot it up.
The drive bays aren't entirely toolless, which is strange in 2018 when pretty much every desktop PC is to a degree, especially with regards to drive mounting. Thankfully, TerraMaster includes screws and a Philips screwdriver.
Image 1 of 2
Should you buy the TerraMaster F4-220?
If you want the perfect overall NAS in this segment, you are best going with the two or four bay Synology models. That said, if you've used TerraMaster before, or aren't too fond of Synology and wish to enjoy the power of Intel inside your home server, the F4-220 is a great little box.
With some further refining and software tweaks, it could become so much more. That's the conclusion here. Fantastic hardware, let down by the accompanying software.
See at Amazon (opens in new tab)