There's a brand new Xbox Series X, Series S PDP Talon Media remote up for preorder
No IR Blaster, but we do have HDMI-CEC.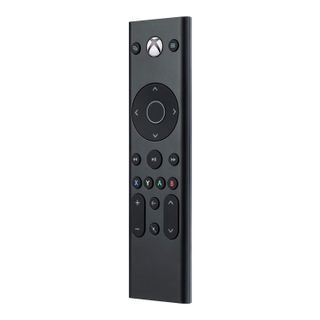 (Image credit: PDP )
With the launch of the Xbox Series X and Xbox Series S, Microsoft announced that all of the best Xbox One accessories and your best Xbox One headset would remain compatible with the console, but there are, of course, some outliers.
Kinect is dead, gone and buried, and the lack of an IR Blaster on the Xbox Series X and S certainly raised questions about how devices like media remotes would function. To that end, PDP has unveiled a shiny new PDP Talon Media Remote, designed for Xbox Series X and Xbox Series S, although the previous one should still work as well.
New media remote
(opens in new tab)
PDP Talon Media Remote (2020)
Media remote for a new age

Although the old PDP Talon Xbox remote should still work, this new version has removed some deprecated features for a more slimline design.
Today, Major Nelson revealed reiterated that the Xbox Series S and X do have an IR Receiver, cleverly hidden away inside the pairing key on the front of each console. To control TV sets, though, you need to be able to send that signal to those external devices. You can use a bridge like the Amazon Echo (opens in new tab) to set up routines, that let you communicate with several devices simultaneously over WiFi. However, if you want to keep things simple, most modern sets like those in our best 4K TVs for Xbox Series X, Series S roundup will utilize HDMI-CEC instead.
HDMI-CEC sends command signals over HDMI to your TV set, eliminating the need for the IR Blaster, which is a holdover from the Kinect days of the early Xbox One generation. Back then, the PDP Talon Media Remote was widely regarded as the best-in-class solution for controlling your TV and Xbox without reaching for the gamepad. Now, PDP has unleashed an all-new remote, designed for Xbox Series X and Xbox Series S consoles.
The main difference between the new PDP Talon and the old one is the removal of the number buttons. The previous Xbox console, the Xbox One, had deep TV integration, complete with HDMI pass-through to effectively take over and control your cable box using its IR Blaster, right down to changing TV channels. From what we can tell, the software for this has been completely removed from the Xbox Series X and S, meaning you won't be channel surfing or using the old Xbox TV tuner on the new-gen consoles. Thus, there's no need for number keys as a result.
The old PDP Talon should still work regardless, but if you want a slimmer, smaller, and more compact version for using Netflix, Disney+, and all the other media apps available on Xbox Series S and X, this will likely be your best option at just $20. It's up for preorder now on Amazon (opens in new tab), ahead of a November 5, 2020 launch.
Xbox Series X/S
Main
What is the Xbox Series X release date?
How much does Xbox Series X cost?
Why you can't preorder Xbox Series X yet
Jez Corden is the Managing Editor for Windows Central, focusing primarily on all things Xbox and gaming. Jez is known for breaking exclusive news and analysis as relates to the Microsoft ecosystem while being powered by caffeine. Follow on Twitter @JezCorden and listen to his Xbox Two podcast, all about, you guessed it, Xbox!
The original directional buttons wore out fast, the right arrow specifically is almost useless

😃😆Do you need to see the arrow to press it.

Good to know that my Harmony remote and hub will still work with the new consoles.

Long live Kinect! I use it every day because I have one for each of my Xbox's.

I've read that Xbox Series X won't support Kinect, but will it still work just as a webcam and microphone when connected via the USB adapter? I still use mine regularly for voice control and Windows Hello-style facial recognition login.

"Windows Hello-style facial recognition login". Man, I really wish they would have put a fingerprint reader in the new controller. The PIN is a nice feature for parental control, but it can be tedious to enter many times in a row if you need to adjust settings.

This, a million times. A fingerprint reader built into the XBox button on the remote would be a godsend.

They can't put a fingerprint reader on the remote even if they wanted to, the Xbox only supports IR for a media remote, so that's not possible.

This is good to hear in general. I thought they completely dumped it for the Series S|X. That's really all it's good for anyways on the One X. It does seem like they've downgraded some of the voice controls though.

The BIG issue is it doesn't have an IR blaster, so it can't control your TV or sound bar via IR. A major step backwards. I haven't used my TV remote in years, I'll need to dust it off if I swap from the One X to a Series box.

Can we get MS to speak to CBS and Amazon - I can't use kinect or my IR remote to play/pause programs on the apps anymore (using the play or pause keys) - it was only Amazon for a while - however since CBS changed their xbox app - I can't do it now either - anyone else see this? I have said this in reviews for both apps for almost a year and have had no response.

Why would they? Kinect is long gone. As sad as that is, it's true.

This looks great. The old one had way too many buttons that I never wanted. I do hope the button response is better on this one. I found on the current gen one, I have to hold down the button for a full second for it to register.

Cool. My old Talon still works though. As long as it does, I'll hold off. But my wife uses it daily to stream her shows.

The Series X won't have a port for tv right?

It has no HDMI in (pass through) if thats what you mean?

Would love to see a video of hdmi cec in action. Currently run my xbox x to my receiver and than to 2011 bravia. Not even sure my tv does cec. Little confused. Can someone help me out?

The explanation is not very clear. Xbox AFAIK doesn't have CEC yet.
To enter HDMI CEC chain, the remote needs to have the codes of one device in the chain and then that device sends signals through the HDMI cable.
If the xbox is the entry in the chain, then it must have CEC which it doesn't.
If the TV is the entry point, then its not controlled by HDMI CEC because there is no HDMI cable between TV and Remote.

Nintendo Switch has CEC. Slightly irritating when my kids turn it on before picking it up and I'm using the other HDMI port for Xbox.

Will Oneguide still work via a usb tuner?

I don't believe so, the OneGuide button has even been removed on this new Talon remote.

I wish they never stopped producing the original Xbox One media remote. That thing was perfect. Just the right size to do everything with one hand without all the extra features I never use.

I still have mine and it is like new, still.......I have 0 kids.

I agree. I hate the Talon remote. Definitely not as responsive.

I'm so glad I can still use a new Talon remote on a Series S/X console cause I was afraid of not being able to use the new Xbox as a streaming device (I don't know if it'll fully support full HDMI-CEC for TV remotes). I do use a media remote for pausing videos since game pads shut off after a short while when not in use. The only thing I don't like about Talons is the way the right arrow rubs off on the rubber circle from overuse which makes it less responsive... (I can live w/o OneGuide since the upscaling of 1080i cable channels look awful with lots of pixelization from fast moving scenes.)
Windows Central Newsletter
Thank you for signing up to Windows Central. You will receive a verification email shortly.
There was a problem. Please refresh the page and try again.