These are Windows Central's top picks of IFA 2015!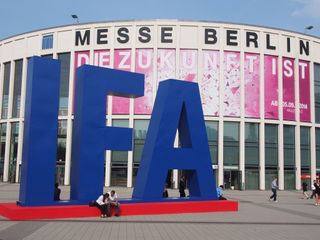 IFA is now done for another year and our annual trip to Berlin will live long in the memory. We had a packed week full of new product announcements, and it's tough to know where to begin.
Traditionally IFA is a big PC show and 2015 didn't disappoint on that front. What did take us a little by surprise is how much gaming was a focus. Computex is usually the big hitter for PC gaming hardware but some of the biggest manufacturers in the space rolled out new models, even new brands, at IFA.
So, we had a lot to wade through, but we've narrowed it down to ten. So, here's the full list of the Windows Central top picks of IFA 2015.
Click here for our Top Picks from IFA 2015
1. Acer Jade Primo
The first Continuum phone. We don't really need to say anything else. OK, we will. We're not actually expecting to see the Jade Primo until 2016, but it had its grand announcement at IFA and caught us completely off guard. Microsoft may well get its Continuum phones on the market first, but Acer takes the crown when it comes to making it public.
We don't know an awful lot about the Jade Primo, a few specs such as a Snapdragon 808 CPU, 21MP rear camera and a bunch of Continuum related accessories, but sadly we've not been able to touch it. Expect this one to get a big launch from Acer when it's ready.
We can't wait to get our hands on it. Until you actually see a company bar Microsoft committing to the platform, it's a little nerve jangling. But Acer made a commitment back at Mobile World Congress and it's shooting for the top.
2. The Razer Wildcat
Razer's pro-class controller for the Xbox One was officially announced the week before IFA at PAX Prime up in Seattle. However, the jaunt to Berlin represented our first opportunity to go hands-on with it and we like what we see. Microsoft has set a high-bar with its Elite Controller but competition is never a bad thing, nor is an expansive ecosystem of products.
There are some similarities to the Elite and there are some differences. Not least that the Wildcat doesn't need a companion app to remap its buttons. It'll cost about the same as Microsoft's offering and go on sale at a similar time.
Begun, the controller wars, have.
Hands on with the Razer Wildcat
3. Lenovo Ideapad MIIX 700
It's Lenovo's answer to the Surface. We've already gone over why the arrival of the MIIX 700 is good for Surface, Windows and Microsoft as a whole, but away from that, it's just really nice. There's a lot to be said for a 3:2 Windows 10 tablet with a kickstand and a keyboard (sure don't have to convince us) and Lenovo did a good job.
It's packing a FHD+ display, Intel's latest generation Core m5 or m7 CPUs, SSD storage up to 256GB, up to 8GB of RAM and a great Bluetooth keyboard cover. Perhaps most important of all, however, is that you can get it in gold. And those watch hinges that Lenovo uses are as smooth as ever.
The MIIX 700 is taking an ever more popular form factor and wrapping it up with latest generation hardware (even an optional rear facing Intel RealSense camera) in a good value for money package. One we're looking forward to putting through its paces.
Hands-on with the Lenovo MIIX 700
4. Acer Predator 15 & 17
The name alone is a winner for us, here. Acer, like many others, has done gaming targeted notebooks before. But with the continued growth of the segment, the gaming brand is being spun off under the Predator banner. Sits quite well with the aggressive stylings of popular gaming laptops today.
The Predator notebooks don't just have styling in their favor. They're packing the latest hardware inside including Intel Skylake Core i7 CPUs, DDR4 RAM and one of our favorite features, a swappable cooler. That's right, if you want additional cooling you can swap out the optical drive for a module from Cooler Master. They're essentially the same machine in two sizes, though the 15-incher can be spec'd up with a 4K display.
Acer has a pair of beastly new Predator gaming notebooks
5. Toshiba Dynabook
Toshiba's latest Windows 10 two-in-one doesn't officially have a name yet, but for now it's being referred to as the Dynabook. It was introduced during Microsoft's keynote as a sneak peek and subsequently removed to be rehomed behind a glass case.
So, what do we know about it? It's slim as all hell, has a pen, Windows 10 and is a 12-inch tablet with a keyboard dock. Toshiba will preload it with some productivity software, but beyond that, no firm details.
We may have to wait a while to find out more and to play with it, but that doesn't curb our excitement for it. The Dynabook is a shining example of what two-in-ones can be.
6. Acer Revo Build
We like modular and so we like the Acer Revo Build. In a similar way to the Lenovo Thinkpad Stack that was announced at CES, the Revo Build is made of different modules that can stack together as part of a mini desktop PC. Where it moves ahead of the Stack, which is just an accessory.
One of the neatest modules on the Revo Build is the Qi compatible battery pack. Stack it up on top of your unit and charge your phone on top of the PC while at your desk. If you're heading out of the office, detach it, throw it in a bag and you've got a portable wireless charging battery pack.
The ability to customize your PC hardware by just stacking blocks is such an interesting idea, we're looking forward to seeing where it goes in the future.
Hands-on with the Acer Revo Build
7. Toshiba Radius 12
If you want a slim, sleek looking 12-inch Windows 10 laptop with a ridiculous 4K resolution display, look no further. The Radius 12 from Toshiba is just that and it's a stunning piece of hardware. Better still, it's a convertible, allowing you to fold that display right over and have yourself a 4K tablet.
There will be options for lower spec, more affordable models, but it's the highest end model that Toshiba has been showing off at IFA and the one that has us hooked. The Windows 10 device ecosystem gets stronger by the day and the Radius 12 is certainly going to stand out.
Hands-on with the Toshiba Radius 12 with 4K display
8. Lenovo Ideapad Y700
Gaming laptops are often styled to attract a younger audience, but not all gamers are into such wild looking machines. Enter Lenovo and it's newly spun off Y Series. There are two things which stand out here. The first is that it's got a little bit of the wild, but it doesn't go too far. There are red accents, yes, but not too many of them. And the red backlighting on the keyboard can go away. It's one of the more subtly designed gaming laptops we've seen recently. When you close the lid it looks, well, practically normal.
We also like the lack of optical drive. For some that might be a dealbreaker, but given the amount of games and media delivered digitally these days, is it such a loss? What removing it does is help shrink down the form factor. It's still big, but it's pretty slim all things considered. Almost what you'd call portable.
And there are a whole host of other accessories to go with your new Y computer. Headseta, keyboards, mice, Lenovo has the full gaming ecosystem covered.
Lenovo's new Y Series gaming notebooks pack Windows 10 and Skylake
9. Lenovo Thinkpad Yoga 460
Lenovo has been making some of the best Windows convertibles around for a while now and the new Thinkpad Yoga 460 is no exception. It retains everything we love about the Yoga, namely its rotating screen, packing in the latest hardware to it's premium chassis.
That latest hardware includes Intel's new Skylake CPUs, an optional NVIDIA 940M graphics card, QHD display and DDR4 RAM. You also get a rechargeable pen included in the box, perfect for using with Lenovo's WRITEit software.
It's no longer a clear recommendation in the convertible space, but it remains a strong contender with this latest model.
Lenovo unveils new premium Thinkpad Yoga convertibles
10. ASUS ROG GX700
It's a gaming laptop. With a huge liquid cooler. This type of cooling is usually reserved for desktop rigs, but ASUS, never too afraid to try something new and insane, decided that didn't have to be the case. So it created the GX700, a gaming laptop in its ROG (Republic of Gamers) range, and this enormous growth that docks to the back of it.
Besides the cooler it's also a stonking piece of kit. Skylake, NVIDIA graphics, a 4K, 17-inch display. It'll be expensive, very expensive, but that's not the point here.
It. Is. Ridiculous. That's one of the things we love the most about ASUS. The crazy ideas that sometimes come out of its factories. And this is right up there with the best of them.
ASUS's new ROG GX700 gaming laptop has an insane liquid cooling dock
Windows Central Newsletter
Get the best of Windows Central in in your inbox, every day!
Managing Editor - Tech, Reviews
Richard Devine is a Managing Editor at Windows Central with over a decade of experience. A former Project Manager and long-term tech addict, he joined Mobile Nations in 2011 and has been found on Android Central and iMore as well as Windows Central. Currently, you'll find him steering the site's coverage of all manner of PC hardware and reviews. Find him on Mastodon at mstdn.social/@richdevine
All great picks. I personally really like the Toshiba Radius 12 and the ROG GX700 is just next-level ridiculous.

Toshiba made a nice laptop, who will imagine that? It really looks beautiful.

Part of me loves Lenovo for its design. The Sruface copycat is exactly what I want from a Surface Pro--NOT having that soft, weird material that looks and feels like it'll stain and tear. The pico projector in the Yoga Pro seems really cool (especially after I just watched my supervisor at work lament his broken projector). The other part of me won't touch anything they make after the spyware installation mess. I just refuse to trust a company that would even BEGIN to think of such things as acceptable business practice. I guess HP isn't even going to bother, but I wouldn't buy from that bunch of crooks anyway, and I hope they just go away. I guess it's time to hope for a killer SP4 with a great keyboard dock. No one else really intrigued me with the convertible options, and a laptop-only solution just seems bland. I'm not really the target audience anyway, since before I even consider a purchase, I'll look at getting a bigger SSD and HDD for my desktop, while also trying to find a better graphics card for it. Then I might throw these spare parts into an HTPC. That and my gaming-related purchases will take me into 2016, and I'll probably be looking at these devices' successors before I really consider something, given all of the more-important things I am wanting to buy.

Personally I wish there were more designs similar to the Acer Switch. Not sure what other products have the same functionality.

What the... Liquid cooling in a laptop?... That's barely portable... I mean it's cool to try something new but this is just top down crazy (cool)

It sounds like it's for someone who doesn't want a full fledged desktop and can use this as their main machine and a mobile device.

Yeah, the lack of power of a laptop and the lack of portability of a desktop! BRILLIANT!!!

The dock is only required if you want to overclock.

Not that crazy, laptop looks very portable, gaming laptop are never thin and light. Obviously the point of a dock is that it doesn't need to be that portable.

I keep seeing FIFA 2015 everytime I look at these headlines...LOL.

Radius 12 for me seemed to be the best, beautiful 10 laptop

Acer really impressed me at this event. The Jade Primo and Revo docks are pretty cool. I do like the Miix though. I'll just wait until I see performance of the m7 before I make any judgments on it.

I'm getting the Acer Predator 17 or ASUS gaming laptop for my son for sure. However, i have to add couple of more device to the WC top picks, and that would be the, (1) AWESOME SONY Xperia Z5 4K phone that is unbelievable, and,(2) Acer Predator gaming phn with 10 core CPU. I just wish both of these phns would come with WINDOWS 10 as well. I just don't understand why all the great phns comes with Android. I'm really hoping MS is going to change that, and have ALL manufactures to have their flagship phns with Win10 as well(Except for the most overrated iJUNK crap, that i would not pay $10 for),

Focus on gaming is not surprising at all. The market which used PCs for media consumption, casual gaming, internet surfing and social networking has found its form factor in 4-6" screens of smartphones and phablets. It isn't surprising that PC sales are declining. It wasn't windows or Microsoft's fault either. They too were taken off-guard like OEMs. PC OEMs are taking the right approach now. The only reason you would need the bulk of a laptop is when you have to do some resource intensive tasks like gaming or graphic work like photo and video editing, documents creation and editing and so on. For the rest of the world, smartphones offer a more convenient form factor. PC OEMs need to experiment with Intel Core M based windows phonebooks with phone as a processing heart and keyboard and screen making connected peripherals as tablet form factor, keyboard/mouse interaction model and laptop form factor, leveraging the capabilities of windows 10 and continuum to transition from mobile UI to full PC UI. Of course they would need to come up with a stellar detachable locking hinge between screen and keyboard with sturdier keyboard providing the base and support to rotating screen like in traditional laptops unlike that of existing kick stand approach. They will also need a better phone docking mechanism to screen(ala ASUS padphone) for faster connectivity and smaller latency periods. A docking pen mechanism like that of Samsung's note series will be pretty great. The keyboard and screen peripherals could have large accompanied batteries inside them with wireless charging capability for more use times and power backup. For power users they could additionally equip keyboard accessory with Core I series and discrete GPUs. This modular All in 1 Windows mobile computing is what PC OEMs need to tackle the onslaught of small form factor phones in my view.

Lenovo exec essentially said "Gamers spend a lot of money." And he's right. An interesting shift, for sure. I'll be the first to admit my ignorance at how huge eSports has become.

"Traditionally IFA is a big PC show..." This setence is so utterly wrong that i stopped reading the article! @Richard: Scratch Traditionally then ist makes sence for your article. Or scratch PC and the setence ist true but makes no sense for your article anymore. Do you actually know what IFA stands for? Internationale Funkausstellung = International radio exhibition. To say that it is traditionally a big PC show is so wrong man, so wrong! Yes more and more new devices there are PCs over the last couple of years but, look back 5,10,15 yrs ago and the start in 1924, PCs what freaking PCs? In my understanding the word Tradition has a different meaning.

Wow. Why so angry? I know what IFA stands for and I know what kind of products are announced there. This ain't my first trip. Or second. You're looking way too literally into something that doesn't need that much effort, I'm afraid.

Yes i'm angry about that. Why is not easy to anwser! For one people rely on correct information. But in my personal experience over the last years is that there is a lot of false or missinformation. That startetd with the internet but nowadays even "professionals" do it with their publications. This makes these "professionals" or at least their articles very untrustworthy. Why should i believe or can i belive any word that is written in these articles? This is to my concern a growing problem in the news-publishing industry. Another one is i grew up with the IFA. Back when we only had three different TV channels, two main channels and a third local one.Every two years when the IFA was on, one of the two main channels would broadcast a show live from the IFA from noon to the early evening, every day. This was over 30 years ago and these memories are somewhat branded in my brain. And now you are telling me there where PCs there !? Maybe that explains my strong emotional reaction. Maybe in this case i make a mountain out of a molehill, but let me ask you one thing! Do you really have so less jounalistic ethic that not bending but breaking the truth is totally okay just to get a more dramaticlly written intro in the article? There...are...FOUR...lights! https://www.youtube.com/watch?v=o_eSwq1ewsU
Windows Central Newsletter
Thank you for signing up to Windows Central. You will receive a verification email shortly.
There was a problem. Please refresh the page and try again.