These are Windows Central's top picks of MWC 2016!
By Richard Devine last updated
Another Mobile World Congress has now passed and here's what impressed us the most.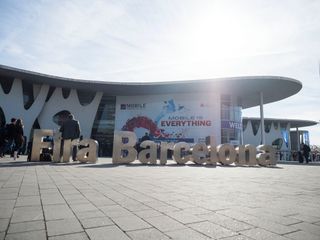 As we pack up, leave Barcelona and MWC 2016 behind, we're left to reflect on everything that stood out from the crowd.
It wasn't the most hectic year on the Windows front, especially with nothing big from Microsoft. But, the quality of the products we did get meant that it was actually a pretty great show.
So without further ado, here's the full list of Windows Central's top picks from Mobile World Congress 2016.
HP Elite X3
The HP Elite X3 isn't just a great phone for Windows 10, it's a great phone full stop. It's as if HP looked at a list of available parts and hit 'select all' as it comes to market without anything really missing.
Snapdragon 820 processor, 4GB of RAM, loads of internal storage and a gorgeous display, it's as premium as you'll get on a phone right now.
But of course, the Elite X3 isn't just a phone. And that's what's most impressive. HP is pushing this as a PC in your pocket and launching a number of computing focused accessories alongside it. You'll be able to use the Elite X3 like both a laptop and a desktop, which is incredible.
HP has come out swinging, and while it's an enterprise targeted product, the consumer can still pick one up when it goes on sale direct from HP later this year.
Hands on with the HP Elite X3
HTC Vive Consumer Edition
The HTC Vive has been in the development stages for a year now, with MWC 2015 the first time anyone saw it. As the next 12 months rolled around we're now at a point where the Vive is a finished product, ready to hit consumer hands in the near future.
VR was everywhere at MWC 2016, but it's still tough to argue that any incarnation from any manufacturer is better than the HTC Vive with Steam VR.
It's still a luxury product, with the asking price at $799, and you'll need a decent PC (and a decent open space) to get the most from the Vive, but if you're picking one up at launch, you won't be disappointed.
This is the HTC Vive Consumer Edition
Huawei MateBook
Huawei is a new name to the Windows 10 family but what a debut it's made. The incredibly slim and light MateBook is a 12-inch 2-in-1 with a specs sheet that shows off a proper, portable productivity machine.
The QHD display is stunning, as is the rest of the shell with an all metal construction, chamfered edges and slim front bezels wrapping up an attractive product.
The MateBook has full support for a digital pen (that doubles as a laser pointer), an optional keyboard in a similar vein to the Surface Type Cover, but that also doubles as a full folio case, and an additional USB-C dock to expand functionality.
It'll start at $699 and rise from there, and you'll be able to get one with up to an Intel Core m7, too. If this is the quality that Huawei is bringing to the table, we're pleased to have them.
Hands-on with the Huawei MateBook
Microsoft Lumia 650
In lieu of throwing a launch event at the show, Microsoft announced its latest Lumia phone without much fanfare in the week ahead. It's not a high-end phone, sure, but it doesn't mean it's not impressive in its own right.
The Lumia 650 represents a slight shift in design language for Microsoft, with the metal frame making more of a difference to the overall look and feel than you might think.
It's decently priced, has a great looking screen, and while it's Microsoft's so-called 'business phone,' it's going to be a great choice for anyone looking for a new Windows 10 Mobile phone but doesn't want to spend a lot of money.
Lenovo Yoga 510
Even though MWC is traditionally a haven of phones and tablets, Lenovo used it to introduce a couple of new laptops. One of them is the Yoga 510, a well equipped convertible that can be had in a 14-inch or 15-inch size.
Hardware up to a Core i7 processor and Radeon R7 M460 2GB graphics all add up to a tasty sounding package. And since it's a Yoga, you can use it in a bunch of different positions.
It'll start at €479 and will be shipping from April.
Lenovo expands the Yoga lineup at MWC 2016
Vaio Phone Biz
OK, so it wasn't announced at the show, but for folks outside of Japan, MWC was the first chance to see the new Vaio Phone Biz. It's got a slightly odd sounding name, but it's a fantastic phone.
It's not the metal construction or raw power or anything that impresses the most, it's the Continuum support. With 'only' a Snapdragon 617 processor the Vaio Phone Biz offers Continuum at a lower price point than existing phones, while still wrapping up in a premium package.
It also gives us a better idea at the lower boundaries Continuum requires, since everything else seems to be packing Snapdragon 8xx chips. We'll probably never get to buy one in the west, which is a shame, because it's a great Windows 10 phone.
Hands-on with the Vaio Phone Biz
Lenovo Yoga 710
The Yoga 710 is Lenovo's higher-end of the two new laptops it introduced at Mobile World Congress. This one is available in 11- and 14-inch form factors with either Core m or Core i processors available depending on which you go for.
Other notable specs include up to 256GB of SSD storage, NVIDIA dedicated graphics and 8GB of DDR4 RAM. It's also got a full touch, 1080p display and audio from Harman Kardon.
Expect it to cost from €799 when it goes on sale in May.
Lenovo expands the Yoga lineup at MWC 2016
Lenovo Miix 310
The Miix 310 is Lenovo's latest affordable Windows 10 tablet with an optional keyboard, for getting stuff done on the go without blowing up your wallet.
In true Lenovo style the hardware is solid, with a Full HD display, up to 4GB of RAM and 64GB of storage on the table. The keyboard is also pretty strong, as is usually the case from Lenovo, and while it's not really a laptop replacement as such, it'll still give you the tools to be productive on the go.
Throw in optional LTE support and you're never without being connected. Prices will start at €269 when it goes on sale, currently slated for June.
Lenovo introduces the Miix 310 at MWC
Alcatel Plus 10
Alcatel (no longer with the OneTouch) is a name that's really starting to get behind Windows 10. At Mobile World Congress we got the new Plus 10, a 2-in-1 with LTE capabilities.
The LTE is actually in the keyboard, though, which is an interesting idea. It means you don't get cellular if you just take the tablet out with you, but equally it won't impact the battery life, either.
The keyboard also packs an additional battery which leaves you with a compact 2-in-1 that'll keep you going all through the day. It's got a 10.1-inch display, 2GB of RAM and 32GB of storage, and shouldn't be priced too high when it goes on sale later this year.
Richard Devine is an Editor at Windows Central. A former Project Manager and long-term tech addict, he joined Mobile Nations in 2011 and has been found on Android Central and iMore as well as Windows Central. Currently you'll find him covering all manner of PC hardware and gaming, and you can follow him on Twitter and Instagram.
Looking forward to more devices like HP Elite x3!

I'd get one but I put down 1k$ on the 950xl after taxes and warranty here in Canada. It was a rocky start but at least now with latest firmware and os it runs like butter.

well losing one fo the best cameras on any phone ever released to upgrade from an 810 to an 820 wouldn't be a great choice anyway :)

Overall, I'm disappointed in MWC16. Maybe my expectations where too high. I thought for certain we would see some Win10 phones from HTC and Samsung, and at minimum the Mi5 with native Win10. And nothing...that is all. Don't get me wrong, the HP phone is legit, but there needs to be more major players.

I think it's because of the hype that Daniel and others created that we all had high expectations for mwc. But honestly the fact that there even was windows stuff there is a step up from all android.

He still knows something we don't I guess :D

Maybe we find out at build.

Loving the PC in you pocket. Long live the iPAQ Pocket PC, I mean HP Elite X3. Lol.

this virtual reality thing is trending a lot. I don't know how avg consumer would wear that gadget and **** up their eyes.

Hp. Limited availability if/when it will be released after 6 months or so. Meh camera and even lacking camera button. Would not call it flagship.

Maybe in some walks of life the camera isn't why people buy a phone... The hardware kicks the butt of most else out there. So I don't see how you're saying it's not a flagship product.

Remember who is speaking. This is the same person who said Microsoft is failing with the Surface line even though their earnings clearly say otherwise. He likes to disagree just for the sake of it.

How much profit Surface line made with all Surface marketing counted? Can you point me to official release on that?

Here you go. Official release: https://www.windowscentral.com/e?link=https%3A%2F%2Fclick.linksynergy.co... Easier to understand breakdown (look at the second table under "More Personal Computing which covers the Surface line"): http://www.neowin.net/forum/topic/1287150-microsoft-posts-q2-fy2016-earn...

Yes I have seen that. All said of Surface is revenue, profits, if there are any, are not disclosed.

Here's a hint, if it wasn't selling, especially considering that it's far more expensive to produce than a Windows Phone, Microsoft would have dumped the brand the way they did with the Surface RT. You are looking for specific itemization but, in this case, the proof is in the pudding.

Surface as such may not be profitable but it may still be good investment as short term marketing effort. My original point was that bean counters of software background like Nadella hate hardware and for a reason. Its opposite of software business. I would not be surprised if/when Surface is divested and as 'one windows' is handicapped with no mobile presence Xbox may go as well. And while we are at it loss making software/services like Bing may go too.

@vhyr. Surface divested? That's a interesting thought... one would've wondered even after Surface Hub announcement that brand was sealed. Apparently not /s :P. In regards to Xbox being spun off... you should stop reading coach analyst articles and go outside, it would do you a world of good :).


Or maybe the audience of this site is normal customers and not enterprises so you should accept that the phone is criticized for its camera. Camera is the biggest hardware feature for most consumers: screen and hardware that's what is tangible and important. You are writing for your readers mostly, I'd say we should keep asking for an x3 variant with good camera and flash, maybe if there is enough demand they'd listen. Moreover hardware button for camera and great camera are what android and iphone users have been envious about for the past years, do we really like that our so called flagship lose the best selling point of windows phones till today?

There's nothing wrong with criticizing the camera but saying it's not a flagship, regardless of whether iPhone and Android users might envy the Windows Phone camera button, is silly. The specs are still top-notch and neither iOS not Android can market their offerings as an all-in-one replacement for tablet, laptop, and desktop.

I can agree with this. Let's say that it is a flagship smartphone but the flagship for windows phone fans :)

I not going crap on the phone- djfferent things for different people, but as someone who is desperate to replace my ICON, I will not consider this phone specifically because of the low end camera and lack of physical button.

It's not that low-end (the camera)

I'm suprised that just for a lack of the camera button you would'nt be calling it a Flagship device. Give a thought about the dual shots which the front camera takes which is an 8 Megapixel? And about the 16 Megapixel Main Camera! How about it being Water Resistant and Dust Resistant along with a Fingerprint sensor and an Iris Scanner? All the rest of the Hardware specs are brilliant and that's what qualifies it to be Flagship from HP after many years. I'm glad HP had made it clear that this phone is for Business and Windows Mobile fans.

Lumia 950 or HP elite x3...? I choose HP elite x3 for high end W10M.. Haha.. Too many problem on lumia 950..

Yet, you have no idea what king of troubles the X3 will have. Also, since .107 and the latest firmware the 950 is running very, very well. Anybody starting today is not going to be disappointed.

... until they open up the app store.

9 windows edition..,wow. !

If writers just tried to criticize the hp for its camera maybe hp would create a variante with good camera and flash so even lumia users can appreciate the rest of the product. Every blog out there continues to say this is the holy grail of windows phone, well it can't be as long as they don't produce one with good camera features. The should create a consumer version with good camera and sell it along the business edition.

Elite Elite Elite (x3) Posted via the Windows Central App for Android

MWC 2016 was quite disapointing ... Corporations are capitalizing on current tech to justify the r&d that was made in the past.
The Market is a bit hesitant on what end users will choose ! For sure its not gona be Windows Phone but we already knew that. As a consumer i'm quite confused! As an IT professional i know that my managers will never accept 1k phones that are not iphones and my users will never accept Windows Phone ... The solution is very simple: for the next 2 years just forget about WP ...

Originally MWC is about networks. And Nokia surprised everyone by announcing commercial 5G capable network gear. Too complex topics for many though.

"continuum" can run with an sd200 as long as it supports secondary display and not just mirroring, whether it runs any good with such a low end cpu is another matter

That's why Microsoft hasn't allowed low-end processors to run continuum (only the snapdragon 617 or better)
Windows Central Newsletter
Get the best of Windows Central in in your inbox, every day!
Thank you for signing up to Windows Central. You will receive a verification email shortly.
There was a problem. Please refresh the page and try again.