Hands-on with Alcatel Plus 10: Windows 10 and LTE on a 10.1-inch two-in-one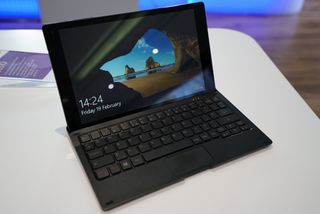 Alcatel just unveiled the Plus 10 at MWC 2016. It's their first connected 2-in-1 device powered by Windows 10. You can use it in laptop mode for typing documents or creating spreadsheets or change it to dock mode for watching movies or displaying presentations. We've got to play with the Plus 10 during a briefing and recorded it in front our camera. Take a look at our hands-on video.
Specifications
Category
Features
Dimensions
259.3 x 156.2 x 8.35 mm
Display
10.1-inch HD IPS (1280 x 800)
Capacitive multi-touch 10 points
OS
Windows 10
CPU
Intel Cherry Trail T3 Z8350 Quad Core 1.92 GHz processor
Memory
2GB RAM
Connectivity
Wi-Fi 802.11 b/g/n
Bluetooth 4.0
Cameras
5 MP camera
2 MP front camera
Storage
32GB ROM with microSD slot
Battery
5830 mAh (Tablet) + 2580mAh (Keyboard)
Photos
The Alcatel Plus 10 is ideal for travelers, commuters, or anyone looking for a lightweight and portable Windows 10 device with LTE connectivity. The Plus 10 will come in metallic silver, matte white, matte volcano black and a gray leather finish. It will go on sale in Europe, Latin America, the Middle East and Africa in June 2016. Pricing information has not been shared yet.
Everything seems pretty sleek except for the hard drive ... Can we customize it ?

There's the micro SD slot for it.

That's not exactly the answer to the question, you know.

Agree, need 64gb to do anything useful on it

I totally agree. After huge OS space almost nothing left over

Probably not, but a good micro SD is more than adequate for data and some software.

Yeah its just the dev studio software and sdks are huge, add that on to the os size and it gets pretty squishy. An extra 32gb on c: can solve this, probably only $10 worth of memory for the OEM to throw in

Looks like a device from two years ago. But should be cheap.

I am pretty sure there is something called a calculator app that would have taken you less time to use than to write your comment. However let me help. 1.6:1

Well, I think you need a thesaurus for a word you spelt wrong. Sorry to sound mean.

You spelled a word wrong too. Check your post before you try to burn somebody.

Spelt is correct too. Just less popular with Americans.

Hmm, eating my humble pie, sorry. I wasn't familiar with that, I thought it just meant part of wheat.

And it would have taken you less time to just write the answer.

Looking at the specifications, I think its going to be a good 2 in 1.

It would be so nice if they stoppes putting in 2GBs of RAM

Well low cas. Ddr3 ram is still expensive(just as much as successor) so if its that then theres the problem

An almost exactly similar device (except for the LTE radio) is already avlbl in India for about 180 USD. It sells like hotcakes.

Which device are you talking about?

Micromax Laptab 3G version. I might sell my Notion Ink Cain 10 too for about 200 USD. atul292 at gmail.com

How's ur experience with Notion ink Cain..?

very very good. In fact, I would stick my neck out and say that their after sales support is the best in the industry. Very sincere and proffessional set of boys and girls. I m moving on to a bigger tab and thus selling my Cain 10. Write to me at atul292@gmail.com

This app is awesome have never seen an app carrying such a legacy of windows 10

Yeah just under $200 would be a good price. I would pick one up for that price.

Nice 2 in 1. Looks like windows 10 is getting popular day by day.

Please do us a favor and mention in the headline if devices are not for the US. Posted via my Nexus 7 2013 using the Windows Central App for Android

That defeats the purpose. All they want you to do is click on the article. They aren't going to provide you information so that you don't click on it.

Agreed, plus it's a global site

True. By default MS services are US only nowadays.

Well aside from tmo US theres no other carrier in NA that carries them anymore

Kinda massively defeats the purpose of a headline. The headline isn't that this device isn't coming to the U.S. The headline is that there's a new tablet from Alcatel that we got to play with and we're sharing that with everyone.

But its from TCL using the Alcatel brand. So it isn't from Alcatel ;)

Or maybe they should mention if the devices are not for Europe, or Asia? Why US would like to be special?

Needs to have a bigger track pad, I think.

Who needs light affordable portable mobile full PC when you can use continuum?

Try using continuum in an airport lounge, on a plane or in an impromptu meeting in a cafe.

... In a bathroom, in prison, movie theater

HOw can full Windows be run on 2GB RAM? Is this 32 bit only?

Where have you been ? Most windows tablets sold since 2014 have had 2gb ram and 32 gb hdd. Some 8 inch ones have just 1 gb ram and 16 gb hdd !

Most ultrabooks from vista era aswell(which include fully shared ram with gpu)

My PC has 2GB of RAM and runs full Windows smoothly Posted via the Windows Central App for Android

If the price is right I'm interested!

I ALWAYS get that beach cave picture on the screen when I turn on my PC, despite having set it to Windows Spotlight. Is that normal? It turns to Windows Spotlight picture once I log-off (Win Key + L) though.

If you reboot your PC, lockscreen will automatically revert back to its original wallpaper. Once your online... After 5min your lockscreen will change

Thanks! Do this is there default picture, can I change it? Posted from Windows Central for Windows 10

Oh great finally samtin cul lunching at this side of the world (Africa) it's a shame the surface is still not here yet

My guess is 249 USD, and thats about right Mainly because of not so premium brand. . But it could well be 299. My personal favourite though has been Notion Ink Cain Signature black edition because of its 64 gb hdd. I also liked the HP Pavilion x2 10 for its two poistion rest. Asus T100 versions in cherry trail are not bad either. In 8 inch versions, nothing beats Xiaomi Mi pad 2 Windows and the Lenovo Miix 3 8

Looking to get a new 2 in 1 to replace my Acer one 10, looks like I'm going to stick with the hp pavilion x2 so far. Don't like the 2 batteries on here just give me one big battery

I've got it pinned. And I get notifications from instagram even though that's not pinned (6tag is of course)

32GB ROM?
Read Only Memory???
So that would cause an "out of the box" experience EVERY time its turned on if no MicroSD is inserted. Are those facts correct?

32 gb is internal hard drive(c:) size...available space after installed windows must be about 10-15 gb.. Can be expanded though by microsd card(d:)

When it will available in India.......?

Unlikely if ever. I suspect for European market only

Exactly ! This aint coming to India. But there are a million such two in ones avlbl. in India. Both Indian brands like Notion Ink, Micromax, Sakri, iball as well as intl ones like Lenovo, Asus, HP and Dell.

Yea I have used these 2gb 32Gb machines. Avlbl space on first boot is about 14gb. But they are just fine. No issues.

Again.. 2fckingGIGABYTE of freaking RAM.. And it's 2016..

32GB internal storage is a no no for me.

I can't connect to the Keyboard hot spot of my Alcatel plus 10.
It keeps telling me "incorrect password" despite I'm using the correct password (last 8 digits of the keyboard IMEI code as specified in the user manual) !!
Please help, Thank you.
Windows Central Newsletter
Get the best of Windows Central in in your inbox, every day!
Thank you for signing up to Windows Central. You will receive a verification email shortly.
There was a problem. Please refresh the page and try again.