Take notes, control your home, and translate everything with these great secret UWP apps
What are some UWP apps that will save me time?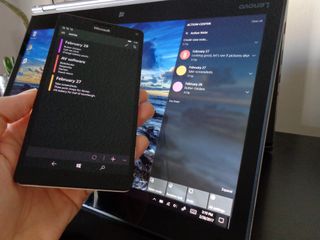 Universal Windows Platform (UWP) apps are usually designed to work across multiple Windows devices, including Windows 10 PCs, Windows 10 Mobile phones, Xbox One (opens in new tab), Surface Hub, and Windows Holographic. Some UWP apps will work on all of these devices, while others will only work on a couple. These apps are all readily available from the Store — here we've rounded up some of the best choices for making your life easier.
Action Note
This handy note-taking app has a super simple UI that lets you quickly create a note. Upon creation, your notes will appear in the app in a list you can sort by date, category, or title. When the app closes, notes will also show up in your Action Center. You can create notes, you can delete notes, and you can launch the app, all from the Action Center.
From the app, you can choose to have the note read back to you, you can pin notes to the Start menu, and you can set color-coded categories. This and more is all included in the free version; if you want to sync across your devices, you'll have to spring for the Pro version at $3.49.
Compatible with PC, Mobile, Holographic, and Surface Hub.
Download Action Note from the Microsoft Store (Free + In-app purchases) (opens in new tab)
Cortrigga
Home automation seems to be taking off, so why not get Cortana working where you live? Cortrigga works with IFTTT (If This Then That), the service that lets other popular services — Nest, Alexa, Hue — work together.
You create "recipes" that, using voice commands, will set off a chain of events. For example, you can set it so that Cortana turns on your lights when you tell her it's getting dark outside. If you already have some home automation going on, this app will seriously change how it all works.
Compatible with PC, Mobile, Holographic, and Surface Hub.
Download Cortrigga from the Microsoft Store ($4.99) (opens in new tab)
Download App Anytime
Browsing the Store on your phone when you're killing time can be a bit of an obsession — the problem is, you might not be around a Wi-Fi hotspot and you might not have unlimited data. Instead of taking screenshots of the awesome apps you come across, there is Download App Anytime.
From the Store, all you have to do is use the Share option and select Download App Anytime. The title will then be saved in the app for you to download later. You can just click it from the list and the proper download page will open.
Compatible with PC, Mobile, and Surface Hub.
Download App Anytime from the Microsoft Store (Free + In-app purchases) (opens in new tab)
Game Calendar
Video games keep getting better, and the amount being released keeps increasing to the point where it's difficult to keep track of them across platforms. Game Calendar is a UWP app designed specifically for diehard gamers.
All current gaming platforms are supported, and you can choose which ones to follow. There are plenty of settings to tweak, including the theme, whether or not you want to see cover art and videos in the list, and what is shown in the live tile. If you're sick of missing release dates, grab this app and easily keep up to date with all the best games on the horizon.
Compatible with Xbox One, Holographic, PC, Surface Hub, and Mobile.
Download Game Calendar from the Microsoft Store (Free + In-app purchases) (opens in new tab)
Modern Translator
This powerful translation app is perfect for anyone who travels a lot or who needs to quickly refresh their foreign vocabulary. You can type, speak, draw, or take a picture of a language you don't understand and you'll see familiar words pop up in seconds.
Over 150 languages are supported when it comes to text, and about 20 languages can be translated through pictures. If a language barrier is holding you back while you travel or try to make new friends, this app will make things way easier.
Compatible with PC, Mobile, Holographic, and Surface Hub.
Download Modern Translator from the Microsoft Store ($4.99) (opens in new tab)
Money Tracker Pro
Finances. If that word just sent a shiver up your spine, you might be in the market for an app that will organize how you spend your money. Not only does Money Tracker Pro keep your cash accounts organized, you can also add stocks and cryptocurrencies.
Users rave about the enormous selection of features within, and the easy user interface makes it a breeze to use. Add charts, images, graphs, reports and more to better track your money, and easily export to popular formats like Excel. If you're ready to take the guesswork out of your money, check out Money Tracker Pro.
Compatible with PC, Mobile, Holographic, and Surface Hub.
Download Money Tracker Pro from the Microsoft Store ($9.99) (opens in new tab)
Power Planner
Students rejoice; Power Planner is the homework app you've been waiting for. A calendar keeps track of all your assignments — you can even set live tiles to show what you have coming up — and there's a GPA tracker that works across multiple semesters.
Not only that, room numbers, room locations, and reminders can be set for all your classes to make college a bit less stressful. If the old physical day planner isn't cutting it anymore, this UWP app will be a saving grace.
Compatible with Xbox One, PC, Mobile, Holographic, and Surface Hub.
Download Power Planner from the Microsoft Store (Free + In-app purchases) (opens in new tab)
Transcoder
Converting your videos and audio files into formats compatible with your wide range of devices can be a serious hassle without the right tool.
With the Transcoder app, you have the ability to change video into audio, add titles, add subtitles, and add captions to your files. Your major file formats are all compatible as sources, including .mov, .mp4, .wmv, .avi, .wma, .mp3, .m4a, .wav, and .flac. Sick of dealing with flimsy freeware converters? Grab this simple, powerful tool that will convert your files with ease.
Compatible with PC, Mobile, Holographic, and Surface Hub.
Download Transcoder from the Microsoft Store ($0.99) (opens in new tab)
What is your favorite UWP app that makes your life that much easier? Is it well known, or is it your little secret?
Windows Central Newsletter
Get the best of Windows Central in your inbox, every day!
Senior Editor, Laptop Reviews
Cale Hunt is formerly a Senior Editor at Windows Central. He focuses mainly on laptop reviews, news, and accessory coverage. He's been reviewing laptops and accessories full-time since 2016, with hundreds of reviews published for Windows Central. He is an avid PC gamer and multi-platform user, and spends most of his time either tinkering with or writing about tech.
Wow some interesting apps here! I wouldn't have known to look for them otherwise. Somehow there needs to be better way to get this information out to the common folk that don't come here :)

game calendar is awesome :)

Can't wait for Scalebound! ;)

I agree. MS really needs to update their Store. There IS some great content on there - it's just very difficult to find.

How would MS know though? I know when I search, I don't get what I'm looking for sometimes even when I know what it is.... Then I have to search by exact name. Not sure where the problem for that is, indexing? search method?

They would know by paying attention, haha. The search feature is poor, they don't change or update content enough, etc.

hehe really? They are to evaluate each app and then tell everyone about it? :D I find it strange when looking for review of an app, if I'm on the store, I see a star rating but no reviews, even if I choose to see for all versions of the app. When I goto the store website, you can see a lot more reviews there!

That's not what I said. But intelligently refreshing the Store, say on a weekly basis, would help a lot. For instance, I am pretty sure that the banner apps/games in the Store app on W10M have all been there for months.

Yea like top apps filter, still shows UC browser... is it even being worked on anymore? Collections section. Better with Cortana - no Cortrigger shows up... But is it up to the developer to promote it properly? Probably a cost too....

Thanks for the the information on the app. Have downloaded and am impressed.

I would hope that 'someone / something' evaluates every app. Otherwise, we'd end up with the bug-infested, viral-mess, that Google has. I'm seriously afraid of what my kids download on their andriod stuff. I feel much safer with Windows - mostly because I don't hear about the trash that comes from the Windows Store. An updated algorithm that rates *Time-In-Store vs *Ratings vs *#ofRatings vs *TrueDownloads - would be better than the 'just blah' that every store gives us, now. The sort/sequencing and elimination could be much better!
(db)

Search and filter is bad. Like I'm on my phone, I sometimes fall on apps that are PC only, can't I filter them out and see only mobile apps? Can I search and see only mobile apps with Continuum support also? Their categories and similar apps listings are crap, most "similar apps" are not even closely related to the app I look at most of the time. Android Play Store does a much better job. Also, multilingual apps that have different names in different languages are not findable if the name you know is in another language than the current setting of your device. I think of "The Weather Network" app from Canada, the French name of the app is "Météomédia". If I search for "Météomédia" and my phone is set to English, app not found.

How does anyone selling anything know what's in their store? It's called CARING..... Caring to deliver to your customers the best. Understand their needs or learn their habits and give them the best you've got. The essense of commerce since ancient times. The store is not empty because there are few developers. It's empty because MS doesn't care.

That happend me today. I want to find Awesome Tube, and search for "YouTube" and NEVER I could see that App in the result. I have to find It over internet and after that search exact name

Just did it on my phone. 1. opened Store 2. Typed "awesome" in the filter but did not press Enter. ----> "Awesome Tube - Youtube to your heart" appears as the 2nd app it the list that appears. Alternative: 1. Open Store. 2. Type "Youtube" 3. scroll down about 3/4s the way down the page. "Awesome Tube - Youtube to your..." is there.

First things first I dont have things to control. Second who uses windows 10 mobile?

Phew - good to know. My life is now complete...

If u do not want answer dont ask them or dont read them. It was asked who uses it, he answered. That is fine. I and a lot of others here do too.

Third, why are you here if you don't have things to control or use windows 10 mobile?

You have fingers to control.

A lot of people here... If you do not, use w10 (desktop) or xbox, etc (uwp = available on all modern windows or windows based systems). And if you do not use anything of that: Why are u on WINDOWScentral at all? Trolling?

I use Windows Mobile too - have done for years. I had a Nokia Lumia 920, then upgraded to the Nokia Lumia 1020, and now have the Microsoft Lumia 950XL - so yeah, been using it for years. Way better, way more user friendly, way more capable than iOS / Android platforms.

Couldn't agree more. The mobile train left the station years ago, and Microsoft wasn't on it. Just let it go, Microsoft, and leave mobile "apps" to others. I need you to create a real operating system to run real software applications for real work on a real computer. I don't want "apps" for my "stuff," so stop trying to turn my computers into phones. I need Microsoft to be the adult in the room, not another useless hipster.

You look and sound like a dork

Game Calendar looks awesome! I'm going to download that now :).

I have Download later and action note ☺

Action Note is pretty good so far but I still hope that MS will include this feature in the future.

Yah, they've been pretty good with OneNote, so I'm sure they' all these ideas to it and more.

Transcoder & Cortigga, was not even aware that such apps are there. MS really need to push their App store properly. Some of the Third party apps are just great compared to what you get on Android and iOS. Thank @Cale for the list. I think you guys should do a monthly peice for New or Unique Apps in the store.

I've been using Action Notes and Cortrigga. Great apps!

Money Tracker Pro is one of the best purchases I've made in the Windows Store. I jot down the transaction the moment it happens on-the-go with my phone and sync it so that I can do some reconciling using my PC when I get home. Helps me to keep track of my actual balance on a daily basis. In case you're wondering, this is different from Mint.

I miss Mint for this exact reason.

I use power planner daily. It's a Godsend. "What if" mode is so amazing. And I work with PDF's a lot. Sometimes I want to split them, merge them, water mark them and my go to app for this is PDF Swarkn. Really useful apps. Oh and Enpass is just as awesome.

Thank you Sammy! Dev of Power Planner here :) I'm no longer in college myself, but I love that other people are finding Power Planner useful for their own academic studies!

DO NOT download it. In order to sync through the devices you have to purchase it.

OR you could download it and support the developer by purchasing it?

Nothing compares to Prism - it's the best, you can also pay all your bills with it.

If anyone is interested in probability and statistics, the most impressive unknown app I ve seen in the store is sharpbayes. I hope the developer will make it available for mobile too.

Highly recommend power planner for students; Started using it two years ago and two of my suggestions to the dev have been implemented in that time. Very responsive, high quality.

Nice apps.
But Microsoft needs to update their store indexing algorithm. Its very difficult to find apps.

And while we're complaining about some shortcomings of the Store why no number on the Store tile for app updates anymore? Really miss seeing that from WP8. Or am I missing some setting somewhere?

I thought, meh I've seen this, don't need that, then... Hmm, I could use Transcoder and Money Tracker looks interesting. Thanks!