Tip: How to get an animated Me Tile for your Twitter profile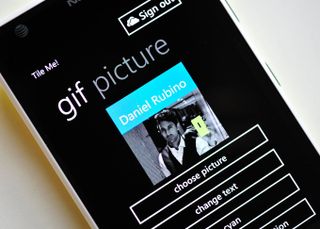 Update: Only a few days after we posted this and it looks like Twitter plugged the hole...so if you have an animated GIF, keep it. If you wanted one for Twitter, you're out of luck!
Yesterday we reported on the new update for Tile Me! that now allows you to create an animated GIF in addition to a static Me Tile image. The purpose of the app is so that you can use the generated image for your social network profiles, spreading the Windows Phone love.
While the animated GIF addition was the second most requested feature from users, quite a few of you were asking where could you actually use it? As it turns out, you can use it on Twitter, though there's a unique trick to it.
For one, the generating GIF must be less than 700kb. The other caveat is you need to use a special Twitter link to change your profile photo. So without further ado, here are the steps on how you can get a bouncing Me Tile for your Twitter profile.
Steps for creating an animated GIF for your Twitter profile:
The end result should look like the one on my account: twitter.com/Daniel_rubino, which now has a bouncing Live Tile just like on my Windows Phone.
Crass? Cheezy? Maybe even a tad annoying? Perhaps, but we'll leave that judgment to you and your associates. For now you can use these steps if you want to be a part of the cool crowd (that's what we're telling ourselves, at least).
For what it's worth, Ertay Shashko, the developer behind Tile Me!, plans on adding a low-resolution GIF option in the app to remove at least one of these steps.
You can pick up Tile Me! with animated GIF ability here in the Store. $0.99.
Thanks, zhoulhas, in comments for the tip!
Windows Central Newsletter
Get the best of Windows Central in in your inbox, every day!
Daniel Rubino is the Editor-in-chief of Windows Central, head reviewer, podcast co-host, and analyst. He has been covering Microsoft since 2007 when this site was called WMExperts (and later Windows Phone Central). His interests include Windows, laptops, next-gen computing, and for some reason, watches. Before all this tech stuff, he worked on a Ph.D. in linguistics, watched people sleep (for medical purposes!), and ran the projectors at movie theaters because it was fun.
Done it. And it works fantastically!

Does the animated gif also work for Facebook, or only Twitter?

You have a gif as your Windows Phone me tile?? Using this same app? :D

does this technique still works?

Bollocks! Can't get it below 711Kbs. Blurg.

I had to resize mine to 140x140

Hmmmm....resized in Paint, but then I lose the animation. What did you use to resize?

Try GIMP or Photoshop. With Photoshop you have to use 'Save for Web and Devices' to retain the animation.

urghhh, tempted to buy the app now. only ever bought 1 non game app and that was the wpcentral app.

I hate buying apps but i might make an exception.

So this is why we can't have nice things on WP8. Support Good Devs!

For the love of Santa, why do you hate buying good/inexpensive apps?!

especially its almost the same price a bottle of soft drink / soda / pop whatever you want to call it lol.

Because most apps aren't even worth 79p and neither is this really but it has a novelty about it that i like. I'm not really an app user anyway, unless it's a game, which i own over 60 xbox live games on windows phone.

No offense but what the hell is it with all the stories about this me tile?

Me me me. Its all about me. I want a goose that lays a golden egg now!

Shame the animation isn't a bit better. The easing is off quite a lot from how the OS does it.

The dev says he's going to try to smooth out the animation in an upcoming update to better match the Windows Phone behavior.

Ah ha! Nice, good to know you're already on the case ;-)

haha now that is a very enthusiastic dev!

ErtaySh : yo bro, i have a idea, you add flip tile (me tile flipped if has new notifications (linked in fb/twitter)
so, at first Me word, and after that flipped and shows custom message. U get me?

#sorry english

So, what you are saying is, a custom Me tile? :)

here : at first tile's sliding to down (shows your custom text) and up again, and will flip back (shows your custom text 2) and flipped back again shows your image.

But we are talking about a Tile on the start screen and not a GIF, right?

i think its about gif, not a tile. create a gif that looks like me tile when it has notification.( and the notification is your own custom message)

I saw some on twitter I wondered how the h*LL they were doing it.

App works great. Thanks Dan for the steps.

The animation is cool and all, but will the app make me look pretty?

Try Nokia's "Glam Me" app ;)

It's a shame these custom me tile images dont scale nicely to fit the profile picture on Facebook, fit nicely on Twitter though

Thanks for the steps, Daniel!

It's still crap. 32 colors, no dither... near 800kb. Ughhh... Twitter needs 1MB.
EDIT: Reduced canvas to 120x120. Got all 256 colors without dither, lol.

Just thought I'd throw this out there. GIMP will scale the whole GIF. I scaled it to 180x180 from the original 240x240 and it's about 670K. I thought I'd try that instead since I already use GIMP.

Thanks a lot for the instructions! Works great!

Done. Now I'll wait and see how many friends tweet me and ask me to make it stop ;)

Am I the only poor sap that can't get this to work? LOL

No you're not! I tried uploading my 600KB gif at the link provided. It is animated after I upload it on that page, but once I hit "Done" it no longer animates. Possibly Twitter wised up to this.

How exactly does one get around the fact that Twitter banned animated gifs? http://mashable.com/2012/09/20/twitter-animated-gifs-policy/

I don't know about you, but I prefer not to see animated profile pics on my twitter feed. They are too distracting.

I love it
I love it
Let's spread the LiveTile virus :)

supporting the community :)

Did everything correct, 20 times over, but Twitter is sure as heck not keeping my GIF animated.

It's not working anymore. After i click "Done" twitter give me an error page.
My Profile picture change but it's not animated. :'(

Unfortunately, Twitter patched the loophole and this trick will not work anymore. Those that managed to catch the last train, if you change your avatar, you will lose your animated avatar forever :(

who will convice twitter to enabling it again?

Keep the dollar not going to scream and cry for a refund,here's hoping others don't as well.
Nice try,hope you can fix

Dang. Bought this app yesterday and have been trying so many times to get it to work with it erroring each time. Now I see they patched it? /cry
Hope it can be wiggled through again somehow. :)

Tried you instructions for gif instructions for "Steps for creating an animated GIF for your Twitter profile", but with no luck. My gif is 96 x 96, size - 6.73 KB size on disk - 8.00KB. Even ran it through gif reducer. I then down loaded your gif and tried to load it to my profile jusr to see if it would work. No annimation. Any ideas . . . .

i tried this method one mont ago it's worked. now it's not. any idea??

because twitter has patched it.

It can't work for me, i try all steps above :(

Is it still working? Its not working for me :-(

not working for me! i mean come on....! :O(
Windows Central Newsletter
Thank you for signing up to Windows Central. You will receive a verification email shortly.
There was a problem. Please refresh the page and try again.