7 steps to make amazing videos with Movie Creator Beta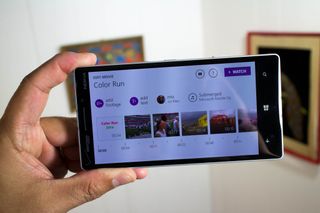 I've been playing with the newly released Movie Creator Beta and I'm surprised at how good it is for quick and easy editing. You can add videos, photos or Cinemagraph content files together with no length limitations. I shot some videos from Color Me Rad (colormerad.com) a few months ago, but they've just been sitting idle inside my Lumia Icon. With Movie Creator, I was able to create a movie from those clips in just few minutes.
Here are some of my tips to make an incredible video with Movie Creator.
1. Variety is key
Use footage with different angles and movements. To get started with Movie Creator, you'll need to add some clips. For best results, select different types of clips. Use close-ups, action shots, or shots with panning movement. This trick keeps things interesting for your viewers.
2. Short clips are the best
The next step is to trim the clips. Tap a clip and then select the trim tab. You can drag the start and end points. Try to make each clip shorter that 30 seconds. Viewers get bored when it's longer than that. There's no option to split clips, but a workaround is to duplicate a clip and then re-trim.
3. Reorder at will
You can drag and drop clips in the timeline if you need to rearrange them. Just press and hold a clip, then drag it to the position you want.
4. Theme it up
Use themes. If you want to get things done quickly, take advantage of the built-in themes. This automatically adds transitions and background music that make your movie feel whole instead of separate clips attached to each other. There are several themes to choose from, and it appears Microsoft will be adding more in the future. There's a Theme Store where you can get new themes. They're all currently free.
5. Mix that sound
You can adjust the volume of each clip and even reduce or increase the sound of the background music. This is really handy if a clip has dialog. Tap a clip and then select the volume tab. Play with the sliders for clip and soundtrack volumes.
6. Export in HD
Increase the output quality of your movie. By default, it is set to low quality. Tap the controls button to the left of the question mark. Change it to medium quality for 720p video or high quality for 1080p. You can also change the frames per second in the advanced settings. Slide it all the way to the right for 30 fps.
7. Post and share to YouTube
After saving your movie, you can upload it directly to YouTube. Use the Upload to YouTube app for Windows Phone.
Movie Creator has a lot more features like adding captions and filters, but these are the 7 tips that will help you tremendously with video editing on your device. You can watch our sample video below which was shot, edited and uploaded from the Lumia Icon. Do you shoot videos with your Windows tablet? Movie Creator is also available for Windows 8.1. Give it a try and let us know what you think!
Get the Windows Central Newsletter
All the latest news, reviews, and guides for Windows and Xbox diehards.
Windows 8.1 version of app is exclusive to Surface and Lumia tablets. Windows Phone version is exclusive to Lumia phones.

I did use this for a friend that recently had a child and their family lives abroad. What a great program on the phone. Easy to use and very powerful for a phone app. It shows that really good apps can be made for WP. I hope develpers take note.

Just dint get why wpcentral has not provided any info on Nokia N1 tablet

Off topic. Also, you could scroll down on the site maybe and read the article from 5:30 AM about the tablet instead of complaining in comments ;)

Psshh! You and your logic.

Go to Android Central ...... A part of Mobile Nations .... Now Nokia has got place in Android Central

Interesting question. Why did a site called Windows Central not do an in depth review of an Android device? I feel like there's a good reason right in front of me, but I just can't think of it right now

They only mentioned it because they put up an article about the teaser yesterday. Wouldn't make sense to leave us in the dark about it.

A) They didn't leave you in the dark about it, B) yesterday we didn't know it wouldn't be Windows or Windows Phone related...now we do.

This is the best app like this imo on WP.. I love tho app, it can use more features, but those will come; no rush.

When the videos show up for selection they appear to be grey default thumbnail, so having difficulty in selection, when I emailed them about this, they said that they're currently not supporting sd card videos but the support is on the way but no eta. But it seems normal here in this article. And, will themes be free permanently?

Re: themes and being free, possibly. The one exception I could see is if companies license their own filters/themes, they may want some compensation. I would not think such a thing would happen though unless the theme store and app really catches on.

Wow, i have got to start using this. Maybe for work ...... Yep.

The app itself is good, but its too big in size

Maybe if you only have a free gigs of space. I can't see how they could have made it any smaller while maintaining the same features, though.

Creative , sadly , all videos took by Lumia lacks quality :(

Quality could have been better, but I had the Lumia Icon inside a ziplock bag to protect it from the water/powder.

Maybe a little better but can it beat a iPhone 5s ? Gs5? Sadly no

My Lumia 1020 easily beats the iPhone 5S. It beats it in image quality and the audio recording of the iPhone is nowhere close to the excellent recording capabilities of the 1020.

JamesSB, I watched a video comparison between Lumia 930 vs iPhone 5s for phone dog See it
http://m.youtube.com/watch?v=PTZh7P-O-E0

Mark, tried to install on my Verizon ICON - says for 8.1 "only" - how di you install this?

Are u on developer preview?

My questions
1. How much size will it take after Installation
2. Is filters are necessary , is there normal mode
3.is there option for 60/120fps Am asking instead of testing bcoz of its huge size

You don't have to add filters. :-)

#2-#3 are answered in the video
* no, you don't have to use filters, or themes, which is what I think you mean.
* it goes up to 30/fps

I can't able to install it on my Lumia 730. It gets failed after some point during installation.

Wont install on my 830 either. I've been trying since its release. Nothing works.

It is a great program on the phone and tablet. I did download to my desktop and it works fine with mouse but functions are broken and it doesn't pull up media libraries. I realize it gives a disclaimer that it may not work properly and it specifies Lumia devices only but I think it odd that they would not make this a universal app that works across windows devices as it could be a great good will ambassador for the platform to allow me to work the same project across my devices (including my 2520). This would be a game change for quick media creation for me. Perhaps this is in the works and just not there yet in Beta stage? Daniel do you have any intel? Also it honestly is ESSENTIAL that it allow you to pull down content from OneDrive as space is limited on the devices it is intended for and all my media is on the cloud once I clear from my phone...and none is actually on my tablet because it was shot on my 1020. Not asking to edit the media in the cloud but you should be able to pick it and download certain media to use.

I will assume the OneDrive file selection is coming. I was going to just go to the OneDrive app to grab the clips that I want. Also, in terms of organization, why not put the finished videos in the Videos folder?

Some one tell me to resolve the problem

I hope in the next update they let you trim the sound file you select. I wonder why it doesn't support living images. Lets get that in the next update please. It would also be nice if XBox Music files were excluded since you can't use them if you don't own them. Outside of some themes that support Portrait Content, its a fine editor. I loved the HTC ONE Movie Maker and this app is pretty close to it. The 3 second ZOES would make my short films come to life so Defintely trim your videos to less than 10 second clips for the best dramatic effect. And as a quick tip, Also shorten the Show image time from the default of 5 seconds to 2 seconds.

Please which of the lumias

Daniel, any news to make this app for other WP's?

thanks for sharing this! + it's a littile bit slow on my 720, should i move it to phone ?

also noticed some lag on the Lumia Icon. Hopefully faster on upcoming flagships

When I use it on 830, the audio plays at a high speed and sounds like chipmunks. Anyone able to use it on 830? Anyone with this problem? The clips play fine when editing, its only when it plays the video and exports it, the clip audio plays fast, the music it adds from filters plays fine.

I spent like 2 hours putting together a clip for my son's t-ball highlights to share with my family - used medium settings, and saved the file - why wont it upload to Onedrive, and why cant I share it. Id rather not upload my personal videos to Google, would much prefer to share through Onedrive. Anyone have a similar situation?

I couldn't think of anything to shoot yesterday, so I just played around with me failing to complete a tongue twister. https://www.youtube.com/watch?v=gzWToyGOjnY Note that when I uploaded to YouTube, I got the "Matched third-party copyright" notice. I just used the music in the theme. I hope Microsoft licensed this stuff out for use in videos made with the app.

LOL, funny video. Which phone and filter did you use?

Thanks! :) Lumia 1020 front cam. Used the "Layout" theme and then added some filters to a couple of clips.

Thank you. I'll have to try it out.

Does anyone know of an app that letterboxes videos with a white background? I post videos to Instagram and prefer a white background over the usual black letterboxing...

It was not installing on my phone

To moc426 I had the same issue on a video clip my wife shot on her gs3 mini of my kids but sound was not important to me for that clip so volume was turned down, the rest shot on my 1020 were fine. Were your clips shot on the 830? Could be a glitch in the Bluetooth shared clip for me?? I'm sure they will fix it??

Yes videos shot on 830 and 920 I believe. The issue is Microsoft Camera, if I use Lumia camera, those clips are fine.

Should have worked for non Lumia devices.

sup buddy! dunno if this is also compatible with my 620 or if it will run smoothly will download this when i find a better wi-fi btw, i hope theyll find a way to lessen its MB size

Another great article, Salamat Mark for the tips and demo!

This app is great, already more robust and easier than Storyteller or MovieJax which are both great. Are you guys sure the Win 8.1 version is live? I just checked the store and can't find it.

Mark thanx for this write up! I've been fiddling with the app since finding out about it. These tips really help a lot... Good job!

Mark thanx for this write up! I've been fiddling with the app since finding out about it. These tips really help a lot... Good job!

Wow I must've really liked the article! Magically posted about it twice. This is totally deletable if so desired :)

So, if using an Icon with Preview for Developers, this app can't be downloaded? I've been trying for a few days and it gets stuck at "pending".

Are you trying over a data connection by any chance.

Nope, using WiFi. I have no problem downloading other apps, just not this one.

I'm having the same problem here.. Using L820 and it keep stuck in pending msg.. And only with this one. I'm able to update others, download new ones but always in pending state when I try to download it. Any clue?

I finally got it to install. I went to settings and changed my camera app to the Microsoft camera.

Cant trasnfer via USB I get unspecified error. I can access it in camera roll on the phone but not visible in Laptop. L1020 with Cyan DP update1. I have to transfer via Bluetooth it a pain in the @$$.

Couldn't select videos from the sd card is a big drawback.
Need to overcome this.