Tomb Raider: Definitive Edition is among September's free Xbox Games with Gold lineup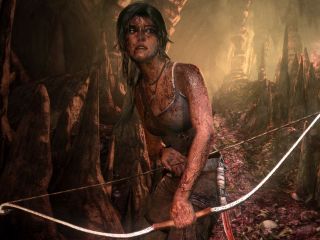 Xbox One and Xbox 360 gamers with a paid Xbox Live Gold subscription can download a total of four free games during the month of September as part of Microsoft's Games for Gold program. As previously announced, all of the free Xbox 360 Games with Gold titles from now on will also be available for Xbox One owners to play via the console's upcoming backward compatibility feature.
For the entire month of September, Xbox One owners can get the game The Deer God for free from indie developer Cresent Moon Games. Here's what that game is about:
From September 16 to October 15, Xbox One owners can also grab Tomb Raider: Definitive Edition, the graphically remastered version of Square Enix's reboot of the Tomb Raider franchise. Of course, the sequel to that game, Rise of the Tomb Raider, will be out first for Xbox One and Xbox 360 owners on November 10.
The first Xbox 360 Games with Gold title in September will be Battlestations: Pacific, again from Square Enix, from September 1-15. It's a World War II naval action and strategy game that was first released in 2009. From September 16-31, Xbox 360 owners can get Crysis 3 for free. The sci-fi first-person shooter comes from developer Crytek and publisher Electronic Arts that first came out in 2013. Again both games can be claimed by Xbox One owners for free as well, and they will be playable when the backwards compatibility feature goes live for all of those console owners later this fall.
Source: Xbox Wire (opens in new tab)
Ahh i just didnt trade in Tomb Raider last week becuase i hadn't finshed it... Would have got $18 for it too :( :P Great game tho, Should increase sales on the new Tomb Raider.

I thought all Xbox one GwG were available from the 1st day of every month but TR is coming on the 16th, am I missing something?

Now that they are doing 2 games a month it is following the same pattern as the Xbox 360.

Ooh ok, got it now, thanks

Sell it now while you still can. The price might have dropped a little since then, but it's going to drop a lot more once it's free through GwG.

The 2 360 games I've played on my xbone worked perfectly. I'll definitely be downloading these and giving it a go.

How does an Xbox one owner claim the 360 game without a 360, I gave mine away. EDIT: I don't have the preview program.

Backwards compatibility, it's in the near, very near, future. As in before November I believe

I claim all mine from the website, both Xbox one and 360. I am hoping that they implement a way to do it from the x1 though.

Muhahaha lol good I didn't buy TR: DE when it was on sale lol
Also what happened to Crysis? is that franchise still around I only played the 2nd one years ago.

Received over-g as gift years ago didn't finish not really my kind of game

Last month was the previous Metal Gear game. This month is the previous Tomb Raider game. I'm noticing a trend. I'd call it definitive if Forza V was a game with gold last month.

Off topic: Tomb raider and the temple of orisis is free on psn this month

Microsoft is running out of ideas. I thought it was free on 360 months ago. I don't think I need it twice on my XB1. #Backwardscompatibility.

This is Xbox One version. And that 360 version may not ever be backwards compatible.

Nah, probably just to stir up some hype for the new coming out.

Exactly. That's all this is. Give people a taste of the previous one to drive up sales of the new one. If not for the fact Halo prints money already, MCC would be given the same treatment. Plus, Microsoft sends a message to the other publishers with this. EA already got the message which is why the previous Madden goes into the EA Access vault right before the new one comes out. When the next Call of Duty comes out, don't be surprised if the current one goes into Games with Gold.

Regular Tomb Raider. Definitive edition is all dlc and slightly improved graphics.

I had it on 360.... Now I can get if on THE ONE free that's gud MS

Battlestation Pacific is a fantastic game!

Tomb Raider: Definitive Edition for free ? Loved it on the 360, Maybe I'll go back through it again on the Xbox one as it's free...

Still playing through Tomb Raider on 360 from when it was free a few months ago. I've been eyeing up Crysis 3 for a while so glad I'll be getting it for free.

Fuck. And of course I just bought it!

That makes 2 of us, sucks doesnt it?

I hope they dont make me buy gears of wars 2 to complete the collection!

The wording is ambiguous, but I'm pretty sure that when they say "all future 360 games will be backwards compatible on Xbox One", it's as of when the backwards compatibility is publicly available, or as of November going forward.

It could be now. All of the Rare Replay games are Xbox 360 games that run now on the Xbox One. I think the broad launch is in November, but these piecemeal games may get the go ahead when they go free.

I guess a lot of people were confused. Mike Ybarra just clarified it on his twitter: https://twitter.com/XboxQwik/status/636237518124355584

Been saying T.R. would be added shortly before Rise comes out for some time now. It's just too bad it's out in the second-half of the month. I'd try to play it in the first couple of weeks, but Forza 6 will probably get most of my time in the second-half of September. Then there's the obligatory indie game with retro graphics...yawn.

YES. I have been wanting this game forever!

Great game. Enjoy if you haven't already bought it like meself.

Sh*t I just bought it today -.-

It's not free, you have to pay a subscription to be able to play it.

I like the fact that every writer at windowscentral is now deleting my comments from all posts. This shows the respect and power of truth. Truth wins

I like the fact that every writer at windowscentral is now deleting my comments from all posts. This shows the respect and power of truth. Truth wins. ,

It's 1 Sept and TR:DI is downloading on my One in USA. :)
Windows Central Newsletter
Thank you for signing up to Windows Central. You will receive a verification email shortly.
There was a problem. Please refresh the page and try again.