Tony Hawk Pro Skater 5 to grind its way onto the Xbox One and Xbox 360 later this year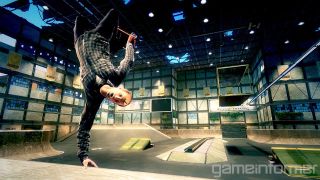 Rumors have been swirling around this game since early 2014 and last year at E3 Tony Hawk went on record saying that they were working on the next Tony Hawk game. Well here we are today, and it has become officially official. Tony Hawk Pro Skater 5 will be heading to the Xbox One and Xbox 360 later this year.
Tony Hawk Pro Skater 5, as the name implies, is a return to the games roots. The game is a call back to its prime when the controls were finely tuned, and gameplay was over the top and fun. Once again, you will be skating around looking for floating DVDs and COMBO letters and trying to get the highest score possible.
The game is also said to feature some new additions such as level specific power-ups and the ability to shoot projectiles for individual missions. For example, one level features a power-up that makes your board move faster once you grind all the rails in that level.
As for the missions, they are no longer played out by a story and instead are played as "objectives" that take place on certain levels. The missions and objectives in each level can all be played solo or cooperatively with your friends online.
The game is said to be able to jump from online to offline play seamlessly. When you're playing online, levels are filled with fellow online skaters so that it feels alive and like a real free-for-all session. The devs are said to be still working on how many players should populate each level.
Tony Hawk Pro Skater 5 brings back some of your favorite skaters (Tony Hawk being one of them) to play as, as well as some new big names in the skating community. You can also play as your own created player although there is no indication of the customization options that the Tony Hawk Underground series made so famous.
All in all, the game seems like it's on the right track to getting back to its roots while modernizing some of the things that made it fun. We're looking forward to hearing more about the game next month at E3.
Source: Game Informer
Get the Windows Central Newsletter
All the latest news, reviews, and guides for Windows and Xbox diehards.