Top 7 Bing features that we can't do without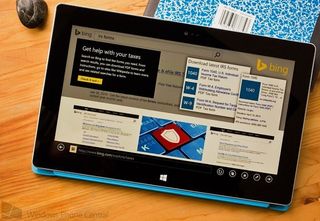 All of us here at Windows Phone Central use Bing for our day-to-day searches, and we are positive that most of our readers do also. For those of you who have installed the Google Search app onto your Windows Phone or Windows 8 machine, we will try not to judge you. Despite your choice of search engine, we reached out to the community to find out what your favorite Bing features are, and presented them in our beautiful typeface below.
Bing Rewards
This is probably the number one recommendation for users who search and engage with Bing every day. We assume that if you have not setup a Bing Rewards account it is because you do not use Bing or because you have never heard of it.
Essentially, Bing Rewards is a program that awards points to users who perform searches and completes daily tasks. It is extremely easy to earn points and you can cash them in for special prizes. Currently available items include 100 GB of OneDrive Storage, a $5 Amazon Gift Card, 1 month of Hulu Plus, 60 minutes of Skype credit, a $5 Starbucks Gift Card, and much more.
Be sure to sign up for Bing Rewards today if you already have not!
Bing Image Match
Google has had this feature for years, but Microsoft has finally decided to integrate it into its own search engine. If you find an image on the web or have an image on your PC that you would like to "re-find" on the internet, you can use Image Match to do so.
Let us say that you have a small image that you found on the internet a while back, you could now use Bing Image Match to find a larger and high-resolution copy of that same exact image. No playing around with search key words or Boolean logic – just point Bing to your picture and you are set.
To use Bing image Match, simply head over to Bing.com and click on the "Images" tab. Then, next to the search box, you will see a button that says "Image Match". You can either upload a file directly from your PC or paste in an existing image URL to start the search.
Bing Computations
I personally have a disdain for mathematics, which is why I love to use Bing search to perform computations. Simply head over to Bing and type in your math query to see instant results
You can type in simple equations such as "100 / 5" or "100 divided by 5" to get super-fast answers right inside Bing. The search engine now also provides a calculator that you can use to change around your math problem – not to mention, it is touch friendly.
If you type something a bit more complex into Bing such as an equation like "y=2x+1", then you will be provided a link to instantly redirect to Wolfram Alpha; the service will be able to plot your equation and provide other data surround the input.
Bing Video Hover
While Google may have had an edge up with image search functionality, Bing is still the king when it comes to searching video content.
At times, while searching for videos on the web, it can be difficult to know if you are about to click on the correct video or a copycat. Bing eliminates any uncertainty you might have by allowing you to hover over any video and preview a short clip of it.
If you are worried about accidently playing a "naughty video", do not worry – Bing video hover disables itself and blurs any questionable content.
In addition, when you play a video from a Bing search result, it will pop up within the page instead of taking you directly to the site. Not only does this provide an easy way to get back to your search results, but it also saves bandwidth by not needing to load an entirely new page each time.
Bing Timeline
How many times do you want to look up a famous individual? Would it not be more convenient if when you searched "Henry Ford" a timeline automatically appeared with key events throughout his lifetime? With Bing Timeline – it does.
Simply head over to Bing and perform a search for "influential or famous people" and you should be provided with a Timeline for said person. In addition, to the timeline that is displayed, you receive important stats up front including the person's lifespan, family, and companies/organizations they may have founded.
If your son or daughter (or yourself) has an upcoming school research project, using Bing's Timeline feature is a great way to get them going in the right direction.
Bing Snapshot
Sometimes, you want to get information before you even hit the search button. Companies have tried various ways to accomplish this, such as Google's instant results that searches and updates the page as you type. When Google released this feature many Bing users wanted something similar, so Bing came up with their own solution – Bing Snapshot.
Bing Snapshot keeps everything a bit neater; instead of receiving entire search results for "Volca" when you are trying to search for "Volcano", the features provides bits of information within the suggested search bar.
If you are performing a search for "Bill Gates", Bing will automatically provide you with a small "snapshot" of basic information that you can then click on to explore more about your query. Snapshots also include quick links to points of interest, such as news, imagery, biographies, quotes, etc.
Bing Saves
Here is a feature that most of you will not know about, but do not worry – it is because it is still in beta. Bing Saves is a new idea that the Bing team at Microsoft is testing out to provide easy bookmarking.
Instead of saving your favorite bookmarks locally, you can keep them saved safe up in the cloud. To check out the new beta feature simply head to Bing.com/saves. From there, you will be able to pin a link to your favorite toolbar that will enable the ability for you to click and save a link directly to Bing. Your bookmarks can then be seen by visiting the Bing Saves section.
We are not sure exactly how useful this feature is, as most browsers including Internet Explorer, Chrome, and Firefox already have cloud backups for bookmarks. That being said, maybe you can find an excellent use for the feature.
What Did We Miss?
We are just touching upon the surface of what Bing can do, and we have highlighted some of the community's favorite features. Bing is more than a search engine and as Microsoft has said, it has "expanded beyond the search bar". You can find Bing integrated into Windows, Xbox, and Windows Phone all with unique features.
Tell us if you use Bing – why or why not? Did we miss any of your favorite features that Bing web search provides?
Thanks to the following readers for submitting tips: David S., Justin P., Martin H., Greg J., Joel C., and Mayank G.
Get the Windows Central Newsletter
All the latest news, reviews, and guides for Windows and Xbox diehards.