Top 7 Bing features that we can't do without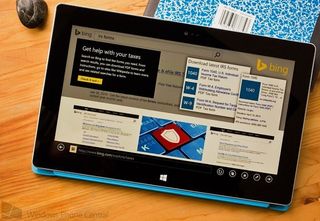 All of us here at Windows Phone Central use Bing for our day-to-day searches, and we are positive that most of our readers do also. For those of you who have installed the Google Search app onto your Windows Phone or Windows 8 machine, we will try not to judge you. Despite your choice of search engine, we reached out to the community to find out what your favorite Bing features are, and presented them in our beautiful typeface below.
Bing Rewards
This is probably the number one recommendation for users who search and engage with Bing every day. We assume that if you have not setup a Bing Rewards account it is because you do not use Bing or because you have never heard of it.
Essentially, Bing Rewards is a program that awards points to users who perform searches and completes daily tasks. It is extremely easy to earn points and you can cash them in for special prizes. Currently available items include 100 GB of OneDrive Storage, a $5 Amazon Gift Card, 1 month of Hulu Plus, 60 minutes of Skype credit, a $5 Starbucks Gift Card, and much more.
Be sure to sign up for Bing Rewards today if you already have not!
Bing Image Match
Google has had this feature for years, but Microsoft has finally decided to integrate it into its own search engine. If you find an image on the web or have an image on your PC that you would like to "re-find" on the internet, you can use Image Match to do so.
Let us say that you have a small image that you found on the internet a while back, you could now use Bing Image Match to find a larger and high-resolution copy of that same exact image. No playing around with search key words or Boolean logic – just point Bing to your picture and you are set.
To use Bing image Match, simply head over to Bing.com and click on the "Images" tab. Then, next to the search box, you will see a button that says "Image Match". You can either upload a file directly from your PC or paste in an existing image URL to start the search.
Bing Computations
I personally have a disdain for mathematics, which is why I love to use Bing search to perform computations. Simply head over to Bing and type in your math query to see instant results
You can type in simple equations such as "100 / 5" or "100 divided by 5" to get super-fast answers right inside Bing. The search engine now also provides a calculator that you can use to change around your math problem – not to mention, it is touch friendly.
If you type something a bit more complex into Bing such as an equation like "y=2x+1", then you will be provided a link to instantly redirect to Wolfram Alpha; the service will be able to plot your equation and provide other data surround the input.
Bing Video Hover
While Google may have had an edge up with image search functionality, Bing is still the king when it comes to searching video content.
At times, while searching for videos on the web, it can be difficult to know if you are about to click on the correct video or a copycat. Bing eliminates any uncertainty you might have by allowing you to hover over any video and preview a short clip of it.
If you are worried about accidently playing a "naughty video", do not worry – Bing video hover disables itself and blurs any questionable content.
In addition, when you play a video from a Bing search result, it will pop up within the page instead of taking you directly to the site. Not only does this provide an easy way to get back to your search results, but it also saves bandwidth by not needing to load an entirely new page each time.
Bing Timeline
How many times do you want to look up a famous individual? Would it not be more convenient if when you searched "Henry Ford" a timeline automatically appeared with key events throughout his lifetime? With Bing Timeline – it does.
Simply head over to Bing and perform a search for "influential or famous people" and you should be provided with a Timeline for said person. In addition, to the timeline that is displayed, you receive important stats up front including the person's lifespan, family, and companies/organizations they may have founded.
If your son or daughter (or yourself) has an upcoming school research project, using Bing's Timeline feature is a great way to get them going in the right direction.
Bing Snapshot
Sometimes, you want to get information before you even hit the search button. Companies have tried various ways to accomplish this, such as Google's instant results that searches and updates the page as you type. When Google released this feature many Bing users wanted something similar, so Bing came up with their own solution – Bing Snapshot.
Bing Snapshot keeps everything a bit neater; instead of receiving entire search results for "Volca" when you are trying to search for "Volcano", the features provides bits of information within the suggested search bar.
If you are performing a search for "Bill Gates", Bing will automatically provide you with a small "snapshot" of basic information that you can then click on to explore more about your query. Snapshots also include quick links to points of interest, such as news, imagery, biographies, quotes, etc.
Bing Saves
Here is a feature that most of you will not know about, but do not worry – it is because it is still in beta. Bing Saves is a new idea that the Bing team at Microsoft is testing out to provide easy bookmarking.
Instead of saving your favorite bookmarks locally, you can keep them saved safe up in the cloud. To check out the new beta feature simply head to Bing.com/saves. From there, you will be able to pin a link to your favorite toolbar that will enable the ability for you to click and save a link directly to Bing. Your bookmarks can then be seen by visiting the Bing Saves section.
We are not sure exactly how useful this feature is, as most browsers including Internet Explorer, Chrome, and Firefox already have cloud backups for bookmarks. That being said, maybe you can find an excellent use for the feature.
What Did We Miss?
We are just touching upon the surface of what Bing can do, and we have highlighted some of the community's favorite features. Bing is more than a search engine and as Microsoft has said, it has "expanded beyond the search bar". You can find Bing integrated into Windows, Xbox, and Windows Phone all with unique features.
Tell us if you use Bing – why or why not? Did we miss any of your favorite features that Bing web search provides?
Thanks to the following readers for submitting tips: David S., Justin P., Martin H., Greg J., Joel C., and Mayank G.
Windows Central Newsletter
Get the best of Windows Central in in your inbox, every day!
Are these all features available to the masses outside the U.S.? In which case please change the title to US only. But nice features they are. Thanks for sharing.

Agreed... I'm in Canada and its not available to me. MS really needs to globalize

These features definately work in Canada for me. Is it possible you need Windows 8.1 or IE 11 for these to be available.

Not all of them, the Calulator is not in Canada, teh Converter thing (Here: http://www.bing.com/search?q=Gigabyte+in+terabyte ) is not in Canada, some other things too like Bing Rewards, but their bringing them out soon.

We don't have a Calulator in the US either, or teh Converter thing.

Yes you do, your Bing is probably set to another country.

No relation to 8.1 or IE version, this is a known thing of Bing features not being available internationally.

I knew none of these features would be ones that show for me in Ireland. Drives me insane that Microsoft does this to the rest of the world, where most of its market lies.

Hover to play a video in video search is available in Canada. Haven't tried any of the others to know about them, but *some* of these features have been rolled out of the U.S., at least.

Ever heard of a VPN? Bing it...

The only decent vpn are the paid ones, so, fuck you :)

Naah, USIpvpn works pretty fucking good if I'm able to stream Pandora and Netflix. it is free too.

Can you provide more detailed info about how to get that working? For Bing Rewards I say

I have. Now, millions of people worldwide won't know how and won't see the point of using a VPN to use basic browser features. Which again, they have no problem using for Bing's merry competitor Google. Not a solution, sorry.

Easier to simply set Bing location to US. Settings->Worldwide->United States (English). And BAM all features (except Bing Rewards) are available.

Bing's results are abysmal in Canada. I can't use it, and can't understand why anyone would willingly use it. Google is about 95% better, and at the very least gives me what I'm looking for most of the time. Bing does not.

Likewise in Sweden and I believe the rest of Europe.

Yep, that's how it is in Finland too. Not too long ago I had IIS issues on a test computer and copied the error message into Bing (as it was the default there). On the first page there were only two results that had something to do with technology, but neither of them had anything to do with the issue. Copied the same search into Google -> first result nailed it. It gets only funnier (or sadder) when you consider whose web server product IIS is.

I haven't used google search in over 4 years. I'm a uni student in canada and I do weird searches for my courses. Bing does it for me.

I've discovered that if you go to the Bing home page, login with your Microsoft account, select Bing options, select settings, select worldwide, then click on United States -English, all of the new features will work. All except Bing Rewards that is. I'm in Canada and it works for me.

There is another way... Download bing desktop... Other than changing ur daily wallpapers it will allow the search settings to be set to U.S.... And ya .. No rewards for outsiders here too

The problem with this that Bing won't find any German websites anymore. I'm fluent in English and have no problem getting all results in English, but when I set it to U.S. I can say goodbye to any kind of local search for German places, restaurants, etc... So I can choose between having none of the cool features and find some local stuff or having all of the cool features but with useless search results to me :(

Im in Canada, i did the same too. It changes the Daily Picture too. But, I have Bing Rwards working for me ;) I Assume you had the problem where you cant enter a Adress, Fake Or Real, so you cant redeem things? (Gift cards are sent via Email, so i CAN get Card in Canda) So, when i had to do was use a American Proxy, then it Thinks im from the US, thats why it didnt work for you, it knew your in Canada, so after using teh proxy, i entered my Legit US house (My Vacation Home i have there) and it worked, after i turned the Proxy off it still has the settings saved, It works like a charm, i can redeem when ever i want, with No Proxys now! :) Bing "proxys" if you dont know what they are, and in "Internet Options" in IE and/or just simple Windows Computers, lets you use a proxy.

Yes, I hate so much Bing because it's only well worth inside the US, but in Latin America there are not even country pages for some like Perú, I mean, I almost never find what I am looking for. Anyway I use it because I can't stand Google.

Agree ! Seriously it need to be worldwide. Bing reward especially. :(

You can reach these features in a different way dude... Install bing desktop app and see the difference. Even i was fustrated in begining and was wondering how to use these features but installing the bing desktop app solves the prob. You will notice hell a lot of difference. Hope I was helpful. I started loving Bing hope MS releases all these features globally in future without requireing the installation of this app.

If Bing Rewards available in my country, I might have won some prizes. But for now, those points are nothing here.

You can just change it in the setting , i have changed it , and i have those features

I like how image match just came, yet it's something that they can't live without ;). I agree though, it's super useful.
My favorite feature isn't technically search per se, but I love setting Bing as the lock screen. It's like a fun surprise every day.

Yes! Setting Bing as the lock screen actually gets me excited everyday.

Except when the picture is a pelican and you have to explain everyone why do you have a pelican, flamingo, gorilla in your lock screen.

Hahaha, my exact thoughts! Animals are weird, I'd rather have an option to opt out of animal bing pics :p

I agree, great photography - something interesting every day. I like that it is synced on my home PC, work PC, surface, and Lumia. I often look at the info page and learn interesting things when delving deeper.

They probably used the feature on Google before it was released on Bing.

Agree, i use Bing Desktop, and i have it change my Desktop Wallpaper to the Bing Daily Image, love it!

I gave up on Bing, because Bing only believes in Americans.

* United Statians. The rest of the Americas isn't getting any love either.

I know. I'm from the Dominican Republic. But I've never heard the expression "United Statians". Like it or not, truth or false, Americans is what they're called.

Hey now we Canadians are not Americans despite making up most of North America.

Great. Finally someone understands it. I'm argentinian and I'm american despite not being american.

Yeah, its more complicated than it should be. The Russian Federation is referred to as Russia, United Emirates is often called Emirates. Countries with names like The Republic of X are referred to as X. The country named The United States of America is shortened to 'America'. Its not a plot to deny the rest of the American continent their identity, its just how people usually shorten country names.

Great article! Really can't wait for Bing rewards on windows phone also you forgot Bing smart search on windows 8.1 it's a handy feature

Having a built in currency converter is useful, its a feature I use daily and I like the calculator that pops up when doing maths.

Have to agree with others it's too focused on the US Posted via the WPC App for Android!

I started using Bing over Google many years ago right after the name change and haven't looked back. I use search daily if not hourly and results from Bing always seem to be more relevant to what I need. Google may have changed as I really don't hardly ever use it but it seemed that their results were more tailored by what they wanted me to need. BTW, I won a Lumia 928 and got 100gigs of extra One Drive with rewards so you know I love that ;)

I wish that was the case in Australia

Likewise, I have not used Google for so long I can't remember how long. Get what I need with the searches I do. Interesting point, me and an Android user were searching for a local photography shop, they used Google, I used City Lens, the name did not show up in Google, but did on City Lens. I was surprised and they were impressed.

I think that is coming with WP8.1, at least I believe I saw that in a thread here recently.

You can use the mobile site with UC browser and earn rewards. Just not IE.

If you set your browser to desktop and go to Bing you can. I've done it a few times but I'll be happier when there's no need to flip flop between desktop\mobile.

You CAN use Bing rewards on WP by visiting Bing.com through ie

After Windows Phone encouraged me to switch to Bing, I haven't looked back at Google, and don't miss Google at all. I love bing's daily homepage, especially when it showcases an animated image. Bing photography >boring white google page with "doodle".

Definitely Bing rewards. Easy to get free month of Xbox live. Well worth it.

I tell friends about the easy rewards system, and most of them don't sign up. Seriously, having used Bing for a couple weeks in the beginning, I didn't miss Google except for Street View Maps. Yet, earning gift cards from places they shop like Amazon, or Starbucks, they still don't sign up - I don't get it. They'll spend their time poring through forums to get a coupon code and spend the time on YMMV deal posts, but won't bother spending 2-3mins to do their 30 searches. smh /rant

Loved how you can just enter a tracking number and then it automatically detects which shipping company it is and gives you a direct link to the shipping website. I used that feature tons of times!

Thanks for that, I honestly had no idea you could do that.

Awesome! Never knew this existed.

Yeah handy little feature. it works for usps, UPS and fedEx I don't know about the rest.

It looks like all these features are US only. I use Google as it understands the rest of the world exists.

Who knew bing was so cool! ...not we foreigners

For my own education, what Bing features are not available outside of the US? I assume Bing Rewards is one of them but what else?

All of them on this list apart from video hover. Plus we don't get the narrow by time option on searches which is something I use a lot on Google.

With Bing rewards I have cashed in so many Xbox $3 cards I can't count.. I watch a free new release HD movie off of Xbox video like every other week.. Can't beat it

Hoping that Bing Rewards and Bing Image search come to WP 8.1 built in. I mean how many of you conduct searches on your Windows phone everyday and are not rewarded for it. That would be awesome.

About 88 percent of my Bing searches are on my Lumia

Exactly! Would love to have these features in WP!

Search History. I often find myself going back to a previous search session and it comes in perfectly in that situation.

I use Bing and google... I like both because I use google on my iPhone 5S (Work gave it to me for me birthday) and Bing on my Nokia Lumia 521, then its google on my Mac Pro, MacBook air and Bing on my alienware laptop/dell venue 8 pro.

Bing needs to bing itself around a little more than the u.s. If bing wants global its go to do global

So true, it hurts that I can't somehow Bling with Bing through VPN too

You do without big rewards every time you search on your Windows Phone. But hey, if you're using an Iphone...

The sad thing is availability outside of the US.

Is Bing used in Microsoft Academic Search? Because that's pretty awesome for me. I find myself on Bing translate alot too. Very useful, and I like the app too.

Bing is only for the US. Its useless outside THE great America.

I use Bing exclusively, but the comments about those of us in the wilderness of the other 6,000,000,000 people get left behind are spot on. My browser and IDs are set to US account and it is pitiful the difference.

Gave up Google several years ago and have never looked back. The biggest thing that brought me to Bing was the cleaner search results. The Image and video search is hands down better than Googles. Bing rewards has always been a plus till last month when they took off Redbox rentals. I also enjoy the bottom news feed as well. Bing translate has also been very useful dealing with customers overseas.

7 of many awesome features!

Bing rewards not available in India :'(

Shame that WPCentral choose to ignore 95% of the world by talking about stuff that mostly only available in the U.S. - still, I guess they're just following Microsoft's lead. Maybe the influx of Nokia people will help MSFT realise that there's a world outside their door but I'm not holding my breath. To be honest, I mostly use Bing over Google because of the amazing photos (ironically, from around the world - perhaps US users only get photos of their backyard?). Annoyingly though, even the cool animations on the homepage don't work here in Singapore. I use a UK VPN for work and I noticed the other day that when not on the VPN the video of clouds rolling across Machu Picchu was replaced by a static image.

Bing Rewards and Timeline need to go worldwide.

You end of the article with the question"what did we miss" you missed telling something critical, first of, you profiled the article as if the contents of it was for everyone with a WP, second of you missed to make it clear that most of the features you hyped doesn't work outside US.
I know it's just another day behind the computer typing up something to generate clicks, but please have the courtesy of making things clear to the readers.. You guys do this kind of stuff allot, you are so lucky to have a bunch of readers that are outside US (I bet it's the majority) please do better

+8.1 I respect the writers in Wpcentral but I don't like that they choose to ignore such a big issue.

Love my Bing Rewards! 30 points every day (but i have to do 90 searches to get them, vs my wife who gets 15 points every day, but only needs to do 30 searches) Use Bing almost exclusivley except for programming searches. G****e seems to do better with those. I always kick on In-Private mode though when going there. I realize it doesn't do much but it makes me feel less dirty.

90 is like a quiet day for me :P

I really like bing videos, its easy to use.

Flight status search. Example: type the two letter airline code+flight number (clearly listed on your boarding pass). Just type in DL401 to see the status for Delta flight 401. Love that!!

Yet another feature that's U.S. only.

It works for me in Australia

I'll use Bing in Europe over Google the day Hell freezes.
But nice try, Microsoft salesman Archambault ;P

I haven't used Google search for several years now. These are the reasons why.

I average about $5 a month in Amazon gift cards through Bing. Google doesn't beat that! If only the rewards was integrated into WP's search natively! Secondly, I wish I knew SOMEBODY who actually won one of those sweepstakes contests. As far as I'm concerned, points towards a guaranteed gift card beats a 1-in-who-knows non-guaranteed sweepstakes.

Bing reward not available in India.

It's not available in almost every country (US-only, I believe)


I love Bing Rewards! Can't wait for it to be integrated into WP8.1!

I use Bing Search daily. Rewards and Video Hover are my two favorite features.

Love the new Bing directions finder http://www.bing.com/blogs/site_blogs/b/search/archive/2014/03/18/bing-helps-you-get-there-faster.aspx Just type in something like "Chicago to Des Moines" into the search box and Bing will show a mini map and estimated time right in the search results.

Bing on Brazil, is sucks.
Don't have Rewards, Image Match, Timeline, Snapshot, Saves....
Even search of citys he's don't show like google here...
One thing that is really good, is the search of images and video.
But, know I know that even Search images are much better in USA.
Hope so that in the BUILD, they change they things to Brazil. :/

Bing Rewards is so cool it was nice to use those $5 Amazon gift cards towards Christmas shopping last year! Its also nice to always get a $5 Fandango movie discount card or 2 every month. Anxiously awaiting the coming soon ability to earn rewards on WP8

We should send ms an apply for them to release the mentioned features outside U.S.. Let's say we get 10k signatures on it, and they can't ignore it. Or could it be that the U.S - only could be seen as a test before going global? Posted via the WPC App for Android!

At least in germany (and most likely whole of europe) you simply cant use Bing because it gives you much worse search results.
But looks like MS inly cares about the US...

I'm from Germany and use Bing all day on my Lumia.

I want to like Bing, I want to give up on Google, but the results and perks just aren't good outside the U.S.
I use the search button on the phone just to check out image of the day :(

Agreed. Bing just doesn't deliver, much as I'd like it to. The US doesn't get how bad it is in many other counties.

Same as everything. For example, they whine about the price of stuff but the rest of the world pays far more. Posted via the WPC App for Android!

No Bing rewards for me..:(

I'm in Europe (UK) and use Bing all the time on desktop and phone. For The vast majority of searches I find it at least matches Google.

I have not used Google for so long I can't remember how long. Get what I need with the searches I do. Interesting point, me and an Android user were searching for a local photography shop, they used Google, I used City Lens, the name did not show up in Google, but did on City Lens. I was surprised and they were impressed.

"We assume that if you have not setup a Bing Rewards account is because you do not use Bing or because you have never heard of it." I respect all authors here but seriously, for the love of all that is holy, DO YOUR RESEARCH BEFORE YOU START SCRATCHING OPEN WOUNDS!! Bing Rewards is not available outside US, which leaves me and thousands others who have been using Bing for years with a big complaint and sadness about it. Of course Microsoft is to blame here but you are not making it easier. We need to start a freaking petition for this, do that, WPCentral, post it here and we will allow follow.

People nagging about US only stuff, change your Bing region to US.. Won't get rewards but most of the other features.

Yeah, because we love screwing around to get basic features and then not getting results specific to our country.

You would think there are other ways you can find stuff "specific to your country" than visiting Bing or Google.

You would think that we're talking about features provided by a search engine... so yes, you can find them elsewhere but that defeats the point of the discussion. Search results should generally be localised, but then we miss out on US-only features. If we want the US-only features we miss out on the localisation.

And then everything you search brings you to a us site meaning you have to go out your way to find the local version. Microsoft could roll the features out but can't be arsed. Even the layout and look of bing us is different to everywhere else Posted via the WPC App for Android!

Bing is almost useless in Europe, everytime i want search some term on Bing and on Google (who has local page) i get much better results via scroogle
So until then, Google

Bing doesn't give me the results I need. Sorry, but with Google I get results within the first page, usually within the first 5 links. I've tried to use Bing, but it's atrocious. (UK)

Same in Australia... even worse results on WP8 / WP7 (such as zero results on my phone, but millions on Google or on Bing via desktop browser)

Much as I like Bing, it's often frustrating when it comes to searching for addresses. Type in a non-US address, or only a partial US address (street and city/state) and it usually doesn't return a link to Bing Maps. You still have to click on Maps to get Bing to display it. But even complete addresses often return no results. In that case, the Bing Maps page tells you to retry your query - and puts the address in the "Business name or category (optional)" search box, guaranteeing zero results. Bing obviously has trouble recognizing addresses. Here, Google is flawless.

Slight typo: "we are positive that most of our readers do also" - it should say "we are positive that most of our USA readers do also" as Bing is crippled and horrible for most other countries. No Bing Rewards, Timeline or Snapshot... and much poorer results than Google. It's slightly better on desktop, but downright awful on WP7 and WP8 (I don't know why the results are so different)

None of these are available in India. In fact Bing search in India sucks big time. I have bookmarked the US version of the page manually, but then it returns results only relevant to the US.

Seriously misleading story. At least half of these feautres are not available outside the US, in some countries probably more like tree-quaters. Bing in the US looks good - but in the rest of the world, it is crap. Here in Denmark Bing is completely useless and most people consider it a joke. And changing that reputation is going to be really, really hard. If Microsoft wants to compete with Google, it needs to do so in all markets. I am tired of being treated like a second-rate customer, even though I actually pay more for my products than people in the US do! Google is not perfect, either - try Google Now outside the US - but generally they at least seem to be aware that there is a world outside the US... In Denmark we have no speech recognition on Windows or Windows Phone, no Bing Smart Search in Windows 8, no Local Scout on Windows Phone, no Bing Rewards, no Snapshot, no Timeline. And I'm assuming the Xbox One is going to be just as bad - when they eventualy get around to launching it here... What you should be writing is stories aboout how crippled Microsoft's products are in the rest of the world - and not praising them for releasing more US-only features. Microsoft needs preasure to get this right - and lots of it. It's sad to have to say this, but I really whish the EU would force Microsoft (and other companies) to offer all features in all of the EU and in all EU languages - and have them pay some hefty fines until they comply. That shouldn't be neccasary, but apparently it is.

What you should be writing is stories aboout how crippled Microsoft's products are in the rest of the world - and not praising them for releasing more US-only features. Microsoft needs preasure to get this right - and lots of it.

Exactly my point.

Nearly nothing of this is available in Germany...

Bing is not providing the result as accurate as Google does. I am periodically testing both the search engines to check if Bing has improved so that i can start using Bing as i am using windows in PC and in lumia phone. But Bing is yet to reach the quality of search result which Google provides. This is still not allowing me to go to Bing always. Instead i am using Bing for very popular search terms like currently happening news and using Google to search when i need something very accurate or tough to search.

"We assume that if you have not setup a Bing Rewards account it is because you do not use Bing or because you have never heard of it." Or because I live in Brazil and Bing Rewards are only for USA. =/

We assume that if you have not setup a Bing Rewards account it is because you do not use Bing or because you have never heard of it.

No, just because only ONE of these 7 features is available outside US (video hover). There you have your next article, WPCENTRAL guys. This is the problem with BING. If these features are available only to a few people worldwide, they can never be a serious competition for Google, who clearly doesn't have these problems. This is a serious issue. May the article serve to point this serious problem with Microsoft's Bing strategy.

Bing has better knowledge data for historical events and documents. Do a google search for "Civil Rights Act of 1964". Now do a Bing search. Bing pulls up Wikipedia, Audio, blogs, and more. Now I'd just like to see Bing get their prediction speeds up to par with Google! Also, why doesn't Microsoft move Xbox Music to Bing and call it Bing Music? I always thought it was weird that they kept it under the Xbox brand when it's mostly used outside of Xbox. Microsoft should leverage Bing as their services devision, similar to Google with Play.

I think in the Microsoft world XBox = entertainment. Music, video, games are all under XBox now.

BING US does that, no other one does Posted via the WPC App for Android!

Can anyone actually research and write an article on why so many Bing features and whatever else aren't available outside the US so everyone can (HOPEFULLY) understand why instead of tossing out baseless, ignorant tear-soaked rants? Also, if all of this is true then I'm kinda impressed with Bings market share considering it has next to no reach outside the US.

1. Rewards
2. Rewards
3. Rewards
9001. Rewards
...

I try and always use Bing over Google, but there are two things Bing doesn't seem to do well unless I'm doing something wrong and can be educated. One is image search tools such as, I need X with the exact dimensions of 1920x1280. The other is exact phrases in quotation marks; Bing doesn't seem to give me only the exact phrase, if at all. Am I doing something wrong on these?

I could understand not liking solving maths problems but to have a disdain for mathematics you must be an idiot.

Google rules and bing sucks....in my country

I hope that it will get better around the globe, because here it's almost close to useless if you don't type like the whole thing of what you want + every other feature is missing.. it also doesn't seem to search local things like Google does, but oh well, I hope it will some day

Yeah I totally agree. Bing always finds the best My Little Pony videos.

Wow - I just set my proxy to the US and tried using Bing. It is amazingly differen than the stock bing we get in Canada. It even does Canadian searches better - why is this so region locked? Does this make sense to anyone?

Bing is a US search engine only, everyone else gets a watered down and far lesser experience. Typical really, companies thinking the US is the only market worth focusing on. Posted via the WPC App for Android!

I sadly need to point out that the same will happen with Cortana outside USA.

Yup, US gets all the goodies and we get the scraps years later. Posted via the WPC App for Android!

I've tried to use Bing ad my primary search engine several times and its results just aren't as good as Google. Almost never was the link I wanted listed close to the top, whereas google almost always had it as number 1 or in the top 3.

Sorry folks, I had to confess i changed my default search on my phone's internet explorer to Google.... used dedicated Bing search button mainly to scan bar code.... Apart from the visual design and wallpapers.. i had no big love for Bing.. and most of the features mentioned in the article and not available to me.... :(

In Spain doesn't work: Rewards, Image Match, Timeline nor Snapshot. The problem is I can understand Rewards not working since the offers are from the US. I barely understand Timeline not working because the provided information is not translated... OK. But... why on earth Image Match or Snapshot are not working???? This is what I hate the most about using BING outside of the states. So the "benefits" are 3 over 7 in Spain at least.
Windows Central Newsletter
Thank you for signing up to Windows Central. You will receive a verification email shortly.
There was a problem. Please refresh the page and try again.