Top Minion Apps and Games for Windows Phone
Windows Phone Central Roundup: Minion Apps and Games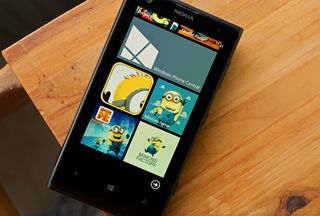 Tough week down South dealing with the snowpocalypse (opens in new tab) so we are taking a lighthearted approach to this week's Windows Phone Central Roundup by focusing on Minions.
For those not familiar, Minions are little yellow sidekicks of the evil scientist Gru from the popular Despicable Me (opens in new tab) movies. They are a collection of lively little fellows whose giggles and antics will bring a smile to your face.
There are a handful of Minion oriented apps and games in the Windows Phone Store and we picked four that stood out. Some are fairly simple in design and concept while others are rather appealing titles.
Minions Factory (free)
Minions Factory is a nice collection of lockscreen wallpapers and ringtones that are Minion oriented. You also have the ability to create your own Minion and save them as a wallpaper image.
Minions Factory Menu and Create Screens
Minions Factory is listed as a game so you will have to go to your Games Hub to launch it. From the opening screen the user interface is simple, just tap the "Start Game" button and choose where you want to go. Your options are to create a Minion, visit the soundboard or view the lockscreen options.
Minion customization lets you choose the Minion's hairstyle, eyewear and mouth. Once created you can name you Minion, save it to your Pictures Hub and share it with friends. The soundboard has twenty-six sound bites that can be saved to your Windows Phone and used as a ringtone or alert tone.
Minions Factory Sound and Wallpaper Screens
The lockscreen wallpaper collection includes six Minion images that can be saved to your Windows Phone Pictures Hub and set as your lockscreen image.
Minions Factory is a nice collection of ringtones and wallpapers. If you are a Minion fan, it should be on your short list of apps. It is a free app, available for Windows Phone 8 devices and you can find Minions Factory here (opens in new tab) in the Windows Phone Store.
Minion Rush (free)
Minion Rush is the heavy weight title in this week's roundup. Minion Rush has fantastic graphics, entertaining game play and just an overall fun gaming title.
For those not familiar, Minion Rush is an endless runner game where you play the role of a Minion who has to duck, dodge and jump over obstacles as they run through Gru's laboratory, Gru's neighborhood and El Macho's Lair. As you avoid running into things, you collect bananas that can be used to upgrade your Minion and power-ups.
Minion Rush Menu, Game Screen and Store
You do have some in-game Boss battles and specialty items that will give your Minion a performance boost (ride Fluffy the Unicorn, jump on a rocket, or become a Mega-Minion giant).
Again, animations are great and game play challenging. Minion Rush also has flexibility to satisfy brief gaming spurts or longer gaming sessions. It is a free game with in-app purchase opportunities (buying bananas and tokens to use in the Store).
Minion Rush is available for Windows Phone 8 and you can find it here (opens in new tab) in the Windows Phone Store.
Minions Ringtone (free)
While Minion Rush is the heavyweight of the group, Minion Ringtone is probably the lightweight of the bunch. Still, the collection of ringtones with Minions Ringtone has a certain appeal.
The app has twenty-one Minion styled ringtones ranging from a text message alert to the banana song. There is even a Christmas Minion tone for the Holiday Season.
Minions Ringtone
The Minion Ringtone interface is about as simple as it can get. Just tap the play arrow on the ringtone banner to preview the tone and add it to your Windows Phone ringtone library. It is an easy way to liven up your ringtones and alerts.
Minions Ringtone is a free app that is available for Windows Phone 8 and 7.x devices. You can find Minions Ringtone here (opens in new tab) in the Windows Phone Store.
Minions Jump (free)
Minions Jump is a Windows Phone game for the endless jumper fans in the crowd. The platform game has four playable Minions whose goal is to jump from platform to platform in hopes of reaching the moon.
You control your Minion by tilting your Windows Phone left or right. One missed platform, your Minion will fall from the sky, and the game ends. The higher you go, the greater your score and to give your points total a boost, you can collect bananas along the way. The game also has Evil Minions floating about that will also ruin your day.
Minions Jump Menu, Minion Choice and Game Screens
Minions Jump is a decent game for your Windows Phone. The further you jump the more challenging the game becomes. If you are a fan of the Minions and are looking for a fun game to pass the time with Minions Jump is worth a try.
Minions Jump is a free game that is available for Windows Phone 8 and 7.x devices. You can find your copy of Minions Jump here (opens in new tab) in the Windows Phone Store.
Stand Outs?
The obvious stand out in this week's roundup has to be Minion Rush. Game play is entertaining and the graphics/animations are well done. It is hard to go wrong with Minion Rush. Minions Jump is not a bad option but lacks the game play options and challenges of Minion Rush.
After Minion Rush, Minions Factory stands out for its wide range of offerings. There are other apps that offer lockscreen wallpapers and ringtones separately but Minions Factory is a one-stop shop (plus you can build your own Minion). Minions Ringtone is a nice collection of ringtones but without wallpaper images, it takes a back seat to Minions Factory.
Now it is your turn. Did we overlook your favorite Minion game or app? Is there a Minion app or game not available that you would like to see come to Windows Phone or has the Minion fascination already become yesterday's news? Feel free to sound off in the comments below with your thoughts on the subject.
Windows Central Newsletter
Get the best of Windows Central in your inbox, every day!
George is the Reviews Editor at Windows Central, concentrating on Windows 10 PC and Mobile apps. He's been a supporter of the platform since the days of Windows CE and uses his current Windows 10 Mobile phone daily to keep up with life and enjoy a game during down time.
Minion Rush does not run smooth on 512 MB devices

Try switching off the internet.. felt a small difference.. using L720

Really? it runs just fine on my 8X

Really?? It works smooth on my Lumia 520 :/ ur cell phone must be loaded with apps/games....uninstall to free up some space....works for me though :3

Totally agreed :) Works fin on ma L520 (y)

Runs fine on my Lumia 620.

it doesn't run well on L1020 or at least just mine.

Must be yours, runs fine on my 1020.

Its latest update fixed the frame rate issue for me on my Lumia 720.

I expected some lag in my games when I got my 625. I just adjusted my expectations accordingly.

Love Minions!!!! My favorite characters!!

Love Minions! I think its time to get rid of WP 7.8 and get myself a WP8 :-)

I love Minion Rush. Was playing it just prior to reading this. Runs great on my 928.

What the southern states call a snowpolalypse, the northern states call a typical Thursday afternoon. Of course, what the northern states call too cold for school, Alaska and Canada call a heat wave.

Minion rush works awesome on my l625

Minon rush didnt get that soccer update like on other OS.

Do any of these apps except Minion Rush even meet the certification requirements for the store? Re: 3.1

Are these all officially licensed apps?

Minion Ringtone has 21 tones? I must be doing it wrong. I see only 4...