Top Rated Free Windows Phone games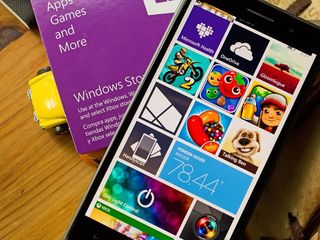 We can all appreciate freebies in life and the Windows Phone Store has an extensive selection of free games and apps for us to enjoy. Some are truly free with no strings attached while others rely on ad-support to keep things free for the taking.
But which freebies are worth the time to download? As you may know, the Windows Store has several categories that you can sort the apps and games by. This includes your Featured, Xbox, New and Rising, Top Paid, Best Rated and Top Free categories. The Top Free category ranks the games taking into consideration not only the Star rating but also the number of ratings offered on a title.
This week's Windows Central roundup will focus on the top five free Windows Phone games. It is not a bad collection of games to have in your Windows Phone gaming library and all are well worth trying. Just keep in mind that this category is fluid, often changing throughout the day. We took a snapshot of the rankings a couple of days ago, removed one game that was clearly a copy of the original and the rankings have likely changed since.
If we did not mention your favorite free Windows Phone game, do not read anything into it. We merely limited this week's roundup to the top free games in the Store. If you want to toss out a recommendation on a free Windows Phone game, feel free to sound off in the comments below.
Candy Crush Saga
Candy Crush is a popular gaming title that has seen gobs of success across multiple platforms. Candy Crush Saga is seeing this success come to the Windows Phone platform. Think of it as a game of Bejeweled, just played with candy instead of gems.
The multi-level match-three game (1,025 levels and growing) has you shifting candy around the gaming screen to create matches of at least three of the same types of candy. Grouping beyond three will generate bonus candies with special power-up abilities.
Candy Crush Saga's gaming levels have defined goals such as scoring a set number of points or clearing out all the jelly-encased candies. To add to the challenge of the game, each level has a limited number of moves to reach those goals. There are plenty of boosters to unlock and use to help you advance through the game and there is Facebook integration for those who want to brag about their scores.
Game play is regulated by a token system. You begin with five tokens and if you fail a level of play, you will lose a token. Should you run out of tokens, they will replenish automatically over time or you can make an in-app purchase to refill them quicker. Candy Crush Saga also has support for cloud saves. While not a universal app, this will let you save your gaming progress and pick things up where you left them should you change Windows Phones.
This roundup was the first occasion I had to play Candy Crush Saga and like other match-three games, it has an addictive pull to it. Graphics are nicely drawn up, game play challenging and overall Candy Crush Saga comes across as an entertaining, addictive way to pass the time.
Download Candy Crush Saga for Windows Phone (Free)
Subway Surfers
Subway Surfers always seems to have a presence in the top rated Windows Phone games. Windows Phone users demanded the game and once on Store shelves, it has remained a solid title in the Windows Phone gaming lineup.
For those not familiar, Subway Surfers is an endless runner styled game where you play the role of Jake, who is surfing through a train yard. You dodge trains, collect coins and try to stay one step ahead of the Railroad Inspector, who is determined to catch you.
I think what keeps Subway Surfers popular is that periodically the game will be updated to not only tweak things under the hood but also to change the venue of the game. We have seen Jake surf through train yards in New York, Los Angeles, Paris, Mumbai and currently the game is set in Rio de Janeiro.
There are plenty of power-ups to discover, costumes to buy and additional characters to unlock. Game play can be rather challenging with a nice zip in the pace of play.
Overall, Subway Surfers is a solid Windows Phone game and being a free title does not hurt one bit.
Download Subway Surfers for Windows Phone (Free)
Donged Speed
Donged Speed is another endless runner styled game that makes the Top Free list in the Windows Phone Store. You find yourself on a motorcycle, racing up the screen and dodging traffic along the way.
There is some confusion with the title. The splash screen reads "Fast Motor, Crazy Noel" while the title in the Windows Phone Store reads "Donged Speed". Along with the miss-matched titles, you also have an annoying ad banner that blocks the top portion of the screen, hiding your gaming score from view.
While there are design issues, game play was not too shabby. Graphics have a retro feel and game play can be challenging. You control the motorcycle with your Windows Phone tilt sensors and can tap the screen for a turbo burst of speed. Hit an oncoming vehicle or slam into the guardrails that line the roadway and the game ends.
Get rid of the ad banner, clean up the graphics and update the Christmas theme and Donged Speed could be a nice Windows Phone game to pick up from time to time. As is, it is a bit of a mystery why this game is listed amongst the top free games in the Windows Phone ahead of the likes of Doodle Jump DC, Sonic Dash and even Piano Tiles.
Download Donged Speed for Windows Phone (Free)
Talking Ben the Dog
Talking Ben the Dog is more of a novelty app than a Windows Phone game, but still made its way into the Top Free list. Talking Ben the Dog is an interactive app where you have a wide range of options to interface with Ben.
The story line has Ben being a retired chemistry professor who likes the quiet and comfortable life. You find him lounging in his chair and can feed him, offer him a drink and even send him back to the laboratory to do a few chemistry experiments.
Ben will also react to being tapped or hit in the face or stomach, to having his belly tickled and will have a conversation with you when you tap the telephone button. There is a child mode button in the settings that will tone down some of Ben's reactions and you can also tone down the violence by turning off the ability to hit Ben.
You can even record your interactions with Ben by tapping the record button in the upper left corner of the screen. Recordings can be saved locally, uploaded to YouTube or shared via the Universal Share Picker (email, Twitter, messaging, OneDrive, etc.). Here is a small sampling of how Ben looks on camera.
There is no score to achieve, no gaming level to conquer. Even without gaming features, Talking Ben the Dog can be a fun Windows Phone title to spend a little time with. The game is available for Windows 8 and low-memory Windows Phones. Please note that while Talking Ben the Dog is available for 512mb devices, the record feature is not available for these devices.
Punch Fruit
Punch Fruit another match-three styled game available in the Windows Phone Store that has 2000 gaming levels to conquer. Each level has a target score to reach before the game timer strikes zero.
While Candy Crush has you swapping puzzle pieces around to create the matches of three or more of the same object, Punch Fruit takes more of a bubble burst approach to things. Just tap one a piece of fruit and drag your finger horizontally, vertically or diagonally to connect adjacent, matching fruits. The larger the group, the more points you earn.
You can also create bonus fruit with the larger matches you create. One bonus fruit will take out all of the fruit in a row or column when used in a match. Another bonus will remove all the fruits on the gaming board that matches the combination created.
Punch Fruit may not rise to the level of Candy Crush Saga, Disney's Frozen Free Fall or even the classic Bejeweled games but it is an enjoyable game in its own right. I'm not sure if you can have too many match-three games in your Windows Phone gaming library but if you are looking for a scaled back game to pass the time with, Punch Fruit is worth a look.
Note: Apparently overnight Punch Fruit was removed from the Windows Phone Store. We are not sure as to the "why" but will try to reach out to the developer for clarification.
Download Punch Fruit for Windows Phone (Free)
Get the Windows Central Newsletter
All the latest news, reviews, and guides for Windows and Xbox diehards.
George is the Reviews Editor at Windows Central, concentrating on Windows 10 PC and Mobile apps. He's been a supporter of the platform since the days of Windows CE and uses his current Windows 10 Mobile phone daily to keep up with life and enjoy a game during down time.