Torrent downloader Torrex Pro on sale for just $0.10 for Windows 10 users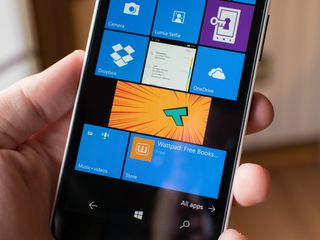 Torrex Pro, the torrent downloader for Windows PC and mobile devices, is having a major sale. Normally $7.99, customers can grab Torrex for just $0.10. The discount only applies to devices running Windows 10.
With Torrex Pro, users can download most torrent or magnet links. The app features a built-in media player, letting you listen to music or watch videos right in the app without needing to wait for your download to finish.
The sale will last until January 17, so be sure to grab Torrex at this discount while you can.
Thanks to Valery for the tip!
Download Torrex Pro from the Windows Store (opens in new tab) - $0.10 (limited time)
Nice, first again baby. This is a good app to have for windows mobile.

How does it work mobile? DL to phone? Good for continuum, but can I link to the app at home to download home pc stuff?

Yes. Tis an app for the phone, so the download goes to phone. Also, use uTorrent with it to find a link, then Torrex handles the rest.

I don't see a uTorrent app or do you mean their website?

You still need to enable the option to show international comments. I see a few comments above yours.

It doesn't work under lockscreen on WP or pc , you must keep the screen on , is it OS limitation ? Posted via the Windows Central App for Android

It does. There is a workaround. You need to open the detail page of the torrent which is being downloaded. Then you can lock the screen. It will continue to download.

Don't think so because other apps can run under the lock screen

Can someone send me torrent file of hotel Transylvania 2?or link

He's a kid, it's understandable that he's asking for animated movie. I want to watch that move too, I'm 22 XD

I watched it recently and was not great as the first part.

Here is a link to your movie dude. http://www.amazon.com/Hotel-Transylvania-2-Adam-Sandler/dp/B015ENAX9U/ref=sr_1_1?ie=UTF8&qid=1452826725&sr=8-1&keywords=hotel+transylvania+2

Bought this for $0.10 on my Windows 10 PC and installed it on my Nokia Lumia 1520 with Windows 8.1 Denim

Remember when I got this for free, very good app.

Same here ,I also got it for free .

Yeah I missed that sale got it this time =)

Why not just torrent the torrent downloader?

Thats not cool dude. Torrents are only for getting Linux Distros and stuff...

This app lags a lot in my Lumia 525 :3

I'm willing to bet a lot of apps lag on your 525 ;)

Where do you get the torrents from these days? In the halcyon days before greedy corporate fiends got ISPs in the UK to prevent torrent search engine access it was very easy. Now trying to find a torrent link is guaranteed to get you a nasty infection.

Aw the UK with its horrid Internet censorship that would make George Orwell proud /s. At least here in the States we don't have that thank goodness. Look for the proxies mate and VPNs. There are always workarounds. Hooray for the porn filter. Posted via the Windows Central App for Android on my Lumia 950 XL

Thepiratebay.se It is currently not blocked - have been using it for some months now.

Demonoid.pw has been back for a while. Most of the "legacy" torrents are there and accounts. Good luck finding seeders though.

Good app. Got it for free before on myapp free I think.

Good app. I do recommend. You can play torrent files even before it finishes downloading Posted via the Windows Central App for Android on my Lumia 950 XL

Great app, good for sending large files

I was tempted for 10c but must have already got it for free at some point.

Nice app, but I still prefer Tixati for torrents.

huh, appearantly i already 'own this product' must be one of the myfreeapp deal.

Cool. I got this free once. Nice app.

I'm actually been using P2P (eMule) more then torrents. More search results, no traffic shaping from my ISP, faster downloads.

thats really good discount...neve used it before my will try now...

I got it for 0.00 long back :D

I bought it 5 months ago. Not bad.
But
' WP torrent ' trial offers downloading on lock screen which isn't yet featured by Torrex Pro.

Yup. Wptorrent is awesome.

Are any other torrent apps worth mentioning that have been updated for Windows 10 features like desktop UI, etc.? This seems like a good app for mobile but I'm not sure about PCs. The price discount is really good, though.

Why do u need this for PC when u r having official uTorrent app for it

Somehow, creating a record that you are buying a torrent downloader that will be permanently recorded by both Microsoft and your mobile carrier just seems unwise.
Just my ten cents ;-)

There's a tinfoil hat app for that

Got this for PC missed the free sale a couple months back not it's time to see if it's as good as utorrent.
Windows Central Newsletter
Thank you for signing up to Windows Central. You will receive a verification email shortly.
There was a problem. Please refresh the page and try again.