Toshiba's Encore 2 Write is sleek, fast, and fun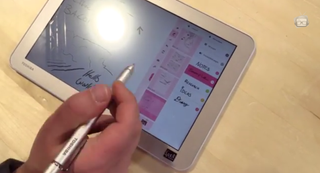 Using pen input on your computer has been something we've all been able to watch improve year after year, and recently it has become clear that the user who want to draw on their devices as a replacement for paper are finally getting options that serve their needs. Toshiba's new Wacom Active ES-ready Windows tablets are the next step in that direction, promising better control over the drawable space thanks to new hardware and software. It's hard to argue with the results we're seeing here at CES, and if you've been waiting for tech that legitimately feels like writing on the screen as though it were paper Wacom seems to have nailed it.
All you need now is to choose whether or not Toshiba's offering is for you, and for that you should check out our more detailed hands on.
Windows Central Newsletter
Get the best of Windows Central in your inbox, every day!
Russell is a tech nerd who chases the best of everything, from phones to game consoles to laptops and everything glowing or beeping. He's the Managing Editor of gaming content for Mobile Nations and can be found contributing to all of the Mobile Nations sites. Reach out on Twitter!
Is there palm block? Couldn't watch video (issue on my end).

There will be palm block with Wacom technology. The real question is, how does it write around the edges?

Yes, there is palm block. It seems to be a pretty good product at the price point presented.

yes , there are palm rejection

Has anyone been experiencing problems with their WindowsCentral app. First "toast notifications" stops working. Then when I open the app all of my settings resets without my doing so!!!! It's happened the third time within the past week. Jay will you please assist!

Nope. But all the freaking ads on this page makes IE on my Lenovo X1 lag.

Use TrackingProtection, it's a quick easy and free way of getting built in AdBlock on IE without slowing down the browser at all. Actually, it speeds things up significantly, and even prevents companies from stalking your browsing history.

How would a Asus vivotab note and a dell venue pro compare to this, pen wise?

It will likely learn alot from their short comings. If they charge a little more, they should be able to keep the build quality and the pen quality high. Hopefully it has a glass screen, unlike the cheap Asus Note 8 screen.

Yeah I just picked an Asus note 8 on Monday.. Might be placing it on eBay to get some funds for this! Though I must say the Asus is pretty decent! Intel chips are preforming really well on these tabs!

If i hadn't had my Asus stolen, I would probably try to sell it and my Venue for this. As it is, I will wait till the summer or fall to see if a 64-bit version comes out, or a price drop on the ten inch.

this should be a lot better than the Asus vivotab , the new toshiba use a new wacom tech that work better in the corners and have more pressure sensitivity. I ordered one and it should arrive after a week , I will test it and compare it to surface pro 3 and the thinkpad yoga (will write the impression at the toshiba section in WC forums)

The search is over. Wouldn't mind having the SP3 but my pocket just isn't thick enough.

I don't even have pockets :(

Hopefully it doesn't rise, the price that is.

I know Daniel mentioned something about writing in the corners being fixed, but I didn't see it demonstrated. I also noticed there was a significant gap between the pen tip and the actual digital ink. But at this price it still sounds like a great deal.

Yep, the closest alternative at the moment is the corei3 SP3, and that's double the price. Think I'm gonna pull the trigger on this one...

yes , it should be a lot better at corner , it uses a completely new and different tech from the old wacom devices (it's closer to Ntrig tech found in the Surface pro 3 )

Ok, so exactly what's the difference between this and the previous VivoTab and Venue Pro lines? They all have high levels of sensitivity and have palm blocking. What makes this stand out?

it uses a completely new and different tech from the old wacom devices (it's closer to Ntrig tech found in the Surface pro 3 ) this new tech is more accurate and have better performance in the corners . also this one come with a good pen from toshiba (the asus come with a thin stylus that don't fell good when writing so you need to go and buy a 50$ wacom feel )

Ok, but what about performance? I had bought an Asus VivoTab a few months ago, with an Atom 2XXX series processor and the performance was absolutely horrible. After just half a page of notes in OneNote, the thing for extremely slow and the input talked the pen movement by miles.

Wow great device for students. Does it offer a clip on keyboard of some type?

It does! there is an add on keyboard moduel...really nice.

AWESOME! These devices are getting really exciting. and considering this tab runs full Windows and you can get a keyboard makes this truly remarkable. So many people complain about Windows 8 but I love it and I don't even have a touch screen device. These Windows tabs should see a massive increase in market share when Windows 10 comes out, there is no doubt they are better than a Chrome book or Android tab in so many ways.

Difference is the technology from what I understand. This is more akin to n-trigs way of doing it, hence the pen, I believe, also requires a AAAA battery. Wacom's more mature tech, stuff found in SP 1/2, Asus Vivo Tab, etc) doesn't, and relies more on the digitizer for coordinates, hence when you got to edges and corners you'd have the drift because there just wasn't anymore digitizer. I'd like to see this compared to N-Trig. Another thing to note is compatibility between Wacom pens probably wont be there.

I am pretty sure this uses the Wacom Bamboo Feel technology. Ask the Wacom pens are battery free, they work with magnetic fields.

This is awesome....I am a student and I don't like the idea of buying a top level surface pro 3 which is a huge investment and risk dropping it when being used in "tablet mode"...this has the pen tech and an excellent price point.. I am abit more comfortable with it.

I would like to know that whether regular tablets that do not include a stylus be able to support a stylus as a method of input. There are many third party stylus products around and am unsure whether it will be compatibe with my device.

you can get a stylus for any touch screen , but it won't be as good as the active stylus that uses Wavom or Ntrig tech. for regular tablets the best stylus options are :- Adonit Jot Pro Fine Point TruGlide Pro Precision Stylus Bamboo Stylus Solo but again , they just work like a finger , they are not as good as tablet that have active pen support (with pressure sensitivity and palm rejection)

Thanks. Btw where you from Saudi?

Apparently it's fun for writing and doodling, but can one actually draw with it? I bought encore2 couple of days ago and while it's fun, I kinda doubt it has the horsepower to run artistic software without lag.

it's not made for professional artist , the pen and CPU are not good enough for professionals. it's made for note taking and light drawing/art . I think that Pen supprt is important for non-art use cases, and it should get a push into the mainstream users

yay, attention to the stylus is back! I hope microsoft is wathching this. The only thing still missing in this demo is ink-to-text recognition inline.

in 10inch screen with Atom CPU , HD is better . full HD will slow down the machine and make the desktop apps looks very small

Stylus ! Of course, with a tablet! That's the best solution. I always buy tablets with stylus (or laptop as Lenovo x220t)
I have a Asus vivotab note 8 and a sp2.
On the vivotab note, the stylus is too thin... Not really good feeling with it and hard for long note taking session.
But with this encore write, I'm sure the stylus feeling will be even more better than the sp3 stylus!

I am currently typing this on my Toshiba encore 2 10.1" Windows Tablet bought from my catalogue for £219. It is worth every penny. I sold a Galaxy Note 10 to buy this. The build quality is fantastic, it is high quality for the price point. I allows OTG through its micro USB port and has micro HDMI to output as well. I formatted a class 10 32GB transflash to NTFS format and use it as a proper D drive. I point all my library folders to this transflash and automatically store files and documents onto this D drive, jult like in a desktop or laptop with a secondary drive or partition. It is fast. It boots up and shuts down in seconds, as it runs off an emmc hard drive for the operating system. My tablet has 2GB of RAM and 32GB initial storage.Obviously that is reduced by the OS, but with expandable storage up to 128GB and the ability to use flash drives and portable HDDS through OTG and also One Drive, it is a beautiful and portable machine. I bought a keyboard case from Amazon from IVSO and I use this along with a Magic Mouse from Apple to make it into a netbook. It has bluetooth built in. I got a free copy of Office Personal included, which I gave to my son, as I already have a university subscription that I could install on the tablet in addition to my laptop. I am running Windows 10 on my laptop, so I use my tablet to run Windows 8.1 I think that the ability to write directly onto the tablet with the wacom digitiser pen will be a benefit to an already amazing tablet. It will be like my galaxy Note but on a proper operating system. It would be great with the Windows Journal app and handwriting recognition. I am excited by this upgrade and would definitely consider it, if my tablet broke down. My tablet was so amazing, my husband bought one for himself to use at work. For anyone who has not seen this excellent tablet, I would reserve negative judgement until you see it in action. Feel it and the quality build and you will see that it is a great budget contender to the Surface Pro. I cannot rate more highly this tablet and the news of the upgraded model.