Get the Lumia 1020 or 1520 for free when you trade in your old iPhone or Galaxy at Microsoft Stores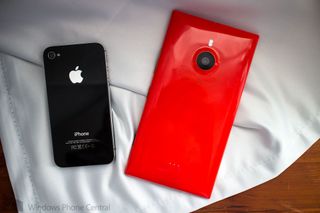 Have an iPhone 4, iPhone 4S, or Samsung Galaxy S2? You deserve something better according to a recent deal from Microsoft. You can trade those devices to get the Nokia Lumia 1020 or Lumia 1520 for free at Microsoft retail stores in the U.S. or Canada. See which one best suits your needs. The deal requires a qualifying 2-year (new or upgrade) contract and is valid until March 2nd, 2014.
The Nokia Lumia 1520 is a high-end Windows Phone phablet featuring a 6-inch 1080 display and a Qualcomm Snapdragon 800 2.2GHz quad-core CPU. It also has a 20 MP camera with f/2.2 lens, 4 high-amplitude audio capture (HAAC) microphones, and a massive 3400 mAh battery. Read our Nokia Lumia 1520 review for more details.
The Nokia Lumia 1020 gets you closer than ever with the 41-megapixel camera sensor, PureView technology, Optical Image Stabilization, and high-resolution zoom. It also features a 4.5-inch AMOLED screen, 32GB of internal memory (no expansion), 2GB of RAM and a dual-core 1.5GHz Snapdragon CPU. Read our Nokia Lumia 1020 for more details.
Sounds like a good deal? There are some notes in the fine print. To be eligible for trade-in, your device must power on and be in fully functional, working condition without broken/missing components, cracked display/housing or liquid damage. It also cannot be password protected and must include the original chargers/accessories.
Microsoft has 83 full-line and specialty stores across North America. We love visiting because everyone can play with the latest products. They are also home to some really good deals. Don't worry if you don't live near one. Microsoft plans to open new stores while also transitioning some of the specialty stores (usually kiosks) into permanent full-line stores. Unfortunately, no plans have been shared about Microsoft brick-and-mortar stores outside North America.
Head over to the Microsoft's offers page (opens in new tab) and select the store nearest you for more details. Is this a good deal? Let us know in the comments!
Thanks for the tip, Atif A.!
Windows Central Newsletter
Get the best of Windows Central in in your inbox, every day!
Oh wow that's an awesome deal to get one of these two powerful phones simply by trading in something as old as an iPhone 4.

I have had my 1520 since launch day lol.

You're not getting both lol

I know you don't get both lol. I'm saying you get one of two of these phones trsding in old phones like the iPhone 4 i actually miss my 1020 and that camera lol but I can't see myself easily giving up this screen on my 1520 but if someone with a yellow 1020 came up and said lets trade I would say hell yeah lol

Yea... I love the camera on my 1020!!! I like the bigger screen... But I use my camera too often to change phones... Hahaha...

Yeah man! If there were Microsoft stores in New Zealand I'd be buying a $200 iPhone 4 from TradeMe (essentially eBay) and trading that in!!

Doesn't make sense. You can pay $200 directly to MS as a downpayment....this trade-in requires 2 year contract

Ohhh! Didn't read the fine print, whoops ;D

That's actually a pretty good deal! Much better than 100$ for your PS3.

Aren't you selling your 1520?

I am selling my 1520 on Ebay :)

God, I wish O lived in North America right now.

They should run something like this in the UK. Might make my girlfriend actually part with her 4s

If your girlfriend can be bothered hunting down the few Microsoft stores we actually have in the country. =P

Where? I'm curious to know where is one. I might actually go depending on where it is.

Well, I actually don't know if we have any, just didn't want to rule out the possibility xD

Lol, i hope they turn those Nokia care points and kiosks into mini ms stores...

But what about a newer iphone5 though? Can i trade that in for the 1520? Should make sense, no?

You can walk into an AT&T store right now and get TWO Lumia 1020's for an iPhone 5. Their trade in price is $200 for an iPhone 5 [as of Saturday] and the contract price for the Lumia 1020 is $99. Basically, I think a lot of people's questions are on the assumption a contract isn't needed with the carriers.

So the thing is I am already an ATT customer with my contract expiring September 2014, how would it work for me?. Also I rather have the 1520.

When you renew your contract....I believe you can do it now.

You may as well wait till your contract is over. I would just in case something good comes out around then since that is usually when the fall line is announced.

I believe att allows you to upgrade your phone 4 months before your contract ends...obviously if you upgrade early your contract will be renewed for another 2 years. My contract for my att 920 ends in November....cant wait to see what Microsoft / Nokia has in store for the holidays!

I wish those deals would be available world wide. It seems that if you live outside the US or UK you live in a wrong country for Nokia.

this is US and Canada, not UK

Yes, which is why he wishes these deals were avaliable worldwide.

it's not available in UK, he complained about UK, just saying

It's a contract issue most likely

You are trading in a phone, they have to inspect it, so there has to be a store that you can go to with MSFT staff to inspect it. That's why it's NA only, cause brick and mortar stores are only in NA for now.

Well, here in Russia we have good deals also. For example, they was giving away 30$ Microsoft gift cards as a new year gift to everyone, who provides Lumia IMEI. A lot of nice other promo's also.

You guys have it better, trust me. Carriers have so many nonsensical rules and regulations it's sickening. Not to mention the data plans we are forced into

Wow. I wish I can frickin' trade my Lumia 900 for a 1520 :P

Just seems a little odd they are releasing this deal the exact same week they are releasing the deal to get everyone to leave AT&Ts 2 Year Contract plans.... I'd be curious to see how that breaks down [say you have an AT&T phone and just want to upgrade], with their new $100 for 10GB + $15 per line plan, you pay a $25 penalty per month to get a phone on contract. Seems like you could take in your iPhone 4, get a 1520...walk over to an AT&T store and pay the $325 ETF to just remove the contract from your account and be good to go and back on the $15 a month.

This. It seems like they should be issuing a credit toward the purchase of a 1020 or 1520 off-contract or on ATT Next instead of running a special on 2-yr contract sales since they are essentially funneling people away from the 2-yr contract.


The iPhone 4 looks tiny next to the 1520!

I wish they didn't tie a contract onto the deal. That would be really awesome then.

You had me, up to the "2-year contract" part... I'm on T-Mobile, and get a much better deal for my 4 lines than what AT&T is offering - but, has anyone successfully tried: Getting a new account and contract Waiting out the 14-day return window Closing the account, accruing the ETF and 2 weeks of service charges Paying off the charges as soon as they post ... and successfully unlocking the phone right after? Going this route (with the trade-in) would potentially shave about $100-$150 off the non-contract cost of the 1020, and technically follows AT&T's unlocking policy... but I'd hate to have an expensive, permanently SIM-locked camera-only device if AT&T denies the unlock.

Worst comes to worse, can't you buy an unlock code online for $10-20? But anyways, I'm with you on the 2 year contract thing. Kind of want to bitch about the title being misleading with the word "free".

I've been looking into the 3rd party unlockers... most of the ones I've seen are either a bit shady (ones that I wouldn't trust my IMEI to), or upwards of $99, throwing the value-add of paying the ETF out of the window. If I could be sure that AT&T wouldn't play games (the disclaimer on the unlock page states they can deny any request at their determination), then I'd be willing to take the chance. And, I'm with you on the "free" headline... I just about fell out of my chair when I read it at first glance...

Have you priced your four lines under the new Mobile Share prices that were changed a few days ago? 10gb bucket with four lines would be $160. That should be pretty competitive with T-Mobile.

I have two lines with unlimited everything including an extra 2.5 GB on each line for Data Share at Tmobile that's 100.00. If ATT could beat that I'd switch back.

Would be great if Microsoft actually adressed the rest of the world with things like this.... You know, like Europe at least! Windows Phone is pretty big over here! There aren't even any Microsoft Stores! We have plenty of Apple stores in the UK, but nobody gives a crap about them! And, what about if we trade in our Lumia 920s, etc? Seen as we've been loyal from the start, we should also get rewarded like this! Hardly fair.... But I do hope it brings more people to the platform.

It would be great if this deal addressed the rest of the US on this...AT&T only. Not for Verizon, Sprint and T-mobile users...

1st...Sprint...that's cute. 2nd...look at TMobile, WP is a second class citizen on their page...MS is going to push AT&T who carries their brand new phones! As long as we have carrier exclusives (AKA A LOT of money changing hands) we will get these sort of deals that leave huge chunks of people out.

MS is looking to gain new WP users, not keep the ones who know a good thing already in use. A discount for current users would be nice though.

Trust me, this really isn't much of a deal considering what we pay for cellphone service.

We don't need deals like that in Germany.
For the last few months the 1020 has been available for 1 € with a two year contract, on any carrier.
The phones are also never SIM locked.

Bring a ms store to the uk please lol

I live in uae how can i do so

... Anyone is selling iPhone 4?

I would still be trapped in a 2 year contract cause I already own my iPhone 4S, I'll sell it to and buy one off contract or pre used.

If that was in the uk i know a few who would jump at that deal

Its nothing more than good marketing. You have to sign a contract and probably still pay the taxes for the full price fo the phone. So your giving them a iphone 4 for about $60. Sell it for $150 or more and use that money instead.

What on earth are MS planning to do with all those ... things??

Trash compact them into a big cube and drop them on Apples door step??? Lol

AGAIN US ONLY??FUCK OFFFFFF

In US 2 year contract price for Lumia 1020 with at&t is $99 only. So guys from europe just relax they are not replacing $600 with an Iphone 4. Even if u sell your Iphone 4 in eBay you get $100.

Makes more sense to target WP7 owners and keep them on the platform, but guess they don't count.

They have done that before...

Haha the high ended phones like 1520 didn't gain market share as expected by MS , so brining new dealzz.

1520 isn't available in Canada yet, so this is a 1020 deal over here, which I'm pretty sure if I'm renewing my contract and I call Rogers or Telus I can bargain with them to get the 1020 for at least $50 or potentially free and then sell the iphone so someone else.

Most Rogers shops have the 1020 for already 49 or $0 on contract I've noticed so its a nice deal if your local shop doesn't have those deals already

Nooooo. And I have a Galaxy S II but I don't live in the US :(

My contract is up in 2015 would I qualify if I have an iPhone 4s

Want microsoft store in India too

"your device must power on and be in fully functional, working condition without broken/missing components, cracked display/housing or liquid damage" Good luck finding Samsung devices or iPhones without at least one of these =P

My iPhone is in perfect condition except for a barely noticeable TINY scratch on the screen that came about a few weeks ago. It was absolutely 100% perfect in the 2 1/2 years I had it until my boyfriend had it in his pocket with other stuff.

Dont forget about people with otterboxes. And my girlfriend actually still has a perfect iPhone 4s. She took care of that very well.

I have an OG Galaxy . . . Dang it.

Dam that's a really sexy deal! I would just buy an iphone 4 off eBay and swap it for a 1020

And get locked I a two years contract with AT&T.....

something we never get in blighty - is such stonking good offers :-(

This offer should be extended to all WP7 devices as well. Need to keep them from jumping ship!

I wish I was in the USA and owned an iPhone or SGS2, could've upgraded my current Lumia 920

What 2yr contract its talking about, with carrier (att, Verizon, tmo??)? I didn't get that part

I'm deff doing this. I have my old iphone 4s. And currently I have a 920. The upgrade to a 1020 will be nice!

PERFECT!! My sister's Iphone 4 is incredibly slow! and i've been hoping to get her to SWITCH. She can now get a 1520 for free and already isn't on contract. so awesome

I have an iPhone 4 and would really love to be able to trade it in for a 1520 or especially a 1020 except for a couple of things... One, I'm with T-Mobile, so it wouldn't really do me any good to get a phone that's locked to AT&T and two, my boyfriend now uses my iPhone as an iPod touch. So, yeah... No.

Oh man why can't we get such deals here in India? :(

Dang just sold a iPhone 4s on Craigslist....

The 2 year contract is a deal breaker. Guess it was too good to be true =/

I want to trade in a Lumia 810. Arguably the worst of the lumias with no support from Nokia or Tmobile to make it better. I am done.

US, Canada and Puerto Rico...

how does this work in Canada. Where do you get a 1520 if it's not even available anywhere here? and which carriers are eligible?

Heading to the store in about an hour to make this happen. I've been holding off on the 1520 until the end of February but since this will cost me nothing, I'm doing it today. Hot damn, I love a deal.

Can I hand in my Lumia 920 and get the same deal?:)

Great deal! Nokia is spreading the love, which is the only way to battle prejudice!

You guys know if they take samsung galaxy s3 and s4?
Your help is much appreciated. Thanks

It would be lovely if those phones were available on all carriers

I have an old Galaxy S, but I don't live in America :(

what about australia and the rest of the world microsoft,not real fair if u ask me the yanks once again.how do microsoft expect to get thier phones and tablets iut to the world with deals like that.wakeup microsoft any wonder u have always been behind in the market

Sweet my girlfriend can get the new iPhone and I'll take her piece of ... And get a masterpiece with it. Thank you Microsoft!

Hmm I wonder if they'll take my old cracked screen iPhone4 for the 1520. I already have the 1020. I have an upgrade available on another line though..

This is great, i wish nokia had some exchange offers for India too

How I wish promotionals like this exist here in the Philippines.....

Here's my update for anyone curious, I went to the Orlando Millenia Mall location, was greeted promptly and walked away with a new, white Lumia 1520. For those wondering, I WAS able to use an existing line and upgrade it on a 2 year contract and it did not change my contract at all. I am now the proud pappa of a very large phone.

Was your existing line's contract almost up? I'm a bit confused on how this promotion works.

I would like to know how you got this done as well? My contract technically isn't up until November but I called AT&T and they said they would allow me to get an early upgrade and that a supervisor would just have to put an override in the system to allow that. The problem is when I called my local MS store they told me that since my contract technically isn't up and I'm technically getting an early uprade through AT&T that there system wouldn't see this as an upgrade but an early upgrade & therefore wouldn't qualify for the deal. I have a mint GSII sitting in my closet:(

Just sell your old iPhone yourself and pocket the cash, much better deal. I sold two old iPhone 4S on eBay for more than $300 each, after having ATT unlock them since the previous contract was fulfilled. This more than pays the subsidized price of a new 1020 or 1520.
Windows Central Newsletter
Thank you for signing up to Windows Central. You will receive a verification email shortly.
There was a problem. Please refresh the page and try again.