Two Windows 10 updates are causing the Blue Screen of Death to appear
Not one but two Windows 10 updates are causing issues for several apps and PCs right now.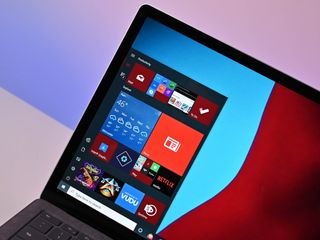 (Image credit: Daniel Rubino/Windows Central)
What you need to know
Two Windows 10 updates are causing apps to crash and the Blue Screen of Death to appear.
The KB4598299 and KB4598301 updates are the cause of the issues.
Microsoft is working on a fix and has already implemented it internally.
Two separate Windows 10 updates are causing PCs to see the "Blue Screen of Death" and crashing apps. According to a Visual Studio forum from Microsoft (via BetaNews), the KB4598299 and KB4598301 updates to Windows 10 are causing issues.
Those updates have been released to Windows 10 versions 1909, 2004, and 20H2 and were meant to address issues in .NET Framework 3.5 and 4.8. Unfortunately, they also contain problems that cause the Blue Screen of Death to appear.
One of the apps affected by this bug is Visual Studio, which is why Microsoft confirmed that a fix is on the way in a Visual Studio forum:
There are also problems in Windows Presentation Foundation, which affects several apps on Windows 10.
Since the fix for the issue has already been implemented internally, it probably won't be long until it's released to everyone.
Some people on the Visual Studio forum have found workarounds, though we have not verified if they work at this time. Your safest bet is probably to uninstall the updates from any affected devices or to wait for a fix from Microsoft if you can.
We have a complete guide on how to uninstall and reinstall updates on Windows 10, including screenshots and step-by-step instructions if you need to uninstall the KB4598299 or KB4598301 updates.
News Writer and apps editor
Sean Endicott brings nearly a decade of experience covering Microsoft and Windows news to Windows Central. He joined our team in 2017 as an app reviewer and now heads up our day-to-day news coverage. If you have a news tip or an app to review, hit him up at sean.endicott@futurenet.com (opens in new tab).
I don't have these KBs installed but have problems regarding 20H2 in combination with the Hyper-V role. Needed to re-install the whole system twice today because of this. When on 20H2, activating the Hyper-V role causes a never ending BSOD loop right at the first restart while configuring the feature. When on 1909 or 2004 with activated hyper-v feature, the update to 20H2 fails with BSODs. However the system rolls back and stays at 1909 or 2004 depending from which build I started. Did not test yet without installing Visual Studio.

The update caused the Blue Screen of Death, which impacted my WiFi adapter on my Surface Pro X. I had to roll back my driver on the adapter. Then I tested by switching back and forth of my tri-band WiFi router, which then I was back up and running.

I installed two updates last saturday one of them was the 299 cos i remember reading the cumulative and framework words, also, i dont use visual studio, after updating my system i also updated my intel graphics to latest, rebooted and everything was fine, next day morning my pc would turn on to the asus logo and get stuck in a black screen, long short story; i could not load windows, nor restore to prior points, use a recovery disk, uninstall updates, nothing, my windows broke.. i had to take my pc to a technician and he said it was needed to format, he didnt manage to back up my stuff, i back up my files every 2 months or so but i lost some stuff, i asked my technician to install a SSD since my hdd is from 2009 hence i thought it was due to that, but he said my old drive was still in good conditions, i still asked for a ssd, i have been waiting since saturday for the ssd to arrive, almost 5 fking days without my loved computer, and this is microsoft to blame because their updates broke my system, i was planning to upgrade to ssd but not rushed like this, i would usually wait for the ssd to arrive before taking my pc to the technician to only be a few hours without computer, im from mexico im not paying 2 times window install just to use it few days, neither transporting my pc twice the times just because microsoft broke my OS, if you dont understand why i say 2 installs, one would be my old hdd to use it 1 week then pay again to the tech to install w10 in the new ssd, that also means moving the pc twice the times, so i said fk that and my tech has my pc at his work office sitting there waiting for the stupid ssd, im losing work days and also time of my game passes for games like league of legends, im so pissed and nothing i can do.

@Reckoning Time That sucks big time. Perhaps use this annoying and frustrating saga as a teaching moment to teach yourself new skills such as installing a new ssd, installing the o/s yourself etc? As this way you reduce the down time and save money. It's not that difficult :) and there are plenty of guides on the web + utube lol. You can download Windows 10 for free directly from Microsoft. As the key is attached to the unique system identifier, it will auto activate. You can use the old hdd as a second drive and use the new install to retrieve your data by plugging it into a usb enclosure or different sata port. The technician could have easily retrieved your data using the usb enclosure method providing it is not encrypted using something like bitlocker.

Might have been one of these updates that made me have a BSOD with my Surface 2017. That was literally the first and only BSOD I've ever had on the surface and literally shocked me. Hopefully this doesn't happen again.
Windows Central Newsletter
Thank you for signing up to Windows Central. You will receive a verification email shortly.
There was a problem. Please refresh the page and try again.