How to uninstall and reinstall updates on Windows 10
If Windows 10 is acting up after an update, it could be an installation problem, and not a problem with the update. In this guide, we'll show you how to uninstall and re-apply an update on your PC to fix the issue.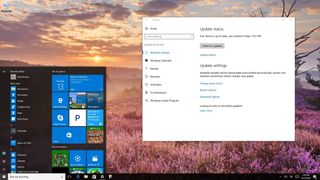 Updates for Windows 10 are regularly pushed out to improve security and stability, and Microsoft's pushing hard to make these updates mandatory and keep every PC up to date. And while that's a nice idea in theory, sometimes something goes wrong with an update and you're stuck with issues.
We've seen problems with an update breaking webcams, driver issues, apps crashing, freezing issues, and settings not migrating correctly after an upgrade — just to name a few. Sometimes it's not a problem with the update, but actually an issue that occurred during the installation process. The solution? Uninstall and reinstall that particular update.
In this Windows 10 guide, we'll walk you through the steps to uninstall and re-apply an update that may be causing a problem on your device. In addition, you'll learn the steps to prevent Windows from trying to install a problematic update.
How to uninstall an update on Windows 10
Open Settings.
Click on Update & security.
Click on Windows Update.
Click the Update history link.
On Update history, you can view which updates were installed successfully and which those that failed with a timestamp, which can help you pinpoint which update is causing the problem. Click the Uninstall updates link.
Microsoft hasn't moved everything to the Settings app, so you'll now be taken to the Uninstall an update page on Control Panel. Select the update and click the Uninstall button.
Click Yes to confirm the uninstall.
Click Restart Now to reboot your computer and complete the task.
Depending on the update you're trying to uninstall, the process may take a few minutes.
How to reinstall an update on Windows 10
Open Settings.
Click Update & security.
Click on Windows Update.
Click the Check of updates button to trigger an update check, which will redownload and install the update automatically again.
Click the Restart Now button to complete the task.
Once your computer reboots, hopefully, the update would have installed correctly, and you can go back to be productive with your Windows 10 device.
How to prevent specific updates from installing on your device
If after reinstalling the update, you continue to experience problems on your computer, then it could actually be something wrong with the update. In this case, you can temporarily hide the problematic update to prevent Windows from trying to re-apply it to your computer.
In previous versions of Windows, we were able to stop updates from downloading and installing automatically using Windows Update, but since Microsoft made them mandatory on Windows 10, the feature has been removed. However, the company still provides a small tool to help you hide temporarily any update that may be causing issues.
To uninstall an update while preventing Windows from installing it again, do the following.
Uninstall the Windows Update with the problem with the instructions mentioned above.
Download the Show or hide updates troubleshooter from Microsoft support

(opens in new tab)

.
Double-click the .diagcab file to launch the tool.
Click Next.
Click Hide updates to continue.
The tool will check online and list the available updates currently not installed on your PC. Select the Windows Update that is causing problems, and click Next.
Click Close to complete the task.
After uninstalling and hiding the update that isn't working correctly, your Windows 10 device won't try to download and reinstall it again until there is a new update that replaces the old version.
Remember that you can always show the update again by following the same instructions mentioned above, but on step 5, you have to use the Show hidden updates option. Then you can go through the process of reinstalling the update on your Windows 10 PC.
Did you ever encounter any problems installing Windows updates? How did you fix the problem? Tell us in the comments below.
More Windows 10 resources
For more help articles, coverage, and answers on Windows 10, you can visit the following resources:
Windows 10 help, tips, and tricks
Windows Central Newsletter
Get the best of Windows Central in in your inbox, every day!
Mauro Huculak is technical writer for WindowsCentral.com. His primary focus is to write comprehensive how-tos to help users get the most out of Windows 10 and its many related technologies. He has an IT background with professional certifications from Microsoft, Cisco, and CompTIA, and he's a recognized member of the Microsoft MVP community.
Thanks , superb article .

Thanks for this. I have some update that keeps failing on my Surface Pro and it takes a while to run, requires a restart. Since it requires a restart it has to do it a couple times, because it has to back it out.

This will really help loads of people here including me.Great article.

Still don't have anniversary update on my SP3.. Tried installing twice and froze twice at 25% when booting up... Posted via the Windows Central App for Android

Have I had problems with updates? Well, yes, with that stupid .222 loop recently.

Great article with one small problem. What if my PC won't respond when I click on Update History? As soon as I try clicking on it the whole "Windows Update" window locks up and I have to close it. Any suggestions? I am using a Samsung GalaxyPro 12.2".

Can't go from 187 to 321. Keeps aborting and rolling back. No idea what to look at. Any suggestions?

Frequent culprit for updates rolling back is third party antivirus software.

No can do. Any other suggestion to get to the uninstall update window. The latest 14942 build update has almost rendered my laptop unusable. It is stuck searching Uninstall Updates.

Good article. I recently had a fast track build that introduced a problem on my Surface. If I powered down,I could not restart worth a simple press of the button. Hard power odd then restart. Rolled back a build and waited. At first, it wouldn't download the latest, despite all my other devices updated. But oh the next attempt, be build and no power issues. Nice to know there is a clear road for updates.

Nice article, thanks and keep them coming! :-)

Now how do I get rid of KB3176936? There's no Uninstall option for it.

I had the issue with the .222 update, the troubleshooter and clearing the update cache fixed it temporarily while waiting for a workaround.

Thanks for the article. This is something we all need.

Thanks for the detailed walkthrough.

How to do the same but for the windows 10 mobile phone instead of computer? The latest build 14946 has problems and I don't know what to resolve except resetting my phone.

Ain't nobody got time for that. I simply reset my laptop. Too many failed updates and too many attempts at each.
I don't keep anything on my computer that I cannot afford to lose. Plus, there's cloud backup for apps and photos, etc. I suspect it also helps to have a solid state drive as opposed to a spinning one.
Thanks for the article, though. Very informative.

Excellent answer AWspicious 13. Your advice are direct , easy explained and helpful .

No win10 for 512mb users.All app ,games just launching for windows 10 no one cares for 512mb users. Even those app are also been removed which was there before like amazon ,eBay. You don't know nothing. I know why you people decided not to launch windows 10 for 512mb bcoz many more apps. There is nothing for 512mb users bcoz all 512mb phone was made by Nokia than after Microsoft bought it. And Microsoft was wanting to let world know that we only made 1gb rams only.haha but not to worry.they say na
but but god of phones and god of companies is coming . Time to say goodbye to "microsoft" bye bye . "microsoft"awwww.... NOKIA is coming with its all new C1 and A1 android and was waiting for something like this. I even got frustrated when microsoft directly decided not to launch win10 for 512mb users. Haha I wish no one buyes Microsoft phones. Lol this phone will be a plaything for my dog now. Even he is a HERO

Update management on Windows 10 is just a mess. Can't select the updates you want to download or deselect , can't cancel the download when it started and can't see the update size before you choose to download. I miss the user control we had on Windows 7.
Windows Central Newsletter
Thank you for signing up to Windows Central. You will receive a verification email shortly.
There was a problem. Please refresh the page and try again.