UnfollowSpy adds overactive friends view, profile details, and more in latest update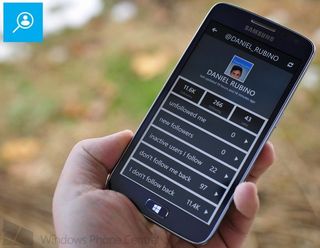 We first covered UnfollowSpy for Windows Phone last month. This super app is great at culling who you follow on Twitter. We're big fans of the app and are happy to see it updated with brand new features. Let's check out what's new in version 1.4 of UnfollowSpy.
We like the app for its clean interface, the ability to manage multiple accounts easily, the ability to follow and unfollow users, and more. Version 1.4 of UnfollowSpy was pushed to the Windows Phone Store a few days ago, but a version 1.4.0.1 was quickly pushed and published to address some bugs. Here are the overall new features and changes to version 1.4 of UnfollowSpy for Windows Phone:
Tap on a user's profile to expand it, showing their followers count, following count, tweet count, and a calculated average tweets per day value
Tap on a user's profile picture to view a larger version of it
Now including overactive friends view, showing users who tweet too much!
Customize how sensitive the overactive and inactive user's calculations are in the settings page, specifying what qualifies as tweeting "too much" or "too little"
Added a "select all" feature in multi-select mode, in case you want to unfollow all of your unfollowers at once
The unfollowers and new followers pages now show users who have just followed and unfollowed you, as well as users who have followed and unfollowed you in the past (the clear all feature has been removed, but is coming back in the next update due to multiple requests)
The progress bar has been redesigned, looking better than ever and now featuring a cancel button for updates that are taking too long
Profile pictures displayed on secondary tiles are now higher resolution
Many other bug fixes and improvements
This new version of UnfollowSpy is a winner in many ways. Subtle changes like seeing a Twitter accounts details by tapping their name in a list is nice. Then bigger changes like an "overactive friends" view are a great feature that's been added. You can also select all users via a select mode if you want to do a massive follow or unfollow action. Other changes focus on aesthetics like a redesign of the progress bar and higher quality profile pictures on secondary Live tiles.
When we first covered UnfollowSpy a lot of you wished it would add Instagram account support. So you can use one app to manage both your Twitter and Instagram followers. There's a great app to do that for Instagram called IG Stats that we've previously covered, but the competition is about to heat up. A future update for UnfollowSpy will include Instagram account support. One app to rule them all. It's in private beta at the moment, but is working perfectly. Elliot Forde, the developer behind UnfollowSpy, just needs to clean up the interface and fix a few bugs for the Instagram integration to be perfect. We can't wait to see it hit the Windows Phone Store.
Want to get UnfollowSpy for Windows Phone? It's a free app, but you can remove the ads and gain a few features (like multiple account support) via an in-app purchase. There are a lot of apps for Windows Phone to manage your Twitter account, but UnfollowSpy is our favorite. Grab it in the Windows Phone Store.
Get the Windows Central Newsletter
All the latest news, reviews, and guides for Windows and Xbox diehards.