UNO & Friends updated with a new game mode for a limited time and more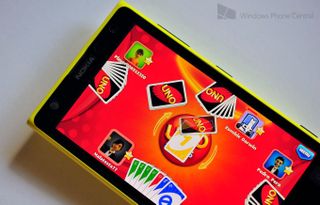 UNO & Friends, the Windows Phone version of the classic family card game, received an update today that adds a new game mode, UNO Dare, for a limited time, along with some other features.
Here's what's new in the 1.9.0.18 update:
Enjoy a new twist with a NEW MODE: UNO Dare! Available for a limited time only! Skip drawing cards whenever a Draw 2 card is played -- but only if you accept the Dare!
Collect wacky NEW AVATARS in UNO Dare to receive special bonuses whenever you have them equipped, in any mode!
Get the chance to multiply your rewards or WIN EXCLUSIVE REWARDS by spinning the UNO Dare wheel at the end of each UNO Dare game!
There's no word on how long the new UNO Dare mode will last. Be sure to give us your opinion on this mode in the comments.
Thanks to Dwane for the tip!
Windows Central Newsletter
Get the best of Windows Central in in your inbox, every day!
anyone knows how to delete friends on this game? Started to lag while loading the list since i added many!

Ha! I added a few to get an achievement but then wondered how to get rid of them afterwards too.

When I started playing this a while back, I searched online and found there's no way to delete friends. I think the same is true for other OSes. Very, very annoying :(

Try deleting them from Xbox friends. As far as I remember, all my friends added there appeared in the Xbox friend list.

I searched my Xbox friends list, they're not on there :/

No need to apologize dude :) Thanks for the tip anyway :)

Cool... Play this game regularly.

The download app button doesn't work.

Hopefully this doesn't come with new achievements gl never seems to do these games justice implementing ones that are unobtainable

Can it be played offline?

No, it's an online multiplayer game.

Only reason I deleted it. Hoping for a single player tournament release!

The Windows 8 version got updated, too.

Installed it, ran it and the two achievements I needed popped instantly. So now I'm level 100 and am not at the same time.
A friend of mine did the same and 2 different cheevos popped for him.
Weird...
Nice polishing of the game by the way!

Why for a "limited time?"

Still high latency. And im top player in my country

Too little, too late. I deleted this game months ago. I got tired of waiting for updates to stop it from crashing all the time and bring it up to parity with the Android version. I already got my achievements so there's really no need for me to go back. Not worth the headache.

Would be fun if the writers of wcentral checked the comments every now and then, they would notice that the link is not functioning.

Another game ruined by nokia's incompetence to build a phone with decent wifi(L929). Guess this will be going back on my ativ s(sgh-t899m)
Windows Central Newsletter
Thank you for signing up to Windows Central. You will receive a verification email shortly.
There was a problem. Please refresh the page and try again.