Surface Book 4 fan renders show off a floating display
The Surface Book 4 could go in a different direction than Microsoft's previous premium Surface laptops.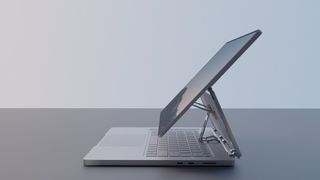 (Image credit: David Breyer)
What you need to know
A designer created unofficial renders for what the Surface Book 4 could look like.
The renders are based on recently filed patents from Microsoft that show a unique hinge for the device.
A mock launch video illustrates what the patent design would look like in motion.
Microsoft could announce several Surface devices later this year in October. Among those devices could be the Surface Book 4. A patent from Microsoft shows off a laptop with a hinge that lets its display pop forward, somewhat like the HP Elite Folio and Acer ConceptID. A designer named David Breyer shared unofficial renders online of what the Surface Book 4 could look like.
Not much is known about the Surface Book 4. In fact, it may actually be called something along the lines of the Surface Laptop Studio. Until we see more details from Microsoft, the best we can do is look at the stunning renders from Breyer and the mock launch video.
It's important to note that these renders don't necessarily reflect what the Surface Book 4 will look like. They're made based on patent filings from Microsoft, which are often more about concepts than exact designs. The renders do, however, give us a glimpse of what the device could look like in 3-D. They also show the benefit of a hinge that lets the screen of the Surface Book 4 pop forward.
Image 1 of 6
That hinge could be the crux of the Surface Book 4. It would mean a major shift away from the detachable nature of previous Surface Books, which could be why the laptop may have a different name.
What do you think of the concept of a Surface Book 4? Would you purchase a laptop that has a screen that can pop forward into different positions? Let us know in the comments below.
Windows Central Newsletter
Get the best of Windows Central in your inbox, every day!
News Writer and apps editor
Sean Endicott brings nearly a decade of experience covering Microsoft and Windows news to Windows Central. He joined our team in 2017 as an app reviewer and now heads up our day-to-day news coverage. If you have a news tip or an app to review, hit him up at sean.endicott@futurenet.com (opens in new tab).
That's a pretty good render ❣️

I like the lay-flat option. That's an improvement over the detach mode in some ways. However, a support of the mechanism that rests on a key on the keyboard? Surely not.

It could be a dedicated static point if they design it correctly.

Pretty sure that will be something the real product will do differently.

Great render and effort from the creator. That said, Surface products are known for their clean elegant designs, so hinges and bulk showing on the back/outside definitely isn't going to be a thing. The mechanism used in the render, shows too many moving pieces, which takes away from Microsofts vision of Surface as well as bringing about lots of risks of things getting stuck in between, so I wouldn't worry about that being a thing. I personally think they will use the same mechanism they used for Surface Studio and apply it to the Surface Book, in a way that accommodates the keyboard.

Surface laptop + Surface studio
XD

Man that is smexy. I Like the look of that

The hinge looks kind of crude/clunky. It does seem to align with the patent images, but it makes the top-half seem like it could be a bit fragile and the design of the hinge on the back, to me, looks like a rough prototype. It just doesn't look clean or high-end, as the Surface line tends to strive for. It's interesting, but I don't know how much I'd trust something with that design to last long-term. Also, that music was REALLY disruptive. I had to mute it because it made the video harder to watch.

I thought the music was on point with visual. :-)

Agree, the concept takes the patent a bit too literally. While Microsoft has often done that in the past with the Surface Studio, there's plenty of example of them deviating. Music was lifted from the Surface Pro X promo video, so that's probably why it doesn't really fit.

If microsoft makes next surface device like this, this will be the amazing combination of surface studio and surface laptop. Only thing people will want from this device is performance like M1 cpu.

Comparable performance (or better actually) with M1 is possible if they go the Amd Ryzen route or Intel H cpu's, big chance it will be the latter I think. I agree they should not use Tigerlake U series for this (which only has 4 cores instead of 6/8) but they probably won't with this newer design.

If this has an i7 w/ RTX graphics, I'll pitch a tent at BestBuy and get the 1st one.

That music and render is DOPE

It's interesting. But I would prefer the original design over this. I still think they can tweak the old design a bit before changing this drastic. This concept design still looks rough, not quite Surface material. I don't want a twist screen for sure. I'm trying to imagine what circumstances this new design would be better over the old design, can't think of any. When I use my drawing programs on the old design it's perfect. The innards just need updating and moved around for an update in my opinion. Don't mess with an already great device.

Original design of what? This is a new device. Do you mean the initial leaks of this device or do you mean the orig Studio? This render is not from MS so everything here is to be taken w/ a grain of salt.

I mean what the article is about. "What do you think of the concept of a Surface Book 4?". So the original design meaning, the Surface Book 1-3. If this was a new Surface line up altogether it would be interesting but lacks the Surface design cleanness. Surface is all about mechanically working wonderfully and not showing how it's done. All the gears and springs and levers inside and on the Surface it's nice and clean.

As they mentioned in the article, this is based on a patent. Even Apple's patents seem like very early prototypes.

Looks gorgeous to me. If the real thing is like that, I will be very happy.

I have never been a fan of fan made renders. Never seems to be well thought out. (Looks at tri-fold Galaxy render with impossibly placed slide out keyboard). But, if this render is true, I will be spamming the F5 key on the Microsoft Store page to preorder this.

Too many moving pieces and looks clunky a bit. I doubt MS will build such complicated looking laptop.

Sony did something like this years ago with the Vaio Flip. It was a fun concept.

Yes the VAIO Z Flip is a much better looking device. Microsoft could model something after that and it would be very nice. They could even keep the same hinge mechanism and detach button. And the Flip part can act like a kick stand when detached like Surface Pro has. And then you could use the keyboard via wireless when detached.

Yeah and Acer Concept D and Acer R7 (ezel hinge).

That's a pretty cool design.

Nice render, but way to complicated for an actual product, and lacks the clean lines of the Surface... Plus so many failure points in that hinge

Isn't this design wise just the Apple iPad pro and magic keyboard case built into 1 unit?

No not really. This has a much greater range. The Magic Keyboard is really pretty limited in its angles. Can't fold it down with the screen up like that for one thing.

Not to mention this should be on par with high specs Mac book pro. So à galaxy away for the iPad magic keyboard setup.

I would just like to see something with a 360 degree hinge kind of like the Lenovo Flip. When the screen is flipped around, have the keys on the keyboard recess in a bit. You still get a tablet style mode out of the Surface Book but also get the benefit of all the battery life and always being connected to the good GPU, AND you don't have to worry about that terrible hinge breaking/disconnecting like it does.

You could do that with a Surface Laptop. I think the only compelling feature (meaning differentiating) on a Surface Book is the ability to remove the screen when you want a tablet. It reduces the weight enough to make it almost reasonable. If you leave the whole thing together, it is too heavy to really use as a tablet. Makes a good desktop drawing surface (yea I did that) like an artist easel. I think that is pretty true of any large 2-1.
Nice video though. There's some talent there.

So, I was very excited to watch this and after reading all comments I feel like everyone is just missing the point here :
This is a literal translation of the patent released couple weeks ago. This is a significant artwork and it does the job quite well. Since no-one knows what is actually going to be the final product.
At least it shows us what it would roughly look like. When looking at patents of surface studio before the reveal, the patent was very accurate and the actual studio was extremely close to it.
Not saying it looks great the way it is shown but at least it is trying hard with minimal information given.
Big up for the the video and big hope for whatever this laptop studio will be!