Untappd for Windows Phone teased on Instagram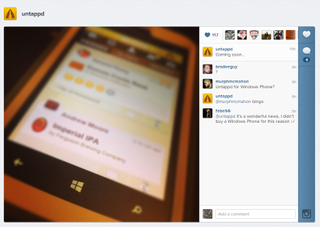 Beer has had quit the resurgence for smaller breweries the past few years. Different apps and services have sprung up to connect fans of craft beers with each other. Untappd is arguably one of the more popular social networks for the beer aficionado. We first reported it coming to Windows Phone back at the end of January, and now a little teaser on Untappd's Instagram shows the app might be coming any day now.
The teaser image shows off a blurred Windows Phone device running Untappd with the caption "Coming soon…"
So what is Untapped? A social network for beer that you'll be joining soon if you haven't already. If the app is anything like its iOS or Android counterparts you'll probably be looking to the following features:
Easily discover new beers and bars near your location
See where you're friends are drinking and meet up with them
Personalized beer recommendations based on the tastes of you and your friends
Find where you can get a specific beer nearby
Share ratings, reviews and photos of your favorite beers with your friends
Post your activity and photos to your Twitter, Facebook and Foursquare
Create a wish list of beers you want to try in the future
Unlock a variety of badges for trying different styles and places
We'll of course let you know when it hits the Windows Phone Store. In the meantime, check out Beer Suggestions or RateYourBeer from our very own Jay Bennett.
Source: Instagram
Thanks for the tip, Karl C!
Too bad it is no metro design :/

No metro design is because they develop their apps using PhoneGap, which means that while they get apps on more platforms with less work, it's less likely that the apps will really use unique features of each platform since that makes the code less portable. Look at the iPhone and Android versions, both are virtual clones of each other. I'd expect the same from the WP8 version as well. So not bad, but also not really up to par with a fully native app.

Maybe they can make a fork and start updating with Metro styling in the future then? It is nice to have the app but also great to have it ubiquitous with the WP modern styling. It is what gives WP apps their charm.

Exactly. I think everybody should keep in mind that Untappd is a two-person operation, and one person (who has a full-time day job, btw) is solely responsible for all of the development work. PhoneGap really does make sense for them so they can reach as many platforms as quickly possible. I would much rather have a PhoneGap WP8 app than no app at all. There is an API that developers can use to create truly native apps, although it doesn't contain everything you can do with the official app (notably, uploading photos.)

now every each devlopers is making apps for windows phone.......!!!

Odd that it would be teased on instagram....

Considering Windows Phone users can view Instagram feeds its not that odd. The problem we face arise when it comes to posting stuff!

I guess I thought more people were like me... Having no real interest in instagram until I can participate as well...

Most people are especially considering you need ios or android to make an account.

No need for either when you got blue stacks!

I do not use Instagram at all. I'm just saying that Windows Phone users CAN watch anything teased on Instagram not that they should or anything.

Mary Jo Foley is sure going to enjoy this app

Yes she will...and so will I! :D

Yes she will...lol. I'm excited now too! Does anyone else tries Mary Jo's Beer of the Week??

Once it hits, I most certainly WILL sign up for it...I waited for the Pandora app for Windows Phone on principle before ever getting on THAT bandwagon! =P

And Pandora did it proper taking the time to do it right not rushing a port that didn't work and leaves a bitter taste in your mouth.

Now that's two of the most favorite things of mine coming together. Beer and WP8 :D

I thought this was a magic the gathering app....

Sounds worse than instagram

Disappointed that Untappd isn't coming to Windows Phone 7.x but the mobile site works surprisingly well. Been using and enjoying it for several months now. Lots of fun.

You should check out brew trak my brother made it. It uses untapped API. Its new but he's working on it for both 7&8

Try the app called Web Apps, it has it in there as well and is a bit more native feeling than the mobile site in IE.

Web apps isn't available for 7.x.

Web Apps is not for WP7, only WP8. Which kind of defeats the purpose.

Ah my bad, thought it was on both.

This is awesome... Mobile site is pretty good though...

This app sounds awesome, but alas I am way past my drinking prime.

This is what will bring the masses to Windows Phone. Forget sharing restaurant settings in square firm, it is BEER that will bring them. FYI - my hometown Bell's Oberon is one fine summer brew. Get it if you can!!

Dude! I'm an east sider but just got done with a Bell's Expedition Stout... Lots of fine beers in Michigan..

Im straight edge,screw this app.

Good for you! Doesn't mean the rest of us can't enjoy it. I enjoy my craft brews every once in a while. No harm in that.

You can be a straight edge...thats cool. Pretentious, on the other hand........

I signed up using the mobile site when I first saw it on the WebApps app "store". Haven't really used it yet, but it seems like a pretty cool service! I like to track my favorite brews in a list on OneNote (partially so I won't forget which ones I thought were disgusting... haha), but this is a cool concept! I'm excited to try the app! Have to say, though, this looks like it was simply a straight port that wasn't really given that Metro Modern Metro app flair that makes WP beautiful and unique. So that's slightly disappointing.

I love all the apps coming out for WP8... but these direct ports are getting too unbearable!
This is a direct port from android and has no style whatsoever
https://play.google.com/store/apps/details?id=com.untappdllc.app

I'll take a port to get the app on the platform. The UI restyling can come later in updates.

I miss beer. Have a hefeweizen for me please :)

Since you go to Redlands twice a month.. you're familiar with Hangar 24 right? :)

I am now. I may have to stop by next Wednesday.

Never intented to use Instagram, and don't understand why those people so excited for??????????????

It's one of those "If you build it, they will come" kinds of things. While many of us in the WP community think that Instagram is for teenagers and pretentious hipsters, the lack of the app on this platform keeps that (rather large) group of people from using the platform. It's just one more excuse for them to get an iPhone or Android instead of the best mobile OS. Once Windows Phone has all of the apps people use the most, people will have no reason not to use it. Naturally, however, it will take more time for these companies to create apps for the platform using native code. The results, however, will speak volumes against Blackberry in the race to become the third (but best) ecosystem since most of Blackberry's apps for BB10 are simply Android apps that were wrapped for installation on BB10 running in an Android compatibility layer.

+1
As being the only WP8 user in my high school, i always let people use my 8X to see how they like it. They always say they like the look, but once i say there is no Instagram as of now. They immedietely say they will not get it. More and more people in my school are all getting iPhones.

My nephew just got the 820 and has the same problem with people after they find out no Instagram. The sooner we get a well rounded Instagram app the quicker WP will grow as kids have smart phones and they make up a good percent of the market.

I understand, I'm just saying people rather to have instagram, and give up a real nice wp8 phone, that's their lost, and stupid, that's how I think.........

Then you get drunk and loose the phone..

I am currently using the webapp version. works well. fun app for people who like beer

Nice, have been waiting for this since I heard it was coming. Been using the webapp version until then. Beeeeeeeeeeeer!

Mmm beer is an untappd client that works ok on WP7 & 8 although in looking forward to the real deal

Is that a 8X with a case on it?

Your guess is as good as mine.

I think wp8 is very poor where we compare with IOS and android.

In android lots of apps and most succeeded games are free.samsung Galaxy s4 is better than all smartphones.

Why is free better? It's not. It's not sustainable for devs either.

I think in lumia 920, nokia made is good but os is very poor.

Someone see this troll out...

Thanks for the advices Visva27

Two beers everyone should try: Boulder Beer Co. Hazed and Infused and Victory Headwaters Pale Ale

Woot!

After having four WP devices since the launch of the OS Im happy that finally we now not only is the OS getting to where it should be, but the APPs are finally starting to really trickle in.
Windows Central Newsletter
Get the best of Windows Central in in your inbox, every day!
Thank you for signing up to Windows Central. You will receive a verification email shortly.
There was a problem. Please refresh the page and try again.