App update roundup: Xbox One SmartGlass, Cinemagraph, Telegram Messenger and wpTorrent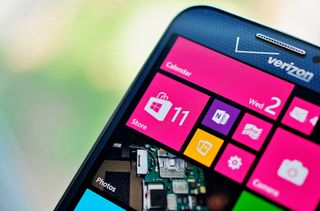 Although the big update for Windows Phone 8.1 users, last night is the fixed Calendar app, this morning we are receiving a few more worthy updates. Most of these even have significant changelogs, making them that more attractive.
Let's take a look at what's new, especially wpTorrent, which hit a pretty big milestone today.
Xbox One SmartGlass
If you have a Xbox One, you must have Xbox One SmartGlass for your Windows Phone. Not only is a remote, but it can do all sorts of other unique actions on your Xbox One, including checking in on messages and your friends.
Version 1.0.4.0 is live today, up from 1.0.3.0 back on March 1. This refresh of this app brings:
General stability and polish improvements
Bug fixes
Search for an pin Bundles
If you've been following along that feature list is still behind the Beta version of the app, so if you want the latest and coolest stuff, use that version, which updated on June 18. Otherwise, 1.0.4.0 is a decent update, keeping Xbox One users happy.
Nokia Cinemagraph
Nokia's unique app that brings photos to life (and soon to be replaced by Living Images) has been updated to 4.2.0.0, up from 4.1.1.5, which updated in April. Although this version has a change log, it is the same one from January when it hit the big four-point-oh.
Oddly enough, the app is still called 'Nokia Cinemagraph' and not just 'Cinemagraph' as you would expect with the recent rebranding by Microsoft. It is published by Microsoft Mobile now, although that in and of itself does not require a Store update.
wpTorrent (free and Pro)
Torrenting files on the go is always an exciting affair. For one, it can consume significant battery life, which is rarely a good thing when mobile. The second is it sucks down bandwidth. However, the decision to do this should be left to the user and since July 2013, Windows Phone users have had wpTorrent to use in that regard.
Today, version 1.5 of wpTorrent free and pro have gone live in the Store and with it, some significant improvements:
New feature: Support downloading directly to SD card and other phone hubs.
Improved compatibility with other torrent clients.
Improved app behavior in shutting down and resuming.
Improved torrent adding UI.
Improved magnet link sharing.
Added Google and Bing as default engines.
Added max connections option.
Other minor changes
The ability to save downloads to the SD card is a huge feature to let users save space on their limited internal storage. Likewise with the Hub integration, which is a clever use of wpTorrent. The rest just make this a top notch Torrent client for Windows Phone.
wpTorrent free is ad-driven, with no speed limitations, while the wpTorrent Pro ($2.99) removes the ads, and supports torrent video streaming and video-preview-download mode feature. It is well worth the money if you use it frequently.
Telegram Messenger Beta 0.1.2.4
Windows Phone now has an official Telegram Messenger client. Although it is still technically beta, the app has had a steady stream of updates since its official crowning. Telegram Messenger is like WhatsApp but with a dash of industry leading encryption (and perhaps better support).
Version 0.1.2.4 brings a few minor improvements:
Fixed bugs with profile pictures and photos
Support for documents on Windows Phone 8
Not a bad update if you use this well-built messenger.
Get the Windows Central Newsletter
All the latest news, reviews, and guides for Windows and Xbox diehards.
Daniel Rubino is the Editor-in-chief of Windows Central, head reviewer, podcast co-host, and analyst. He has been covering Microsoft since 2007 when this site was called WMExperts (and later Windows Phone Central). His interests include Windows, laptops, next-gen computing, and for some reason, watches. Before all this tech stuff, he worked on a Ph.D. in linguistics, watched people sleep (for medical purposes!), and ran the projectors at movie theaters because it was fun.
Boy I wish that the Xbox 360 smartglass looked as good as the Xbox One's.... Seriously.

Then ppl would complain on why the 360 smart glass looks better than the XB1 smart glass.
I have an XB1 and wouldn't be too thrilled if my SG didn't perform better than the 360 version.

I didn't say for the 360 SG to look better than the One SG. But, at least as good as the One. I look at the 360 and I feel as if I'm looking at Xbox Game Hub and that's not really a good thing.

I don't think that enough people realize how awesome Xbox One SmartGlass is. My parents came to visit and I showed them Xbox One Smartglass on my Windows Phone and on my Surface RT, using it as a remote, to view friends' activity, to watch gameclips, launch apps, etc, and, most impressively to them, being able to vew OneGuide on there. In my opinion, they should do even more with it (like, the Brazil Now app should've had a SmartGlass option). It's really amazing and completely changes gaming and media consumption.

Still not liking the Telegram beta. In my opinion. Migram beta should have been crowned as the official Telegram.

I hear you. I messaged them about "secret chat" messages disappearing after toast notification saying I received one. I haven't heard a damned thing from them so my girlfriend and I switched to Sicher. It's a much better app with all chat natively encrypted.

Still Nokia name in Cinemagraph App . I guess ist app updated without Nokia name change, hats off for the courage Microsoft :D

Now i will download Cinemagraph

wpTorrent, unless Torrex support downloading under lock screen, than I'd say Torrex because of the UI.

Twitter when the fuck u will update your app!!!

I'm not trying to be an instigator but what do you think needs updating with the Twitter app? I just don't get why people feel so dissatisfied with an app because they don't get to update it constantly. If there isn't something lacking, who f'ing cares.

There is some things lacking:
* Multiple pics per tweet support.
* GIF images support.
* Performance improvement and bug fixes.
* Refreshed UI to improve usability and on-screen available space.
It takes years to retrieve embedded pictures on tweets and profiles' pictures too. And I'd really like to be able to deactivate the Bing Translation feature because I don't need it and it usually sucks.

Correction: Calendar, late last night. I think I mention that in the very first sentence.

The way I process articles: 1. Headline... duh 2. Body... includes text, images, video 3. Opine... to quote Descartes, "I think, therefore I am" I frequently skip intros because more oft than not, they are the statements which are irrelevant to the main story. It is my beleief such statements are supposed to generate interest in the ensuing text. Same irelevance with closing statements. So sans the aide of an Anthro desk, I sit corrected.

Twitter when the fuck u will update your app

There is nothing to update! Duh!

Release the damn WP8.1 OTA in India MS. Its already 2nd July. I am impatient to get the Cyan Firmware and test the smoothness of my phone.

Microsoft said that it will be released in India by the end of second week of July, not second day.

They said roll out would happen during the first two weeks of July, not end of second week. Go read the tweet once again.

I noticed the calendar app has no loading screen anymore, it opens instantly now.. :)

Because may be it was already running in the background.

It always opens instantly now...

Which one is better. TorrexPro or wpTorrent Pro?

Both are good, since wpTorrent now supports downloading directly to SD card, it is better imo. Unless Torrex Pro adds the ability to download in the foreground & under lock screen, than I'll go for Torrex, 'cause better UI and is easy to use. But overall wpTorrent has more features than Torrex Pro.

Are there any telegram apps that let you attach video? Telegram lets you send 1 gig videos compared to WhatsApp 16 megs but neither the official telegram or migram support attaching.

Sicher isn't Telegram but it does allow sending video and is natively encrypted. I've been using it since its release and like it a lot. Give it a try.

As others are saying, twitter is taking the micky. Almost 8 months without an update and they don't seem bothered.

Files also updated but with no changelog.

I don't see any update. :O

After updating Bing collection, Bing news live tile is not updating.
Hell you Microsoft updating app without testing.