Thoughts on using the Photos app on Windows 10 as a video editor
The Photos app on Windows 10 is great for checking out pictures but we've put it through the paces to see how it performs as a video editor.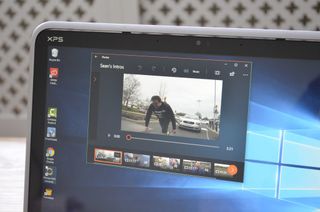 The Microsoft Store has gained some powerful apps this year, but there aren't many options when it comes to editing video. The Photos app that comes with Windows 10 has an add-on that lets you create video from your own media. It won't replace a professional video editor but works well at creating basic videos that allow you to share your favorite memories.
The Photos app comes with Windows 10 and the add-on that lets you edit videos is free, so you don't have to do anything on your end to edit videos.
See at Microsoft Store (opens in new tab)
Casual video editor
Video editing on the Photos is aimed at consumers. It's not meant to do multi-layer editing in a way that professional software can. That isn't a bad thing though as the low learning curve and basic features mean that just about anyone can edit videos.
There are two different types of videos you can make using the app, a remix of photos that creates a video montage, and full-length video of any images or clips that you'd like.
On the full-length clips, you can do basics such as trimming videos, adding filters and text, and using motion effects. While these aren't very complicated, they're some of the most common features people need for basic videos. You can also take things further with 3-D effects, including adding your own music.
Using the app to make videos actually took me a bit of getting used to because I use Premiere Pro almost every day but to most users, the click-and-drag interface will be simple and easy. It's also touch-friendly like the rest of the Photos app which means you can edit videos with just your finger.
The Photos app is great for putting together clips you already have and adding some flair to them. For example, if you have some footage from a vacation you could make an attractive video showing off your trip. The video editing that is available is a natural extension of the Photos app which can already be a home for your photos and videos.
Where it needs to go
The Photos app has a number of elements that you can use to spice up your videos. You can add text, filters, themes, 3-D elements, and add motion to videos or photos. These are great consumer tools that can be used to make better videos without making people learn a lot about video editing. But the Photos app needs to take this further by adding more options to each category.
Themes and filters get old quickly, and Microsoft will need to continue to add new options to prevent videos from becoming stale. They also need to add more fonts and text options for similar reasons.
Additionally, while the app will probably never try to replace professional video editors, it needs to gain more functionality such as transitions and the ability to overlay photos or videos over other images. Microsoft has a tough balancing act between creating a touch-friendly editor and something that makes you have to use a mouse and keyboard, but there's still more they could add while remaining easy to use.
Summary
Editing videos within the Photos app on Windows 10 is easy and can create nice videos. The interface makes it easier to use than a professional video editor, but the trade-off is that it's a lot less powerful. That's okay though because Photos isn't intended to compete with Premiere Pro or similar video editors.
The app has a number of elements that you can add to your videos including text, movement, and 3-D graphics. These features by themselves will be more than enough for many people who just want to share memories and make basic videos, though it would be nice to see a few more options within each category.
The video editing features need to be flushed out more as the current set is too basic, even for a what it's trying to accomplish. But overall, Photos' video editing options are a solid addition to the app and improve users' ability to share their memories, which is a common way people use the Photos app.
Pros:
Easy to use.
Works well with your media.
Low learning curve.
Cons:
Very basic editing options.
Limited options for text and graphics.
See in Microsoft Store (opens in new tab)
Windows Central Newsletter
Get the best of Windows Central in your inbox, every day!
News Writer and apps editor
Sean Endicott brings nearly a decade of experience covering Microsoft and Windows news to Windows Central. He joined our team in 2017 as an app reviewer and now heads up our day-to-day news coverage. If you have a news tip or an app to review, hit him up at sean.endicott@futurenet.com (opens in new tab).
¿Where it needs to go? 1. change the name to one that represents its functionality 2. add more professional options that make it an alternative for toutubers, and stop being the mediocre app for children that it is.

Nothing in windows 10 is worth the trouble just download 3rd party apps that actually work.

Windows apps are great. What are you talking about?

You Tubers will prefer to use a NLE than anything like the Photo App, they have more control for a start. i mean You Tubers you make decent videos, not the ones who hold a camera in their hand and show people a shaky picture of a box and some instructions of an unboxing.

Wait a minute, hold on one second there...
When I first saw your comment I read "You Tubers" as if you were addressing these guys calling them "tubers".... But, now I see what you're saying. "You Tube Watchers"... Lol.
I was about tell you that it's rude to call people derogatory names.😂😂😂

Youtubers are those who create and upload Youtube videos for people to see (eg. PewDiePie) , not the Youtube watchers.

What happened to the really great video editor that was supposed to come with the creators update?

Was going to ask the same. I was looking forward to using it since it was able to do much of the work for you once you added the videos and music you wanted to use.

Nice review and I agreed.

Believe we'll be waiting some time (years) before MSFT brings it beyond the "very basic" stage if at all.

The last time I tried to use this, the app would truncate 1-2 seconds off the end of videos, no matter what I did and no matter what settings I changed. This is a problem.

This app is very nice. I would like to edit the metadata of my pictures and videos, like date and geolocation.

It's not even as good as Movie Maker was. I use Nero Video. It'a a much more powerful editor/producer. I'm not looking for something on the lines of Adobe Premier, but the Photos app is just a waste of time.

Pretty much agreed. Movie Maker was decent, used it a lot back in the day.

I still use Movie Maker 8.1 on the phone. It has only improved. Several trimming, splitting, splicing options as well as filters. For me, only lacks option to add text. After video is ready, I use Movies Moments to add titles and other captions. On my Windows Mobile that is.

Movie maker was not bad apart from the fact it would only export to WMV, Far better ones out now and for free.

True... Got what I need albeit paid. Hopefully MSFT continues to improve the Photos app, in a timely manner, and don't decide in the near future to throw in the towel - IMHO they seem to do a lot of the latter.

It sucks much as every other UWP app from MS. I want a win32 version back.

Why did they abandon movie maker?

I would agree with the assessment in the article. Very simple to use and does the basics well but needs to do more. They need to incorporate the more advanced features of story remix promised in the creator's update as well as add more basic editing features that Sean mentioned in the article. MSFT is on the right track they just need to expedite making UWP more robust and capable - especially with their own products. Also MSFT needs to work with other publishers to get their video editing software into the store - the current selection is abysmal.

Try this app also, it's a nice free app for editting videos and making slideshow videos with beautifull display effects: https://www.microsoft.com/store/apps/9MVFQ4LMZ6C9 (a sample video is here: https://www.youtube.com/watch?v=89ClzUwN62A)

Rotating an image doesn't rotate the image but adds an exif tag with rotation info. Very annoying if the image is used in an environment that doesn't recognize this, a web site for instance, then it shows up unrotaded.

Thanks, Sean, for writing this. I do no pro stuff myself, but I always admired what my brother did on his MacBook, and I always liked the idea of easy video editing, but this is the first app in a long time that gets me even close to this casually. I agree with you on the content quickly gets to feel insufficient. After hitting remix a few times, this becomes all too apparent. But luckily, that is easily fixed with more content, so I have no worries there.
Did MS remove the 365-requirement on some of that content, or just the icons next to them? In total, I am utterly impressed with Photos from a consumer perspective. Not just for Story Remix, but the entire app's feature.
From the use of fluent design to applying of AI to one's media. It is really cool and I have not seen anything like it. In my humble option, Photos app shows the most promise of what you can achieve with AI, UWP and the cloud.

Rashna...THIS! We NEED the ease of media creation that MacOS has. SIMPLE. I cannot see why MS leaves that on the back burner.

it's decent. but it would be better if it's a separate apps, rather than inside the photo apps. so people just fire up the search bar, and type video editor or movie remix and it's there 😏

The issue then becomes the disconnect between your collection and making easy family albums with interesting video twists as a slideshow :)

How Microsoft doesn't act on the obvious impact that Windows Movie Maker had on the early history and profileration of amateur online video (i.e. YouTube) and offer an actual modern replacement to the awesome tool that WMM was, escapes me.